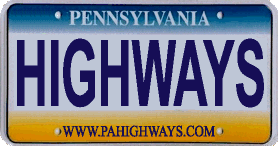 May 31, 1985 Tornado Outbreak
---
The end of May is a great time for a kid, as I was in that fifth month of 1985. Your thoughts begin to turn away from school and to what you'll be doing or where you'll be going during the summer. I don't remember that day, nor the line of thunderstorms coming through as I lived on the southern end of the line and saw no tornadoes. All I remember of May 31 is that it was the 96th anniversary of the Johnstown Flood. It would also become the day of another devastating tornado in 1998 when Salisbury, near the Maryland state line in Somerset County, would get hit. Not to mention two days later the Pittsburgh area would get hit with tornadoes.
Where tornadoes are more frequent, the day was starting in Kansas City, Missouri for National Weather Service forecaster Steve Weiss. He worked at the National Severe Storms Forecast Center, and called one of the "keepers of the gates of hell" due to watches/warnings for the nation originating there. Weiss was discussing the printouts and charts with Larry Wilson, the midnight shift forecaster. The briefing Wilson gave included a moderate risk of severe thunderstorms from the Great Lakes and upper Ohio Valley eastward. As Weiss moved over the charts, drawing the frontal boundaries as he went, an unsightly picture began to emerge. However, he could not know at that moment that he was looking at the recipe for one of the most devastating tornado outbreaks in the history of the United States.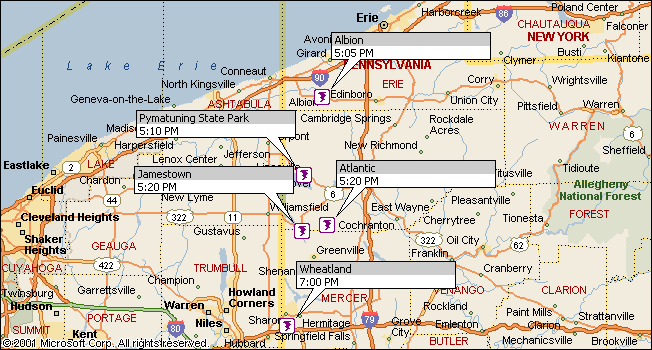 Areas hit and the times the tornadoes struck. (Microsoft)
Four states to the east in the Borough of Albion, Pennsylvania, Linda Quay was gathering her three children, Billy, Michael, and Bonnie Sue, together for breakfast. The biggest event that day was to be Michael's T-ball game in the evening; however, the prospects of the game taking place were dimmed by the rain falling. Linda paid close attention to the TV as Willard Scott was on The Today Show giving his forecast and talking about the terrible weather taking place in Texas. Tornadoes would possibly be on the menu down there, which prompted her to laugh and say to her children, "Hey, kids, aren't you glad we don't live in Texas and don't have to worry about a tornado?" Throughout the day as she tended to housework and watching Michael and a neighbor's daughter. A few blocks away, Sandra Stahlsmith was going through the same routine. Elsewhere across the tranquil countryside, all things were quiet. The "clip-clop" of the horse-drawn Amish buggies mixed with gasoline-powered vehicles on US 6N that leads to Albion. It was one of those Norman Rockwell oil painting settings.
The PennDOT jurisdiction sign at the borough line on PA 18. (Jeff Kitsko)
Entering Albion from the south on PA 18. (Jeff Kitsko)
Memorial garden at US 6N/PA 18-East State Street and Orchard Street created by the Samuel J. Steff Funeral Home. (Jeff Kitsko)
Close-up of the plaque in the garden that lists the 12 residents who died in the
disaster. (Jeff Kitsko)
The placid setting of northwestern Pennsylvania was contrasted with that of other areas of the country in terms of weather. A frigid polar air mass had pushed down and dumped several feet of snow onto Mount Evans in Colorado, and also made Montana and Wyoming look like the front of a Christmas card the day before. It brought 70 MPH winds to the Cornhusker State with blinding clouds of dust making for treacherous driving one of Nebraska's highways. Record setting heat baked Texas, Oklahoma, and Kansas, while thunderstorms stretched from Missouri to Wisconsin and eastward to Ohio. Reports of tornadoes touching down came in from across Ohio, but none confirmed and no damage reported. Nineteen touchdowns occurred across Minnesota, Iowa, and Missouri with three people injured and thirty houses damaged. A Ford Motor Company assembly plant outside Kansas City was battered by baseball sized hail, smashing windows and pounding dents into over a thousand new cars. Flash flood warnings were posted for eastern Ohio and western Pennsylvania. The Youngstown Vindicator stated in their Friday edition, "A flash flood watch is in effect for this afternoon as the threat of showers and thunderstorms, possibly severe at times, continues at least through early evening. For tonight, the showers could linger, but much better weather will develop by Saturday, with a return of mostly sunny skies and lower humidity."
Back in Kansas City, the forecasters were still scanning the skies via data coming in from radars, satellites, and soundings. The picture they painted was far from a Norman Rockwell, as they indicated eastern Ohio and western Pennsylvania would be the epicenter for highly unstable weather with the most severe across Lake Erie in Ontario. Chief meteorologist Fred Ostby joined Steve Weiss at the computer terminals and flipped through charts in front of them. From what they were being told by Mother Nature, they would have to relay some kind of alert to weather stations in the United States, Canada, and Mexico. The questions on their minds were would a tornado watch need to be issued? And if one was issued, would an apathetic public head the alert and keep a watchful eye to the sky during the day or simply fall back on the "it'll never happen here" attitude? At 10:14 AM CDT, Steve Weiss put the word out that there was a risk of severe thunderstorms hitting Ohio, western Pennsylvania, and New York. The two opposing air masses that had been reeking havoc would meet south of the Great Lakes.
They were not the only ones keeping watch over the weather. In Erie, National Weather Service meteorologists Dave Bell and Bob Sandstrom were watching the skies to see if "the gates of hell" would open up in their backyard. They received Weiss' statement and the area outlined for severe thunderstorm development. However, the radars in Erie were quiet and even the early afternoon outlook from Kansas City not surprisingly downgraded the risk of severe thunderstorms to "slight." Another NWS meteorologist, John Halfast, was at home in Albion relaxing until his 4 PM to midnight shift would begin. His wife who had lived in a tornado-prone area, had a feeling something wasn't right and said, "John, this is just the way it felt before tornadoes hit. You can feel it in the air."
Their colleagues at the Cleveland NWS office at Cleveland-Hopkins International Airport were keeping a vigil as well. Chief Meteorologist Marvin Miller agreed with a comment by one of his forecasters, Jack May, that May 31 would be wet enough to walk a goldfish. Miller had gotten a call from a Skywarn spotter by the name of Jerry Murphy. Murphy, a ham radio operator, is a trained storm spotter who will relay reports to NWS offices in the event standard communications are knocked out of service. He had phoned the NWS office to inquire as to when he should be alert for any potential severe weather. From the downgrading to "slight" of the severe thunderstorm probability and nothing on the radar except for a small shower which was the only thing within a 100 mile radius, it looked like by 4 PM that the weather service could breath easy...or so it seemed.
As the day wore on, campers, boaters, swimmers, and picnickers began to filter into Pymatuning State Park on the Pennsylvania/Ohio border. Assistant park superintendent Gene Hart had heard a commercial forecast from Youngstown that mentioned the possibility of severe weather. He sensed something uneasy about the weather, but couldn't put his finger on the reason.
Harold McCrea, a recently retired US Steel metalworker, thought the weather at his home in Jamestown was to his liking. He had a busy day ahead of him repairing chain saws and polishing his camper. He said to his wife Freda, "Looks like a nice day after all." Freda didn't share that same optimism saying, "I don't know. What's it feel like before a tornado?" Harold replied, "There's a nice breeze going. Tornado you get a real still calm just before. Real calm."
| | |
| --- | --- |
| | Welcome sign at the borough line on westbound PA 58. (Jeff Kitsko) |
| | Entering Jamestown on westbound PA 58. (Jeff Kitsko) |
The small village of Atlantic sits at the intersection of SR 3006 and SR 3013 in the gentle rolling farm lands of southern Crawford County. The largest building there is the Atlantic Congregational Church which is led by Reverend Charles Polley. Mary 31 would be a busy day for the good reverend, as he had multiple errands to attend to in Meadville and Greenville. The only person who really noticed the hot and steamy weather was Charley Grocé, a Mennonite who grew up in parts of New Mexico and Texas. Even though he grew up Catholic, he married a Mennonite girl from Atlantic and moved back there with her and converted. Afterwards he became the regional representative of the Mennonite Disaster Service which is based in Akron, Pennsylvania outside of Pittsburgh. At 10 AM, he stepped out onto the porch of his home four miles from Atlantic and smelled something brewing in the air. Perhaps memories of the three major twisters he lived through growing up, he went back inside and turned on Youngstown, Ohio's WKBN-AM. Their reports mentioned the possibility of severe weather but nothing about tornadoes.
The PennDOT jurisdiction sign west of Atlantic on SR 3006. (Jeff Kitsko)
At the center of the village nearing the intersection of SR 3006 and SR 3013.
(Jeff Kitsko)
As T-ball was on the agenda in Albion, softball was on the agenda in Wheatland for the "bigger kids." Postal carrier Dave Kostka, who was just married three weeks to his wife Yvonne, had just returned from a honeymoon in Hawaii and was looking forward to playing that night. The married couple were looking at their wedding picture proofs and like the work photographer Jeff Wimer had done. Wimer was also production manager at Mutual Radio Network affiliate WWIZ-FM in Mercer where he handled many chores that day: commercials to news to weather, he had to do it all. He was paying close attention to the latter, as he was also supposed to play in a softball game, then dash off to the high school graduation ceremony of a family friend. He was hoping for rain because of the tight schedule, but when he went on duty at 2 PM he noticed the hazy, warm, and humid day vacant of rain.
The PennDOT jurisdiction sign west of the borough on northbound PA 60.
(Jeff Kitsko)
A memorial park area created in the area where the neighborhood that was
destroyed by the F5 tornado. The area was transformed into an industrial park.
(Jeff Kitsko)
Close-up of the memorial in the grove of trees. (Jeff Kitsko)
Pittsburgh's NWS office was also keeping watch over the conditions during the day. When forecaster Bill Drazl arrived, the first thing he said to his chief was, "Oh brother." He was studying the radar, satellite, synoptic charts, and the Kansas City and didn't like what he saw. The dew points (measure of moisture in the air) were high and that moisture could rush upward to form violent thunderstorms. Ground temperatures were high and would only increase as the day wore on, cold air aloft, and dry air in the mid-levels, which equaled a dangerous combination. Drazl's experience taught him you've got to know when to worry, and today was one of those days. However, just as the other NWS offices had noted, nothing was going on to suggest severe weather let alone tornadic storms.
Closer to the Pittsburgh area, shopping was the name of the game in Beaver Falls at the Big Beaver Shopping Plaza on PA 18. Customers were moving through the aisles at the Jamesway discount department store while Carl Mosketti was filling orders at the state store. Across the Beaver River in North Sewickley, volunteer Fire Chief Dale Sutherland, who also worked as a metallurgist at the local Babcock & Wilcox tube plant, was preparing for a light day. The only thing going on in the Sutherland home was son Dan going to a graduation party at the Spotlight 88 drive-in theater at the intersection of PA 65 and PA 588. It was a happening corner with Kemp's Butcher Shop, Hummel's Service Station, and a hardware store called J & J Supply. A few miles to the east lies Evans City, whose biggest claim to fame is being mentioned in George Romero's Night of the Living Dead, where just outside of town is John's Bar and Grill which sits on top of a hill. They were preparing for a usual busy Friday night.
Busy wouldn't even come close to describing Friday, May 31. By 2 PM, as the day was hot and humid south of Lake Erie, Ontario was getting pounded by severe thunderstorms north of Lake Erie. By now, a whole string of NWS offices from Cleveland to Albany south to Philadelphia and west to Pittsburgh were watching the situation along with Fred Ostby and Steve Weiss in Kansas City. Philadelphia had called and Weiss reassured them that the threat would be on the western side of the Commonwealth. When Bill Drazl called from NWS Pittsburgh, to ask where the action was taking place. Weiss told him they were focusing their attention on eastern Ohio, western Pennsylvania, and western New York. At 3:30 PM, more minor thunderstorms began to pop-up in Ontario, but none had the sign of a hook echo which is the tale tell sign of tornadoes. Then as if someone threw a switch, cells began to form in a squall line that stretched along the Ohio border. At 3:52 PM, when Steve Weiss took another look at the radar scans from the area and saw the echoes from the towering cumulus appearing out of thin air. He knew the moment of truth had finally come, and some kind of alert had to go out. By 4:25 PM the time for the hand wringing and pondering over what type of alert should go out had come and gone. Weiss slid his chair over to the CSIS (Centralized Storm Information System) and typed out Tornado Watch Number 211:
BULLETIN--IMMEDIATE BROADCAST REQUESTED
TORNADO WATCH NUMBER 211
4:25 PM EDT FRI MAY 31 1985

A . . . THE NATIONAL SEVERE STORMS FORECAST
CENTER HAS ISSUED A TORNADO WATCH FOR
PORTIONS OF EASTERN OHIO
PORTIONS OF THE NORTHERN PANHANDLE, W. VA
PORTIONS OF WESTERN PENNSYLVANIA
PARTS OF SOUTHWEST NEW YORK
PORTIONS OF CENTRAL AND EASTERN LAKE ERIE
SOUTHERN LAKE ONTARIO
FROM 500 PM EDT UNTIL 1100 PM THIS FRIDAY AF-
TERNOON AND EVENING

B . . . TORNADOES . . . LARGE HAIL . . . DANGEROUS
LIGHTNING AND DAMAGING THUNDERSTORM WINDS
ARE POSSIBLE IN THESE AREAS.
THE TORNADO WATCH AREA IS ALONG AND 70
STATUTE MILES NORTH AND SOUTH OF A LINE 20 MILES
SOUTHWEST OF AKRON OHIO TO 20 MILES SOUTH OF
ROCHESTER NEW YORK.
REMEMBER . . . A TORNADO WATCH MEANS CONDI-
TIONS ARE FAVORABLE FOR TORNADOES AND SEVERE
THUNDERSTORMS IN AND CLOSE TO THE WATCH AREA.
PERSONS IN THESE AREAS SHOULD BE ON THE LOOK-
OUT FOR THREATENING WEATHER CONDITIONS AND
LISTEN FOR LATER STATEMENTS AND POSSIBLE
WARNINGS.
. . . WEISS
The message immediately went out on the weather wire circuits to teletype printers at the Associated Press, radio and TV stations, utilities, PennDOT, and Pennsylvania State Police. NOAA Weather Radio would send out the same information preceded by a tone signal to fire departments, EMTs, local police, county officials, and PEMA (Pennsylvania Emergency Management Agency). While Steve Weiss was typing the above, Linda Quay and Sandra Stahlsmith in Albion were preparing dinner for their respective families. Editor of the Albion News, Bob McClymond, was putting the finishing touches on the next edition. John Halfast of the Erie NWS office was saying his good-byes to his wife and heading to Erie to begin his shift. At Pymatuning State Park, Gene Hart was closing up his office and heading home. In Atlantic, Ammon Miller was back on his farm doing some light welding work and Reverend Polley was still in nearby Meadville. Dave Kostka and Jeff Wimer were getting ready for their respective softball games in Wheatland, while in Beaver Falls, the Big Beaver Shopping Plaza was jumping with shoppers. All were thinking their day and week were winding down; however, the next few hours would prove otherwise.
Five minutes after the watch went out, Erie NWS put out a severe thunderstorm warning and Pittsburgh NWS relayed the tornado watch at 4:45 PM. Both offices were scanning the skies with their antiquated radar systems that only reached 140 miles looking for "hook" echoes, which were the signs of circular motion. However, it would be difficult without reports from the ground to tell if there was a tornado touchdown and basis for a tornado warning. Doppler radar, now the standard at every NWS location which can measure wind speeds and tell how wind is moving in a cell, was something only in the demonstration phase and a network covering the country years away. So it would be storm spotters in the Skywarn network, such as Richard Bomboy of Conneaut Township. Although he was confined to a wheelchair, Richard could keep an eye on the weather thanks to a video camera with a 180-degree sweep mounted on a tower at his home.
At 5:05 PM, while Dave Bell from the Erie NWS discovered a hook echo on the radar he got a call from Richard. "Just spotted a tornado touch-down," Bomboy said. "About five miles west of Albion. Actually, I see at least two of 'em forming. In an area called Jumbo Woods. Heading directly toward Albion." Bell replied, "Check, we'll get a tornado warning out right away." Bomboy then got on the phone to the Albion Volunteer Fire Department, and wasn't the only one calling in to report the tornado as did a woman outside of town. Fire Chief Herk Shearer jumped into his truck and headed to the station after getting a phone call from there. Roger Seeley, a volunteer fireman, was standing in front of the station and surprised by the sudden clapping of hail. He looked up in the sky and saw an undefined gray mass that looked like a flock of birds flying in a circle. He looked again to see not birds but debris. Thirteen-year-old Tracy Petrilla was heading home across a field and saw the same thing, but coming directly at her. Luckily there was a culvert nearby which she dove into to avoid the debris. She had looked up and seen the twister divide into two, both passing on either side of her, and rejoining into one to head to Albion.
A little before 5 PM, Pennsylvania State Trooper Bradley Mills was at home in Albion relaxing in front of the TV after his shift. Suddenly a crawl appeared at the bottom of the screen saying, "TORNADO WATCH IN EFFECT..." He went to the window to look out and observed it being black and windy. Soon after, there was a knock at his door. It was a panicked boy who wanted to call his mother. He was crying and repeating, "Albion's blown up! It's just blown up!" His scanner went off, but when he picked up the phone to call his barracks, the line went dead.
Linda Quay was at her South Park Avenue home, relieved the T-ball game had been cancelled, preparing a haddock supper. Her husband Charley's, assistant fire chief for Albion, CB interrupted the dinner with an alert signal and a message saying all firemen need to report to the fire hall. Charley left while Linda put Bonnie Sue in her high chair and called the other kids to the dinner table. At the same time, she noticed the family dog began whimpering and cowering for no apparent reason. Her son Billy ran to turn off the TV set just as the lights went out.
Bob McClymond had closed up the newspaper office and was heading to his Jackson Avenue home in Albion. The rain was coming down in sheets so hard, it was covering his windshield and giving his wipers a tough job. When he arrived home, a loud clap of thunder shook the house. He looked out a window and saw the skies were even blacker and had a yellow hue.
Red Cross Chairman Martha Sherman was also calling it a day and arriving at her home on a dairy farm outside of Albion. A nice breeze had been blowing, but all of a sudden, the breeze stopped and an eerie calm fell over the farm complete with the yellow sky Bob McClymond saw. She walked into her living room and turned the TV on to see a crawl scrolling on the bottom of the screen. She also turned on her scanner in time to hear the dispatcher from the West County Communications Center saying that the tornado watch had been upgraded to a tornado warning and all firemen being called to the fire hall. At that, the power went out.
On the corner of Thornton Street and East Pearl Street, Sandra Stahlsmith, four months pregnant, looked out her window to see her boys Zachary and Luke outside playing in the hail that suddenly began to fall. They were trying to catch the ice chunks, and she was about to let them out a little longer, until the fire siren in town went off. She summoned them inside when a neighbor yelled to her that their scanner had mentioned a tornado threat. Once inside she called for daughters Brook and Bree to come down from upstairs and grabbed Bryce out of his crib, just as that tell-tale roar approached the house.
In Jamestown, Harold McCrea, in the middle of polishing his camper noticed that his ladder was shaking. He decided to stop for the day, and noticed two horses acting strangely across the road. They had worked themselves up into a gallop and both smashed into the side of a barn.
In the same borough, the Kineston family was enjoying the summer-like day. Jim Kineston, a Pennsylvania Department of Transportation employee, was playing cards with his daughter, Susie, while his wife was in the living room reading the paper. Their scanner was on, as it usually was, monitoring the emergency frequencies when a message came across that a tornado watch was in effect. Mrs. Kineston wasn't alarmed, in fact, most in the town were blasé about watches and warnings because they saw so many come and go without any severe storm. Upon hearing the message, Susie sprang from the card table and urged her parents to go to the cellar. She had learned from tornado drills at school what to do if threatening weather was approaching. Her parents tried to calm her down, but she picked up a flashlight and some blankets and continued to plead with them to head for the basement. Suddenly a panicky voice from a ranger in Pymatuning State Park came over the scanner saying, "Tornado approaching across the lake at the campgrounds: Take cover! Take cover! Take cover!" Mrs. Kineston began going around the house opening windows to relieve the air pressure in the house, as people were told to prevent houses exploding during a tornado, as Susie began crying and pleading with them to come down to the basement. Then her mother looked out the kitchen window and saw it coming, a brown, dirty, spinning cloud. She called to her husband and followed Susie's orders to the basement. Jim followed soon after and they all huddled in a corner by the washing machine.
Meanwhile at Pymatuning, Gene Hart arrived at his home in the park and was taking pictures of the golf ball-sized hail. His scanner was also on, but he only caught "Take cover!" He tried calling park headquarters to warn the staff, but the phone went dead. Gene jumped in his truck to head to the office when he saw the twister bearing down on Jamestown which was about ten miles away. He heard the fire sirens go off in town, and had begun to raise in pitch for the next cycle but stopped halfway because the power had been cut. The Linesville camp hostess came over the radio in his truck to alert him to an elderly couple who were out on the lake in a boat, when she announced another funnel the size of a full city block in width was coming directly at her trailer. As she was talking, the radio abruptly cut out.
When Fire Chief Herk Shearer reached East Pearl Street in Albion it was as if the street disappeared. Trees and telephone poles were scattered across the street and intersections and every house flattened. People were escaping the ruins of their homes while others sent cries for help from underneath theirs. There was no way to reach the fire hall with all of the debris blocking the borough's streets, so he called out on his truck's CB requesting every ambulance in the county to Albion and every fireman ordered to search and rescue. A rough estimate was over 100 homes were either obliterated completely or suffered some damage.
Trooper Bradly Mills left his home in a hurry and commandeered the CB of the first car he encountered to radio the barracks near Erie. They had dispatched every available trooper to Albion. He managed to make his way to the fire hall which had become the temporary emergency center. As he approached, he could not believe what he saw: people in a daze, walking around in unrecognizable streets, some just saying "Hi" to him but looking at him as if they didn't see him. Trooper Mills was assigned to the gruesome job of identifying the deceased but was used to it from his years of seeing carnage on the highways. He would be working out of the senior high school which became the morgue. However the difference was hoards of people were showing up looking for friends and family members who might be dead, missing or injured. The situation was complicated further when he found amongst the deceased several friends.
Martha Sherman knew that her services would be needed, but couldn't fathom the magnitude of the destruction. She rushed to the barn to tell her husband Jim that the power was out and a tornado warning had been issued. As she approached the barn, she felt as if her feet had left the ground and debris was flying around her. She was unsure if she'd get to the barn, and did, however there was no funnel to be seen. The barn and house were both unscathed, but that yellow sky hung overhead. She jumped in her car and headed to the junior high school which was the designated Red Cross relief center. Martha wondered how her daughter-in-law, Debbie Sherman, was doing. It was around the time she would usually be coming home after work to her place on Knapp Road. Debbie was and spotted the tornado coming towards her as she entered the driveway. She grabbed her dog, who had come out to greet her, pulled him into the car, and peeled out to try and out run the tornado. A neighbor trying to get his tractor into his barn saw she was on a collision course with the twister, and tried to race to stop her. He witnessed down the road the funnel suck the car 200 feet into the air, carry it over the top of a silo, and deposit it into a field, killing Debbie and her dog. Martha Sherman would be busy organizing the relief operation at the junior high school completely unaware that her daughter-in-law's body was lying in the senior high school next door.
Bob McClymond was still sitting in his family room enjoying the Manhattan he had mixed, jumped to his feet when he heard the roar. He yelled up to his wife, Ann, who was upstairs. As they dashed for the basement door in the kitchen, Bob saw the plants on the kitchen windowsill sucked out the window and a huge branch fly past. Then there was an eerie stillness, and when he went to look across the street, it looked as if Jackson Street had disappeared. The houses were just piles of rubble and the sky now clear, calm, and blue. As fast as it had come, the tornado left as quickly. Several people were trapped in their basements screaming for help, and thankfully firemen were already on the scene.
The Quay family's haddock dinner was already on the table when Linda Quay heard a roar outside. She saw trees bending outside the window, and the noise grew louder. Knowing it was a tornado, Linda yelled to the kids to get to the basement as she blew out the candles that were to illuminate dinner time. At the same time, the downstairs windows blew out sending shards of glass ripping across the room. Mrs. Quay crawled across the room to get Bonnie Sue, who had been left in her high chair in the excitement. Her face, scalp, and body had been punctured with flying glass. She grabbed the chair and tipped it over, rescuing the baby from the range of glass projectiles. The crawl to the kitchen would be a painful one with the floor covered in broken glass. She was shocked when she discovered the other kids at the basement door. They couldn't open it because the suction was so great; however, Linda managed to pull it open and she and her children slid down the stairs. In the basement, the children were crying and asking, "Mommy, what is it? What is it?" Then there was dead silence until she heard people walking on the debris and yelling, "Anybody here? Everybody all right?" She led the kids out of the cellar and called out to them that everyone was alright. Upon reaching the outside world, they saw one drastically different from the one a day earlier: trees collapsed all around and the remnants of houses carpeted the lawn. Linda ran into the Sobols walking along the railroad tracks. They survived and told her that her husband was also safe. The group walked to the disaster center at the junior high where Linda pitched in to help.
Sandra Stahlsmith heard the roar approaching her East Pearl Street house, and ushered her children into the fruit cellar. She put them along the only wall without a window, and behind a table to protect them. The tornado crashed into their house with all of the boards and walls that comprised the house falling into the fruit cellar. Sandra felt the wall behind her crushing her back. She tried to hold back the wall and protect her six-year-old son Luke from being crushed. Then the wall gave way, pushing Sandra into Luke and forcing his neck against the edge of the table. She heard him take two sharp breaths and then fall silent. Sandra knew he had passed and prayed, thanking God he didn't suffer. Thankfully her other children survived and were only crying. They were all trapped, Sandra still pinned against the table, and heard no rescuers. "Kids," she said, "I think we're all going to be with Jesus real soon. So let's go to sleep, and when we wake up, we'll find Him beside us." Then a fireman appeared at the top of an opening in the debris, pulling her daughter Bree and son Zachary to safety. He tried to pry Sandra free, but was unable. He begged her to hold on as he left crying. An hour later, he returned with other fireman who jacked up the floor and wall, but Sandra was still trapped until another fireman took a sledgehammer to the table. The rescuers tried for five minutes to revive Luke, but their attempt was fruitless. She walked across the garden in shock, and saw Luke's little bike which had survived the F4 twister unscathed: not a dent or a scratch. She collapsed onto it and began crying.
Barely five minutes after Albion was wiped out, at 5:10 PM campers in Linesville looked across Pymatuning Lake and saw what looked like a white garden hose whipping around. It grew in size as it advanced towards them, forcing them to scramble for cover. The camp hostess grabbed her radio to tell Gene Hart at park headquarters to alert him they were being hit. As the tornado hit, it lifted up trailers, spun them around, and slammed them into the ground. Trees were uprooted and toss around with some cut off in mid-trunk. Before the hostess could finish her message, her trailer was lifted into the air and deposited on top of her, killing her instantly. It continued its 200-feet-wide reign of terror, tearing through the campground on its way to Linesville. Wildlife was its primary victims including a flock of Canadian geese whose eyes were sucked out of their skulls. The twister stopped short of Linesville, but managed to destroy homes, barns, and trees on its three-mile-long path. It also toppled a barn on US 6 trapping a horse. Only being ranked an F2 on the Fujita Scale was little consolation as two died and many others were injured
At 5:20 PM, ranger Gene Hart and Harold McCrea spotted a tornado near Jamestown. Harold was putting away his aluminum ladder when he saw it in a valley a half mile away. He noticed that it was fat and dirty, a quarter mile in diameter, and was so powerful it was blowing birds out of trees far from the cone. He was going to head to the basement, but stood watching it in awe. It was moving eastward in the valley towards US 322 and appeared to be hitting Fry Road on a straight line to the Village of Atlantic. He turned on his scanner, which he used often as an honorary member of the Jamestown Volunteer Fire Department. A voice came on saying that the highways were impassable up to Snake Road and East Lake Road. There were frantic calls for ambulances and rescue workers, which gave him a sick feeling because he knew many friends in Jamestown and Atlantic were in the path. He grabbed his chainsaw and began his drive to the town.
At the Kineston house in Jamestown, Susie was having a problem keeping her parents in the basement. Her mother had left her purse in the living room and wanted to get it, but she looked out a small window above the washing machine and thought otherwise. She saw the trees bent in all different directions. Then the house began to shake and an unbearable suction began. The picnic table lifted and fell, its legs breaking off. Outside, birds were being sucked out of trees as Jim Kineston saw two funnels go by the window. Then, as noticed in Albion, there was a stillness. Mrs. Kineston hugged Susie, for not her insistence, her and her husband might not have survived.
The twister continued its march eastward toward Atlantic while climbing from an F2 to an F4. Dave Bell, John Halfast, and Bob Sammler at the Erie NWS station watched on radar the three hook echoes pass through Albion, Pymatuning, and Jamestown. John wondered if his family and house managed to survive as the phone lines were down. They also spotted suspicious cells as far south as the Pittsburgh area, and called to alert the NWS office at Greater Pittsburgh International Airport. Pittsburgh was also watching the same cells, but the region did not seem to be under the attack like northwestern Pennsylvania.
In the line of fire, Ammon Miller was working in his shop around 5:20 PM when he heard a loud clatter on the roof. Hail the size of mothballs soon to grow to golf ball-sized and then in an instant suddenly stop. Then he saw a dark mass appear from a low hanging cloud which appeared to be coming at him, and he knew it was a tornado. Ammon saw it begin to tear into his 35 acres and his house seemed to explode above him. He looked up at the 300-foot-tall AT&T relay tower and saw it bend and crash to the ground. Then looked across to his neighbors, and their trailer wasn't there. After making sure his own family was safe, Ammon rushed out of the cellar to find them walking around in circles in a daze.
Amish Bishop Yoder had finished up his carpentry work in nearby Hartstown and was heading back to Albion. Even though there was hail falling, he had no idea of the magnitude of the disaster to which he was approaching. What was odd about this outbreak was that it was happening so near; however, people in the vicinity knew nothing about the destruction. The width of the tornado was about a quarter of a mile wide as it began to tear into the village. Yoder's family saw the twister coming at their home, then all of a sudden change directions and head towards the home of a relative, Henry Ditwiler. Henry looked up in the sky to see complete mobile homes spinning inside the funnel. His home was picked up and smashed against a neighbor's; however, the family survived in the cellar. In Rocky Glen Cemetery outside of Atlantic, tombstones were toppled, grave markers ripped out and thrown from their graves. A voice came crackling over the CB, "Atlantic is gone."
Revered Charles Polley was leaving Meadville around 5:00 PM when golf ball sized hail began to fall. Then the sun appeared so he stopped for something to eat at the Strudel Factory on US 322. Another customer came in and told him, "A town down the road has just been wiped out by a tornado." Polley got into his car and headed for the village, along the way dodging downed trees and telephone poles. As he approached the town, he saw and heard the flashing lights and sirens from emergency vehicles. He saw a drastically different Atlantic than the one he left earlier in the day. No houses were left standing, the post office was destroyed, trees were sheared off at the stump while others were had shattered limbs. Five people were killed in a trailer park on the edge of Atlantic and three in a house near the park. The only building that managed to survive unscathed was the Atlantic Congregational Church. Reverend Polley entered and found a gaping hole in the roof above the alter, the chalice was bent at an angle, the American flag and staff were gone, but the Christian flag was still there. The large Bible was still sitting on the pulpit open to the Book of Job. A passage on the page caught the reverend's eye, "Your sons and daughters were eating and drinking in the eldest brother's house when suddenly a whirlwind swept across the desert and struck the four corners of the house and it fell on the young people and killed them...." Within hours a relief center was set up in the church where even months later the Amish and "English" would be working side by side.
The first tornado warning came from the Erie NWS office at 5:13 PM, two minutes ahead of the Albion tornado, but three after the one in Pymatuning. Information was continuing to pour out via the NOAA weather radio network which no standard radio is capable of receiving. The Emergency Broadcasting System, now the Emergency Alert System, was announcing watches and warnings but few heard. What was left were the fire sirens, but without electricity, they would be useless. Even more debilitating was that the storm had completely shut down the Youngstown NWS office. What unfortunate timing as the most powerful tornado in the outbreak as well as to touch the ground in Pennsylvania was about to enter the Commonwealth.
During the 6 PM newscasts, there were mentions of tornado touch-downs in Ravenna, Ohio and in Jamestown. However, the weather seemed to brighten in Wheatland and most seemed to feel that the worst had passed. At 6:45 PM, Youngstown NWS was able to get a brief phone message to Pittsburgh NWS about possible tornado development in the Wheatland area. The Pittsburgh office passed the alert along, but without concrete evidence in the form of a sighting or hook echo on the radar, they were weary to issue a warning.
Mayor Helen Duby lived in a house on a hill that overlooked the Shenango Valley. She had spent a busy, but overall uneventful day at the borough hall. Helen came home in the late afternoon to have an early supper with her husband who had recently retired from the National Casting Company in Wheatland. After dinner around 7 PM, she was sitting at her sewing machine while her husband was watching TV in the living room. He was one of the few people who saw the alerts, but didn't pay any attention as the weather outside was still fine although the sky was darkening. As Mayor Duby went back to sewing she heard the pitter-patter of hail against the windows. Next she heard what sounded like jets flying closely; however, it was an air show of a different kind. Her husband yelled "They're not planes," as he looked outside. "That's a tornado. Get down to the cellar!" They made it into the basement in time, and when they emerged, Mayor Duby looked down to the valley and the sight she saw broke her heart. "Oh, my God!" she screamed, "Wheatland's gone! There's absolutely nothing left!" No streets, no telephone poles, no homes, no crossroads. She jumped into her car and started down the hill to what was left of Wheatland.

Footage of the F5 tornado destroying Wheatland
As she drove towards the center of the decimated borough, she saw her constituents walking around in a zombie-like state around their destroyed homes. Some yelled incoherently at her, but she couldn't stop as she had to get to the borough building to start organizing help. The mayor had to contact utility companies to shut off services, the National Guard, the Army Reserve unit in Sharon, and the Pennsylvania Emergency Management Agency. Her car was useless in the streets strewn with debris so she climbed through the devastated streets looking to help anyone she could. Duby came across a man sitting by a car. She helped him to some porch steps nearby where he died in her arms. Groups of volunteers gathered to pull survivors from the debris that were their homes.
John Goda, who had just married off his daughter Yvonne 27 days earlier, happened to turn on the TV at 5:30 PM to see the tornado watch crawl. However, just like most, he paid no attention until later in the newscast the weatherman mentioned unconfirmed tornado touchdowns to the west of Wheatland and near Erie and Jamestown. The weather seemed to be fine outside until he heard small hail begin to hit the window and the skies begin to darken. Having been through a tornado several years before, he took precautions such as gathering a flashlight, his wife and son, and head for the basement. After some time, Goda came back upstairs and looked to the west when what sounded "like hundreds of engines" began. Yvonne came back up and grabbed him by the arm to pull him back downstairs. Less than a minute later the noise stopped, and he again emerged from the cellar. Nothing seemed to be damaged around the house then John looked down to the location of the borough, and it was gone. Yvonne came running out, concerned about her husband Dave Kostka who was umpiring a little league game. "Dave's down at the ball field! What's happened to him? Is he safe? What's happened to him?" Goda said to her, "Don't worry, Dave knows what to do in a case like this. You don't have anything to worry about." Then he and son John, with chainsaws in hand, jumped in their truck and headed down to help.
Kostka was at the baseball field enduring a small shower which delayed the start of the game. It had barely ended when one of the young players pointed to the west towards the funnel coming at them. He ordered the spectators to grab their kids and head for the dugout. He then grabbed his niece Christa and a boy Keith who needed a ride home, got in his Ford Blazer to dodge the tornado and get to his mother's home to help her to safety. Unfortunately, they did not get far when the twister caught up to them. The Blazer rose into the air, and came crashing down. Kostka pulled the kids out, threw them into a ditch, and laid across them. The empty Blazer was lifted into the air and soared across the street. As he continued to protect the children, the tornado ripped him away and smashed his body into a collapsing wall of Yourga Trucking Company, killing him instantly. The tornado tried to take Christa, but Keith managed to grab her ankle and hold on. They survived but were in a daze.
John Goda was less than a block away helping with search and rescue efforts. He heard reports that everyone was safe at the ball park and a sense of relief came over him. Little did he know that going from house to house, he was passing over the body of his son-in-law trapped in the debris. He went home around 10:30 PM to get more equipment and to check to see if Dave had called. Dave's sister called to say she found Christa at the hospital and Dave had been released. Goda went back to work figuring Dave wanted out of the hospital to help in rescue operations. Everywhere he went, he asked if they had seen Dave but no one had. He came across an EMT and asked him. The driver avoided making eye contact and said, "Yeah, Dave's dead." Goda lost his composure, grabbed his collar, and screamed, "No! No! No! That can't be true!" The driver told him he better ask the firemen, to which Goda grabbed the chief and said, "Is that true? Is it true Dave is dead? Tell me that's a lie." The chief nodded and they put John into his car to drive him home. Christa's father, Kenny Wallender, was there contacting hospitals to find Dave. At the hospital in Sharon, there were five unidentified bodies, but one had on a dark blue umpire suit. No question now: Dave Kostka was deceased.
Corporal Tom Carr of the Pennsylvania State Police had been patrolling I-80 eastbound had stopped to help a stranded motorist at milemarker six. He couldn't figure out why he was not receiving radio dispatches from the Mercer barracks which is 15 miles east of Wheatland. He saw the tornado approaching Mercer, and grabbed the microphone to radio headquarters. There was no response as the power had been cut. North of that area on PA 18, Paul Bortz was driving along and listening to WWIZ-FM. At 7:07 PM, John Borelli was mentioning the tornado watch and was cut off halfway through the report. Bortz began to bang on the dashboard thinking it was his radio. Meanwhile at the station, John Borelli and salesman Vince Nelson were sitting in the dark with only a Coleman lantern illuminating the room. Shortly after 7:12 PM, they saw the tornado coming at the station. They dove for cover in the control room which was a lucky pick as the outside walls and much of the station in general had been blown away. Production Manager Jeff Wimer's baseball game had been cancelled so he attended the graduation ceremony. He had heard rumors of tornadoes when he got back to Mercer that night, so he decided to put in a call to the station but no answer. The station manager's wife called Wimer to tell him that "WWIZ is totally destroyed." Wimer got in his car and drove through rubble and trees to get to the station. Upon seeing it, he broke down and cried.
Even by 7:15 PM, the National Weather Service in Pittsburgh was unable to get confirmation of tornado touchdowns to issue a tornado warning. Although, at 7:45 PM, an ominous bulletin was issued:
MOST OF THE SEVERE WEATHER THIS EVENING HAS OCCURRED OVER NORTHERN PENNSYLVANIA . . .
BUT THE STORMS WILL BE MOVING IN THE SOUTHERN HALF OF THE AREA WITHIN THE NEXT FEW HOURS. . . .
SOME OF THESE STORMS WILL CONTAIN LARGE HAIL
. . . DAMAGING WINDS . . . DANGEROUS LIGHTNING
. . . HEAVY DOWNPOURS AND POSSIBLY TORNADOES.
BE ALERT AND READY TO TAKE COVER.
The statement also stated: "THERE HAVE BEEN SEVERAL UNCONFIRMED REPORTS OF TORNADOES THIS EVENING." A cruel joke perhaps, but it showed how crippled the communication system had become. Few had heard the reports of tornadoes or tornado watches in Beaver Falls and North Sewickley. Shortly after 8 PM, Carl Mosketti was wrapping a bottle of Gallo wine at the state liquor store, Jess Megaree was standing outside the Jamesway store waiting for his father-in-law, and the Spotlight 88 drive-in was awaiting the arrival of Chief Dale Sutherland's son and classmates for the graduation party.
Megaree called his relatives and found out he was at the wrong Jamesway store, so he began to walk back to his car. He then heard the roar and saw the funnel. It picked up several cars and smashed them into the roof of the plaza, with one blowing past him. Jess forced a Jamesway door open, dove for a counter, and covered his head. The entire roof was peeled off, steel beams bent like paper being crumpled. The ceiling fell in, trapping him under debris but he managed to live. Later, dozens of blouses and dresses with Jamesway price tags would be found miles away dangling from trees. All but one wall of the state store were blown away. Carl Mosketti and shopper Gladyce Brenson were both crushed to death; however, rows of liquor sat in neat rows, untouched on the shelves of the remaining wall.
Chief Sutherland received a phone call from the fire station saying a tornado had been spotted west of the town. He didn't think too much of it, considering that there were many false alarms, but another call confirmed it was on the ground. Not too alarmed, Sutherland walked into the kitchen to go to the cellar. Just then, the window shattered and the back door blew in knocking him over. Thankfully the suction pulled him into the basement instead of outside. Out of a basement window he saw it continue to the intersection of PA 65 and PA 588 and absolutely level everything. He was grateful that his children were not yet at the drive-in there. After it passed, he along with other firemen, police, and volunteers began digging through the remnants of the businesses at that intersection. Three were trapped at Ken's Butcher Block and one at the ticket booth at the Spotlight 88 drive-in. Most were stunned, walking around in a daze, in circles, some screaming, some crying, some not saying a word.
As the rescuers continued, so did the twister's rampage on a trek eastward crossing the Pennsylvania Turnpike and I-79 into Butler County. At a Tupperware party, eight ladies ran for shelter in a root cellar outside the house. All but one made it, with the unfortunate attendee found dead in a stream two miles away. The tornado made a run for Evans City, but veered to the south to miss the borough center and instead took aim at John's Bar. It was packed as usual for a Friday night, and waitress Dorothy Pitts had just overheard a late arrival yelling that a tornado was heading their way. The patrons at the bar hit the floor while the people in the dining room dove underneath their tables. Dorothy ran for the kitchen and took cover under a bun rack. The roof lifted and the front portico was ripped away. The ceiling came down and pipes burst, flooding the rooms, but everyone miraculously was unscathed.
The sun set on the tragic day at 8:48 PM. Sound from portable generators and floodlights swept across the devastated countryside. Survivors looked for the missing, dead, injured, or trapped. Sirens and chainsaws broke the silence that had set in in the evening. Hardly anyone slept that night, as most worked through the night and into the next day. In Albion, Mayor Bonda Dahlin declared a state of emergency at 8 PM and a curfew was imposed beginning at 9 PM. The mayor's husband, Borough Councilman George Dahlin, took over as disaster coordinator.
Red Cross chairwoman Martha Sherman was glad she had just had a meeting months earlier with emergency management officials because it was paying off this night. Medical teams had arrived at the junior high school and were setting up triage stations. Ambulances from Erie Hospital began to stream in, as did food and private vehicles loaded with everything from baby food to sanitary napkins. As she worked, a friend of hers approached and said, "I'm afraid to tell you this, Martha, but Debbie is dead." Martha didn't understand and said "Which Debbie?" "I'm afraid its your Debbie. Debbie Sherman," said her friend. "My Debbie is gone?" as her eyes began to tear up. "Thank you for telling me," she said to her friend, "This makes our work all the more important, doesn't it?" Martha continued to work through the night and into the next morning without stopping.
Editor Bob McClymond of the Albion News editor had the biggest story in the history of the borough, but didn't feel like writing. He felt guilty that his family had survived when others did not. He worked through that by helping in the rescue efforts. It wasn't until Bob walked through with his camera that he got a true cross-section of the tragedy: part of the borough was left unscathed while other parts were obliterated.
Dawn came at 5:25 AM on Saturday morning when caravans of black, horse-driven carriages began making their way to Jamestown and Atlantic from Ohio. Thousands of Amish from as far away as Wisconsin, Michigan, and other Amish/Mennonite communities from around the country came by bus and van to help their brothers and anyone else who needed help.
Newspaper headlines greeted readers such as the Youngstown Vindicator with "TWISTERS SMASH AREA; MANY DIE; HUNDREDS INJURED." The New York Times gave the story a front page, column one position. At the National Severe Storms Forecast Center in Kansas City, reports were streaming in but mostly fragmented information: Albion: 12 dead, 82 injured...Atlantic: 23 dead, 125 injured...Wheatland: 7 dead, 60 injured...Beaver Falls: 9 dead, 120 injured. Steve Weiss' mouth dropped when he saw the news on June 1 and saw the destruction had taken place in the area he predicted. He along with Fred Ostby wondered if they had done everything they could. The Doppler radar system which was to be implemented by this time suffered set backs from budget cuts. Penn State University Meteorology professor Charles Hosler, and former American Meteorological Society president said after the tornadoes, "Those of us who are in the business and have seen this Doppler system work feel there is a terrible, unnecessary loss of life occurring all over the country." The wondering of "could more have been done?" continued in Erie. Even though Bob Sandstrom watched the situation like a hawk, the number of casualties were still high. The Pittsburgh office felt the same frustration because not only did they have to cover their own territory, but also Youngstown's. Bill Drazl had to keep a watch for a possible tornadic invasion of Pittsburgh. "There's nothing sacred protecting a city like Pittsburgh from tornadoes," he said. "There's no wall around Allegheny County." Which June 2, 1998 would prove when a tornado touched down on Mount Washington, right above the Golden Triangle. That night, at 9:40 PM, a funnel cloud was spotted ten miles from the city.
Dave Bell from the Erie NWS flew over the path of the Atlantic tornado to see how far it tracked. Its first target was the Allegheny National Forest and dumped shingles, papers, clothing, road signs, bankbooks, and other debris the funnel had picked up from as far away as 70 miles. Like a giant lawn mower, it cut through the thick forest beginning in Tionesta. Upon looking out of the plane, Bell could see eight different tracks plus one main swath that was nearly three-quarters of a mile in width in some places. Seven people were killed in Tionesta, over 400 homes were destroyed, dead cattle and deer were strewn across the countryside. Timber destruction was estimated at over $10 million over 13,000 acres that were almost demolished.
Strange events happened during the tornado outbreak. In Albion, Ted and Barbara Podoll's dog Pepper was missing when the couple returned. Hours later they heard whining under the demolished house and pulled him out to safety. Clark and Janet Snodgrass' refrigerator was ripped out of their house and landed a quarter mile away on the roof of a bank. A two-year-old baby was pulled from his mother's arms, but found later alive in a ditch stripped of his clothes. A farmer's dog, who was tied to a tree, disappeared with the tree as the tornado swept through was found alive three days later tied to a piece of the tree. Inanimate objects such as checks, letters, old pictures, and clothing were found up to 50 miles from their origins.
One of the few cases of looting reported, a couple stopped trespassers at gunpoint then experienced generosity from total strangers. An anonymous donor delivered two full truckloads of lumber to the site of their demolished house. Another family, also total strangers, gave them a set of keys to a log cabin nearby to use as a temporary home. The Erie Morning News not only created a massive food distribution operation with the help of local businesses, but also became a clearing house for offers of free housing for the newly homeless. So many offers poured in that the newspaper had to shut down the donor list and only accept calls from those who needed shelter. Large quantities of food was donated which filled several trailers to the point it had to be transferred to other relief agencies. A dog-food company packed its trailers with human food and took it to the devastated towns. Grocery stores, hardware stores, and fast-food chains didn't charge for food and supplies. Motels, churches, schools, and other public buildings opened their doors for those whose homes were damaged or destroyed. Two towns in France cabled Albion offering sympathy while Albion, New York and Albion, Michigan telephoned offering aid.
In Beacon Falls, Connecticut, volunteer fire fighters Mitch Mulinski and Bobby Cole were sitting in the firehouse with Chief Harold Lennon reading the news. They came across the story of Beaver Falls and recalled a decade earlier the nearby town of Waterbury had been hit by a tornado. The chief said, "Beaver Falls sounds a lot like Beacon Falls. Why in the hell don't we do something for these guys?" Mulinkski and Cole agreed but they lacked an idea of what to do for the stricken municipality. Bobby Cole got on the phone to contact local businessmen and persuaded them to donate a thousand dollars, and several other calls reaped two thousand dollars' worth of food. A local diner, Adrian's Kitchen, sent several dozen sandwiches and the Peter Paul Cadbury company offered candy bars. The firemen endorsed checks received from the state after fighting a brushfire to help the firemen in Pennsylvania start their children's toy collections again. So much was collected by the firemen of Beacon Falls that U-Haul donated a 16 foot box truck. Mulinski, with a bad back, and Cole began their trip in their dress uniforms at 8 PM Monday evening, just 24 hours after conceiving the idea. They took I-84 and I-80 to arrive 12 hours later. The Beaver Falls fire chief, unaware of the impending delivery, greeted the visitors from Connecticut with a stunned reaction and tears in his eyes. He told them the greatest damage was in North Sewickley, and jumped in his car to lead them to Chief Dale Sutherland. His fire hall had been miraculously spared the destructive power witnessed all around the building. The ladies auxiliary was there serving meals at the rate of 7,000 per week. Sutherland sent Cole and Mulinski inside to get a cup of coffee, some breakfast, and take a nap on a cot while the chief's men unloaded the trucks. They drove all night to return to Connecticut.
Sunday morning was as grim as the previous day. People continued to dig through the rubble that were their homes just days earlier. Bill and Sandra Stahlsmith returned to their home in Albion still in shock after loosing their son Luke. They were staying with the pastor of Grace Fellowship in Erie until permanent housing could be found. All she could salvage was some clothes, blankets, pillowcases, and towels. She said she would not cry in public, but alone she would break down into tears. At the same time, Linda Quay on Park Avenue tried to salvage what she could while picking shards of glass out of her scalp. The churches in the borough such as Grace Methodist and St. Lawrence with chunks of plaster falling from the ceiling and glass falling out of the windows, held services. Several Protestant churches offered their facilities for Masses.

Coverage of the tornado's aftermath from June 1, 1985 (WICU-TV Erie)
In Atlantic, it was estimated that over 80 homes were destroyed. Tree stumps, which supported trees just 48 hours earlier, were numerous in the area. The Congregational Church became a disaster center with the Red Cross then later the Mennonite Disaster Service housed there. Reverend Polly arrived for a service and in spite of the bent chalice and holes in the roof, knew he had a congregation to minister. Within a day, his church joined with four others in the area to set up a relief effort. Amish, Mennonites, as well as others of differing creeds and beliefs joined together in the common goal of recovery.
In Wheatland, Mayor Helen Duby told the press, "We desperately need state aid. I'm going to ask for the moon. But I'll settle for half a moon." The relatives of David Kostka were making funeral arrangements. He would later receive a posthumous award for heroism from the State Legislature.
Days would pass by the time the true scope of the disaster would be known. There were 69 fatalities, nearly 1,000 homes destroyed, over 1,200 homes damaged in Pennsylvania. In that one day, the Commonwealth suffered more deaths from tornadoes than were recorded from 1916 to 1985! It was estimated that if all the demolished and damaged houses were rebuilt, the construction would equal all the new homes built in the areas over the previous three years. So many utility poles were destroyed that one phone company official said, "This will be like rebuilding an entirely new phone system from scratch." The AT&T relay tower in Atlantic looked like a pile of metal beams instead of a communication relay point, and the 3,200 circuits it carried had to be replaced or rerouted.
Pennsylvania Governor Richard Thornburg declared the area a disaster area on a visit Saturday, and made a pledge to request Federal funding from the President. "The area must be seen to be believed," he said. "We use the word 'awesome' from time to time, but I think there is no other way to describe what the forces of Nature have done. Industrial facilities with structural steel bent out of shape like straw. Whole areas flattened as if they had been carpet-bombed. It's indescribable." He said this in Wheatland where 95% of the industry base had been destroyed. On Monday, June 3, President Ronald Regan answered the plea from the governor for aid. "I commend you all for your tremendous courage and resilience," he said. "These storms are among the worst in decades, and have clearly taken a heavy toll." The following day, Vice President George Bush visited the area before attending a Republican fundraising dinner in Pittsburgh. He said he was impressed with the resolve of the people and promised swift action on the relief. "It's awfully hard to understand the force of something like this until you see it," he said. Mayor Duby later commented, "I think with the governor being here and with Vice President Bush following him up, I think it will be the rebirth of Wheatland. I believe with all the helping hands, we will be lifted again."
However, applying for aid was not as easy as it seemed. Many were without cars and the closest office were miles from the victims. Documents such as deeds, utility bills, driver's licenses, insurance policies, estimates of losses, and others were required. Some would travel to the offices and upon arrival discover they were without needed documentation, and others would fruitlessly search the rubble of their homes for them. More than likely, they had been blown away such as a cancelled check a man who lived 20 miles outside of Albion found that had been written by his own mother 30 years earlier.
Front pages of the Pittsburgh Press and Post-Gazette from
the following day
Property damage totaled $50 million in the heavily industrialized Wheatland while only $13 million in Albion but it was one-third of that small borough's tax base. In Atlantic, taxes had just been collected and to issue refunds would wipe out the village financially. Clean-up would also be a thorn in the side for municipalities. Space to dump debris safely was scarce and in some places, public parks had to be sacrificed. So many piles of debris were burned that towns became veiled in black smoke. Insurance companies did an impeccably good job with such adversity. Adjusters were on the scene as early as June 1 and some even issuing checks for mostly cost-of-living coverage. In some cases they had trouble finding policyholders due to the destroyed blocks and people living far from their home with friends, relatives, and in temporary housing. The Amish did not accept such help and relied on the community to help rebuild. Bishop Yoder said, "One reason we don't accept government assistance is that we get it done faster this way. Most of the barns have to be done before too long for the grain and hay and cattle. We figure to begin them as soon as possible. And when something like this happens, we call in Spartanburg, Punxsutawney, Troutville, Middlefield, New Wilmington, Mercer--we all get together. Some call it a bee. We call it a frolly. Everybody brings eats, and we all go to work." Yoder would be responsible for burying Andy Byler in the Amish cemetery in Atlantic. The Amish did accept some assistance, but only after others were taken care of first. Harold McCrea in Jamestown, who saw the beginning of the tornado rampage, said the Lions Club there begged them to take money and all they took was underwear. They start up one street cleaning up debris and start down the next street doing the same job. Then the Amish move on to the next town. When Charley Grocé returned to Atlantic he began organizing relief efforts in conjunction with the Red Cross'.
The tornadoes not only gouged scars across the western Pennsylvania countryside, but they also left deep psychological scars for those who were affected and those who were left unscathed on either side of the tornadoes' paths. The mental anguish that emerged became known as tornado guilt with people asking themselves why did we and our property survive when others were so devastated. Fearfulness of storms also became a problem after the outbreak. Wheatland Mayor Helen Duby who had never been afraid before now became afraid every time dark clouds appeared. Rescue and relief workers also suffered psychological trauma. Firemen, policemen, paramedics, and others were supposed to repress their feelings for the sake of their jobs. One clinical psychologist summed it up, "No matter how strong a person is, whether he's a tough cop or National Guardsman or whatever, one can be terrible affected by a body, especially a child's, which is the most emotionally upsetting thing a person can experience." Journalists, such as Bob McClymond in Albion, faced the same anguish. He felt it was almost intrusive to write about his fellow townsmen who has lost so much in terms of homes and loved ones in the disaster. He envied the reporters and television crews that came through the borough to report the story to the rest of the world because of their emotional detachment. Colleague Vicky Canfield had the same problems writing the obituaries. She would break down in tears and could only get through the task by writing one moving onto something else then coming back to write the next. Tornado guilt was also affecting her mentally and physically.
Thankfully counselor Jerry Erdley was working free to help those cope with the disaster at Saint Vincent Health Center and Hamot Medical Center in Erie. His work helping Vietnam veterans and with the National Post-traumatic Stress Conference was invaluable. Emotional numbness, vivid nightmares, violent mood swings, and hyperalertness were just some of what Erdley saw in the veterans as well as the tornado victims. He and other mental-health counselors wanted to make the people aware of them and to talk about their experiences with friends and seek professional help if they felt overwhelmed. Volunteer counselors from churches throughout western Pennsylvania arrived to relieve local pastors. Tod Hilliard who lived on an Albion street that was untouched said, "It makes you feel glad, but you can't believe why the tornado went the other way, away from us. It could have come this way. There was nothing left of my friend's home. It gives you a sense of responsibility to the community." Linda Stahlsmith, trying to overcome the grief of Luke's death, worried about her other children. Her younger son Bryce pointed to the sky and said, "Luke all gone." One day she found Luke's brother crying under a blanket saying he wanted Luke back. Another time she found eight-year-old Brook crying as she looked at a family picture album. Nine-year-old Bree never cried except she would begin to shake violently at the first sign of a storm. In fact, children all though the region would have a violent reaction to the sight of dark clouds or thunderstorms. Psychologists said this reaction is something that would linger for years, and they recommended counseling and therapy for children.
The full scope of the disaster wouldn't come to light for several months later. The final tally would be 1,009 homes destroyed, damage totaled nearly $400 million, and over 700 were injured. A team of people from NOAA, National weather Service, and Penn State University's Department of Meteorology were put to work to clarify the disaster and get a true representation of the disaster. Pennsylvania had been hit with the most tornadoes in one day in recorded history. The biggest lesson learned was that tornadoes can hit regardless of location or terrain. It had once been thought that hills and mountains can break up a tornado. The team also had praise for the storm spotters who radioed reports to various NWS offices, and urged their continued recruitment, training, and maintaining the entire Skywarn volunteer operation. They emphasized continued exploration on how to effectively get out warnings and watches to broadcast stations as well as state and local agencies. Last but not least was community awareness of the importance of heeding watches and warnings. The team made the recommendations to speed up and automate warnings being relayed via the Emergency Broadcast System (now the Emergency Alert System). Also, multiple communication systems be utilized to include warnings for state, local, and broadcast media.
A total of 28 tornadoes developed in the United States: 17 in Pennsylvania, 10 in Ohio, and 1 in New York. Three of them crossed from Ohio to Pennsylvania and another three from Pennsylvania into New York. Fatalities totaled 17 in Albion and was the most in any single community. Fatal injuries occurred in 29 other communities with nine of those killed making it to shelter but died anyway due to houses inadequately anchored to their foundations. Many people were carried away with their homes. There was an unusually high number of violent tornadoes with seven in Pennsylvania alone such as the F5 that struck Wheatland. The outbreak was the strongest ever recorded in the area. They also pointed out long-term impacts to the region in terms of financial disaster. The major employer in Albion had moved out two years earlier and other circumstances led to one-third of the tax base being eliminated. Wheatland had 95% of its industry damaged and 84% of its industrial tax base destroyed. It was a different story in Atlantic with the high population of Amish that showed little indication of moving away. Through their efforts, they had rebuilt much of their own property before Federal and state funds were made available.
Today the outbreak is a thing of stories the residents who stayed, as well as people who lived there at the time, will tell. The trees have grown again, the structures rebuilt, but the memories remain. Two areas where there is still remnants of that day visible are in the Tionesta Scenic Natural Area in Forest County and in Moshannon State Park in Clearfield County. It was not the first severe tornado outbreak nor will it be the last in Pennsylvania.
Tornado Watch Number 211
by John Grant Fuller (1987)

A great book that helped make this page possible. I remember reading a condensed version in Reader's Digest two years after the disaster.

---

Twister
directed by Jan de Bont (1996)

Dr. Jo Thornton-Harding (Helen Hunt) leads a rag-tag band of storm chasers and William Harding (Bill Paxton) her soon-to-be ex-husband and former chaser now embarking on a new chapter in his life. Things change, like the weather, and they are once again in pursuit of tornadoes for the scientific merit unlike their nemesis Dr. Jonas Miller (Cary Elwes).

---

Twister: Furry on the Plains
directed by Thomas P. Grazulis and David Ross (1996)

Footage of recent as well as past tornadoes from the creators of the Tornado Project which is linked above. One of the clips on the tape is of the tornado that destroyed Wheatland.

---

Weather Extreme: Tornado
directed by Pierre de Lespinois (2001)

Go inside the birth and death of a tornado with this excellent documentary from the Discovery Channel.

---

Tornado Alert
by Franklyn M. Branley (1990)

A good book for children from First to Third Grade that tells what tornadoes look like, why they occur, when the occur, and what to do if one hits. Also mentioned are some of the more spectacular feats tornadoes can perform.

---

Tornadoes
by Seymour Simon (1999)

For the older students in Fourth to Eighth Grade, this book features large full-color pictures that bring them face-to-face with this powerful phenomena. The life-cycle and what causes tornadoes is discussed as are how scientists can predict, rate, and track them. Some of the major ones recorded in the United States are mentioned.

---

The Tornado: Nature's Ultimate Wind Storm
by Thomas P. Grazulis (2001)

From formation, lifecycle, and accounts of touchdowns to the myths associated with tornadoes, this book provides insight into what makes tornadoes tick. A list of the deadliest to hit the United States as well as black and white pictures of tornadoes and their aftermath are also in the book. The author is director of the Tornado Project, whose link can be found below.

---

Big Weather: Chasing Tornadoes in the Heart of America
by Mark Svenvold (2005)

Spend a May with a colorful bunch of chasers as they analyze data, drive through the Great Plains, and agonize over which storm to peruse.

---

Storm Chasing Handbook
by Tim Vasquez (2002)

So you've seen Twister and think you're up to tracking one of these monsters down? Not only is this book good for new chasers, but seasoned ones looking for information, chase tour customers, and weather hobbyists. Learn not only about tornadoes but other things that can happen in thunderstorms such as gustnadoes, lightning, and hail. Readers learn the fundamentals of forecasting augmented with the author's own wisdom. The appendix features a Great Plains travel guide that covers nearly 100 chase routes.

---

Pennsylvania Disasters: True Stories of Tragedy and Survival
by Karen Ivory (2007

Covers all disasters, natural and man-made, that have befallen the Commonwealth from the Yellow Fever Epidemic of 1793 to the Quecreek Mine Accident of 2002. This page is cited under the Tornado Outbreak section in the Bibliography.

---

Handheld Weather Alert Radio
by Midland

The perfect item to keep you in touch of changing weather conditions and national emergencies. Tunes to National Weather Service and Environment Canada weather/hazard channels with S.A.M.E. (Specific Area Message Encode) with the help of the scan feature to lock in the strongest signal. The radio will switch from stand-by mode to alert the listener to watches or warnings.
Links:
AccuWeather
American Red Cross
Current Watches, Warnings, and Advisories for Pennsylvania - National Weather Service
May 31, 1985 Tornado Outbreak - National Weather Service State College
National Weather Service
NOAA Weather Radio Pennsylvania Station Listings - National Weather Service
Skywarn
Storm Prediction Center - National Weather Service
Weather Alerts - 511PA
May 31, 1985: A Tornado Outbreak Out of Place - Andrew Berrington
May 31, 1985 Tornado Outbreak - Nick Wilkes
Memorable Tornado Outbreak of May 31, 1985 - Greg Drollinger
The Tornado Project Online
---
Back to Pennsylvania Highways
Back to Pennsylvania Highways Features
Page updated August 31, 2020.
Content and graphics, unless otherwise noted, copyright © Jeffrey J. Kitsko. All rights reserved.
Information courtesy of Tornado Watch #211 by John G. Fuller.