Hopkins-Bowser Highway
---
Even though it is the shortest two digit Interstate in the Keystone State, Interstate 86 actually got its start in the Empire State. Throughout the 1970s and 1980s, New York had been upgrading NY 17 from a two lane highway into a expressway with some at-grade divided sections. In 1971, Pennsylvania began construction on a section of expressway near the border in Bradford County. This would connect to sections under construction in New York. In 1972, the first section from NY 282 into Pennsylvania to US 220 was finished. In 1973, as New York finished their remaining sections to Elmira, the remaining Pennsylvania section opened. By the beginning of the 1980s, it had been upgraded to expressway status from outside New York City to Corning, New York. The plan was to complete it from there into Pennsylvania. Sections were built but left abandoned due to lack of funds.
In 1986, Pennsylvania began construction on their section of the highway that would become PA 17. In 1987, the section from I-90 to PA 89 opened to traffic. In 1988, the remainder from PA 89 to the border to coincide with New York finishing their remaining sections. Originally built as a "Super 2" expressway, which is a two-lane expressway built on a four-lane right-of-way, it was widened to four lanes in 1996.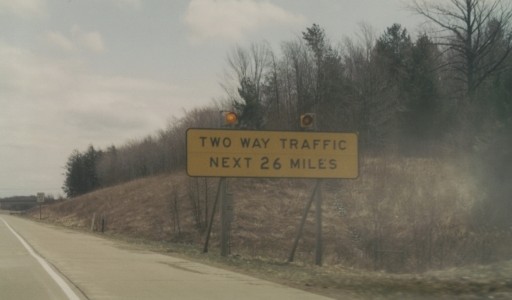 Sign at the beginning of PA 17 in the mid-1990s. (John Krakoff)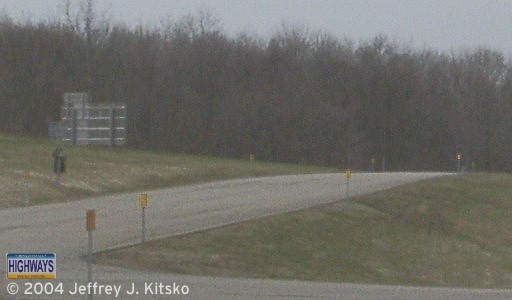 View of the crossover from the westbound direction, that westbound traffic
had to utilize until Pennsylvania widened then PA 17 to four lanes.
Finally on December 3, 1999, NY/PA 17 was officially designated as I-86. This designation is from Erie to the Steuben-Chemung County line in New York, with the remaining section NY 17. With this new designation, it now means that Pennsylvania has only two state highways that have the same number but are not connected in any way. However, it will be the only Interstate to enter-leave-then again enter the state.
On the morning of December 4, 2018, a truck traveling westbound from New York into Pennsylvania began losing its load. Around 4 AM, the Chautauqua County Sheriff's Office received a call about calves wandering along the roadway near the Town of Sherman. Five injured calves were found in New York and taken in by a local farmer, while another three were found in Pennsylvania.
This Interstate has a twin on the other side of the country which runs between Pocatello and Heyburn, Idaho.
Links:
Exit Guide
Interstate 86 Ends
Interstate 86 Pictures
Interstate 86 - Andy Field/Alex Nitzman
Interstate 86 - David Steinberg
Interstate 86 Photos - Valerie Deane
Quickway - Steve Anderson
The Quickway - Jeff Saltzman
---

INFORMATION
| | |
| --- | --- |
| Western Terminus: | I-90 at Exit 37 in Erie |
| Eastern Entrance: | New York state line south of North East |
| Length: | 7.30 miles |
| National Highway System: | Entire length |
| Name: | Hopkins-Bowser Highway |
| SR Designation: | 0086 |
| County: | Erie |
| Multiplexed Routes: | None |
| Former Designation: | PA 17 (1987 - 1999) |
| Former LR Designation: | 1126 |
| Emergency: | 911 |
---
Back to Pennsylvania Highways
Back to Pennsylvania Interstate Highways
Page updated September 30, 2022.
Content and graphics, unless otherwise noted, copyright © Jeffrey J. Kitsko. All rights reserved.
Information sign courtesy of Richard C. Moeur.
Information courtesy of the Pennsylvania Department of Transportation, New York State Department of Transportation, Rand McNally, and WICU-TV/WSEE-TV Erie.