AMVETS Memorial Highway
---
It is one of the first Interstate to be completed from border to border in Pennsylvania. OK, so it was only 46 miles long and is only in one county, but who's paying attention? Actually, the real reason that it was completed so fast was that it had help from the Pennsylvania Turnpike Commission.
Prior to the signing of the bill that ushered in the era of the Dwight D. Eisenhower System of Interstate and Defense Highways, the PTC had envisioned a similar plan but in the scale of Pennsylvania. During the 1940s and 1950s, many highways were proposed as toll expressways and so was this one which would be known as the Northwestern Extension. It was even shown on the 1956 Pennsylvania Turnpike map as under construction; however, on the 1957 it was not shown at all. What a difference a year makes!
By the time the bill was signed by President Eisenhower on June 29, 1956, the status on this section of highway had gone from preliminary design to final design. When the legislation went into effect, the Turnpike engineers packed all of their plans, correspondence, and soil reports and shipped them to the Department of Highways. Most of the other proposed highways ended up the same way, as Interstates.
Construction on the entire route began in 1958. In 1959, the state of Ohio began to build their section of I-90 up to the border. They did not open their section and what happened was a repeat of when the Pennsylvania Turnpike opened to the Ohio/Pennsylvania border and dumped cars into Petersburg, Ohio. The first section of I-90 opened from the Ohio border to Exit 6 on June 1, 1960. The section from Exit 6 to the New York border opened on October 28, 1960 at 10 AM. The ribbon-cutting ceremony began with a motorcade over the newly opened expressway that began at Exit 24. A luncheon, also a part of the ceremonies, was attended by more than 200 local, state, and federal dignitaries at the Lawrence Hotel in Erie.
Secretary of Highways, Paul H. Martin spoke at the luncheon. He said that the Thruway had accomplished two basic requirements: "It removes the heavy flow of through traffic from urban streets; and it reduces the time consumed in travel between New York and Ohio. He went on to say that "When the Pittsburgh-Erie expressway [I-79] is built, the economy and resources of Erie and this section of Pennsylvania will be further enriched."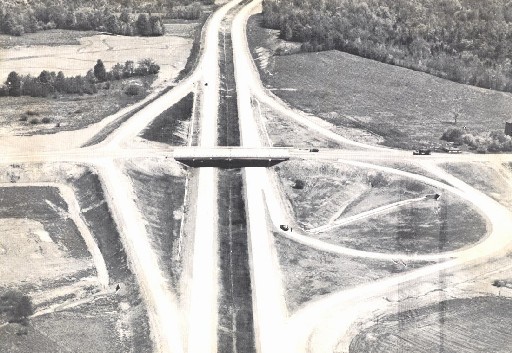 Facing eastbound on the then uncompleted I-90.
(Pennsylvania Department of Highways)
When it opened, the Interstate had a speed limit of 50 MPH, which was 10 MPH lower than ones on New York state or Ohio expressways. However, Martin mentioned that it would be temporary.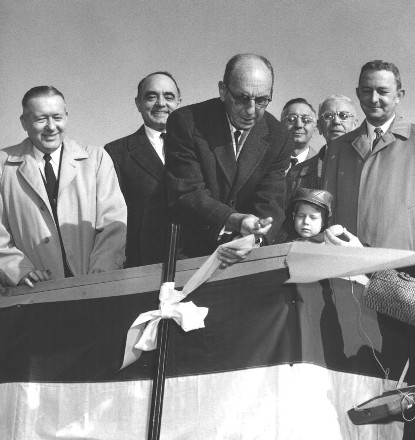 Ribbon cutting ceremony with from left to right: G. A. Berry,
Chief Engineer of the Ohio Department of Highways; Ellis
Armstrong, Commissioner of the US Bureau of Public Roads;
Park H. Martin, Pennsylvania Secretary of Highways; Harold
Reslink, President of the Greater Erie Chamber of Commerce;
Earl Evans of North East, honorary chairman of the dedication
program; and R. Burdell Bixby, Chairman of the New York
State Thruway. The child in the picture is Maurice Baker, son
of a Department of Highways employee and the person who
sent me this material. (M. Baker)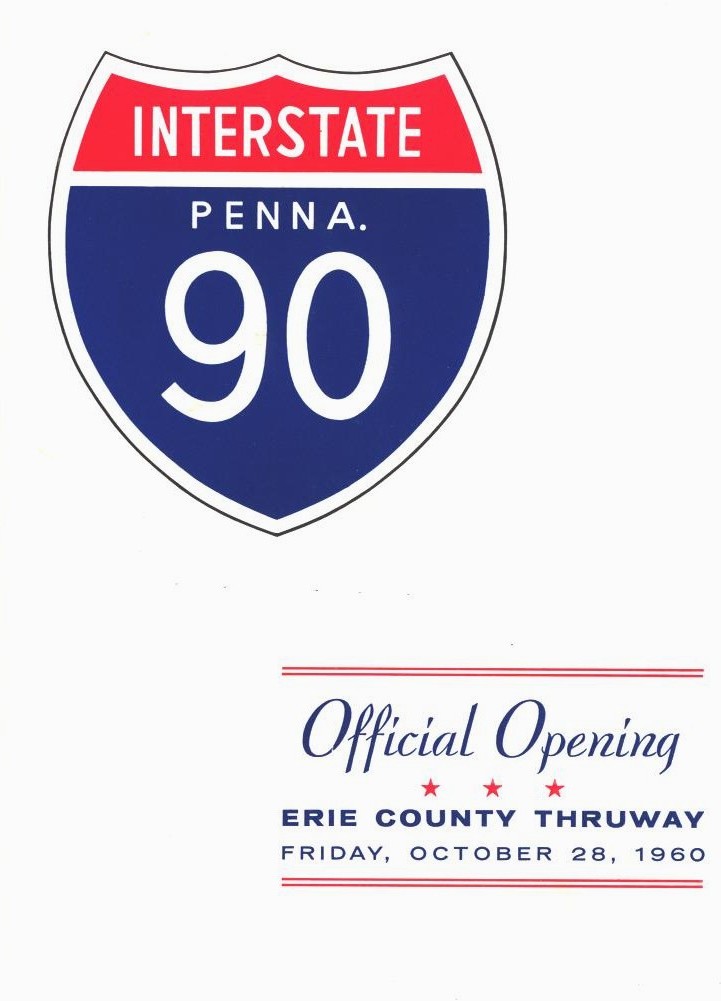 Cover of the I-90 opening ceremony program.
(M. Baker)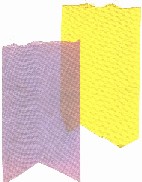 The actual ribbons
used in the ceremony.
(M. Baker)
Finally, this interstate is finished undergoing a major overhaul. The project included every section from the Ohio Line to the New York Line. It seemed that every time I went to Canada, this highway was under construction. The construction concluded in 1999 and the highway is back to the way it is supposed to be: whole.
When the Coronavirus, or COVID-19, pandemic swept into the country in March 2020, PennDOT took measures to stem the spread to their employees and staff. At 12:01 AM on March 17, all rest areas and welcome centers across the state, including both in Erie County, were closed to the traveling public. Also all Driver License and Photo License centers were closed for two weeks and construction projects on roads under the Department of Transportation's jurisdiction were stopped. Hearing that construction work was halted could come as welcome news, the idea of closing down the rest areas did not sit well with truckers, trucking firms, nor some elected officials. It was then announced that on Thursday, March 19, barricades would come down at 13 rest areas across the state and they would be reopened with portable restroom facilities while the permanent facilities would remain closed. "Every decision made has been in the interest of mitigating the spread of COVID-19 and we are constantly reevaluating our response," said PennDOT spokeswoman Alexis Campbell. "That said, we also recognize that drivers need and deserve access to rest areas." PennDOT announced on March 24 that an additional 10 would reopen, and including the original 13, all would provide normal service with additional cleaning and maintenance. An additional five were reopened on Friday, March 27 which included the rest area/welcome center east of the Ohio state line, with the one west of the New York state line reopening April 6.
Links:
Exit Guide
Interstate 90 Ends
Interstate 90 Pictures
I-90 Interchange Browser - Tim Reichard
Interstate 90 - Andy Field/Alex Nitzman
Interstate 90 - David Steinberg
Interstate 90 Pictures - Steve Alpert
Interstate 90 Pictures - Dan Garnell/Scott Steeves
Interstate 90 Pictures - Doug Kerr
---

INFORMATION
Western Entrance:
Ohio state line three miles west of West Springfield
Eastern Entrance:
New York state line two miles east of North East
Length:
46.30 miles
National Highway System:
Entire length
Names:
AMVETS Memorial Highway
Erie Thruway
SR Designation:
0090
County:
Erie
Multiplexed Routes:
None
Former Designations:
None
Former LR Designation:
797
Emergency:
911
---
Back to Pennsylvania Highways
Back to Pennsylvania Interstate Highways
Page updated April 07, 2020.
Content and graphics, unless otherwise noted, copyright © Jeffrey J. Kitsko. All rights reserved.
Information sign courtesy of Richard C. Moeur.
Information courtesy of the Pennsylvania Department of Transportation, Rand McNally, Erie Morning News, Erie Daily Times, the Pittsburgh Post-Gazette, Buffalo Courier-Express, and William Pittman.