Vietnam Veterans Memorial Highway
Pennsylvania Turnpike
---
The major north-south highway along the East Coast, Interstate 95 was originally planned by the City of Philadelphia as a link between the Port of Philadelphia, downtown, and points northeast. In 1937, engineers from the city's planning commission proposed an elevated highway from Delaware Avenue to Center City. The plan was rejected due to the findings that the support columns would interfere with port operations. In 1945, Department of Highways engineers reviewed the plans, and two years later both the Bureau of Public Roads and the Philadelphia City Planning Commission approved the path of the expressway. Original price tag for construction was $180 million and would have been complete by 1960.
Early in the planning stages, the project was studied as a potential toll highway to pay for construction. The highway was to be built as the Philadelphia Loop Extension and become a part of the Pennsylvania Turnpike Commission's plan for a statewide system of limited-access toll highways. However, on June 29, 1956 when the Interstate Act was passed, the project was handed back to the then Department of Highways.
Originally, Pennsylvania wanted to route I-95 along the US 13 corridor, leaving the current one at Exit 40. New Jersey did not like this routing on the basis that it would overtax the four-lane Trenton Toll Bridge and Trenton Freeway. The states studied three alternatives for a crossing: Scudder Falls west of Trenton, the existing Trenton Toll Bridge, and Biles Island to the east of Trenton. The two states approved the Scudder Falls crossing in 1960 and the Bureau of Public Roads approved the new alignment of I-95 in 1964. This is why a direct connection between the Pennsylvania Turnpike and the Interstate was not constructed.
Construction began in 1962 on two sections: Exit 2 to US 13 near the current Exit 7 and from Exit 35 to Exit 40. These first two sections of Interstate 95 opened in 1965.
Controversy began to brew in 1961 as the Interstate's future route was being planned into Center City. The 1955 report from the engineering firm of Madigan-Hyland called for a six-lane elevated highway through this area, but later changed to an eight-lane design in 1959. The project would encompass urban renewal with the demolition of empty warehouses for the Interstate and the Penn's Landing development. In 1963, upon seeing a model of the elevated expressway through the proposed Penn's Landing development, architect Frank Weise got a hold of Edmund Bacon, the chief planner at the city planning commission, and warned him that the expressway would sever the link between the city and the river. Weise created a team to find alternate designs and submitted their findings to the Department of Highways. Highway officials tapped the design firm Ammann and Whitney to design an eight-lane depressed expressway, two years after Weise and his team began developing alternate designs. To ensure this section wouldn't become an eyesore, the City Council sought and ultimately obtained Interstate highway funds to implement the Ammann and Whitney design, which was today's Penn's Landing.
In 1965, construction commenced on the section from just south of Exit 32 to Exit 35 and opened the following year to traffic. In 1967, construction began on the section from the Delaware state line to Exit 2 and from Exit 23 to Exit 32. In 1968, construction concluded on the section from Exit 25 to Exit 32. That same year, work on the Interstate moved to the suburbs, as construction commenced on the section from Exit 46 to the Scudder Falls Bridge in Bucks County. In 1969, the section from the Delaware state line to Exit 2 opened, while construction began around Exit 9, between Fort Mifflin and Exit 17, and from Exit 40 to Exit 44.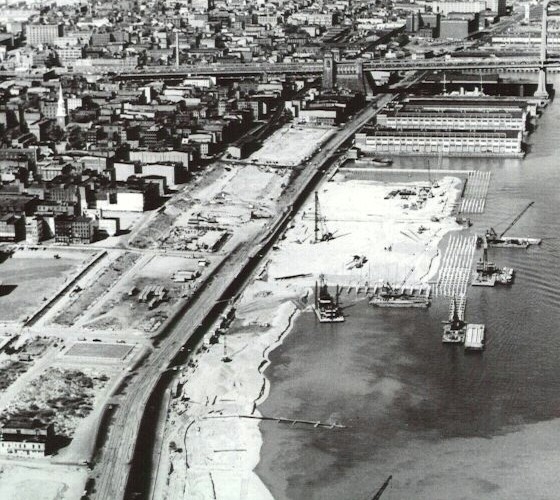 Clearing for the I-95 alignment in 1968. (Philadelphia Inquirer)
In 1970, the section from Exit 46 to the Scudder Falls Bridge opened to traffic as did the section from Exit 23 to Exit 25. In 1973, the section from Exit 40 to Exit 44 opened to traffic and construction was extended from near Exit 7 to near Exit 9. The following year, the section around Exit 9 opened to traffic, which extended from Exit 8 to Exit 10 and included the ramps to and from PA 291. In 1974, construction also continued on the section near the Naval Shipyard from Exit 15 to Exit 20. In 1975, the section from Exit 7 to Exit 8 opened to traffic and construction began on the sections not already underway between Exit 10 and Exit 23 which included the double-deck Girard Point Bridge. This meant that I-95 was either open to traffic or under construction through the Commonwealth. In 1976, a two mile section between Enterprise Avenue and Broad Street opened. In 1977, the section between Broad Street and the Schuylkill Expressway/Walt Whitman Bridge interchange opened.
The 1980s began with the 10 mile section from Exit 13 to Exit 23, which passed right through downtown Philadelphia and under Penn's Landing where the USS Olympia is docked, opening to traffic. The remaining four-mile section between Exit 10 and Exit 13 would seem like a cake-walk to finish; however, engineering, environmental, and fiscal problems would befall this part. The engineering and environmental problems were with the city's water supply, which is separated from the sludge discharge by the sewage treatment plant by a layer of clay. Engineers were faced with a dilemma of having to pierce the clay with support pilings, and not contaminate the city's water supply. It was remedied with workers inserting a cylinder partway into the clay, and removing the sludge from inside. With the inside of the cylinder cleaned out and sealed, it was safe to insert the pilings into the clay. The financial problems were due to the Pennsylvania legislature voting down implementation of an emission program in 1981. In reaction, the Federal government suspended highway funds for projects within the Commonwealth which did not impact I-95 construction immediately, but would have affected continuation of the construction. Pennsylvania began emission testing in 1983 and thus regained highway funds for projects.

View of Interstate 95 from Penn's Landing. (Alex Nitzman)
The section finally opened, and thus completed Interstate 95 in Pennsylvania on December 15, 1985. This section includes collector-distributor highways on the outside of I-95 to serve Philadelphia International Airport and ramps leading to Island Avenue. The entire Interstate cost more than $500 million to build, with $191 million of that being spent on that final section alone.
In the late-1980s, PennDOT opened previously constructed ramps for the Crosstown Expressway at Exit 20. Originally, they were planned to connect I-95 to I-695 and were built even after the expressway was removed from state plans in 1974. Residents feared that the ramps would lead to a revival of the expressway plans, but in 1982, PennDOT reached a compromise with community leaders which cleared the way for connections to surface streets.
Just before 1:30 AM on March 13, 1996, a fire broke out amongst discarded tires under the elevated section between Westmoreland Street and Tioga Street which caused three spans totaling 63 feet of the 26-span, 1,707-foot-long Westmoreland Viaduct to buckle and forced PennDOT to close Interstate 95 between Exit 25 and Exit 27. US 1 took most of the brunt of the detoured vehicles. The eight alarm blaze burned for five hours and required 50 pieces of equipment and 180 firefighters to get under control. Support wires snapped, concrete was charred, guiderails buckled, and chunks of concrete fell from the span. The smoke was so thick, the Philadelphia Department of Public Health issued an air quality advisory for people living within three-quarters of a mile of the disaster.
Initial estimates put a full repair job taking about six months and costing $2 million; however, repairs began just after the fire was extinguished. The contractor temporarily bolstered a 120-foot cross-section of the Interstate to get it reopened. A partial reopening with two lanes in service came about a week later while permanent repairs continued. Crews continued working until July, with additional lanes opening as work progressed. In July 1996, Buckley & Company from Philadelphia, concluded work three weeks ahead of schedule and garnered $510,000 for the early finish. Work involved replacing 180 feet of elevated roadway at a cost of $3.5 million that was paid from the emergency fund of the Federal Highway Administration. One worker had a personal interest in the project. Charlie Neilio, a site superintendent, was set to retire in April 1996, after which he was moving to the Outer Banks of North Carolina, so the repair of Interstate 95 would be his swan song. "What a way for me to go out," said Neilio.
As for the fire itself: investigators initially traced it to a tire dump on Schiller Street known as the Philadelphia Tire Disposal Company. The pile had been a thorn in the side of the neighborhood for years, with neighbors, city officials, and state environmental regulators demanding Chief Executive Officer Joseph Tomczak remedy the problem. Violation notices from the Philadelphia Department of Licenses and Inspections had begun piling up for two years by the time of the blaze. Tomczak had hired Daniel Carr of Bucks County to dispose of the tires from his business; however, Carr reportedly ended up dumping them beneath the Interstate. He even trucked in others from a dump he owned in Quakertown!
Then that fateful day, a group of Port Richmond-area teenagers found the tires. They were charged in October 1996, with seven of them accused of not only the fire that damaged I-95, but 12 others in the Port Richmond area. Some of the teens' names were not released due to their ages. Their alleged crimes amounted to an estimated $6 million in damages. Kevin McMahon and Brian Cerebe, two who were of adult age, plead guilty to arson in federal court. A third, John Dieck, died in the crash of a stolen car in southern New Jersey in July 1996. Cerebe was not charged with the I-95 blaze, but was in others the group was accused of setting. Authorities alleged that McMahon, Dieck, and two unnamed minors drove to the pile in March. One of the minors set the tires on fire with a barbecue fire starter and paper towels, as McMahon, Dieck, and the other minor waited in McMahon's vehicle. The group then allegedly drove around the area watching the fire department battle the blaze. Meanwhile, Daniel Carr was found guilty of risking a catastrophe and conspiracy for his role in accumulating the tires, and sentenced to seven to 14 years in prison.
Fire also played a role in the history of the highway only a mere two years later. On May 23, 1998, the driver of a tanker truck loaded with 8,700 gallons of gasoline, while swerving to avoid a passing car, jumped the Jersey barrier and exploded after striking a pickup truck in the southbound lanes. The drivers of both vehicles died at the scene. Nine steel support girders, each six feet in length, eight inches tall, and between 65 and 80 feet long of the bridge crossing the Chester Creek were damaged. During five weeks, PennDOT spent $3.5 million to rebuild the bridge and open it in time for the Independence Day weekend.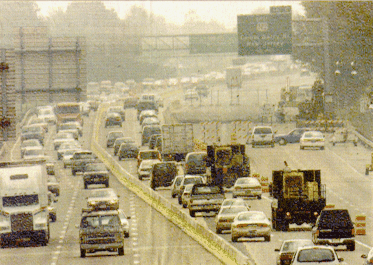 Chester Bridge accident (Pittsburgh Tribune-Review)
For the Northeast, the summer of 1999 was not a pleasant one. It was so hot on July 5, the southbound lanes near the Street Road Exit buckled. Then if that wasn't bad enough, a 10 inch-high heave was discovered by PennDOT workers on the northbound lanes at the same exit on July 6.

The completion of Interstate 95 between Philadelphia to New York City is inching ever closer with construction of the I-95/PA Turnpike interchange. Upon completion, I-276 will end at another Interstate rather than disappearing at the Pennsylvania/New Jersey border. Until the late 1960s, I-95 followed the US 13 alignment in the area. It would have provided a direct connection to the Turnpike, but because of environmental reasons the Interstate could not be built north of the Turnpike. After cancellation of the Somerset Freeway in New Jersey, the Turnpike Commission was tasked in 1985 with creating a connector. The original plan would have taken 150 homes and cut through Delhaas Woods to build the connecting ramps, but the plan had changed by 1999 to only require the taking of 10 homes and sparing the woods entirely.
Stage One involved building a high-speed interchange between the Pennsylvania Turnpike and Interstate 95, a new mainline toll plaza, and widening the Turnpike from Exit 351 to the Delaware River. Stage Two will involve constructing a parallel span across the Delaware River south of the existing span. The following were the plans for the new toll plaza, interchange, and bridge:


Modified Toll Plaza West will be built west of I-95 to allow free-flowing traffic
between the Turnpike and I-95. The plaza will consist of 18 lanes and be located
behind the Philadelphia Park Racetrack. (Pennsylvania Turnpike Commission)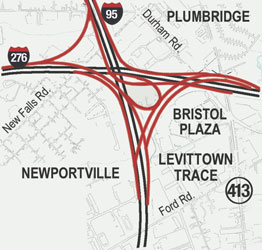 Single Loop A Interchange will link
the Turnpike and I-95 where they
currently cross.
(Pennsylvania Turnpike Commission)


Delaware River Bridge South will be located 75 to 100 feet south of the existing
bridge and feature three lanes for carrying New Jersey-bound traffic. The current
span will be rehabilitated and be reconfigured for three lanes for westbound
traffic. The current Delaware River Bridge toll plaza will be modified as a
westbound-only facility. (Pennsylvania Turnpike Commission)
On January 6, 2004, the US Department of Transportation approved the environmental impact study. "Late 2007" was the "optimistic forecast" for groundbreaking for the first part, a new toll plaza, said PTC spokeswoman Christina Hampton after the announcement was made. However, it would be six years later when PTC CEO Mark Compton joined Governor Tom Corbett and Lieutenant Governor Cawley as well as federal, state, and local officials at the Turnpike's Trevose Maintenance Facility, where the mainline toll plaza will be built, in Bensalem on July 30, 2013 to officially kickoff the start of the $500 million Stage 1 of the project. "We're here to commemorate the beginning of a critical infrastructure project that will undoubtedly improve the quality of life for residents and commuters in the surrounding area," said Turnpike Chief Executive Officer Mark Compton. "Many also consider the Turnpike/I-95 link to be a central component for the continued economic growth and competitiveness of this region."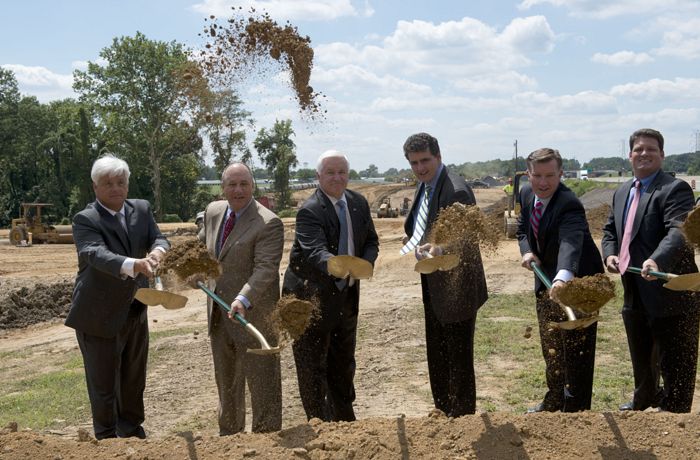 Governor Tom Corbett is joined by local and state officials for the groundbreaking
(Pennsylvania Commonwealth Media Services)
An unusual financing scheme to complete the interchange came to light in April 2013. Foreign investors, primarily from China, would infuse the project with $200 million, and in turn, they would get green cards for themselves and their families. The deal involves creating a new limited partnership called the Delaware Valley Regional Center Pennsylvania Turnpike L.P., with an office in Berwyn, that would have to be approved as a US Citizenship and Immigration Service designated "regional center" to recruit foreign investors with which to provide the Turnpike Commission the loan. On April 26, the PTC signed a $200 million loan agreement with the limited partnership. Federal law permits the dealmakers to go immediately to China, or elsewhere, to begin recruiting investors, but they can not accept funds until approval. Despite some success around the country with these type of partnerships, the Immigrant Investor Program has drawn criticism for lax oversight and dubious projects that have not produced domestic jobs nor permanent green cards for foreign investors.
Construction of the new Open Road Tolling gantry for westbound traffic, utilizing high-speed E-ZPass as well as PA Turnpike TOLL BY PLATE equipment for photographing license plates at highway speed, at the Delaware River Bridge began in June 2013. On January 3, 2016, the new Open Road Tolling facility became the first on the system to be equipped for toll-by-plate technology. Tolls were suspended at the former Delaware River Bridge Toll Plaza as well as at Exit 358, with demolition of both toll plazas occurring during the summer of 2016. Work began in September 2014 on reconstructing and widening the Turnpike from west of the Interstate 95 overpass to west of the Delaware River Bridge Toll Plaza. Also included will be installation of stormwater-management facilities, erosion and sedimentation control measures, and the construction of sound and retaining walls. Roadway improvements to Durham Road and New Rogers Road will also take place. Work on this phase concluded on September 21, 2018 with a ribbon-cutting ceremony at the new interchange, with the ramps connecting Interstate 95 and the Turnpike opening on September 24. The Interstate 95 designation was then changed to cross the Delaware River Bridge into New Jersey and the remainder of the highway to the Scudder Falls Bridge became Interstate 295. The ramps marked the completion of the original Interstate System plan, and marked the first time drivers utilizing Interstate 95 between New York and Philadelphia could do so unimpeded. Project website: http://www.paturnpikei95.com/.


Current I-276/I-95 crossing on the left and conceptual drawing of the future I-276/I-95
interchange on the right. (Pennsylvania Turnpike Commission)
The over $260 million project was recognized by the Construction Management Association of America's Mid-Atlantic chapter as its Project of the Year for 2018. At the chapter's awards banquet held in Philadelphia in July 2019, the award in the "Mega Project over $100 million" category was presented to Urban Engineers. We would like to congratulate the Turnpike Commission, PennDOT, and the firms involved in the successful completion of this dynamic interchange project," said Jerry O'Neill, PE, CCM, senior vice president and general manager for transportation construction services at Urban Engineers. "This is an important project for Southeast Pennsylvania that will provide more efficient travel for motorists, less congestion to surrounding communities, and growth in the region. We are very proud of our construction management staff who have spent many years working diligently on this project."
PennDOT rebuilt a section of I-95 between Spruce Street and I-676 through the Penn's Landing tunnel. The $9.7 million project included work performed on the southbound in 1999 and concluded with the work northbound lanes in June 2000. The project entailed removing 13 inches of the old concrete pavement and replacing it with a new concrete surface. Also included was the removal of old wall tiles from inside the tunnel, painting the walls with anti-graffiti coating, and diamond grinding the new concrete to give motorists a smooth riding surface.
Entering the 21st Century, work to improve Interstate 95 continued with an ambitious program totaling $500 million. The project will include the rebuilding of bridges, installing Intelligent Transportation System (ITS) equipment, and upgrading several interchanges. Work was separated into four phases from the Delaware state line to the Scudder Falls Bridge. The current project involves the section between the Ben Franklin Bridge and Cottman Avenue interchanges. Aside from being an elevated highway, due to being routed through neighborhoods, construction can effectively only take place between 7 AM and 3 PM and go no later than 8 PM. Even different construciton techniques need to be used to reduce noise, such as using micropiles, which require smaller holes to be drilled to create a support structure for pillars, which is a quieter process. Due to Federal Highway Administration requirements, three lanes at minimum must remain open to traffic in the work zone. This section will not be finished until 2027 or 2028, then work will move south into Center City, after which 18 miles in Delaware and Bucks counties will be rebuilt. Those latter two sections will be easier since the Interstate is at ground level. Elaine Elbich, portfolio manager for the project, expects it will take about 40 years to rebuild all of Interstate 95. Project website: http://www.95revive.com/.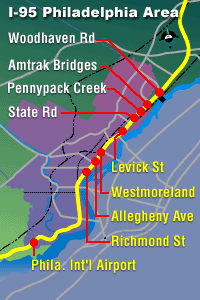 Extent of the 95revive project
(PennDOT)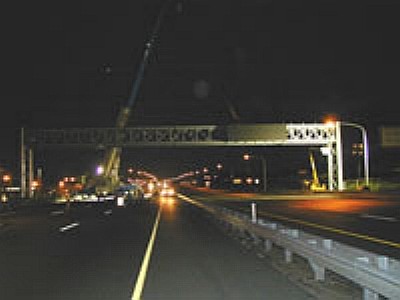 Installation of a variable message sign. (PennDOT)
New access ramps to Philadelphia International Airport are also a part of the 95revive plan. The $86.5 million project included: construction of new ramps from northbound and southbound I-95 to the new Departures Terminal and the removal of the current ramp from southbound I-95 to the current Departures Terminal, construction of a new ramp from northbound I-95 to the current Arrivals Terminal, construction of nine, Mechanically Stabilized Earth (MSE) retaining walls, relocation of the Bartram Avenue ramp to southbound I-95 and repaving of Bartram Avenue between Island Avenue and PA 291, relocation of the northbound I-95 collector-distributor highway at the airport, creation of replacement wetlands, and placement of new signs and sign structures in the airport property. Construction concluded on June 28, 2002.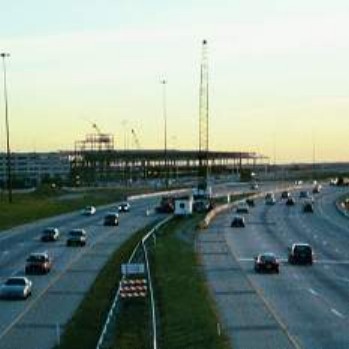 Pile driver setting the footing for supports for the
new access ramps. The new terminal is under
construction in the background. (PennDOT)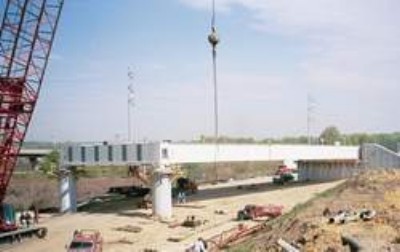 Beams being place for the deck of the new ramp.
(PennDOT)
On May 3, 2001, PennDOT announced that on May 17 it would start a two-year, $42.6 million dollar project to rebuild bridges on Interstate 95 at the Allegheny Avenue and Bridge Street interchanges. The first structure to be rehabilitated was the Westmoreland Viaduct begun in July 2001. The project consisted of rebuilding the 26-span structure by replacing piers, beams, and sections of the bridge deck. Work moved to the bridge at Allegheny Avenue in Summer 2001, where crews replaced expansion joints, repaired bridge walls, replaced concrete approach slabs, and repaired beams. Also, the Richmond Street Viaduct, from Lehigh Avenue to Ann Street, had old paint removed from the support beams and a new coat of paint placed on the beams. In Spring 2002, work shifted to the bridge over Levick Street to replace the beams and deck. All work was completed by November 2002.
In late 2002, PennDOT began Phase Three of the 95revive project which included rehabilitating six bridges in a three mile section between Cottman Avenue and Academy Road, resurfaced 1.2 miles of the Interstate between Pennypack Creek and Academy Road, repaired the I-95 southbound ramp to Cottman Avenue, and installed six overhead variable message signs and 16 vehicle detectors for the Traffic Incident Management System. Under the $84 million project, the 31-span State Road viaduct, the four-span Pennypack Creek crossing, and the northbound and southbound three-span bridges over the Amtrak lines were rehabilitated. PennDOT removed the northbound and southbound bridges over an abandoned quarry north of Pennypack Creek and replaced them with new roadway. Construction finished on November 14, 2005.
Also in 2002, the Delaware River Joint Toll Bridge Commission completed the Southerly Crossings Corridor Study, which recommended improvements at the bridge and along the Interstate to relieve current congestion and future congestion and to improve safety. The study showed that the bridge carries 55,000 vehicles every day and operates at the worst level of service, LOS F, during peak rush hours. By 2030, traffic is projected to increase an additional 35% to around 74,000 vehicles a day. Also, within a half mile of the bridge there are two poorly configured interchanges: Taylorsville Road in Pennsylvania and NJ 29 in New Jersey. The ramps within these interchanges are not configured properly to safely handle traffic. In January 2003, the DRJTBC signed a Memorandum of Agreement with PennDOT and NJDOT to continue with environmental studies and preliminary design for improvements to the bridge and surrounding area. It was an early Christmas present for commuters who use the bridge, when on December 21, 2009, the DRJTBC approved a resolution to advance the planned replacement. The project will be the largest undertaken by the agency at $328 million, and due to lack of federal and state funding availability, will require tolls to be implemented through a cash-less system involving E-ZPass. The Commission felt it was more fair to toll the users of the bridge, rather than subject users of the other tolled crossings to foot the bill. Aside from replacing the current four-lane bridge with a six-lane-wide crossing, the project will upgrade the interchanges at both ends of the bridge, widening I-95 from PA 322 to the bridge, installation of noise walls were needed, and construction of shoulders on the bridge to facilitate breakdowns and emergencies. The two shoulder lanes will also have the capacity to serve proposed bus/rapid transit routes. A bike/pedestrian walkway will be installed on the bridge's upstream side to connect canal paths on both sides of the river. An archeological dig was performed at the site of the new bridge beginning in April 2011 and concluded in July of that year, yielding far less artifacts that originally anticipated. The contents of the dig were divided between the state museums of both Pennsylvania and New Jersey. July 2011 also saw the beginning of study by KPMG and Nossaman LLP to evaluate the financial and legal feasibility of using a public/private partnership for the project. On June 14, 2012, the Federal Highway Administration issued a formal Finding of No Significant Impact (FONSI) on the project's environmental documentation, effectively giving the "green light" to the project. Project website: http://www.scudderfallsbridge.com/.
A double-decker Interstate 95 has been discussed, and if Pennsylvania House Speaker John Perzel has his way, it will become a top priority for PennDOT. In his discussions with Governor Rendell, he has pushed the double-decker proposal for I-95 and I-76, as well as eliminating the two deadliest intersections on Roosevelt Boulevard. Explaining his vision, Perzel said, "You will pay like a $10 fee. You'll go up. You'll be able to go down to the airport and get off at Center City. It will be quick, and it will be fast." Rendell said of the projects, "If we had the money, sure. It would be great." He added that it would all depend on how much federal highway aid Pennsylvania would receive, and if the Commonwealth received less than expected, none of the projects would get off the ground. No plans were in effect to raise the gas tax to make up for lack of money from Washington.
Time has been taking its toll on the Girard Point Bridge. A $7.8 million rehabilitation project began on September 7, 2004 on the 18-span, double-deck bridge that carries traffic over the Schuylkill River. PennDOT District Executive Andrew L. Warren said the rehabilitation project will prolong the life of the span. "Our inspections have identified certain parts of the bridge that need to be corrected before they become problematic. We're making these improvements to ensure the Girard Point Bridge continues to provide safe, reliable service to commuters and interstate travelers." The general contractor, Buckley and Company, Inc. of Philadelphia will repair the bridge's floor beams and other structural steel, replace expansion joints and drainage, patch the bridge decks and walls, replace clogged downspouts and clean drainage inlets, repair and paint isolated areas of corroded steel, clean underground drainage lines, and upgrade the lighting. Work was completed in Fall 2005.
Morning rush hour was even more unkind to those traveling the Interstate on March 18, 2008, because the night before at 11:50 PM, PennDOT decided to close a three-mile stretch between Girard and Aramingo Avenues. The reason was due to a crack six-feet-long and two inches wide in a concrete support pillar near the center section of the Interstate at the Richmond Street overpass. The crack was first discovered by an inspector in October 2007 and the same one just happened to be in the area the day before and checked on the fissure. It had grown considerably in the five months, which prompted the closure. Construction of a temporary support system consisting of four steel towers, steel beams, and a two-foot thick foundation began that morning at 7 AM which took the weight off the concrete support so it could be repaired. Work to make structural repairs at several locations along the Interstate was to begin later this year, and this one was to be repaired under the project with complete reconstruction to start in about five years. At 6:30 AM on March 20, Interstate 95 was reopened to traffic as were seven on-ramps that were also closed due to the emergency closure.
Construction to improve the Cottman Avenue interchange began in 2009. The $34 million project involved building two new ramps at Cottman Avenue and rebuilding Cottman and Princeton Avenues, which were converted to two-way streets between Torresdale Avenue and State Road. Princeton Avenue was rebuilt to include traffic-calming additions, new sidewalks, curb ramps, and bicycle lanes. The old on-ramp to southbound I-95 from Princeton was removed after the new on-ramp at State Road and Longshore Avenue was opened in August 2011. State Road was widened to one northbound and two southbound lanes with new storm water drainage systems, new sidewalks, and curbs. This part of the 95revive project was completed in Summer 2012.
In September 2009, construction began at the Girard Avenue interchange. The first phase included building a temporary off-ramp adjacent to the southbound off-ramp at Girard Avenue to provide access to Delaware Avenue, reconstructing new lanes to carry northbound Aramingo Avenue on a new alignment between Delaware Avenue and York Street with a spur for access to southbound I-95, drainage improvements, highway lighting, and utility relocation, costing $8.8 million and finished in July 2010. The second phase began in November 2011 and involved reconstruction and widening of Richmond Street on its existing alignment between Aramingo Avenue and Cumberland Street, reconstruction and widening Richmond Street on a new alignment between Cumberland and Ann streets, improving intersections at Lehigh Avenue and Girard Avenue, bike lanes on Richmond Street, replacing two Conrail bridges over Richmond Street, reconstructing and rehabilitating Girard Avenue bridge over northbound Aramingo Avenue, utility relocation, reconstruction of SEPTA's Route 15 trolley line along Girard Avenue and Richmond Street, and ITS equipment installation along arterial routes near I-95. This $91.3 million portion will finish in November 2015. The third phase began in October 2012 and involves widening and reconstructing the Interstate from south of Shackamaxon Street to north of Columbia Avenue, replacing the bridges over Shackamaxon and Marlborough streets and Columbia Avenue, construction of five retaining walls along I-95, noise wall installation, utility relocation, and ITS equipment installation along I-676 and I-95. Perhaps the most interesting part of this phase was the use of sustainable enhancements to the corridor such as repurposing salvage for public art, low-maintenance landscaping, progressive storm water management devices, LED street and underpass lighting, and decorative treatment of bridge abutment walls.
As part of any federally-funded project, an archeological dig was must take place before any work begins in accordance with the National Historical Preservation Act of 1966. During the excavation of this area, collections of tools, arrowheads, cooking pots, and smoking pipes were linked to Native Americans living along the Delaware River as far back as 3560 BCE. Artifacts from even earlier in Philadelphia's history were discovered such as remnants of shipbuilding, fishing, and glassware industries that lined the river, as well as snapping turtle skulls, glass objects, and fishing supplies dated from the 18th to 20th centuries were also found. An exhibit entitled "Before and Below I-95 in 2014" was held on July 17, 2014 at the First Presbyterian Church located on Girard Avenue. The collection of artifacts can be viewed anytime at http://diggingi95.com.
While not on the scale of the 95Revive project, visitors to the Keystone State entering from Delaware received a warmer welcome on October 3, 2011. A new 8,500-square-foot Welcome Center opened that day, replacing two smaller buildings. Construction began in May 2010 and the facility had been open to travelers since June 20 while minor work continued. "This new Welcome Center provides visitors with a warm and friendly place to rest, enjoy a picnic under one of the pavilions or learn about the wonderful tourists locations to visit right here in southeastern Pennsylvania or throughout the commonwealth," said PennDOT's Deputy Secretary for Administration Mark Compton.
Beginning in August 2012, reconstruction of 1.4 miles of the Interstate between Levick Street and Bleigh Avenue began Work entailed replacing even structurally deficient bridges on the expressway and widen another, building a new on-ramp to southbound I-95 from PA 73/Cottman Avenue, upgrading four existing ramps, extending Princeton Avenue eastbound to Milnor Street, reconstructing New State Road, building 13 retaining walls, replacing an 84-inch diameter water main and a 10.5-foot-high by 10.5-foot-wide sewer box culvert along Wissinoming Street, and installing storm water drainage pipes and Intelligent Transportation System equipment. Construction is estimated to be completed in Summer 2017.
A driver who was taking the Exit 22 ramp to the Vine Street Expressway got a shock on May 9, 2014. Contractors for the Port Authority Transit Corporation, who were working on replacing the rail lines across the Benjamin Franklin Bridge, were stringing temporary cables to support scaffolding when one came loose. The cable clotheslined a car on the ramp and spun it around which blocked traffic but fortunately no one was harmed.
For some reason, July 16, 2015 was a cause to disrobe on the Interstate, as not one, but two incidences of women striping down to nothing were reported that day. One incident took place at 11:40 AM on the Aramingo Avenue on-ramp in Northeast Philadelphia. When State Police arrived, the discovered an abandoned vehicle and a female in the process of disrobing. They quickly ushered her into a cruiser and used a tarp to shield her from public view, after which she underwent evaluation.
The last weekend of September 2015 was another important time in the history of the City of Philadelphia. Pope Francis became the second pontiff since John Paul II in 1979 to visit "The City of Brotherly Love," and with his visit came travel restrictions. On Friday, September 25, the exit ramps at Broad Street, Washington Avenue, Callowhill Street, and Interstate 676 were closed due to street closures and did not reopen until late on Sunday, September 27.
Aesthetic improvements are planned for the Interstate, such as capping a portion between Chestnut and Walnut streets and creating a four-acre park. The William Penn Foundation committed in 2017 to helping raise the final $10 million needed as part of a $225 million development initiative along the Delaware River. Construction would begin in 2019 and last three years. The cap was first proposed during the Nutter administration and received a boost from Mayor Kenney in February 2017. At a press conference held on June 9, 2017, Governor Tom Wolf said the park will reconnect Center City with the riverfront, which were separated by construction of Interstate 95.
When the Coronavirus, or COVID-19, pandemic swept into the country in March 2020, PennDOT took measures to stem the spread to their employees and staff. At 12:01 AM on March 17, all rest areas and welcome centers across the state, including the one in Delaware County, were closed to the traveling public. Also all Driver License and Photo License centers were closed for two weeks and construction projects on roads under the Department of Transportation's jurisdiction were stopped. Hearing that construction work was halted could come as welcome news, the idea of closing down the rest areas did not sit well with truckers, trucking firms, nor some elected officials. It was then announced that on Thursday, March 19, barricades would come down at 13 rest areas across the state and they would be reopened with portable restroom facilities while the permanent facilities would remain closed. "Every decision made has been in the interest of mitigating the spread of COVID-19 and we are constantly reevaluating our response," said PennDOT spokeswoman Alexis Campbell. "That said, we also recognize that drivers need and deserve access to rest areas." PennDOT announced on March 24 that an additional 10 would reopen, and including the original 13, all would provide normal service with additional cleaning and maintenance.
A tragic incident of road rage struck on the evening of October 19, 2020. Police say that the victim, Clifford Douby, was driving southbound around 5:30 PM when another person in a car pulled alongside him and opened fire on the car. His car then struck the guide rails on both sides of the roadway near Exit 9 in Delaware County. State troopers responded to the scene after receiving reports of a vehicle crash. Upon arrival, they discovered Douby who was pronounced dead at the scene.
With the amount of revenue from the gasoline tax falling due to more fuel-efficient vehicles as well as a drop in driving due to the COVID-19 pandemic, the Department of Transportation's budget has been taking a hit. Nine bridges across the state are targeted to be a part of the PennDOT Pathways Major Bridge Public-Private Partnership (P3) Initiative, and were selected from various regions so as to not impact one part of the state more severely than another. Toll gantries would be installed at the crossings and, because PennDOT is forbidden from collecting tolls, would be operated by the Pennsylvania Turnpike Commission with E-ZPass and PA Turnpike TOLL BY PLATE equipment to read tags or captures license plates with tolls ranging from $1 to $2 for cars. The cost for trucks has yet to be determined but would be based on a combination of height and number of axles. The PTC would then forward the money to the Department of Transportation for replacement or rehabilitation and continued maintenance of the bridges. One that is being looked at is the widening, bridge replacement, and interchange reconfiguration project at Exit 54 in Allegheny County. Needless to say, the public, legislators, and trucking companies were not pleased to hear this news. During an Appropriations Committee hearing on February 23, 2021, where more than a half dozen committee members questioned Transportation Secretary Yassmin Gramian about the potential tolls, state Representative Mike Carroll of Luzerne County reminded his colleagues they had no one to blame but themselves. He mentioned that the Public-Private Transportation Partnership Board was created by a 2012 law passed that delegated approval for just this situation to appointees of the governor and top lawmakers. While Representative Carroll did not vote for the bill, others who are now criticizing the prospect of bridge tolls did.
Brandon Moree, director of members communications for the Pennsylvania Motor Truck Association, which represents about 1,400 trucking firms, has been encouraging members to contact legislators and fill out online surveys by PennDOT about the proposal. The group supported the Act 89 legislation passed in 2013 that increased funding through a rise in the fuel tax. "Here we are seven years later and we're being asked to pay the bill again," Moree said. "We feel we already pay our fair share. We feel like where fuel taxes already are, we pay enough." Rick Daley, president of PMTA's Western Pennsylvania district and a vice president at Tri-State Trailer Sales Inc. on Neville Island in Allegheny County, suggested an alternative would be for the state to help train more truck drivers, because he's aware of many companies that could ship more loads if they had more drivers, and therefore would pay more taxes and fees. Others are also questioning whether the cost of installing the tolling gantries and associated equipment outweighs the benefit from the small tolls proposed for cars. The Federal Highway Administration still has to review the plan and decide if tolls are allowed to be charged. The Associated Pennsylvania Constructors, a prominent highway construction trade association in the state, came out on March 24, 2021 to oppose the idea. While the group generally supports tolling to fund projects, Executive Vice President Robert Latham explained to the House Transportation Committee that the cost of private financing would drive up project costs and relying on tolling to cover construction costs is risky.
The State Senate passed a bill on April 28, 2021 to force PennDOT to start the planning process over by providing more transparency about its proposals, publicly advertising them, opening the plan up to public comments, and seeking approval from both the governor and the Legislature. The bill passed 28 to 19 with support from all of the Republican senators and one Democrat senator. During the floor debate, Senate Appropriations Committee Chairman Pat Browne, citing successful transportation funding efforts have usually required cooperation between lawmakers, said "This initiative and the way it is being advanced is totally counter to that legacy." Senator John Sabatina from Philadelphia said, "As much as I loathe to tax my constituents to fix a bridge, I'd rather tax them than have them suffer through a catastrophe when the Girard Point Bridge falls down." He added, sooner or later "a bridge is going to collapse and we're all going to look at each other and say, 'how did that happen? How could we have prevented that?'" The bill now goes to the House of Representatives, but it will probably not go further as Governor Wolf opposes it and the Senate lacks a veto-proof majority.
On July 16, 2021, US Representative Guy Reschenthaler proposed an amendment to the annual transportation funding bill to prohibit PennDOT from using federal money if it imposes tolls on bridges or roadways that are part of the federal highway system. "This is nothing more than a tax on Pennsylvania's workers and families who use these bridges every day to travel to work and school," Representative Reschenthaler said during the introduction to his amendment during a markup hearing by the House Appropriations Committee. "It would disproportionately impact our nation's tradesmen, medical professionals, and others who aren't part of what I call the 'Zoom class,'" he added. The amendment was rejected by a 33 to 24 vote. US Representative David Price, chair of the subcommittee on Transportation, Housing and Urban Development, said that it was outside the jurisdiction of the committee to rule of state tolling plans and punish states for imposing certain tolls. "It would pre-empt the commonwealth's authority to make decisions on this at the local or state level where the authority currently lies," Representative Price said. It would "be reconstituting this committee as the Pennsylvania Board of Transportation." While not completely endorsing the tolling plan, the Federal Highway Administration acknowledged that PennDOT is considering the right options when looking at new sources of revenue in a statement they issued in mid-October 2021 in what is referred to as a "concurrence."
The plan suffered a setback on November 16, 2021 when the Pennsylvania House passed a bill to void the proposal. State representatives voted 125 to 74 to require legislative approval to add tolls as well as requiring PennDOT to publicly advertise any toll proposals, take public comments, and require approval from both the governor and Legislature. The legislation requires a Senate vote but faces opposition from Governor Tom Wolf. While the United States Congress passed the Infrastructure Investment and Jobs Act ten days earlier, the tolling plan would pay for the repair or reconstruction of the bridges and keep the influx of federal dollars for other projects across the state. "We are all elected to represent our areas and have a voice for them, but the way this transpired, we did not have a voice," said Representative Sheryl Delozier, whose district would be affected by proposed tolls on the John Harris Memorial Bridge on Interstate 83 in Harrisburg. Representative Mike Carroll of Luzerne County, the ranking Democrat on the Transportation Committee, cited Republicans having turned aside a Democratic proposal to require approval of specific projects by the Legislature when the Public Private Transportation Partnership was approved by the majority Republican General Assembly in 2012. "It was your caucus' idea," Representative Carroll told House Republicans. "You voted for it — your caucus. You advanced it to Governor Corbett and he signed it." Representative Tim Hennessey, the Transportation Committee chairman, mentioned the new infrastructure bill being a "sudden influx of money" which could be used to fund bridge repairs. "Frankly, the citizens of Pennsylvania will have a hard time understanding the need for tolling in light of that," Representative Hennessey said. However, Representative Carroll warned that "Every single county in the state will have projects that do not get done if we have to dedicate $2 billion of the $4 billion to fix nine bridges."
On February 24, 2022, PennDOT Secretary Yassmin Gramian told the Senate Appropriations Committee at a hearing on the 2022-2023 budget that the department is willing to consider alternatives to tolling but hasn't seen any other ideas that would generate the $2.5 billion needed to replace the nine bridges. She said the state is about $8.1 billion short on needed road and bridge funding every year, and the department is proposing a public-private partnership where the bridges would be turned over to a private company for replacement and maintenance for 30 years with the tolls paying the cost. Ms. Gramian stressed the importance keeping the nine bridges open without weight restrictions and replacing them before they have to be closed. The still will receive $4 billion over five years through the federal infrastructure program, but that will just address the shortfall. She said the state needs to spend $1 billion of its own money to get that, so the state will still be short. The department was in the process of reviewing proposals from two teams of contractors that submitted formal proposals after three had originally expressed interest in the project. They refused to identify the group which dropped out and expected to choose a contractor within the following weeks. One of the proposals was from a group with an international firm as the leader and the other a national firm. Senate Transportation Committee Chairman Wayne Langerholc, Jr. questioned why specifications were written to exclude Pennsylvania firms from being the lead. PennDOT's director of the Alternative Funding Program, Ken McClain, said only large firms have the capacity to handle projects of this size, but the contract will be written so that Pennsylvania firms get 65% of the work. Under questioning from Senator Devlin Robinson, McClain said the bridges were picked because they were all built in the early 1960s, have deterioration, need upgrades such as wider shoulders and higher side railings, and were chosen to give geographical balance to distribute the impact. He added the department is committed to keeping any excess money beyond usage for construction, maintenance, and a reserve fund, from tolling for projects in the area of the tolled bridge. Studies would have been conducted after tolls were implemented to see whether a large volume of motorists were using local roads to avoid the toll and make improvements on those roads where needed.
On March 9, 2022, the Department of Transportation announced it had picked a consortium of companies, now called Bridging Pennsylvania Partners, to manage construction on up to nine bridges. It said the group was chosen from among three finalists, but it had not decided which of the nine bridges would be eventually tolled. The winning applications included three international firms: US-based subsidiaries of Israel-based Shikun & Binui, a development subsidiary of Australia-based Macquarie Group, and Spanish construction firm FCC Construcción. The application included four other firms which specialize in design or heavy construction and have US-based parent companies with a headquarters in Pennsylvania. PennDOT and the consortium was to have entered into a "pre-development agreement" to finalize the design and packing of the bridges to be built, financed, and maintained. The department was in the midst of conducting public hearings and environmental reviews on the bridges. The first bridges was scheduled to be under contract by December 2022, and after the design process, construction expected to begin between Fall 2023 and Spring 2024.
One of the final steps before tolling could begin was that the Federal Highway Administration would have to review the plans. US Representative Glenn "GT" Thompson met with the FHWA during the week of March 6 to raise concerns over the PennDOT program, specifically the "grave economic and safety impacts these proposals will have on the local communities and the Commonwealth." The administration said that the Department of Transportation would have to go through the National Environmental Policy Act process for each bridge that is planned to be tolled. The NEPA evaluates environmental and related social and economic effects of a proposed action and includes citizen involvement. "While FHWA does not have the authority to outright reject PennDOT's bridge tolling proposals, it does have a duty to provide adequate oversight of the process, which to this point, has had zero accountability to anyone – most of all to local stakeholders and the traveling public," Thompson said. "While this will slow the pace of PennDOT's proposals, the Biden Administration should not turn a blind eye to PennDOT's haphazard plans." Secretary Yassmin Gramian reported that PennDOT reached out to more than 60,000 homes and businesses statewide, but did not indicate how they felt about the proposed bridge tolling. "The Secretary likes to boast that public engagement and feedback has been central to PennDOT`s bridge tolling plan," Thompson said. "However, we know that more than 90% of Pennsylvanians vehemently oppose bridge tolling."
All of this back-and-forth would be for naught when on May 18, 2022, Commonwealth Court Judge Ellen Ceisler granted a preliminary injunction to halt the tolling plans. The ruling came in response to the lawsuit filed by municipalities in the Harrisburg area that objected to tolling the John Harris Memorial Bridge on Interstate 83. A PennDOT spokesperson said that evening that they were reviewing the opinion. The judge's order prohibits PennDOT from taking any further action which includes conducting studies, hearings or meetings, design development, right-of-way acquisition, tolling, construction, or expenditure of any funds. On April 25, PennDOT argued in court that the municipalities lacked standing to bring their complaints and had no active claim because any claimed impact from the project hadn't occurred yet. In her opinion, Judge Ceisler wrote that the municipalities involved in the suit do indeed have standing to state a claim as they have both a substantial and direct interest in the matter. Furthermore, she wrote that the petitioners were denied proper procedure when PennDOT approved the Pathways Bridge Public-Private Partnership (P3) without consulting them, and that not identifying specific bridges in the initiative was a violation by the board. "[The Act] plainly requires this consultation to precede approval: the Board's duty is to consult with those affected by 'proposed' transportation projects, not projects already approved," Ceisler wrote. "All evidence in the record points to the conclusion that the board did not consult with affected persons before approving the initiative; instead, it (or, more accurately, [PennDOT]) purported to do so afterward, once specific bridges were announced." The judge also found the board never showed any finding that the partnership was in the best interest of the Commonwealth as required by law. "At best, the board's interest determination is implicit; at worst, the board failed to make any finding at all," the judge wrote. "The board essentially approved a massive multi-billion dollar infrastructure initiative on an admittedly meager record, consisting of a 4-page recommendation from [PennDOT], a presentation, and minimal discussion, and without understanding which, or how many, pieces of public infrastructure the initiative would affect."
Even still, a group of Republican state senators held a rally at the state capitol on June 8 to protest the tolling of the nine bridges. The lawmakers were joined by members of the No P3 Bridge Tolling coalition, a group of chambers of commerce, business owners, and local officials that was created to oppose PennDOT's tolling plan. It turns out, on June 30, 2022, Pennsylvania's Commonwealth Court permanently blocked the plan to toll the nine bridges. PennDOT spokesperson Alexis Campbell said the legislature "failed" to offer solutions beyond the P3 program to assist with infrastructure funding. She said the department was reviewing the opinion when asked if PennDOT indented to appeal to the state Supreme Court. "The Wolf administration continues to welcome discussions with the General Assembly on alternative funding sources that can replace the gas tax, which is no longer a dependable source of funding to meet all bridge and highway needs in this commonwealth," she said.
In the aftermath of the decision, US Representative Glenn "GT" Thompson called on Secretary of Transportation, Yassmin Gramian, to resign. "For more than a year, I have voiced my concerns to PennDOT Secretary Gramian that the agency was putting forth an untenable tolling proposal. Along the way, she made it clear through her actions that public engagement was merely an afterthought. This was apparent when she refused to take questions from federal and state legislators at a field hearing last spring in Clarion. Under Secretary Gramian, PennDOT has wasted millions of dollars in taxpayer funds through her quest to impose a new tax upon Pennsylvanians and the traveling public," Rep. Thompson said. "She has violated both the law and the public's trust — Secretary Gramian should resign, effective immediately." In response, the Wolf Administration issued the following response: "It is unfortunate that Congressman Thompson– who voted NO on the legislation that is now the Bipartisan Infrastructure Law– is wasting taxpayer time and money spewing false claims regarding PennDOT's public engagement. Instead of playing political games, the congressman's time would be better spent working on a solution for alternative funding sources that will support Governor Wolf's desire to phase out Pennsylvania's gas tax. Pennsylvanians deserve solutions, not pr stunts. Secretary Gramian is an incredible leader and highly-qualified infrastructure expert with more than 30 years of experience in the industry. The governor is proud she serves the commonwealth, and that she will continue to do so."
Even with the courts putting the kybosh on the plan, PennDOT could still work with the group of contractors and investors led by Australian-based Macquarie Infrastructure Developments, LLC known as the Bridging Pennsylvania Partners. The only problem is that the department would still need to find a way to fund the work, which for all nine bridges, would add up to about $2.5 billion. A bill passed by the General Assembly on July 7 and signed by Governor Tom Wolf on July 11, puts more restrictions on how public-private partnerships can be established. The bill also allows the state to move forward with Macquarie so it doesn't lose $14.8 million in preliminary work the group and PennDOT had done over the previous 18 months, as well as giving the General Assembly more time to review partnership deals. "Now that [the bill] is officially official, we'll get rolling," said PennDOT spokesperson Alexis Campbell. "These bridges are important and we want to make sure we can get them done and have as much money available as possible to get our other work done." A spokesperson for Macquarie said the state has informed them to be on stand-by while it decides how to proceed. If it walks away from the deal, the state would owe the company a relatively small amount of money.
Emergency bridge deck repairs had to take place on March 26, 2021 at Exit 27, which necessitated the closure of the northbound lanes between Exit 25 and Exit 27 in Philadelphia. The repairs wrapped up the following morning on March 27 and the lanes reopened.
Tragedy struck the morning of March 21, 2022, when two Pennsylvania state troopers and a civilian were killed in the southbound lanes just after 12:30 AM near the Broad Street interchange. The victims were troopers Martin F. Mack III and Branden T. Sisca who were responding to a call about Reyes Rivera Oliveras who was reportedly walking on the roadway near Lincoln Financial Field in South Philadelphia. As the troopers were attempting to take Oliveras into custody and walk him back to their vehicle, Jayana Tane Webb driving a 2014 Chevrolet Captiva struck all three men, the patrol car, and the median barrier at a high rate of speed. The impact was so great, it sent the troopers into the northbound lanes of the Interstate. Webb's SUV came to rest in the right shoulder, but she did remain on the scene before being taken into custody. Her blood alcohol content was more than twice the legal limit. The troopers' SUV's front and rear driver's side doors were ripped from their hinges, and the impacting vehicle sustained heavy front-end damage. The horrific scene was captured by cameras at Lincoln Financial Field. Dispatch called for backup when the troopers did not respond to their radios, and it did arrive as witnesses attempted CPR on the troopers but both were pronounced dead at the scene. Traffic in both directions was shut down between Broad Street and the Walt Whitman Bridge, but reopened around 9 AM. In a cruel twist of irony, Mack and Sisca had pulled Webb over between Exit 25 and Exit 23 for driving about 110 MPH 15 minutes prior to the accident, but let her go after a minute according to the SUV's dashboard camera to respond to reports of a person walking on Interstate 95. Webb apparently documented the stop in a post to Twitter saying, "why the cop pull me & he say im doing 110 ina 50." In a tweet from January, she seemed to boast about her ability to drive drunk saying, "If you ask me, I'm the best drunk driver ever." She told responding troopers she looked down at her phone to see what exit she was to taking and heard a large "boom." Both troopers were organ donors, with their organs being donated to the Gift of Life Program.
As for Webb: she was charged with third-degree murder, homicide by vehicle while driving under the influence, homicide by vehicle, second-degree manslaughter of a law enforcement officer, involuntary manslaughter, recklessly endangering another person, driving under the influence, as well as traffic violations including failing to drive at a safe speed, careless driving, and reckless driving. She was denied bail during a Tuesday night arraignment. For most of the hearing, she sat hunched over in her chair until the judge denied her bail, which then she quietly cried to herself. The following day, March 23, Webb was led out of the State Police Troop K barracks in Philadelphia shackled in handcuffs that belonged to the fallen troopers.
After a daylong preliminary hearing on June 22, 2022, Municipal Court of Philadelphia Judge Karen Y. Simmons determined Jayana Webb be held for trial, but dismissed a third-degree murder charge against her. Even so, she would be facing decades behind bars if convicted on the other counts. Webb wept several times as witnesses spoke about seeing her driving recklessly. "I told my father to pull over so I could render some assistance" to the three individuals, said Anna Moryc, a registered nurse who was a passenger in a car that Webb allegedly passed at a high rate of speed before plowing into the trio. "The individuals were thrown to the north side of the highway. I saw their bodies." Moryc said she checked for vital signs on all three men, but couldn't find any. "I then looked for the other SUV, which was significantly up the road." An expert toxicologist testified that Webb had a blood alcohol content of .211 and marijuana in her system. The court also viewed the disturbing surveillance camera footage of the moment of impact obtained from Lincoln Financial Field. Bail was set at $200,000 for each of the three consolidated counts against her. The third degree murder charge was reinstated in August 2022, and a month later, Webb pled not guilty to the charges. Her trial is slated to begin December 4, 2023.
If only it would just be emergency bridge deck repairs that could fix what happened at the Exit 30 northbound off-ramp on the morning of June 11, 2023. A tanker truck hauling 8,500 gallons of gasoline crashed and caught fire underneath the overpass carrying northbound traffic over the ramp. The Interstate was closed in both directions between Exit 30 and Exit 32, but in the northbound direction, the closure was extended down to Exit 25 around 8 AM, and the southbound lane closed to Exit 25 later in the day. By 9 PM that night, the roadway was reopened southbound from the State Road/Longshore Avenue on-ramp south. Philadelphia Fire Department responded to the scene around 6:30 AM and reported it under control an hour later. Even so, some of the burning fuel ended up leaking into the sewer system and caused manhole covers to explode up from street level. A sheen was visible on the Delaware River, but floating booms were deployed to limit the spread of the gasoline.
However, the literal damage had already been done. The northbound overpass buckled due to the beams being bent by the heat of the fire and collapsed onto the ramp below. Initially, traffic was still flowing southbound on that overpass while the fire still raged, but it became apparent when driving over it, that its substructure had been compromised.
As construction equipment began moving into place to begin clearing the rubble, Governor Josh Shapiro was visiting the site. "Remarkable devastation," Shapiro said, describing his view of the scene from a Pennsylvania State Police helicopter. "I found myself thanking the Lord that no motorists who were on I-95 were injured or died." He added that he will issue a disaster declaration Monday morning which would accelerate federal money to help with reconstruction which will close the roadway for at least a month. Secretary of Transportation Pete Buttigieg "made it clear" necessary resources will be provided, and delays in obtaining funding were not expected, Shapiro added. Ironically, this section of the Interstate, including the off-ramp, was rebuilt in the mid-2010s and completed in 2017.
In response to the closure of Interstate 95, the Southeastern Pennsylvania Transportation Authority (SEPTA) has added capacity on its Regional Rail lines, such as the Trenton, West Trenton, and Fox Chase lines. SEPTA's Cynwyd line would be replaced with buses so that equipment and personnel could be reassigned to the Trenton line.
US Senator Bob Casey and US Representative Brendan Boyle toured the disaster scene the following day, June 12. Governor Josh Shapiro signed the disaster declaration to cut through red tape and be able to access federal funds to expedite reconstruction. "My Administration is in regular contact with our federal partners, who have pledged their complete support and assistance as we create alternative routes and rebuild I-95," Shapiro said. "My Administration is all hands on deck to repair I-95 as safely and as efficiently as possible." The declaration makes $7 million of state funds immediately available. However, due to voters in 2021 approving a change to the state constitution which requires the legislature to reapprove any emergency declarations after 21 days, a response to Governor Tom Wolf's business closures during the COVID-19 pandemic. The problem is lawmakers will break for summer recess next month and won't return until early fall. Democrat and Republican legislative leaders are in negotiations about what an extension would look like and its duration.
The idea to use the southbound bridge as a temporary northbound was nixed when inspectors determined it too was compromised Monday afternoon. Demolition would begin that day and be completed in four to five days, according to PennDOT Secretary Mike Carroll. "Obviously it's a challenge for people to move around the city," Carroll said. "We're sensitive to that. We'd ask people to have patience and consider the SEPTA option." Officials did not give a timetable for reconstruction. "We will do it as speedy as possible," Carroll said. "But we don't have a final design plan yet — that's being worked on as we speak."
As work continued to clear the debris of the fallen span, remains were recovered from the wreckage. While confirmation using dental records is still to come, it is believed they are the remains of Nathan S. Moody, a New Jersey truck driver who worked for Pennsauken, New Jersey-based TK Transport, Inc. Family members hoped that he had escaped and would be found at a local hospital. Moody leaves behind a girlfriend and his seven-year-old daughter. "I don't know what I'm going to say to her when she says 'Big Cuz, do you see my daddy? Do you know where my daddy is at? Can you find my daddy?'" Isaac Moody, his cousin and a truck driver as well, said. "I don't know what I am going to say to her." It was determined that he was trying to navigate the curved ramp and lost control of the truck, which landed on its side causing the tank to rupture and ignite. State police considered it an accident and there is no plan for a criminal investigation. Aside from Moody, and surprisingly considering the amount of traffic that uses Interstate 95, there were no other deaths nor injuries. The Philadelphia Flyers, Eagles, Phillies, 76ers, and Union sports teams collectively made a $50,000 donation to build a trust for his daughter.
US Secretary of Transportation Pete Buttigieg visited the site on June 13. He along with PennDOT Secretary Mike Carroll surveyed the damage and provided an update on the removal of the debris as well as efforts to rebuild I-95 as quickly and safely as possible. The following day, in consultation with engineers from the Federal Highway Administration, PennDOT hired Philadelphia-based contractor Buckley & Company to backfill the gap and build a temporary roadway.
Demolition of both overpasses was completed on June 15 by C. Abbonizio Contractors, Inc. of Sewell, New Jersey. As it was wrapping up, trucks filled with 2,000 tons of lightweight glass nuggets began arriving to fill in the gap. By using these, they were able to avoid supply chain delays for other materials, said Governor Josh Shapiro. Once the recycled foam glass aggregate is in place, then it would be paved over to allow three lanes of traffic in each direction. The company supplying the glass is Aero Aggregates of North America with a production site just south of Philadelphia in Delaware County along the Delaware River. That plant mills glass bottles and jars into a power, then heats it into a foam to produce small, lightweight nuggets that are gray, each one about an inch or inch-and-a-half wide, and have the appearance of rocks, but are as light as Styrofoam as described by CEO, Archie Filshill. Mr. Filshill estimated it would take about 100 box-truck loads to haul about 10,000 cubic yards of nuggets needed for the project. The estimated 2,000 tons is a fraction of what sand or dirt would weigh, which means fewer trucks needed to haul it to the site, Mr. Filshill said. PennDOT happened to be the first to use the product after the company began making it in 2017, and it is now approved for use by 23 state departments of transportation across the country.
Crews began working on building the temporary roadway on June 16, and weren't even delayed by rain showers moved through the area. However, they did have to pause while thunderstorms passed over the work zone due for safety. The glass aggregate being used is not affected by rain nor inclement weather. "I would describe today as a very productive day, and significant progress will continue the day into the night. You'll be able to see tangible evidence of our progress," said Pennsylvania Secretary of Transportation Mike Carroll in a briefing with reporters that afternoon.
Governor Josh Shapiro joined President Joe Biden took an aerial tour of the construction site on June 17 and briefed the president on the response. During the briefing, the governor announced some positive news. "I can state with confidence that we will have I-95 reopened within the next two weeks," said Governor Josh Shapiro at the briefing with President Biden at Philadelphia International Airport. "We are going to get traffic moving again thanks to the extraordinary work of those here and our incredible union trade workers."
On June 20, Governor Shapiro and Secretary of Transportation Mike Carroll announced I-95 would be reopened the coming weekend, ahead of the two-week timeline that was originally projected. "Based on the tremendous progress these crews made over the weekend and the time it takes to complete the remaining steps, I can now say that we will have I-95 back open this weekend," said Governor Shapiro. "We have worked around the clock to get this done and completed each phase safely and ahead of schedule. That's all due to the incredible coordination with our local, state, and federal partners – and thanks to the hard-working men and women of the Philadelphia Building Trades who are making this happen." The following day the final layer of the eight inch sub-base was laid which allowed the final paving to begin. Crews also performed concrete work to reinforce areas of the exiting roadway before paving and placing the outer and median barriers.
It looked like the optimistic reopened would be washed out, literally, with rain and thunderstorms forecast for the Philadelphia area during that time. However, crews got a helping hand to speed up the drying time for the lane lines from NASCAR's Pocono Raceway. PennDOT Secretary Mike Carroll, who used to represent parts of Monroe County in the state House, made a call to President Ben May to get their jet dryer to the collapse site. Pocono Raceway agreed, and sent their Chevrolet Silverado that is outfitted with a jet engine normally used to dry the racetrack after rains, along with their pace car. "We rallied the pace car, we rallied the team that operates the jet truck, and off they went this morning down to Philly," May said. The pace car and truck were escorted down Interstate 95 by the Pennsylvania State Police. "We would do whatever we can to help the Commonwealth," May said. "Something that's as important as I-95 ... for the state in general, for the Eastern seaboard, and you know selfishly, it's tourist season here in the Poconos, so we've got to get people to the Poconos as quickly as possible." May said the truck could stay as long as needed. "We're humbled to be a part of it, we're proud to be a part of it and get this sucker back open," May said.
At 10:30 AM, on June 23, Governor Shapiro and Transportation Secretary Carroll officially opened the temporary roadway. The first vehicles over the roadway were fire trucks from Philadelphia Fire Department Ladder 20, with one carrying the mascots of Philadelphia sports franchises, as well as Pennsylvania State and Philadelphia Police vehicles. The temporary roadway, which opened to the public at 12 PM, features three, 11-foot-wide lanes in each direction with no shoulders, but there is a 45 MPH speed limit in effect in the work zone. It will allow traffic to flow freely while the replacement overpasses are built.
It seemed like one tragedy after another on the Interstate the week of June 11: first the driver of the tanker, then a woman was struck and killed by a piece of metal debris the following day. Caramia Panichelli was driving her 2014 Subaru Impreza southbound at 4:41 PM when a large piece of metal pierced the driver's side windshield of her car at mile-marker 20.1 near the Columbus Boulevard interchange. The metal struck Panichelli who died from her injuries. It has not been determined where the debris came from, other than it more than likely flew off another vehicle. Her husband, Philadelphia Police Lieutenant Anthony Panichelli, was still trying process her loss. "It's such a freak, freak, freak accident," he said. "What are the odds that you'd be on the highway that specific time? In that specific lane? It's almost like the perfect storm." He said she was on her way from her job to pick up one of their daughters from day care.
I-95 Reconstruction Live Feed

Links:
Exit Guide
Interstate 95 Ends
Interstate 95 Pictures
I-95 Coalition
I-95 Exit Information Guide OnLine
95revive - PennDOT
Delaware Expressway - Steve Anderson
I-95 Delaware Expressway - Scott Kozel
Interstate 95 - Andy Field/Alex Nitzman
Interstate 95 - David Golub
Interstate 95 - David Steinberg
Interstate 95 Pictures - Andy Field/Alex Nitzman
Interstate 95 Pictures - Eric Stuve
Interstate 95 Pictures - Steve Alpert
Interstate 95 Photos - Valerie Deane
---

INFORMATION
Southern Entrance:
Delaware state line in Marcus Hook
Northern Entrance:
New Jersey state line at the Delaware River Bridge in Bristol
Length:
43.70 miles
National Highway System:
Entire length
Names:
Vietnam Veterans Memorial Highway: Delaware state line to Exit 40
Delaware Expressway
Pennsylvania Turnpike: Exit 40 to the New Jersey state line
SR Designations:
0095: Delaware state line to Exit 40
7095: Exit 40 to the New Jersey state line
Counties:
Delaware, Philadelphia, and Bucks
Multiplexed Route:
US 322: Exit 2A to Exit 4
Former Designations:
None
Former LR Designations:
1018: Delaware state line to Exit 7
795: Exit 7 to Exit 17
1000: Exit 17 to Exit 40
Emergency:
911: Delaware state line to Exit 40
*11: Exit 40 to the New Jersey state line
---
Back to Pennsylvania Highways
Back to Pennsylvania Interstate Highways
Page updated June 24, 2023.
Content and graphics, unless otherwise noted, copyright © Jeffrey J. Kitsko. All rights reserved.
Information sign courtesy of Richard C. Moeur.
Information courtesy of the Pennsylvania Department of Transportation, Pennsylvania Turnpike Commission, PennDOT District 6-0, Delaware River Joint Toll Bridge Commission, Philadelphia Inquirer, WPVI-TV Philadelphia, WCAU-TV Philadelphia, KYW-TV Philadelphia, WTXF-TV Philadelphia, Bucks County Courier Times, the Pittsburgh Post-Gazette, KDKA-TV Pittsburgh, WTAE-TV Pittsburgh, WTAJ-TV Altoona, Greensburg Tribune-Review, Rand McNally, Urban Engineers, Len Pundt, and Steve Anderson.