William Flinn Highway
Perry Highway
---
Another highway named after significant members of Pennsylvania history, and not a politician, US 19 was the major north-south corridor in Western Pennsylvania before Interstate 79 was even a thought in President Dwight D. Eisenhower's mind. The route in the early years was the same as today with a few exceptions.
In Washington, it followed Maiden Street, College Street, Highland Avenue, Ridge Avenue, and Murtland Avenue. At Canonsburg it turned onto Weavertown Road and followed Morganza Road, Washington Pike, and current PA 50 to Crafton, then onto current PA 60 to Pittsburgh. There it followed South Main Street, East Carson Street, Point Bridge, Manchester Bridge, Manchester Avenue, West Ohio Street, East Ohio Street, and Butler Road in Pittsburgh before heading to Butler on the current PA 8 alignment. In Meadville, the designation followed Pennsylvania Avenue, Mercer Street, Water Street, Poplar Street, Park Avenue, and Baldwin Street. In Erie, it followed Peach Street into downtown.
In 1928, the designation was moved onto its current alignment from Pittsburgh to Meadville and the current PA 99 alignment from Cambridge Springs to Erie. In Pittsburgh, the designation was moved onto Ridge Avenue, Chateau Street, and the current alignment from there north due to the change from the PA 8 alignment. Much of the new route was still unimproved from Harmony to Portersville and Rose Point to West Union. Construction was taking place to upgrade it from Dutilh Road to Gudenkunst Road that year. In 1929, the alignment had been paved from Dutilh Road to Middle Lancaster and was under construction from the Lawrence County line to Mercer.
The first year of the 1930s saw that section completed while construction got underway from Sheakleyville to the Crawford County line and current PA 285 to US 6/US 322 in 1931 and the West End Bridge in Pittsburgh. The following year those sections were finished as was the designation moved onto its current alignment from Cambridge Springs to Waterford then the current PA 97 alignment into Erie. The West End Bridge opened in 1932 and with it came another change of alignments for US 19 in Pittsburgh, which was moved to cross this span then onto Ridge Avenue, Manchester Avenue, Allegheny Avenue, and California Avenue. In 1936, the designation was moved onto the current alignment between Zelienople and Harmony, before it turned onto current PA 68 and Mercer Road. Also that year the designation was moved onto the current alignment between Waterford and Kearsarge, and the northern terminus moved from Parade Street to its current location. In 1938, the highway was widened from Laboratory to Washington, Bridgeville to Pittsburgh, and Pittsburgh to Wexford.
The 1940s saw the start of the bulk of widening work along US 19. In 1940, it was widened from Washington to Manifold Road, in Canonsburg, Portersville to the Lawrence County line, US 6/US 322 to the location of the current I-79 interchange, and Kerrtown to Meadville. In 1941, the designation was moved onto the current alignment from Weavertown Road to Pittsburgh and the highway widened from McMurray Road to Clifton. In Pittsburgh, the designation was moved to Banksville Road, Woodville Street, and Wabash Avenue. In 1946, the designation was moved back to Chateau Street between the West End Bridge and Marshall Avenue and back through Hickory on that former alignment. In 1948, the highway was widened from Manifold Road to PA 519 and the designation moved to Cochran Road and Beverly Road from McFarland Road in Dormont. In 1949, the highway was widened from PA 519 to McMurray Road.
Construction on the West End Bypass began in October 1949; however, it had its start a decade earlier. Robert Moses, New York City planner extraordinaire, had been hired by Pittsburgh to untangle traffic as well as he had done in "The Big Apple." This was one of his ideas and priced at $900,000 which was approved in February 1941. The onset of World War II delayed the project, and by the time it was revised, the cost had jumped to $3 million. It took nearly a year to blast and remove one million cubic yards of material needed to clear its right-of-way on the side of Mount Washington. Outside of that, another challenge Harrison Construction Company faced was building a ramp from Steuben Street.
The 1950s continued to see widening work taking place along the highway. In 1951, widening work took place on the route from Kearsage to Erie. Construction began that year on the long-awaited Penn-Lincoln Parkway in Pittsburgh, which ended up using a small section of the US 19 alignment near Saw Mill Run Boulevard. In 1952, widening took place from Wexford to Cranberry, Lutz Road to Zelienople, and the current I-79 interchange to Kerrtown. A change in alignment took place in Washington, with northbound traffic shifted to Lincoln Street between Maiden Street and Highland Avenue. Southbound traffic remained on the original route. In Pittsburgh, the West End Bypass opened from the Penn-Lincoln Parkway to PA 837. In 1954, the highway was widened from Cranberry to Lutz Road, Camp Warner Road to Warner Lane, at the Pleasant Hill Road intersection, and Bauder Mill Road/Bauder School Road to Portersville. Significant changes took place with the opening of the Penn-Lincoln Parkway which was built over a section of Banksville Road, the designation was moved back to the current alignment between Zelienople and Mercer Road, and in Meadville the designation was moved onto its current alignment from PA 102 to Park Avenue which it was now signed on completely. In 1955, the highway was widened from the Top Road to Ruff Creek, Greene County line to Hackney Station Road, and at the Vankirk Ridge Road intersection. Also this year, the designation was moved off Woodville Street and Wabash Street in Pittsburgh and onto the West End Bypass. In 1956, the section from Morrisville to Waynesburg was widened while a median was installed from Manifold Road to McMurray Road, City of Pittsburgh limit to the Penn-Lincoln Parkway, Wexford to Zelienople, at the US 422 intersection, and PA 102 to Meadville. In 1959, the highway was widened from Pleasant Hill Road to Bauder Mill Road/Bauder School Road.
The 1960s saw construction on the Interstate System swing into full gear which even affected US 19. While not currently signed on a long section of Interstate highway, in the 1960s, it was signed on parts of I-79 and I-70. Interstate 70 was under construction around Washington in 1960, and I-79 from I-70 to US 40 began a year later. The latter opened in 1962 from a temporary interchange at US 19 and the earlier opened to traffic in 1963. With these portions open to traffic, the US 19 designation was moved onto them out of Washington. In 1961, the highway was widened from Waterford to PA 97. US 19 shields reappeared on its former alignment in Washington in 1967, only four years after they were installed on the Interstates bypassing the city.
The 1970s began with a project to install a median I-90 to PA 99 in the first year of the decade, and concluded a year later. Construction would being on the next section of Ohio River Boulevard from near the California Avenue/Marshall Avenue intersection to Pennsylvania Avenue in January 1970. In 1971, construction began on the French Creek Parkway in Meadville between Linden Street and Baldwin Street Extension. In 1973, the $16 million section of Ohio River Boulevard that began in 1970 opened to traffic, relieving Chateau Street of its US 19 designation. In 1974, the French Creek Parkway opened and with it, the US 19 designation was removed from Park Avenue, Baldwin Street, and Baldwin Street Extension.
Construction on the $8 million Phase One project to connect the two sections of Ohio River Boulevard together began in Spring 1987 from Allegheny Avenue to Western Avenue. Phase Two of the project would begin in January 1988, which would consist of a new interchange between the expressway and the West End Bridge. The bridge would be closed for two years while it underwent rehabilitation and new ramps were built at the northern end for the interchange.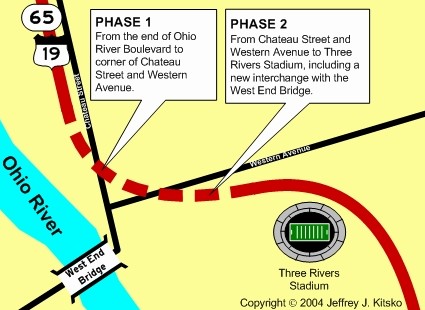 Area of the missing-link which was completed.
On January 14, 1992, the project finished 40 years after first being planned and opened to traffic for that day's afternoon rush hour. Dick Enterprises, now Dick Corporation, the contractor for the project, finished the $45 million West End project which included rehabilitation of the West End Circle and Bridge ten months ahead of schedule. The bridge reopened three months earlier than the projected 16 months in July 1991.
PennDOT had been studying the problems of the West End Circle, which causes congestion as US 19, PA 51, PA 60, and PA 837 all converge. The plan was to align the West End Bypass with the West End Circle so that US 19 traffic would continue unimpeded from the bypass to the bridge. The first phase, costing $4.4 million, was completed in Summer 2003 when a short tunnel was bored under the Norfolk Southern Railway for the direct connection. With budget problems befalling the Department of Transportation, $7 million had to be shaved from the $42 million by making some lanes shorter and cutting the size of a retaining wall. The changes also saved money that would have to be spent to move the Norfolk Southern rail line. The southbound lanes through the tunnel were not opened until July 31, 2009 and the northbound lanes opening in October 2009. Reconstruction of the circle itself began in July 2007 and was completed in October 2010 at a cost of $52.6 million. That portion of the entire project was honored in June 2011 as part of the America's Transportation Awards, an annual competition co-sponsored by AAA, the US Chamber of Commerce, and the American Association of State Highway and Transportation Officials.
As the leaders of the 20 largest economies in the world met in Pittsburgh during September 24 and 25 for the G-20 Summit, so did the protesters. An estimated 20 from Greenpeace congregated at the West End Bridge the day before with eight of them repelling off to unfurl a banner about carbon emissions. Pittsburgh Police and River Rescue swarmed that bridge as well as the Fort Pitt Bridge where they managed to stop about six from unfurling a smaller banner. River Rescue personnel watched from the Ohio River below while police fanned out along the railroad tracks next to Carson Street. The protesters climbed up to the bridge deck and surrendered to police around 1 PM. Mike Crocker, who said he was the team leader coordinating the events from near the Jerome Bettis' Grille 36 on the North Shore, said numerous Greenpeace activists nationwide had planned these stunts for three months. Gabe Wisniewski, a Greenpeace activist from San Francisco said, "We chose the West End Bridge for the main focus of the action because it was an iconic bridge and one of the most important to the city."
A $9.4 million reconstruction project at the Ohio River Boulevard/Marshall Avenue interchange in Pittsburgh began on July 22, 2010. Phase I included redecking of the ramp from the northbound direction of the expressway and Chateau Street to Marshall Avenue which was completed in November 2010. Phase II began on July 15, 2011 with the closure of the bridges carrying Ohio River Boulevard over the Marshall Avenue interchange for rehabilitation, and the $20 million phase was completed in November 2011. Phase III began on January 21, 2013 and included rehabilitating two structures over the Norfolk Southern Railroad line. The $14.2 million phase was completed in Fall 2013, marking the end of the project.
In March 2011, work began in Wexford Flats in northern Allegheny County to widen and improve at 2.3-mile-long section of the highway. Aside from widening the roadway to include a center turn lane, traffic signals in the section were replaced. The project was originally planned to go on hiatus during Winter 2011, but due to issues with having to reroute thousands of feet of water line in July, work continued to make up for lost time. The project officially ended on December 3, 2012.
Links:
US 19 Auxiliary Routes
Ohio River Boulevard
JCT US 6, 19, 322 - David Brunot
Terminus of US 19 - Dale Sanderson
Terminus of US 19 in Pennsylvania - Tim Reichard
US 19 Pictures - Steve Alpert
US 19 Junction List - Tim Reichard
West End Bridge - Bruce Cridlebaugh
William Flinn Highway - Adam Prince/Bruce Cridlebaugh
---

INFORMATION
Southern
Entrance:
West Virginia state line one-half mile south of Mount Morris.
Northern
Terminus:
US 20 in Erie.
Length:
188 miles
National
Highway
System:
I-79 to Pittsburgh
Truck US 19 to PA 228
US 6/US 322 to Meadville
I-90 to US 20
Names:
Mount Morris Road, East High Street, High Street, Greene Street, Morris Street, Richhill Street, William Flinn Highway, Amity Ridge Road, Waynesburg Road, Maiden Street, College Street, Ridge Avenue, Washington Road, Cochran Road, Banksville Road, Saw Mill Run Boulevard, West End Bypass, Ohio River Boulevard, Marshall Avenue, Perrysville Avenue, Perry Highway, Main Street, Erie Street, Franklin Street, French Creek Parkway, Waterford Pike, High Street, and Peach Street
SR
Designations:
SR 0019
SR 0376: Exit 5A to Exit 5C
SR 0006: US 322 to US 6N
Counties:
Greene, Washington, Allegheny, Butler, Lawrence, Mercer, Crawford, and Erie
Expressway:
Exit 69A to Exit 69C on I-376/US 22/US 30
I-376/US 22/US 30 to PA 837
West End Bridge to Marshall Avenue in Pittsburgh
Multiplexed
Routes:
PA 21: Morrisville to Waynesburg
US 40: Laboratory to Washington
US 22: Exit 69A to Exit 69C of I-376
US 30: Exit 69A to Exit 69C of I-376
I-376: Exit 69A to Exit 69C
PA 51: I-376/US 22/US 30 to PA 837
PA 65: West End Bridge to Marshall Avenue
PA 68: Zelienople
PA 488: Portersville
PA 208: Leesburg
US 62: Mercer
PA 58: Mercer
PA 258: Mercer
US 6: US 322 to US 6N
US 322: US 6 to Meadville
PA 198: Saegertown
PA 97: Waterford
Former
Designations:
PA 8 (1925 - 1930): West Virginia state line to Weavertown Road
PA 5 (1925 - 1930): Meadville to Waterford
PA 88 (1927 - 1928): Pittsburgh to Kerrtown
PA 78 (1927 - 1928): Waterford to Kearsarge
PA 97 (1928 - 1936): Waterford to Kearsarge

BicyclePA Route:
West Virginia state line to Kirby
Miller Lane to Stewart Hill Road
Apple Hill Road to Ten Mile Road
PA 488 to PA 98

BicyclePA Route:
Baldwin Street to US 6N

Pennsylvania
Byway:
Laboratory to Washington

Pittsburgh Belt System:
Bascom Street to Ivory Avenue

Pittsburgh Belt System:
Sewickley-Oakmont Road to Three Degree Road

Pittsburgh Belt System:
Connor Road to PA 121

Washington's
Trail:
PA 65 South to PA 65 North
PA 910 to PA 528
Mercer Road to Portersville
Meadville to Fort LeBoeuf

Traffic Conditions:
PA 51 to the West End Bridge (Northbound)
West End Bridge (Northbound)
West End Bridge to Marshall Avenue (Northbound)
Marshall Avenue to West End Bridge (Southbound)
West End Bridge (Southbound)
West End Bridge to PA 51 (Southbound)

Traffic Cameras:
Banksville Road
Wabash Street
Lowe Street
Alexander Street
South Main Street
West End Bridge South
West End Bridge North
---
Back to Pennsylvania Highways
Back to Pennsylvania US Highways
Page updated April 15, 2020.
Content and graphics, unless otherwise noted, copyright © Jeffrey J. Kitsko. All rights reserved.
Information sign courtesy of Richard C. Moeur.
Pittsburgh Belt System and Washington's Trail shields courtesy of Bruce Cridlebaugh.
Traffic.com logo courtesy of Traffic.com, Inc.
Information courtesy of the Pennsylvania Department of Transportation, Rand McNally, General Drafting, Pittsburgh Tribune-Review, Pittsburgh Post-Gazette, KDKA-TV Pittsburgh, and Bruce Cridlebaugh.