Ulysses S. Grant Highway
---
The shortest east-west US highway in Pennsylvania is ironically the longest in the United States. The route has not changed significantly since it was signed in 1926.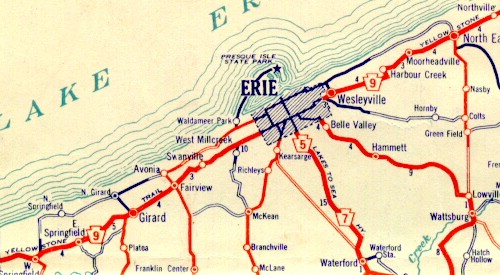 The former incarnation of US 20 as indicated on the 1926 official state
highway map. (Pennsylvania Department of Highways)
The first change to take place on the highway was the widening from the Ohio state line to West Springfield, Fairview to the Millcreek Township line in 1938. Two significant changes took place in 1946. Widening took place between West Springfield and Eagley Road, the Fairview Township line and Asbury Road, PA 531 and Bartlett Road in Harborcreek, and in North East. Also, 26th Street was extended and Broad Street was built. Prior to that year, the designation used East Avenue to connect Buffalo Road and 26th Street.
In 1952, the route was widened between Eagley Road and Girard. In 1954, widening took place from Girard to Fairview, Asbury Road to PA 299 and Yoder Drive to the City of Erie line. A year later the gap between PA 299 and Yoder Drive was widened as was the alignment from Wesleyville to PA 531 and Bartlett Road to North East. In 1958, a median was installed on the route from the Ohio state line to PA 5, Eagley Road to PA 18 South, Girard to Erie, Brandes Avenue to Buffalo Road, Wesleyville to PA 531, and Bartlett Road to Cemetery Road.
In 1970, construction began from North East to Interstate 90 to widen and install a median and was completed the following year.
Links:
US 20 Pictures
Great Lakes Circle Tour
Seaway Trail
Seaway Trail - Pennsylvania Byways
Terminus of US 20 - Dale Sanderson
US 20 Pictures - Andy Field/Alex Nitzman
US 20 Pictures - Steve Alpert
---

INFORMATION
Western
Entrance:
Ohio state line two and one-half miles west of West Springfield
Eastern
Entrance:
New York state line four miles east of State Line
Length:
45 miles
National
Highway
System:
PA 98 to Powell Avenue
Franklin Avenue to Lawrence Parkway
Names:
Ulysses S. Grant Highway
Yellowstone Trail
Lake Road, Ridge Road, Main Street, 26th Street, and Buffalo Road
SR
Designation:
0020
County:
Erie
Expressway:
None
Multiplexed
Route:
PA 18: one mile west of Girard to Girard
Former
Designation:
PA 9 (1925 - 1930)
Former LR
Designations:
85: Ohio state line to Chestnut Street
86: Chestnut Street to PA 98
272: PA 98 to PA 505
87: PA 505 to the New York state line

BicyclePA Route:
Ohio state line to PA 5

Great Lakes
Circle Tour:
Ohio state line to PA 5

Seaway Trail:
Ohio state line to PA 5
---
Back to Pennsylvania Highways
Back to Pennsylvania US Highways
Page updated May 18, 2022.
Content and graphics, unless otherwise noted, copyright © Jeffrey J. Kitsko. All rights reserved.
Information sign courtesy of Richard C. Moeur.
Lake Erie Circle Tour shield courtesy of the Great Lakes Information Network.
Seaway Trail shield courtesy of Seaway Trail, Inc.
Information courtesy of the Pennsylvania Department of Transportation and Rand McNally.