---
The routing of the original US 222 was much different than that of today. In Lancaster, the highway followed Prince Street and East King Street to follow current PA 340 and turn north to Mechanicsburg and Ephrata via Horseshoe Road and PA 772 to Brownstown. In Reading, it followed Lancaster Pike, Lancaster Avenue, Bingaman Street, and Fifth Street to meet then US 120 and US 22 at Penn Street. In 1927, the designation was extended south from Lancaster to Maryland to replace US 230. In 1929, the highway was under construction from Shillington to Reading and was finished one year later.
The first major change in the route took place in 1932 when the northern terminus was moved from Reading to Allentown. It supplanted US 22 between the two cities and in the home of its new terminus it followed Hamilton Street and 15th Street to end at US 22/US 309 at Tighman Street. Another change in routing took place in 1936 when US 222 was signed north from King Street on Prince Street, Liberty Street, Lititz Avenue, and Oregon Pike to Brownstown. In 1938, the route was widened from Maiden Creek to Trexlertown and Wescoesville to Allentown.
In 1940, widening took place from Lancaster to PA 501, in Adamstown, and Reading to North Temple Boulevard. Widening occurred from Shillington to Reading a year later. In 1946, a new alignment to the west of Ephrata opened and the designation moved off of South State Street and Church Street through the borough as well as widening taking place from North Temple Boulevard to Maiden Creek and Trexlertown to Wescoesville.
Construction on the first segments of expressway began in 1952 on US 30 in Lancaster as well as from US 422 to the current PA 12 interchange. In 1954, the expressway section that is the multiplex with US 30 in Lancaster opened as well as the route was widened from Gouglersville to Shillington. That year the location of the northern terminus moved again due to another expressway opening. The terminus was moved to the Seventh Street interchange on US 22/Lehigh Valley Thruway via Tilghman Street and Seventh Street. The following year the the expressway segment from US 422 to the Warren Street Bypass opened. In 1958, the designation was split in Lancaster with southbound US 222 signed on the original route and northbound on Conestoga Street and Queen Street and a median was installed from Reading to Elizabeth Avenue. In 1959, the designation was moved once again in Allentown, this time to its current location.
The 1960s continued to see changes in the routing in Lancaster with the northbound direction moved onto its current route on Queen Street, Church Street, Lime Street, Liberty Street, and Lititz Avenue. In 1961, a median was installed at the US 322 intersection in Ephrata and northbound traffic shifted to Laurel Street and Fifth Street in Reading. Changes continued in Lancaster and Reading in 1963. In Lancaster, the southbound route was placed on its current alignment when the designation was signed on McGovern Avenue and in Reading northbound traffic was moved again to follow Bingaman Street and Fifth Street while southbound would turn off Fifth Street to follow Chestnut Street and Fourth Street. Construction began in 1967 on another section of expressway that would become a portion of US 222 from the Van Reed Road interchange to PA 61 and the "Outer Loop" opened a year later. Another section of expressway from US 30 to the PA 272 interchange began in 1968.
The 1970s started with the opening of the expressway from US 30 to the current PA 272 interchange, while construction was extended from there to the Turnpike interchange. Also in 1970, a median was installed from PA 741 to Locust Lane. Construction began in 1971 on the Kutztown Bypass from Kempville to northeast of Kutztown. In 1972, US 222 was multiplexed on US 30 to its new expressway and north to the PA 272 interchange while the expressway opened from PA 272 to US 322 and construction extended to the Turnpike overpass. In 1973, the Kutztown Bypass opened while construction began from PA 61 to US 222 north of Reading. Also that year the designation was moved onto the expressway from the PA 272 interchange to the PA 772 interchange and a median was installed from Fairmont Avenue to Shillington. Another change in routing took place in 1974, when the US 222 designation was moved to the new expressway from the PA 772 interchange to the Turnpike interchange, while construction was extended from the Turnpike overpass to the Berks County line. In 1975, the section from PA 61 to US 222 opened to traffic while the northbound designation changed again in Reading, this time following Laurel Street and Fifth Street. Another change in the routing in Reading took place in 1977 with it moved to the West Shore Bypass and Warren Street Bypass. In 1978, the last section of the Lancaster to Reading expressway opened from the Turnpike interchange to the Berks County line. With the opening of the new expressway came a change to the layout of the interchange between US 222 and the Pennsylvania Turnpike. A new toll plaza and interchange were constructed to facilitate movement between the Turnpike, expressway, and old US 222 now renumbered PA 272.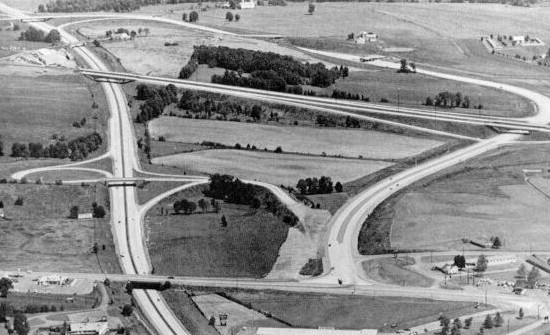 New interchange layout for US 222. (Pennsylvania Turnpike Commission)
The 1980s was quiet time for the alignment contrary to the changes it had seen in previous decades, but it became active once again in the 1990s. While approved in July 1987 by the Department of Transportation Commission, construction would not start until 1996 on a new segment of expressway from the Warren Street Bypass to the "Outer Loop" expressway, which was referred to as the Park Road Project. Two years later this segment opened to traffic, and with that the US 222 designation was placed onto it and the now former "Road to Nowhere."
Expressway construction around Reading would not stop there. After numerous delays in the 1970s and 1980s, Governor Tom Ridge and the General Assembly secured new funding in 1997, which enabled construction of the link between the Lancaster County line and US 422 to continue through final design engineering and construction.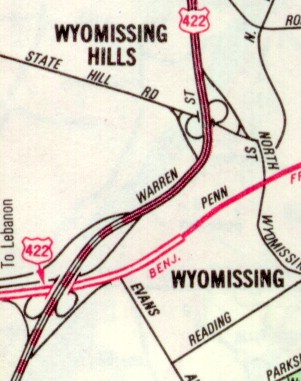 How the end of the Northern Section
appeared on state maps from the late 1970s.
(PennDOT)
In 1998, construction began on the missing segment from the Berks County line to US 422/Business US 422 interchange west of Reading. The construction was divided into three sections:
Southern: Lancaster County line to Old Lancaster Pike
Central: Old Lancaster Pike to PA 724
Northern: PA 724 to US 422
The Northern Section was the first to see construction with demolition of structures beginning on October 28, 1998 and work on the actual expressway beginning on December 4, 1998. Final paving of the travel lanes began on August 16, 2000 and finished a month later.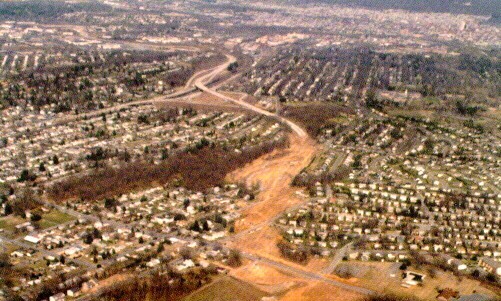 Right-of-way being cleared near the US 422/Business US 422
interchange in 1999. (PennDOT)
On November 9, 2000, the $22.7 million Northern Section opened to traffic and enabled a better connection between Sinking Spring and Shillington. While Governor Tom Ridge, who was present at the groundbreaking, could not make the opening ceremonies; however, District Engineer Walter E. Bortree presided over the ceremony on his behalf. "Today long has been anticipated by the people of Reading," Bortree said. "This project clearly demonstrates that when federal, state and local officials work together, this community can do anything. It's also proof that Governor Ridge is fulfilling his pledge to create a state-of-the-art, efficient highway system for Berks County." Bortree was joined by Berks County, Spring Township and Wyomissing officials, and Berks County Chamber of Commerce members. The final cost of this section was $22,658,356.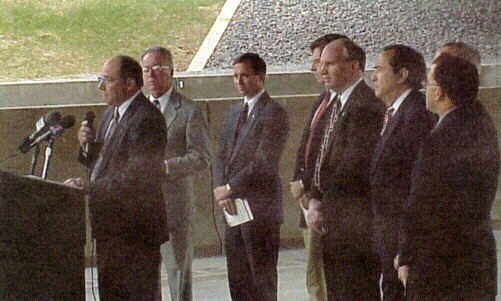 Federal, state, and local officials at the opening ceremony for the
Northern Section. (PennDOT)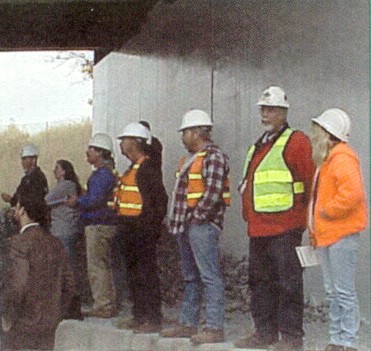 Members of the construction team look on during the
ceremony. (PennDOT)
On July 10, 2001, Dick Corporation of Pittsburgh was awarded the contract for construction of the Central Section. Almost a month later on August 13, work began by removing trees and relocating utility lines. The first 17 months of construction comprised excavation between Lancaster Avenue and PA 724 and building a large interchange complex at Lancaster Avenue and Grings Hill Road. In 2003 work focused on completing structures at the Lancaster Avenue interchange and the Old Fritztown Road overpass which opened in July. Paving was completed at various points in the section. The final year of construction saw drainage improvements, structure completions, and finishing paving. The $45,656,435 Central Section's northbound lanes opened to traffic on October 28, 2004 and the southbound lanes on November 5.
Construction on the boulevard-style Trexlertown Bypass began with Phase One on April 26, 2002; however, planning for it dates back to the 1980s. The project involved earth moving and placement of more than one million cubic yards of earthen fill at the interchange area near Breinigsville and a replacement wetland area near Trexlertown Road and Spring Creek Road. The advance contract was necessary to allow the embankments time to settle and compress the clay layers beneath the interchange. This segment was completed in late 2002 at a cost of $6.8 million.
Phase Two of the project, which entailed construction of the highway itself, began on April 4, 2003. The section from Hamilton Boulevard to PA 100 north of Trexlertown opened on September 27, 2005 at a cost of $46.5 million. Phase Three from PA 100 to Hamilton Boulevard just west of Interstate 78 began in June 2004 and opened to traffic on September 28, 2007. The $57.7 million project opened a little over a year past its originally planned completion date of September 18, 2006. Neither PennDOT nor Balfour Beatty Infrastructure, Inc. will disclose the reasons for the delay, but PennDOT docked them $4,800 a day for each day beyond the deadline which was about $1.8 million.
In March of 2003, construction began on the Southern Section of the expressway between the Lancaster County line and Old Lancaster Pike. The highway opened on June 23, 2006 and cost $47.8 million. A ribbon cutting ceremony was held, with Department of Transportation Secretary Allen D. Biehler, PE as one of the attendees. He remarked, "The southern section of the Route 222 expressway completes a long-awaited and sensible high-speed connection between Reading and Lancaster. Partnerships played a key role in addressing the many challenges, and on behalf of Governor Edward G. Rendell, we follow through and bring this 50-year campaign to a close."
In 2003, PennDOT completed a needs analysis on US 222 to determine future transportation projects for the unimproved sections of the corridor between Reading and Lehigh County. From the information that was gathered, engineers devised recommendation for improvements. Even into 2009, ideas on how to fix US 222 were being floated; however, one would not be a new expressway alignment much to the consternation of Berks County officials. Construction of a four lane roadway from Reading to Kutztown would cost $500 million, 10 times as much as what the county gets for all road and bridge projects for a year. PennDOT District 5 District Executive Michael Rebert told members of the Reading Area Transportation Study on September 17, 2009 that the state can not afford large-scale improvements. Instead, an engineering study was being conducted to improve the intersections at PA 73 and PA 662 which would cost $25 million. Some committee members were none to pleased with the ideas. "We are the only major city in Pennsylvania that has been isolated," said James Mason, a member of the Berks County Planning Commission. "The only major highway serving Reading is [Interstate] 176."
Work to improve the PA 183 interchange northwest of Reading began on April 12, 2010. The $25 million project included replacing the bridge carrying PA 183 over the expressway with a wider and taller structure, improving the ramps, and adding a loop ramp from PA 183 northbound to US 222 southbound. Complications with underground voids discovered while driving pilings for the new bridge in August 2012 pushed the completion date back.
With opinions along the US 222 corridor varying from business leaders demanding a four-lane roadway, to farmers saying that it would tear up too much rich soil, a consensus was needed. State Representatives Jerry P. Knowles and Gary Day sent nearly 8,000 surveys asking constituents living along the route for their say in the future of corridor with four choices: do nothing, construct a bypass around the business district, make intersection improvements, and expand the highway to four lanes. From the responses that were received, no one had selected do nothing. On February 3, 2011, the Reading Area Transportation Study group looked at plans to add roundabouts at the intersections with PA 73 and PA 662. "The roundabout would function in the same manner as a traffic signal in terms of being able to move traffic from 222 onto the side streets and from the side streets onto 222, as well as platoon the traffic through those intersections on 222 itself," said Mike Keiser of PennDOT. On August 4, 2011, a group of state lawmakers, Berks County officials, and local business interests making a pitch for state money to widen US 222 heard some positive news from state Transportation Secretary Barry J. Schoch who said, "You don't have to convince me it's a good project. I know it's a good project." Aside from the improvements at PA 73, PA 662, and Genesis Drive totaling $24.6 million, those interests were looking for improvements at Long Lane and widening the route to four or five lanes from south of the Kutztown Bypass to the Trexlertown Bypass. Berks County Commissioner Christian Leinbach said the county is committed to footing $5 million of the planning costs if PennDOT takes on their plan. PennDOT also began studying the section from the Kutztown Bypass to the Trexlertown Bypass in November 2013 to figure out how it could be widened, identify potential challenges such as historic sites or environmentally-sensitive areas, and estimate a cost which should end in April 2014.
PennDOT did devise a plan of their own, which they debuted to a special meeting of the Reading Area Transportation Study on January 11, 2012. Their plan calls for widening US 222 to five lanes (two in each direction plus a center turning lane) from the end of the expressway north of Reading to the intersection at PA 73 which would be widened to include more through lanes and turning lanes in each direction. The highway would remain five lanes through a roundabout at Genesis Drive and Tamarack Boulevard, then taper to one lane in each direction until widening again for another roundabout at PA 662. Local officials were skeptical of the plan, citing concerns that it would be difficult to access businesses along the route and accommodate future development as well as worried that the roundabouts would be difficult to navigate. PennDOT officials assured the group that the plan was just a rough draft, and that while it falls short of a four to five lane wide highway from Reading to Allentown, the intersection work is a big step to fixing congestion and safety issues. A revised plan in August 2013 showed additional roundabouts at Schaeffer Road and instead of a traffic signal, one at PA 73. Maidencreek Township officials were not pleased because they felt they would hamper development, but PennDOT insisted that they were still preliminary plans. Secretary of Transportation Barry Schoch reiterated his support for an improved US 222 at a meeting of the Greater Reading Chamber of Commerce and Industry's transportation forum on October 10, 2014 saying, "From a regional perspective, 222 is the lifeblood of this region, and the need for improved capacity north of here is clearly evident. So, we are going to restart the preliminary engineering on that and get it moving."
It was not a festive Fourth of July 2012 for travelers using US 222 in Lancaster County. A portion of the southbound expressway just south of the Berks County line had to close due to an 8-inch buckle in the road surface caused by the hot weather at the time near the Orchard Road overpass between the Adamstown and Turnpike interchanges. State Police closed the road and rerouted traffic onto parallel PA 272 while PennDOT personnel inspected the damage. Repairs took one day and the expressway was reopened on July 6.
Construction began in March 2013 on a project to replace the Lititz Pike bridge over the Amtrak lines along the northern boundary of the City of Lancaster. The project not only included replacing the bridge with a new structure to the west as well as realigning US 222 between Keller Avenue and McGovern Avenue. Due to the realignment of the route, North Duke Street was widened from two through lanes and two parking lanes to four lanes, one turning lane, and one parking lane between East Liberty Street and McGovern Avenue and the latter was made into a two-way street for better access to the train station. The new $12.7 million Thaddeus Stevens Bridge, named after the 19th Century abolitionist who resided in Lancaster, opened to traffic on July 9, 2014. The original bridge was closed and that day the US 222 designation was removed from Lititz Avenue with the northbound alignment extended down East Liberty Street to North Duke Street. Demolition of the old bridge and old roadway north of the bridge to Keller Avenue, installation of new traffic signals at intersections within the project limits, and milling and paving work continued until October 2014 when the entire $26.6 project was completed.
Snow squalls his the Commonwealth on the afternoon of January 30, 2019, and one proved deadly that hit US 222 outside Reading. One squall caused a 27-vehicle pileup to occur just after 1:15 PM in the southbound lanes between the State Hill Road and Penn Avenue interchanges. Fortunately no one was killed, but nine motorists were injured and transported to Reading Hospital with two of them in serious condition. Nine fire departments and seven ambulance companies from Berks County, as well as various ambulance organizations from Lebanon and Lancaster counties, along with crews from West Side Regional Emergency Management Agency, Berks County Emergency Management Agency and PennDOT. Battling single-digit wind chills, first responders were able to clear and reopen the highway three hours later.
A major project involving the intersections at PA 73, Genesis Drive, and Schaeffer Road began on September 9, 2019. Roundabouts will be constructed at the Genesis Drive and Schaeffer Road intersections, and the PA 73 intersection will be widened with turn lanes installed and upgrading of the traffic signals. Preliminary work began that day which included relocating utility lines and setting up work zone signage. J.D. Eckman of Atglen, Pennsylvania is the general contractor on the $26.7 million project that is estimated to be completed in November 2022.
Work began on April 11, 2022 to improve US 222 between Reading Boulevard and Paper Mill Road outside Reading in Berks County. The project includes milling the roadway, concrete patching, paving, bridge preventative maintenance, guide rail upgrades, tree clearing, and pavement markings. Kriger Construction, Inc. of Scranton is the general contractor on the $13.2 million project which is anticipated to be complete in November 2022.
Links:
Exit Guide
US 222 Auxiliary Routes
US 222 Pictures
US 222 Construction Progress Map
Terminus of US 222 - Dale Sanderson
US 222 Pictures - Andy Field/Alex Nitzman
US 222 Pictures - Steve Alpert
US 222 Photos - Valerie Deane
---

INFORMATION
Southern
Entrance:
Maryland state line four miles south of Wakefield
Northern
Terminus:
I-78 at Exit 54 in Allentown
Length:
90 miles
National
Highway
System:
Maryland state line to Wakefield
Willow Street to Allentown
Names:
Robert Fulton Highway, South Church Street, West State Street, West Fourth Street, Beaver Valley Pike, Willow Street Pike, Highland Avenue, Queen Street, Church Street, Lime Street, Liberty Street, Duke Street, McGovern Avenue, Prince Street, Lititz Pike, Oregon Pike, Lincoln Highway, Dry Tavern Road, Lancaster Avenue, Benjamin Franklin Highway, Park Road Extension, Van Reed Road, Allentown Pike, Hamilton Boulevard, Fred Jaindl Memorial Highway, and Hamilton Street
SR
Designations:
0222
0030: US 30 west to US 30 east in Lancaster
Counties:
Lancaster, Berks, and Lehigh
Expressway:
US 30 in Lancaster to Business US 222 in Laureldale
Kempville to north of Kutztown
Multiplexed
Routes:
PA 372: Quarryville
PA 741: west of Lampeter to Willow Street
PA 272: Wakefield to Penn Hill
PA 272: Willow Street to Lancaster
PA 72: Lancaster
US 30: US 30 West to US 30 East in Lancaster
US 422: Wyomissing to US 422 East/PA 12 North
Former
Designations:
PA 3 (1925 - 1928): Business US 222 to Allentown
PA 72 (1927 - 1928): Maryland state line to Lancaster
US 22 (1928 - 1932): Business US 222 to Allentown

Traffic Camera:
PA 100
---
Back to Pennsylvania Highways
Back to Pennsylvania US Highways
Page updated September 30, 2022.
Content and graphics, unless otherwise noted, copyright © Jeffrey J. Kitsko. All rights reserved.
Information sign courtesy of Richard C. Moeur.
Information courtesy of the Pennsylvania Department of Transportation, Rand McNally, H. M. Gousha, the Allentown Morning Call, Reading Eagle, WFMZ-TV Allentown, LancasterOnline, and Berks Weekly.