Benjamin Franklin Highway
---
One of the qualities that keeps this highway unique from other US highways in Pennsylvania is that this one is missing a piece. US 422 may be on either side of the state, but it is non-existent from Ebensburg to Hershey where the two ends are located. At no time were the two sections ever joined to from a contiguous route.
Originally signed in 1926 from Ohio to Ebensburg, the eastern segment between Reading and Philadelphia wasn't signed until 1927 when it displaced US 120 which was truncated at Lock Haven. In 1928, the route was under construction from Shelocta to Parkwood Road. The following year that was completed while construction began from Geesey Road to current PA 553. In 1930, the highway was paved from the Kittanning Township line to Elderton and current PA 553 to Belsano.
Big changes to the route took place in 1932. On the western segment, the designation was moved to the current alignment between Belsano and Ebensburg. Previous to that year, it turned onto PA 271 to Nanty Glo then Beulah Road to end at US 22. On the eastern segment, the western terminus was moved from Reading to US 22 at Market Street in downtown Harrisburg right at the Capitol Complex and replaced the US 22 designation which was moved to its current alignment. In 1935, the eastern terminus of the eastern segment was moved from US 309 at Bethlehem Pike in the Chestnut Hill section of Philadelphia. The route was moved to Church Road and Ridge Pike to end at US 309 at Lincoln Drive. In 1936, the western terminus of the eastern segment was moved to US 22 at Market Street in Harrisburg and the designation was moved to Front Street and Paxton Street from Fourth Street, Mulberry Street, and Derry Street. Many widening projects took place in 1938 from Parkstown to New Castle, Harrisburg to Hummelstown, Dauphin County line to Lebanon, Sinking Spring to Wyomissing, and Pottstown to Norristown.
The 1940s began with widening taking place from the Lawrence County line to Portersville, at the PA 328 intersection, PA 68 to Butler, Hockersville Road to Hershey, in Myerstown, in Womelsdorf, in Robesonia, Baumstown to Douglassville, and Stowe to Pottstown. The following year the sections from the City of Butler line to downtown and Red Mill Road to Ruff Church Road. In 1946, the highway was widened from Kittanning to Red Mill Road, Lebanon to Myerstown, Martin Road to Stouchsburg, Mount Penn to Baumstown, Douglassville to Stowe, and Harts Lane to Philadelphia. Also that year, the eastern terminus of the eastern section was moved from US 309 in Chestnut Hill to the Tacony-Palmyra Bridge in Tacony via Germantown Pike, Germantown Avenue, Chew Avenue, Olney Avenue, Tabor Street, Roosevelt Boulevard, and Levick Street. In 1948, a new alignment opened from the Ohio state line to Matthews Road which alleviated current PA 208, Marr Road, and Matthews Road of the US 422 designation. With the change in alignment, the designation also switched from State Street to Sampson Street in New Castle. Widening took place that year from West Kittanning to Kittanning, Myerstown to Martin Road, South Heidelberg Township line to Wernersville, and Wernersville to Sinking Spring. Construction began in 1949 on a new alignment from US 19 to Mount Chestnut and widening took place from Robesonia to Wernersville.
The first year of the 1950s saw the opening of the new section from US 19 to Mount Chestnut, which alleviated US 19, PA 488, and West Old Route 422 of the US 422 designation. That same year construction started on two new alignments: New Castle to US 19 and Stouchsburg to Womelsdorf. The following year those two sections opened to traffic and removed the US 422 designation from Old Butler Road in Lawrence County and Main Street and High Street in Berks County. In 1952, construction began from Penn Avenue to the current PA 12 interchange. The highway was widened from Mount Chestnut to PA 68, US 322 to Hockersville Road, and Hershey to the Lebanon County line. A change in alignment took place in New Castle with the designation moved to Jefferson Street, Grove Street, Neal Street, and Taylor Street from Washington Street and replaced Bypass US 422. Construction began on the bypass of Hummelstown which opened a year later relieving Main Street, Mae Street, and West Chocolate Avenue to Orchard Road of the US 422 designation. The corridor continued to see widening work in 1954, with a section from Hemlock Road to Barclay Road west of Indiana seeing improvements. The same year, the designation was changed to follow Germantown Avenue, Washington Lane, Wayne Avenue, and Clarrisa Avenue to end at US 1/ US 13 in Hunting Park. In 1955, the highway was widened from Protzman Road to Karnes Road and Ewings Mill to Strongstown. Construction began on a new alignment from Karnes Road to County Line Road to bypass Coyleville while widening took place from College Lodge Road to Indiana. The designation was split in Butler with eastbound traffic shifted to Cunningham Street and McKean Street while westbound traffic continued to use Jefferson Street. The expressway from Penn Avenue to the current PA 12 interchange opened. A median was installed in 1958 at the US 19 intersection, Protzman Road to Karns Road, US 322 to West Chocolate Avenue, current PA 419 intersection to Main Street, Schuylkill River bridge, and Baumstown to the Montgomery County line. Widening occurred from PA 553 to Pikes Peak while the new alignment from Karnes Road to County Line Road opened. A change in the designation took place from Reading to Mount Penn, with eastbound traffic shifted to Perkiomen Avenue while westbound traffic continued to use Mineral Springs Road. Construction on the expressway from current PA 12 to Penn Avenue began in 1958 as well. In the final year of the 1950s the highway was widened from Pikes Peak to Ewings Mill while the designation moved yet again in the "City of Brotherly Love." It was moved back to Church Road, Ridge Avenue, and West Allegheny Avenue to end at US 1/US 13.
The 1960s began with two projects getting underway on the western segment: the Butler Bypass and a new alignment from Yellow Dog Road to Glade Run Road. On the eastern segment, the section of expressway from the current PA 12 interchange to Penn Avenue opened while a shift in the alignment took place in Lebanon. Eastbound traffic was moved to 10th Street, Walnut Street, and Lincoln Avenue while westbound continued to use the original path on Cumberland Street. The first section of the Butler Bypass opened from PA 8 to east of the city, as did the section from Yellow Dog Road to Bear Street which removed the designation from Butler Road in 1961. Construction began that year from Yellow Dog Road to West Kittanning and from the Schuylkill to current Business US 422. Changes in terminus location also occurred in 1961 on both segments. On the western part, the eastern terminus was extended on High Street and Admiral Perry Highway to end at the new US 22 alignment southeast of Ebensburg. The eastern part's western terminus was removed from Harrisburg and placed at its current location and the eastern terminus moved back to its pre-1958 alignment to end at US 1/US 13 at the intersection of Hunting Park Avenue and Clarissa Street.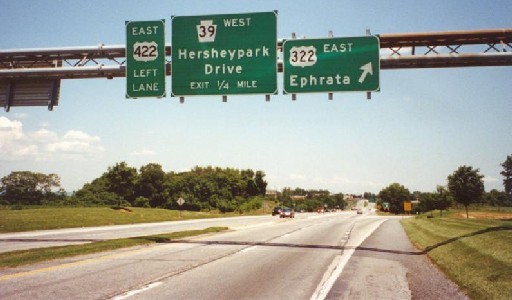 Looking eastbound at the eastern section's beginning near Hershey.
(Alex Nitzman)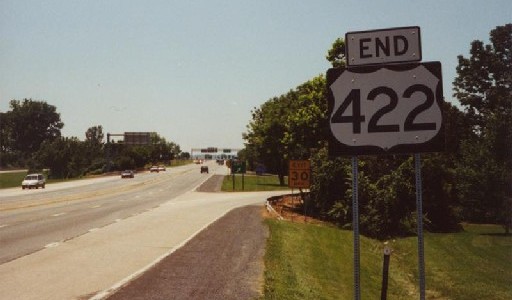 Westbound at the location where the eastern section was truncated in
1961. (Alex Nitzman)
The new section from Bear Street to West Kittanning while on the eastern section the designation was moved from 10th Street to 12th Street in Lebanon. In 1963, the remainder of the Butler Bypass opened from west of the city to PA 8 and with it, removed the designation from Jefferson Street, Kittanning Street, Cunningham Street, and Mercer Street. On the eastern side of Pennsylvania, the section from I-176 to Business US 422 opened while construction began from Penn Avenue to the Schuylkill River. In 1964, the expressway from Penn Avenue to I-176 opened and removed the US 422 designation from Penn Avenue, Penn Street, Perkiomen Avenue, and Mineral Spring Road. The following year construction began on two new expressway alignments from the Chester County line to the Sanatoga interchange as well as from Trooper Road to US 202. In 1966, construction began from east of Douglassville to the Chester County line while the designation moved to Germantown Pike between Collegeville and Sandy Hill Road. Prior to that year, it was signed on Ridge Pike, Main Street, Airy Street, and Sandy Hill Road. In 1967, construction began on the expressway through Moraine State Park while on the eastern side of the state, the expressway from Douglassville to the Sanatoga interchange opened removing the designation from High Street and Ridge Pike and the section from Trooper Road to US 202. The latter section was initially designated PA 363 and named the County Line Expressway as it straddles the Chester/Montgomery County line. In 1968, the expressway from I-79 to Prospect opened while work commenced on a new expressway alignment from the current PA 954 interchange to PA 553 in Indiana County. The 1960s ended with construction beginning on the first section of the New Castle Bypass from PA 168 to the US 422 alignment east of the city.
The 1970s began with expressway construction beginning and concluding. Construction was extended from US 224 to PA 168 on the New Castle Bypass and US 422 to the Pony Farm Road underpass on the Kittanning Bypass. The section of expressway from the current PA 954 interchange to PA 553 opened while construction began from US 119 to PA 954 and PA 553 to Pikes Peak. With the opening of that expressway segment, the designation was removed from Philadelphia Street, East Pike Road, and Chestnut Ridge Road. It was signed on what is the current Business US 422 alignment to Indian Springs Road and then south on current PA 954.
The change in US 422's alignment between 1967 (left) and 1971 (right), and the creation
of the Two Lick Reservoir. (Pennsylvania Department of Highways/PennDOT)

The end of former US 422, now SR 1002, on the western side of Two Lick
Reservoir. The old alignment is now a private boat launch ramp.

The end of Chestnut Ridge Road on the eastern side of the reservoir.
In 1971, the sections of expressway from PA 168 to US 422 east of New Castle and PA 553 to Pikes Peak opened. Construction began from Pony Farm Road to PA 66 south of Kittanning. The interesting note in that is the official state map indicated the alignment under construction to US 422 east of the borough, which would not happen for another 28 years.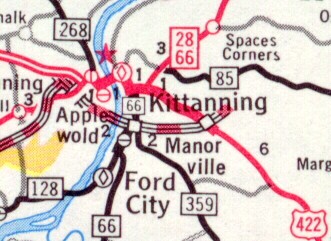 The Kittanning Bypass as indicated in 1971.
(PennDOT)
Also in 1971, the designation was extended along East Walnut Street in Lebanon and removed from Lincoln Avenue. The following year construction was extended from US 422 to US 224 on the New Castle Bypass while the section from US 119 to current PA 954 opened. That caused another movement of the designation turning onto Wayne Avenue to the US 119 bypass then onto the newly opened expressway. On the western end of the expressway, a piece of expressway was left in anticipation of an extension westward, which would not happen until the 1990s. Also opening that year was a section of the Kittanning Bypass from west of West Kittanning to the Allegheny Valley Expressway. The section from US 224 to PA 168 opened in 1973 and removed the designation from Sampson Street, Grant Avenue, Jefferson Street, Grove Street, Neal Street, Taylor Street, and Butler Avenue. With the section from Sampson Street to US 224 still under construction, the designation was signed onto Old Youngstown Road to US 224 and then onto the opened segment. Construction to upgrade Warren Street to an expressway in Reading from Penn Avenue to the current PA 12 interchange began in 1974.
In 1975, the section of the New Castle Bypass between Sampson Street and US 224 opened and the designation was removed from Old Youngstown Road. While that expressway section was opening, another was beginning on the eastern side of the state from the Sanatago interchange to Trooper Road. A median was installed at the US 219 interchange as well that year. The year the United States celebrated its Bicentennial, people were celebrating the completion of the Warren Street upgrade. In 1978, the expressway between the Limerick/Linfield interchange and PA 29 interchange opened.
The 1980s saw the conclusion of the expressway construction projects began in the decade before. In 1982, the Kittanning Bypass opened from the Allegheny Valley Expressway to PA 66 and a median installed from there to Kittanning. With the opening of the bypass, the designation was removed from Butler Road and South Water Street. While that section was opening, the section from PA 29 to PA 363 was beginning. In 1984, the expressway from Oaks/Audubon to PA 363 opened, while work commenced on the section from Sanatoga to Limerick/Linfield. Also in that year, a committee was formed by State Representative Henry Livengood to ensure that the missing segment from PA 66 to the alignment east of Kittanning would be completed. The A-15 Ex-Way By-pass Committee was formed with the goal of having this section added to PennDOT's 12-Year Program. In 1985, the sections from the Sanatoga interchange to Limerick/Linfield interchange and PA 29 to PA 363 opened. These two sections might not have been completed if PennDOT had not traded in funds from the cancelled I-895 project. These openings not only removed the designation from Ridge Pike, Main Street, Germantown Pike, Germantown Avenue, Washington Lane, Wayne Avenue, and Clarissa Street, but also the terminus from Philadelphia. The new eastern terminus of the eastern section would be at the US 202 expressway in King of Prussia, shaving approximately ten miles off the total length.
The 1990s were a quiet time on the highway. Things were jumping in 1993 on the western section when construction began on the expressway alignment south of Indiana from PA 286 to US 119 and the eastern terminus was moved from US 22 to US 219 west of Ebensburg. Previously it entered the borough on High Street and left on Admiral Perry Highway.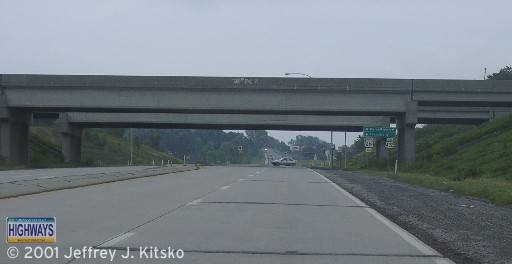 The western section's eastern terminus outside of Ebensburg.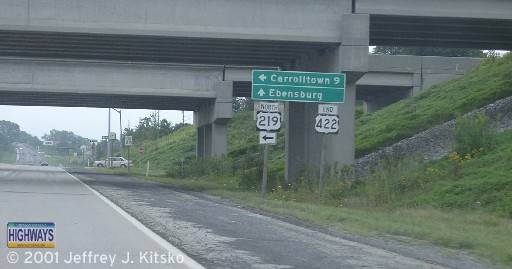 The actual "END US 422" assembly at the terminus.
In 1994, construction on the southern Indiana bypass would begin from US 422 to PA 286 and finally in 1995, the southern Indiana bypass opened to traffic which now gave purpose to that unused segment that was constructed with the original section in the 1970s. That would not be the last missing link to be corrected in that decade. In Fall 1997, environmental clearance was granted by the Federal Highway Administration on the proposed and never built section of expressway from PA 66 to east of Kittanning. The groundbreaking ceremony took place on March 24, 2000 at 11:30 AM.
The project cost $39 million and opened on December 13, 2001. Officials from state and local agencies as well as PennDOT and Federal Highway Administration officials cut the ribbon signaling the opening of the highway. "This is truly a monumental day for Armstrong County and it is a great pleasure for me to share in this celebrated opening of the A-15 Kittanning Bypass with you," said Pennsylvania Secretary of Transportation Bradley L. Mallory. "It is days like today that make this job worthwhile. And sharing these moments with hardworking Americans like the people of Armstrong County reminds me of why this country is great."
PennDOT District 5 is currently studying improvement options on the at-grade section from Mount Penn to Douglassville, referred to as the US 422 Corridor Study. Two expressway alignments are included in the alternatives list, with the most promising being the one following the Schuylkill River.
Due to increasing traffic on US 422 in Berks and Montgomery Counties, plans to extend commuter rail service from Philadelphia into Berks County have been discussed and a study released on February 20, 2009 detailed how it could be accomplished. The problem is that to fund construction would require tolls to be implemented on the expressway from Pottstown to King of Prussia. Tolls would be charged on a per-mile basis which would equal to $2 for the entire 25 miles, which would also go towards making improvements to the highway. The next step would be to conduct a feasibility study of tolling the expressway which would include traffic and revenue analysis, assessing the capital needs of US 422 and a rail extension, public outreach and comment period, and development of an operating plan and cost estimate for rail service.
A rehabilitation project, funded by the American Recovery and Reinvestment Act (ARRA), began on the Pottstown Expressway from the Royersford interchange to the PA 29 interchange on May 26, 2009. "This multi-million dollar improvement of Route 422 would not be starting this year if it were not for the federal economic stimulus funds," PennDOT District Executive Lester C. Toaso said. "We are ready to upgrade this rough stretch of pavement and provide motorists with a smooth, structurally-sound roadway for many years to come." Work entailed replacing deteriorated sections of the concrete roadway and applying a new asphalt surface, repairing 12 bridges, repairing the ramps at the Royersford and PA 29 interchanges, installing safety rumble strips, cleaning pipe culverts, installing new guide rails, new pavement markers, and intelligent transportation system equipment. The $12.2 million project came to an end on September 13, 2010.
Sinkholes have been an issue for the eastern section of US 422 going back to the 1930s. On October 1, 2010, one opened up in the eastbound lanes between the First Avenue interchange and the Turnpike overpass in Montgomery County. Repairs to the roadway took place nightly between October 21 and October 28. Another one that has plagued the route in Palmyra reared its ugly head once again on April 21, 2011, after having been repaired 15 times prior dating back to 2009. Starting on July 8, 2014, US 422 was closed in Palmyra to fix once-and-for-all the seemingly never-ending sequence of sinkholes. The project entailed building an underground "bridge," comprised of concrete, over the sinkhole, and then backfilling the hole and finally paving. The cost of construction was $800,000 and work was completed on October 28, 2014.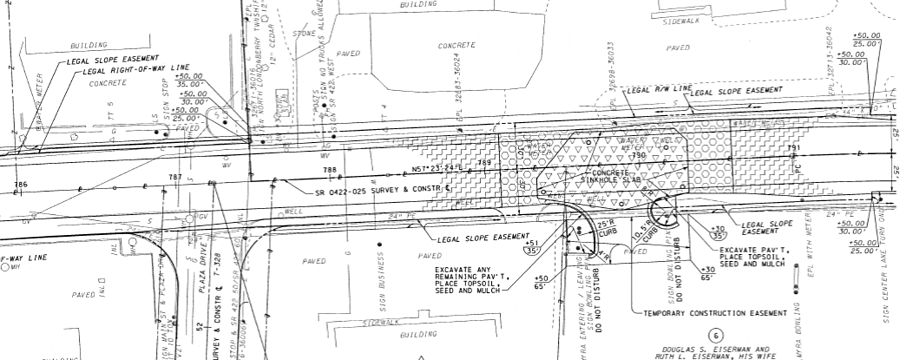 Palmyra sinkhole remediation plan (PennDOT)
The West Shore Bypass in Reading has been called the main artery of Berks County; however, that artery was beginning to wear by 2010. Years of neglect left the roadway with broken pavement, potholes, and faulty bridges thanks to the 80,000 vehicles a day that travel the expressway. PennDOT also agreed that a fix was overdue, and so beginning in Spring 2011, a consultant was hired to study the bypass and identify the most cost-effective fixes. Correcting the antiquated interchange and broken bridges would cost about $250 million for the roadway and $30 million at each interchange according to Alan D. Piper, a Berks County transportation planner. Even if funds were available, performing the work would be a headache and outright closure isn't an option because there is no other alternative for traffic to use. The study and a series of meetings with PennDOT officials and local planners determined the best use for the limited money available for such work.
Improvements to the New Castle bypass began in March 2011, which focused on bridge repairs, joint cleaning and sealing, patching, asphalt overlay, latex bridge deck overlays, and other improvements. The next improvement project began May 2, 2012. Work including patching, asphalt overlay, and guide rail, drainage, pavement marking updates, overhead sign structure replacements and repairs, latex overlay on one bridge, minor structure and culvert repairs, and other improvements from just west of the PA 65 interchange to just west of Hoover Road. A third began in Spring 2012, which focused on bridge preservation, roadway reconstruction, concrete patching, asphalt overlay, and guide rail and drainage improvements, overhead sign structure replacement, and other improvements from Business US 422 to US 224. The first project cost $19.7 million and finished in Fall 2012; the second cost $9.4 million and finished in early Spring 2013; and the third cost $17.9 million and finished in Summer 2013.
The bridge repairs couldn't come soon enough for the span across the Shenango River south of New Castle. While crews were painting the superstructure, they discovered cracking in one of the support beams on the westbound bridge. PennDOT closed the bridge on April 3, 2012.
It was not sinkholes causing issues for traffic in Chester County on the evening of May 31, 2011, but rather the ground moving in the other direction. Just before 6 PM, North Coventry Township police closed the westbound lanes near the PA 724 interchange due to the roadway buckling. The hot weather at the time was blamed for the damage, and the expressway was reopened by 11 PM that night. The same thing happened on July 22, 2011 in the eastbound lanes causing the expressway to be closed between Country Club Road overpass and the Trappe/Royersford interchange from 3 PM until 9 PM when repairs were completed. Another section buckled on the eastbound side near the Oaks interchange on May 26, 2015, which was repaired in a few hours.
As transportation funding began to wear thin by the late 2000s, options such as tolling free roads (like Interstate 80) began to be tabled. US 422, specifically the Pottstown Expressway, was no stranger to this talk, as in June 2011, Barry J. Seymour, executive director of the Delaware Valley Regional Planning Commission, told officials with Governor Tom Corbett's Transportation Funding Advisory Council of plans to add tolls to the highway. He said that the money would pay for upgrades, such as a second bridge at the Schuylkill River and adding lanes which would ease traffic flow near King of Prussia. PennDOT had set aside $243 million for rehabilitating this section, and the tolls would make up the difference between that and the $1 billion needed. The other third of the money collected would go to adding stops at Wyomissing, Reading, Amity Township, and several communities in Montgomery County along a proposed commuter rail line utilizing the Norfolk Southern and connecting to SEPTA's line at Norristown into Philadelphia. Berks, Chester, and Montgomery counties would join to form the Route 422 project, which would lease US 422 from the state and be responsible for improvements and the power to add tolls. There would be four toll gantries, each charging 50 to 80 cents, which would cost a driver $2.65 for the trip between Pottstown and King of Prussia that would be collected electronically through the E-ZPass system, or billed by mail for those without a transponder. Tolls would increase by 2.5% each year under the plan. The plan got a "thumbs up" from the Transportation Funding Advisory Council when they voted in July 2011 to recommend that the state pass laws allowing local governments to set up and operate toll roads. That recommendation and others were included in a report on August 1 on new ways to fund transportation projects in the Commonwealth. At a public forum on the proposal held on September 13, 2011 at Pope John Paul II High School in Montgomery County, the audience was unsurprisingly not receptive to the idea. Audience members said the tolls would unfairly burden local residents and push traffic onto local roads, hurt businesses along US 422, and the commuter rail line is unneeded. A sigh of relief went up along the expressway on October 5, when Director Seymour announced a funding proposal by the Transportation Funding Advisory Council could result in increased state funding for transportation improvements, rendering the tolling option null.
Even without tolls, a multi-year improvement project on the Pottstown Expressway began in 2012 in Montgomery County. On August 21, PennDOT announced the awarding of a $73.4 million contract to rebuild 1.6 miles from PA 724 in Chester County to Armand Hammer Boulevard. The project began on September 4 and entailed replacing bridges over the Schuylkill River, Norfolk Southern Railroad spur and mainline tracks, replacing the Armand Hammer Boulevard bridge over US 422 and improving and realigning the ramps there, reconstructing the PA 724 ramp to US 422 eastbound, replacing worn pavement, installation of three new overhead sign structures, conduit for future ITS equipment, two new traffic signals, wetland mitigation site, storm water management improvements, new median barrier and glare screen, new guide rail and signs, and a new multi-use trail on the Schuylkill River bridge. Work on this segment concluded on November 5, 2018. Project website: http://www.422improvements.com.
Part of the Schuylkill River bridge replacement project in Valley Forge included construction of a new eastbound on-ramp and westbound off-ramp at PA 363 which began in October 2013. The $16.8 million interchange project included realigning the existing on-ramp to US 422 eastbound, construction of new retaining and sound walls, widening PA 363 through the Audubon Road intersection, widening Audubon Road, rehabilitating the PA 363 bridge over US 422, construction of a sidewalk on PA 363, new traffic signals, and curb ramps. While work on this part of the project concluded in November 2015, construction began in late 2016 on replacing five bridges along US 422 and widening the expressway between PA 363 and PA 23. Additional project elements include new roadway surface, sound walls, construction of two retaining walls, drainage improvements, and ITS equipment installation. The cost of rebuilding this section is estimated at $100 million and is scheduled to be completed in May 2020.
Construction began on November 3, 2014 on a project to replace the twin bridges that carry the expressway over the Schuylkill River outside Pottstown. Having been built in 1965, the two bridges have been deteriorating over the past decade to the point where in 2003, the eastbound structure had to be shut down because of cracks discovered in the steel support beams. The $36.2 million project was completed on September 20, 2018.
Work to improve the "S-curve" on US 422 between the Berks County line and the first Schuylkill River crossing began on August 7, 2017. The project consists of realigning the roadway to conform to modern design standards and improving stopping sight distance, the Stowe interchange will be converted from a trumpet configuration to a diamond configuration, and the eastbound on/off ramp bridges over US 422 will be reconstructed to provide 16 feet-6 inches of clearance. The $35.6 million project is expected to be completed in November 2019.
A lesser involve rehabilitation project in Montgomery County is taking place between the Royersford/Trappe and Sanatoga interchanges which began in May 2019. The $18 million project includes milling and resurfacing the existing roadway; performing bridge repairs as needed; joint patching and sealing; drainage improvements; installation of new guide rails and rumble strips; and repairing or replacing signage. Work on this segment is scheduled to be completed in September 2021.
Work began on April 11, 2022 to improve US 422 between Reading Boulevard and Paper Mill Road outside Reading in Berks County. The project includes milling the roadway, concrete patching, paving, bridge preventative maintenance, guide rail upgrades, tree clearing, and pavement markings. Kriger Construction, Inc. of Scranton is the general contractor on the $13.2 million project which is anticipated to be complete in November 2022.
Links:
Exit Guide
US 422 Auxiliary Routes
US 422 Pictures
US 422 Expressway (Cancelled)
422 Improvements - Greater Valley Forge Transportation Management Association
Terminus of US 422 (Eastern Segment) - Dale Sanderson
Terminus of US 422 (Western Segment) - Dale Sanderson
US 422 Expressway - Steve Anderson
US 422 Pictures - Andy Field/Alex Nitzman
US 422 Pictures - Doug Kerr
US 422 Pictures (Eastern) - Steve Alpert
US 422 Pictures (Western) - Steve Alpert
US 422 Photos - Valerie Deane
---

INFORMATION - Western Section
Western Entrance:
Ohio State line near New Bedford
Eastern Terminus:
US 219 one mile west of Ebensburg
Length:
113 miles
National Highway System:
Entire length
Name:
Benjamin Franklin Highway
SR Designation:
0422
Counties:
Lawrence, Butler, Armstrong, Indiana, and Cambria
Expressway:
Exit 12 to Exit 15 on I-376
I-79 to PA 528
Mount Chestnut to East Butler
Business US 422/PA 286 to Business US 422
Business US 422 to Pikes Peak
Multiplexed Routes:
I-376: Exit 12 to Exit 15
PA 28: West Kittanning to Kittanning
PA 66: Manorville to Kittanning
PA 56: Shelocta to US 119 South
Truck PA 286: PA 286 to US 119 North
PA 271: Belsano
Former Designation:
PA 33 (1927 - 1928): Ohio state line to Matthews Road
PA 17 (1927 - 1928): Business US 422 to PA 356, County Line Road to Yellow Dog Road, and PA 28/PA 66 to Belsano

Washington's Trail:
West Park Road to PA 528

INFORMATION - Eastern Section
Western Terminus:
US 322 and PA 39 two miles west of Hershey
Eastern Terminus:
US 202 in King of Prussia
Length:
82 miles
National Highway System:
Entire length
Names:
Benjamin Franklin Highway
Chocolate Avenue, Main Street, Penn Avenue, Cumberland Street, Lincoln Avenue, Conrad Weiser Parkway, Warren Street, Pottstown Bypass, James Street, and County Line Expressway
SR Designations:
0422
0222: Business US 422 to PA 12
Counties:
Dauphin, Lebanon, Berks, Montgomery, and Chester
Expressway:
West Wyomissing to Business US 422
Douglassville to US 202
Multiplexed Routes:
PA 741: Hershey
US 222: Business US 422 to PA 12
Former Designations:
PA 3 (1925 - 1930): Hershey to US 222
US 22 (1926 - 1932): Hershey to US 222
US 120 (1926 - 1927): Business US 422 to Douglassville
PA 13 (1926 - 1927): Hummelstown to US 222 and Business US 422 to Douglassville
PA 17 (1927 - 1928): Hummelstown to US 222 and Business US 422 to Douglassville
PA 363 (1967 - 1985): Trooper Road to US 202

Traffic Cameras:
PA 29 (Westbound)
Cider Mill Road (Westbound)
Upper Indian Head Road (Eastbound)
Egypt Road (Westbound)
West of Lower Perkiomen Valley Park (Eastbound)
Pawlings Road (Eastbound)
West of PA 363 (Westbound)
PA 363 (Westbound)
PA 23 (Westbound)
I-76/PA Turnpike (Eastbound)
---
Back to Pennsylvania Highways
Back to Pennsylvania US Highways
Page updated September 30, 2022.
Content and graphics, unless otherwise noted, copyright © Jeffrey J. Kitsko. All rights reserved.
Information sign courtesy of Richard C. Moeur.
Washington's Trail shield courtesy of Bruce Cridlebaugh.
Information courtesy of the Pennsylvania Department of Transportation, Rand McNally, H. M. Gousha, WFMZ-TV Allentown, WPVI-TV Philadelphia, KYW-TV Philadelphia, WHTM-TV Harrisburg, Reading Eagle, Harrisburg Patriot-News, WGAL-TV Lancaster, WPXI-TV Pittsburgh, Berks Weekly, and Steve Anderson.