Vine Street Expressway
---
Another "missing-link" that was completed in 1991, Interstate 676 has had a long and varied history. The earliest section to be built of this Interstate was, of course, the Benjamin Franklin Bridge then named the Delaware River Bridge. Construction began on January 6, 1922 and was completed on July 1, 1926.
After the opening of the bridge, Vine Street became an important east-west route through the city. It became so busy that in 1930, the Philadelphia City Council recommended an elevated expressway be built along that right-of-way. In 1945, the Philadelphia City Planning Commission proposed a depressed six-lane expressway along Vine Street, complete with service roads, stone-arch overpasses, and landscaping similar to a New York City parkway. The cost of this project would run an estimated $26 million. In 1949, the Department of Highways approved this plan, and work to widen the existing Vine Street began to allow the construction of the expressway.
In 1950, the Philadelphia Planning Commission laid out the path of the expressway. The entire length would feature 12-foot-wide lanes: three in each direction. Eight-foot-wide shoulders, a four-foot-wide median with a reflectorized curb, 14-foot minimum clearances, and a design speed of 50 MPH. From 18th Street to Broad Street, the expressway would have one-way service roads with two-lanes in each direction on either side of the highway. Construction began in 1957 and was completed on June 30, 1959.
Even as work was getting underway on that section, planners were looking to the future. In 1957, the Department of Highways began conducting feasibility studies on extending the expressway from Broad Street to Sixth Street and the Ben Franklin Bridge. When the study was concluded, the eastern extension to the bridge was recommended. The design would be a depressed six-lane expressway with one-way service roads on either side. Public meetings on the expressway plan occurred in March 1966.
With the start of the 1970s, changes in legal guidelines for construction of Interstates began to take their toll. In July 1973, the Federal Highway Administration ruled that any highway project approved prior to 1971 were subject to re-evaluation. In November 1973, the FHWA determined that a new environmental impact statement was required because previous studies neglected air and noise, as well as other impacts from the expressway. In 1977, PennDOT and the FHWA released the revised environmental impact statement for the Vine Street Expressway.
Even though the EIS was approved by the Federal Highway Administration, dirt did not start to fly. Another decade of hearings and design revisions would continue until 1986, when Governor Robert Casey revived the project. Some changes were made to the original plan to get the Interstate completed. Four 12-foot-lanes were built from 18th Street to 10th Street with 12-foot shoulders, elevated ramps from the expressway to the Ben Franklin Bridge were not constructed so as not to mar the aesthetics of Franklin Square where Ben Franklin made his discovery of electricity, but a directional-T interchange was built at Interstate 95.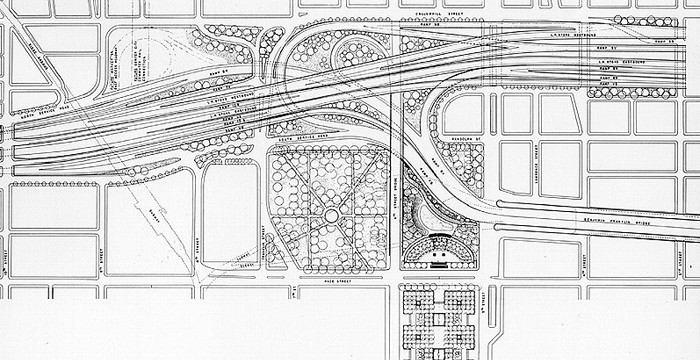 Proposed direct connection to the Ben Franklin Bridge (University of Pennsylvania Archives)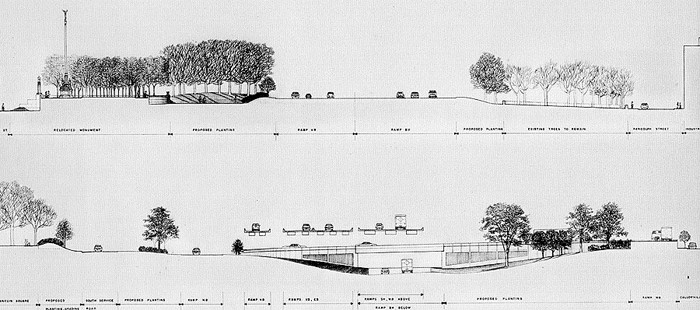 Cross-sections of the layout of the Vine Street Expressway (University of Pennsylvania Archives)
The section between Broad Street and the Ben Franklin Bridge interchange was finally completed on January 10, 1991, with the section to Interstate 95 opening six months later, all at a cost of $225 million. Still being a relatively new highway in 1998, PennDOT and the Delaware River Port Authority began that year to convert the westbound shoulder from the Ben Franklin Bridge approach to the Broad Street interchange into a third westbound lane which concluded in 1999. In the early 2000s, PennDOT installed variable message signs and traffic cameras were installed on the expressway as part of a greater Intelligent Transportation System implementation across Philadelphia.
Wear and tear began to take its toll on the surface of the expressway by the late 2000s. On July 27, 2009, a $3.6 million project began to replace 77 sections of deteriorated pavement between 18th Street and Interstate 95. This was the first rehabilitation project in the Commonwealth to use pre-cast steel reinforced concrete slabs to replace cracked and worn sections of concrete. It was done this way in order to reduce traffic impacts by as much as ten hours versus pouring fresh concrete and waiting for it to cure as well as shaving time off the length of the project. After the slabs were installed, work continued until December to diamond grind the pavement to eliminate any imperfections in the surface, seal joints, paint new lane markings, and install reflectors in the pavement and on barriers.
But is Interstate 676 really finished? Some beg to differ because PennDOT maps show the blue Interstate stripe missing the Ben Franklin Bridge entirely and ending at Interstate 95. Although, New Jersey DOT maps have Interstate 676 from the bridge to Interstate 76 in southern New Jersey and the Delaware River Port Authority considers the bridge as Interstate 676. To keep a consistency on both sides of the Delaware River, both Departments of Transportation place the designation on signs leading to the bridge. However, this route might not be so ambiguous for much longer. The DRPA conducted traffic studies in 2009 on improving traffic flow across the bridge and one solution is to build the missing ramp from the expressway to the Ben Franklin Bridge which is estimated to cost $120 million. Improvements to traffic signal timing, signage, markings in the Franklin Square area would be performed in the first phase of this project.
It takes a really big snow storm to close roads and that is exactly what hit on February 9, 2010. Governor Rendell took proactive measures and closed I-676 at 2:00 PM the following day. In a press release he stated, "For your safety, do not drive. You will risk your life and, potentially, the lives of others if you get stuck on highways or any road. The National Weather Service issued blizzard warnings for several counties in Pennsylvania and visibility is at or near zero." The Vine Street Expressway reopened at 5 AM on February 11.
The last weekend of September 2015 was another important time in the history of the City of Philadelphia. Pope Francis became the second pontiff since John Paul II in 1979 to visit "The City of Brotherly Love," and with his visit came travel restrictions. At 10 PM on Thursday, September 24, the exit ramps at the Benjamin Franklin Parkway and Broad Street were closed. At the same time the following day, September 25, the eastbound exit ramp at Eighth Avenue and the entire Vine Street Expressway from Interstate 76 to Interstate 95 was closed and did not reopen until early on Monday, September 28.
Drivers were in for a shock on November 24, 2015, when their commute turned into an episode of "World's Wildest Police Videos." The incident began around 9:30 AM on Interstate 76 at Exit 346B/University Avenue when Pennsylvania State Police Troopers were conducting a traffic stop on a vehicle for expired registration. Four males were removed from the vehicle, but one of them, Giovanni Cotto, got back into the car and took off. Troopers gave chase, following the suspect's car westbound on the Schuylkill Expressway and then eastbound on the Vine Street Expressway. Trooper Patrick Casey got in front of the suspect in an attempt to stop him; however, the suspect rammed his cruiser. Then the suspect maneuvered alongside the trooper, and began firing his gun at the trooper. The suspect slammed into the rear of a school bus, causing his vehicle to burst into flame which spread to the bus. Fortunately, there were no students on it at the time and the driver escaped without any injuries. Cotto got out and continued firing on the pursuing troopers. Trooper Casey began returning fire, firing eight stops through his windshield, but took one in the shoulder. The entire incident was captured on the trooper's dashboard camera. Upon hearing of the incident, Governor Tom Wolf released the following statement: "My thoughts and prayers are with the Pennsylvania State Police Trooper shot on Interstate 676 in the line of duty today. I received an update from Acting Commissioner Blocker a short time ago and I am relieved to learn that the trooper is in stable condition at a hospital in Philadelphia. Our men and women in law enforcement put their lives on the line each day to protect us, and we owe them a debt of gratitude. The shooter was swiftly taken into custody by the Pennsylvania State Police. No further details are available at this time." Casey was rushed to Hahnemann University Hospital where he was released from the following day with a cheer of "Let's go Eagles." "Thank you everyone for all their prayers and support. Happy to be going home for Thanksgiving. I'm feeling much better," Casey said as he got into a waiting car. Giovanni Cotto, 17, was charged with Criminal Attempt to Murder of the First Degree (3 Counts), Aggravated Assault (3 Counts), Assault of Law Enforcement Officer (3 Counts), Simple Assault (3 Counts), Fleeing and Attempting to Elude, Recklessly Endangering Another Person, Possessing Instruments of Crime, and several Firearms Act Violations. Interstate 676 was closed until almost 2 PM so crews could clear the scene.
When the Coronavirus, or COVID-19, pandemic swept into the country in March 2020, the Delaware River Port Authority took measures to stem the spread to their employees and staff. At 6:00 AM on March 26, all bridges, including the Ben Franklin Bridge, went to a cashless toll collection system. E-ZPass users would pass through the plazas as normal, and drivers who normally paid by cash would have their license plate captured. A bill for the toll only, without additional administrative or violation fees, would then be sent to their address. At 6 AM on May 11, the DRPA began accepting cash payments again. Additional safety measures were put in place, such as staff wearing face coverings and a protective plastic shield now in place in the toll booth window. They also encouraged drivers paying by cash to wear a face covering when using a cash lane.
Links:
Exit Guide
Interstate 676 Ends
Interstate 676 Pictures
Interstate 680 (Decommissioned)
E-ZPass - Delaware River Port Authority
Benjamin Franklin Bridge - Delaware River Port Authority
Benjamin Franklin Bridge - Independence Hall Association
Benjamin Franklin Bridge - Steve Anderson
Bridges Over 676 - PennDOT
Highway Feature of the Week-Interstate 676 - Michael Koerner
I-676 Interchange Browser - Tim Reichard
I-676 Vine Street Expressway - Scott Kozel
I-676 Vine Street Expressway Pictures - Alex Nitzman
Interstate 676 - Andy Field/Alex Nitzman
Interstate 676 - Scott Oglesby
Interstate 676 Pictures - Steve Alpert
Interstate 676 Pictures - Andy Field/Alex Nitzman
Interstate 676 Pictures - Eric Stuve
Vine Street Expressway - Steve Anderson
---

INFORMATION
---
Back to Pennsylvania Highways
Back to Pennsylvania Interstate Highways
Page updated May 11, 2020.
Content and graphics, unless otherwise noted, copyright © Jeffrey J. Kitsko. All rights reserved.
Information sign courtesy of Richard C. Moeur.
Information courtesy of the Pennsylvania Department of Transportation, Rand McNally, Delaware River Port Authority, Philadelphia Inquirer, KYW-TV Philadelphia, WPVI-TV Philadelphia, the Easton Express-Times, Bucks Local News, United Alert, and Steve Anderson.