Keystone Shortway
Z. H. Confair Memorial Highway
---
The longest east-west Interstate in Pennsylvania, Interstate 80 was originally conceived as the Turnpike's Sharon to Stroudsburg Lateral Connection prior to the Interstate legislation being signed. The first proposed alignment was from the Delaware Water Gap to the Susquehanna River, and one map showed the terminus in Millersburg. Later, it was revised to be a parallel highway to the mainline Turnpike. On June 29, 1956, when the Interstate Act was passed, all planning was moved to the Department of Highways. The first spade of dirt to signal the beginning of construction was shoveled on March 19, 1959 near Corsica. However, the first segment of what would become I-80 originally opened on December 16, 1953 when the 2,465-foot-long Delaware Water Gap Toll Bridge opened to traffic. That event cost ran up a bill of $6,770 for Champaign, liquor, cigars, flowers, and six models. In light of the extravagance, a bi-state investigation took place in 1956 which brought a revamping of the Delaware River Joint Toll Bridge Commission.
The first section to see construction was from Exit 308 to Exit 310 in 1959. That section opened in 1960, at the same time work began on the section from Exit 70 to Exit 78. In 1961, construction began from Exit 298 to Exit 308. In 1962, construction began from Exit 78 to Exit 86, Exit 210 to Exit 224, and the Jackson Township line to Exit 299, and that same year the section from Exit 305 to Exit 308 opened to traffic. In 1963, the sections from Exit 70 to Exit 81 and from Exit 298 to Exit 308 opened to traffic, while construction began on the following sections: Ohio state line to the Shenango River, Exit 224 to the School House Road overpass, and Exit 242 to the Luzerne County line. In 1964, the sections from Exit 81 to Exit 86 and Exit 210 to Exit 224 opened to traffic, with the latter including the bridge spanning the Susquehanna River. That year construction began on numerous sections spanning the state: Shenango River to the PA 285 overpass, Wolf Creek to the Allegheny River, Exit 86 to the Stevenson Hill Road overpass, Exit 236 to Exit 242, Exit 274 to the Jackson Township line in Monroe County.
A ceremonial groundbreaking took place on the morning of April 16, 1964 at the present location of the Interstate 81 interchange to kick off construction of the segment between the Luzerne County line and Exit 273. Governor William Scranton joined Secretary of Highways Henry D. Harral, US Representative Daniel J. Flood and W. J. Millyard from the Canadian consul in Philadelphia to shovel the first spade-fulls of earth.
In 1965, the sections from Exit 236 to Exit 242 and Exit 293 to Exit 298 opened while construction began on the sections from the PA 285 overpass to Wolf Creek, the weight stations at mile marker 57 to Exit 60, Exit 111 to the Graham Township line, Browns Run to just east of the Boggs Township line, School House Road overpass to Exit 236, and Exit 273 to Exit 274. In 1966, Interstate 80 opened from Exit 29 to Exit 42, Exit 242 to Exit 256, and Exit 273 to Exit 293. Construction began on the sections from the Allegheny River to the weight stations at mile marker 57, Exit 60 to Exit 64, Exit 97 to Exit 101, Graham Township line to the Deer Creek Road overpass, east of the Boggs Township line to Exit 161, and the White Deer Pike to Exit 210. In 1967, the sections from Exit 4 to Exit 29 which included the cloverleaf with Interstate 79, Exit 111 to Exit 123, Exit 224 to Exit 236, and Exit 256 to Exit 273 opened to traffic. In that same year, construction began on the sections from Exit 64 to Exit 70, Deer Creek Road overpass to the Graham Township line, Exit 161 to Exit 173, and Exit 178 to Exit 185. In 1968, the sections from the Ohio state line to Exit 4, Exit 42 to Exit 70, Exit 123 to Exit 133, and Exit 161 to Exit 173 opened to traffic. Also, construction began on the sections from Stevenson Hill Road overpass to Exit 97 and Exit 173 to Exit 178 that year. In 1969, the section from Exit 133 to Exit 161 opened to traffic and construction began on the sections from Exit 101 to Exit 111 and Exit 185 to White Deer Pike which signaled that Interstate 80 was either complete or under construction for its journey through the Commonwealth.
The final section of Interstate to be paved was near the PA 153 interchange on June 24, 1970. Following a traditional ceremony, the construction workers put their mark on, or I should say in, Interstate 80 with Department of Transportation and Keystone Shortway Association officials looking on. One worker tossed his hardhat into the air and watched it disappear into the concrete. Transportation Secretary Victor W. Anckaitis said it was an old custom in the highway construction industry; however, usually workers paving the final section toss coins into the concrete as a symbol of "putting their two cents into the job."
On September 17, 1970, the remaining sections from Exit 86 to Exit 111 and Exit 161 to Exit 210 opened to traffic, which signaled the completion of the Keystone Shortway from Ohio to New Jersey. The head of the Federal Highway Administration Frank Turner and former Administrator Bert Tallamy joined Governor Raymond Shafer in the opening ceremonies. The governor fired a flare gun which activated an electronic sign on the Goodyear Blimp, officially opening the Milesburg interchange and the entire expressway. Pennsylvania now had two limited-access highways connecting the eastern and western parts of the state. The final cost of construction was $324 million.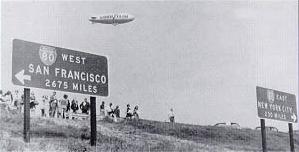 I-80's opening at the Milesburg Interchange.
(Federal Highway Administration)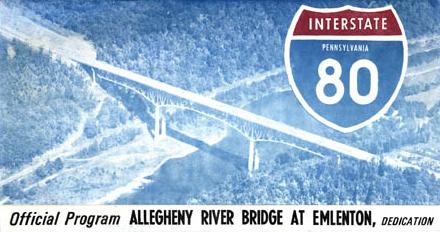 Cover of the official program for the opening ceremonies.
(Allegheny College)
One of the forward thinking ideas employed on the Interstate was the inclusion of call boxes between Milton and Stroudsburg. They were spaced at half-mile intervals and 12 feet from the edge of the highway. Direct lines would connect motorists in need to one of five Pennsylvania State Police sub-stations along the Interstate in this section of Pennsylvania. The system first started in 1967 from Exit 212 to four miles east of Exit 224 and during the 11 days of service, motorists made 105 calls. From that point to Stroudsburg it was completed in 1968, and all of it was done in cooperation with the Bell Telephone Company of Pennsylvania and Commonwealth Telephone Company of Dallas, Pennsylvania. More than 1,100,000 feet of cable was used to connect 370 telephones. Plans were in place to expand the system across the entire Pennsylvania Interstate System, especially in rural areas. Those ambitious plans would not come to fruition as this system was shut down. The only limited access highways to have call boxes end-to-end today are ones operated by the Pennsylvania Turnpike Commission. The only PennDOT-maintained roadway that had more recently was Interstate 81 between mile marker 108 to 158, which ironically crosses the section of I-80 encompassed in that 95 mile stretch.
Pennsylvania's Name Designation Act of 1984 designated I-80 officially as the Z. H. Confair Memorial Highway, after the state senator who had served as the President of the Keystone Shortway Association.
Interstate 80 was in the news numerous times in the last year of the Twentieth Century. The former Representative Bud Shuster, who can't keep his hands off of other interstates, wanted to have tolls collected on I-80. The reason being that it is need of repair, and that most traffic on the highway is from out of state so tax those who use it most. The proposal was rejected by former Governor Ridge. Then an article in the April 7, 1999 Greensburg Tribune-Review reported that the Ridge Administration had gone back to this plan, but with him being selected as Secretary of Homeland Security and moving to Washington, this plan seems to have been axed. The idea of imposing a toll was not a new idea, and had gone back as far as the late Governor Milton Shapp's administration in the 1970s. The plan was resurrected in the 1980s when the Turnpike Expansion bill was signed which led to the construction of PA Turnpike 60 and PA Turnpike 66, and the completion of PA Turnpike 43.
Voted one of the "worst roads" by the readers of Overdrive magazine for most of the 1990s, Interstate 80 has rebounded on the 1999 and 2000 surveys. It came in at number one under "most improved road" on the 2000 survey. Most of the credit goes to PennDOT for rebuilding most of the 311 miles of the highway from the ground up.
December 28, 2001 was not a good day to be on the Interstate, as two massive accidents occurred due to treacherous conditions caused by winter weather. The first happened late that day at Exit 185 for Loganton. At least 63 vehicles: a dozen cars and two tractor-trailers, with one carrying flammable material, exploded into flames after the impact. Captain Coleman McDonough of the Pennsylvania State Police Troop F said police estimated at least 45 cars and six tractor-trailers in the westbound lanes and about twelve in the eastbound lanes were involved.
Two different views of the accident scene. (The Daily Item)
This section of Interstate was closed, causing traffic to back up for six miles on the westbound side and three miles on the eastbound side. At least 45 people were taken to local hospitals, but police did not know if any had sustained life-threatening injuries. The cause of the accident was a sudden snowstorm that created "white-out" conditions and left highways icy. One of the people involved in the accident, Joe Czapski of Dearborn, Michigan who was driving home from Boston with his wife said, "We were going west when this snow squall kicked up. It was so white out, it was impossible to see." He went on to say that they were directly behind the car that started the accident. "Suddenly this car in front of me started swerving. Then I tried to avoid him and I got hit in the back and the side. Another car hit us into the railing. It was like a chain reaction," said wife Pat Czapski. Kristen Wells of Hartford, Connecticut described the accident as this, "It was like, 'Boom! Boom!' Every few seconds you could hear another car exploding." As cars collided with each other and the guardrails, some vehicles ended in the ravine between the two sides of the highway. By 8 PM, all the fires had been extinguished according to Kevin Fanning, director of the Clinton County Emergency Management Agency. Wayne Hoover, Fire Chief for White Deer Township said, "I've never seen anything like it." White Deer units were finishing up at another accident on I-80 at mile marker 202 when the call for the Clinton County accidents came over the radio. Fire departments from White Deer, Warrior Run, Milton, Watsontown and Lewisburg provided assistance to Clinton County firefighters. "There were two or three cars down at the bottom of that 125-foot bank. We saw state troopers dragging people out of them," said Hoover. He went on to say, "I counted 15 cars and five tractor-trailers in one big neap and they were all burning. There may have been more cars underneath." The accident claimed eight lives. The highway reopened on Saturday, December 29.
Various scenes of the accident. (NTV)
At least 50 vehicles were involved in another accident late Friday afternoon near Hazleton. One person died from the accident caused by the same wintry conditions that caused the Clinton County pile-up. Several tractor-trailers were involved in the crash. Driver Tracy Collins said, "There was a whiteout, and then in like five minutes the truck went off the side of the road and everyone went off with it -- all over the place."
Snow continued to play havoc on the Interstate in 2004. On January 6 during a heavy snowfall, not one but three multi-vehicle accidents took place on both sides of Interstate 80 between Exit 158 and Exit 178. The first accident occurred in both the eastbound and westbound lanes between Exit 158 and Exit 161 at 11:15 AM. It involved approximately 30 tractor-trailers, around 20 passenger vehicles, and resulted in six fatalities. There were still four or five vehicles, including a semi, still burning come sunrise on January 7 in the westbound lanes, and prevented investigators from beginning their work. Pennsylvania State Trooper David White said 17 people had been taken to Mount Nittany Medical Center and Lock Haven Hospital, and one who was flown to the trauma center at Altoona Hospital. Ambulances and fire crews were brought in from four counties to attend to the injured and extinguish the fires. White added, "They can't get the fires out -- or they thought they had them out and they're back -- so they're still blocking the eastbound lanes with emergency vehicles, and the smoke is still billowing." The eastbound lanes opened on January 7, and the westbound lanes in the evening of January 8 after PennDOT inspected the highway. Excavation began on Monday, January 12 along the site of the accident. Employees of Eagle Towing and Recovery began removing contaminated soil from the roadside.

Smoke billowing from the pileup as seen the day of the accident. (Associated Press)
The second accident took place just east of the Bellefonte interchange and involved three tractor-trailers, one hauling a mobile home. The driver of an escort car for the wide load, Londa Bennett, said that visibility was poor. She said of conditions, "We were coming over the hill and it was just whiteout, just ice on the road. There were trucks breaking in front of us, and when my driver went to brake, he got hit by another truck from behind."
The third accident took place in the westbound lanes side between Exit 224 and Exit 215. This one involved 12 tractor-trailers and several smaller vehicles.
Since the Interstate is in such a remote area of Pennsylvania, getting medical help to it can be a daunting task. One made critical when someone is having a heart attack. On Februrary 1, 2004, PennDOT announced the implementation of automated external defibrillators at five rest areas on I-80. The Pennsylvania Chapter of the American College of Cardiology donated the five defibrillators, also referred to as "AEDs." "PennDOT is setting an excellent example for public access to defibrillators in the commonwealth," said Dr. Edgar J. Kenton, president of the American Heart Association's local chapter.
The idea of tolling the Shortway came back to the surface in 2004. On March 1, Department of Transportation Secretary Allen Biehler told the state House Appropriations Committee that a series of toll plazas could be built approximately every 30 miles along the Interstate. He also said that the feasibility study had been going on for several months and would take another two to complete. He said, "We are looking at the costs and potential benefits" of toll plazas. "Does the volume of traffic make sense to do this? What is the impact on the traveling public? What does it mean to the trucking industry?" No word on how much tolls would be or where plazas would be placed. PennDOT would need permission from the FHWA to charge tolls since federal money was used to build the Interstate. There is also the question of whether the PTC or PennDOT would be in charge of operations and maintenance. Tolls are one option for raising needed funds to pay for maintenance and possibly widening it to six lanes in sections, especially from Interstate 81 to the Delaware River.
A year later on March 8, 2005, Secretary Biehler told the Senate Appropriations Committee that costs of building toll booths, maintenance facilities, and police stations would exceed $650 million and take years to complete. A PennDOT study stated it would be feasible to charge tolls over the long run but it would take decades to break even and pay off the debt. Biehler said that "it wasn't a wise move to institute tolls at this time." State Senator J. Barry Stout (D) of Washington County said he was "a little shocked to see the final conclusion." As the minority chairman of the Senate Transportation Committee, he endorsed the idea of putting ten toll booths, with a $2.50 fare at each, on the Interstate from Ohio to New Jersey.
Wednesday, February 14, 2007 will be remembered more for the snow and ice storm than romantic evenings for most of eastern Pennsylvania. Even those just passing through, or attempting to, on the Interstate won't soon forget Valentine's Day 2007. As conditions began to deteriorate with seven inches of snow followed by three inches of ice, several tractor-trailers began to jack-knife and others becoming stuck trying to negotiate the Interstate. PennDOT closed it between Exit 241 and the Interstate 81 interchange on Thursday, February 15 and did not reopen I-80 until 4 PM on February 17. The storm and the problems it caused forced Governor Ed Rendell to declare a statewide disaster emergency which authorized state agencies to use all available resources and personnel to assist in relief. It took 150 employees with 141 pieces of equipment to clear the ice and snow off I-78, I-80, and I-81.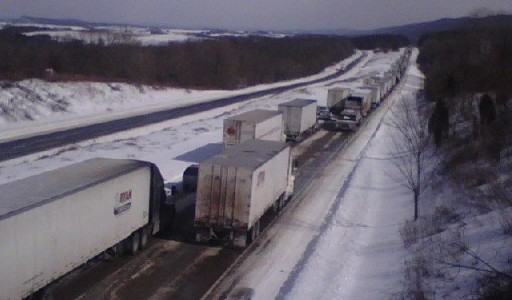 Eastbound traffic at a stand-still in Luzerne and Columbia Counties.
(WNEP-TV)
The on-again/off-again tale of tolling Interstate 80 seems to be back on again in 2007. After a budget battle which saw the state government grind to a halt in July. With passage of Act 44, the Pennsylvania Turnpike Commission would take over operation of the Interstate and construct ten toll plazas at 30 mile intervals from Ohio to New Jersey. The estimated $946 million/year collected from them as well as increased fare rates on the mainline Turnpike would go to fund highway and bridge repairs across the state. Needless to say, the news of an impending free route becoming tolled did not sit well with those who live and work along the Keystone Shortway. United States Representative Phil English of Erie County along with fellow Republican Representative John Peterson of Venango County attempted to halt the tolling by introducing a bill in Congress that would forbid implementing tolls on a Federally funded Interstate. Peterson defended his actions by saying, "I'm taking on the Legislature because I think they are making a monumental mistake that is going to impact my district." Truckers also balked at the idea of tolls and demonstrated that dislike at a rally held at the capitol on September 24, 2007. However, officials continued to push ahead by announcing that the PTC would spend more than $1 billion on improvements to the Interstate over the next few years which would include repairing bridges, adding truck climbing lanes, upgrading pavement, and extending on-ramps. A 2005 PennDOT study estimated it would cost $2.2 billion to convert I-80 to a toll road including construction of new maintenance buildings and state police stations.
On October 16, 2007, the Department of Transportation and Turnpike Commission entered into a 50-year lease agreement for Interstate 80. As part of Act 44, the two agencies filed a formal application with the Federal Highway Administration three days earlier seeking approval to implement tolls. However, in a letter dated October 17 to Transportation Secretary Allen Biehler and PTC CEO Joseph Brimmeier, chief counsel and acting deputy administrator of the FHWA, James D. Ray stated, "As should be clear, FHWA has not granted Pennsylvania the authority to toll I-80. In fact, now that we have received a formal application, we will conduct a thorough analysis of the application's merits based on the statutory criteria and determine if the selection of I-80 in Pennsylvania for one of three nationwide tolling pilot authorities is appropriate. The approval of any application under this program is a discretionary decision. We will take into account a variety of factors, including, but not limited to, actual or expected competition from other interstate facilities."
On the night of Thursday, November 9, Congress eliminated one hurdle to tolls when at the request of Governor Rendell, Democrats, and Republican Senator Arlen Specter, the amendment to a transportation appropriations bill by Representatives English and Peterson was removed. "The fix is in," Representative English said in a press release. "It's clear that House Democrats, with the speaker's blessing and without the opportunity for a floor vote, have reversed the decision of the House from a few months ago, leaving I-80 open for the Harrisburg bureaucrats to toll." Representative Peterson said, "The state Legislature failed the people of Pennsylvania by allowing Act 44 to pass, and unfortunately, the majority of their Washington representatives, at the behest of Governor Rendell, failed them last night too, by backing the tolling of I-80."
On July 14, 2008, the Turnpike Commission announced its planned $2.5 billion upgrades to the Interstate in the first decade of ownership. "We now have a detailed improvement plan for I-80 backed by an increasing revenue stream," said PTC Chief Executive Officer Joe Brimmeier in a press release. "As the stewards of I-80, this plan ensures we are passing on a first-class transportation system to the next generation." The upgrades include building two new interchanges to connect the Interstate with Interstate 99, replacing or resurfacing about 80 percent of the 311 miles, and replacing 60 original bridges. On August 6, the PTC announced their toll collecting would be much different than that on their other expressways. Instead of traditional toll plazas, Interstate 80 would be the first all electronic toll road in Pennsylvania utilizing E-ZPass at nine gantries across the state each costing $60 million to build. Those without a transponder would get their license plate photographed and be mailed a bill for their toll plus a $1 processing fee, in both cases much like the 407 ETR outside of Toronto, Ontario. Those with transponders would also get a free pass at the first gantry, roughly equating to a 60 mile free ride, then be charged $2.70 at the second and each gantry afterwards. This offer would not be extended to most commercial vehicles, including 18-wheelers that account for up to 30% of traffic on the Interstate, although regular users are eligible for volume discounts.
The state resubmitted the plan to the FHWA on July 22, 2008 and they expected the decision would take two or three months to decided on phase one approval for tolling Interstate 80. It did take two months for a decision; however, to the delight of politicians, residents, farmers, and truckers along the Keystone Shortway, it was to reject the plan. Governor Edward Rendell announced on September 11, that the reason for the Federal Highway Administration rejection was that the law permitted three national pilot projects for tolling currently free Interstates but it does not permit the revenue to be used for other highways.
It seemed that Governor Rendell was ready to throw in the towel when, on May 27, 2009, he said it was pointless for the Turnpike Commission to reapply for permission to toll I-80. Allen Biehler, the Transportation Secretary who had recently become Chairman of the PTC, told a state House committee the day before he would meet with FHWA officials to discuss the application. The Governor said, "I told him I thought it was a waste of time and he shouldn't waste his energy on it." State Representative John Pallone introduced a resolution in the House urging the Commission to resubmit the application. Reviving talks with a new administration in Washington was something the Commonwealth was looking towards, but Jordan Clark, chief of staff to US Representative Glenn Thompson of Centre County, who opposed tolling the Interstate, said the new Barack Obama administration would be less receptive to the proposal. "I would say they have to rethink that," he said, adding that former President George Bush's Secretary of Transportation, Mary Peters, "would toll your driveway if you let her." However, Barry Schoch, the PTC's project manager for tolling I-80 was more optimistic saying that the Obama administration is "slowly getting in place" and that their focus has been on the stimulus program and reauthorization of the federal surface transportation law.
By October 2009, the Turnpike Commission was preparing to revive the application to toll I-80. Opponents of the plan gathered, roughly 60 in all, on October 12 to hear a report that raised economic and safety concerns about the two-year-old Act 44. "Folks, we are up against Philadelphia," thundered state Representative Michele Brooks of Mercer County, after reading portions of a Philadelphia newspaper editorial supporting the tolls. Tracy C. Miller, an associate professor of economics at Grove City College, was asked by opponents to study the issue. She said that trucks and cars that use the Interstate already generate $130 million in fuel taxes and fees per year, far above the $80 million PennDOT spends on maintenance for the Interstate. Dr. Miller also mentioned that truck traffic using secondary roads to avoid the tolls would increase crashes, causing two to four additional deaths and 100 to 200 more injuries per year. Troy Hill, former president of the Mercer County Farm Bureau, said tolls would hurt agriculture by raising the price of feed and supplies coming in and products such as milk going out. However, the principal theme of the meeting was that tolls would steal from rural areas to enrich the urban areas. "A majority of it goes to the Philadelphia and Pittsburgh areas. It's funding for their mass transit and infrastructure needs," said state Senator Robert Robbins of Mercer County. "They want to take our money and use it for their transit systems and roads," agreed state Representative Scott Hutchinson of Venango County. PTC CEO Joe Brimmeier issued a statement saying they would consider the report as the process moves forward. "In the past two years, we've heard loud and clear that businesspeople and elected officials in the I-80 corridor are concerned about the effects of increased transportation costs, and I reassure them that we share those concerns," he said. "Though we've not yet seen the study, our economic team will evaluate the date from the document and consider its conclusions." State Representative Rick Mirabito of Williamsport called for a survey to determine how many out-of-state motorists utilize I-80. He said he remains opposed to tolls and is concerned about the re-filing of the application. Williamsport-Lycoming Chamber of Commerce Executive Director Vince Matteo, who heads the Alliance to Stop I-80 Tolling, said those involved with business and industry along the corridor are still concerned about the issue. "We are fully aware that they may re-submit it (application)," he said. "It's going to be another uphill battle." State Representative Matthew E. Baker of Wellsboro mentioned a state law that was passed which allowed tolling of Interstates, and that is still on the books, but one of the flaws is that it calls for revenues to be used throughout the state rather that just I-80. It seems to me that the FHA sees this as a major flaw as well and hence may reject the application a third time," Baker said. It was announced on November 10, 2009 that State House Republican Leader Sam Smith asked US Transportation Secretary Ray LaHood to reject the revised application due to issues he raised about Provident Capital Advisors and accused the PTC of using them to get the answers they wanted rather than independent analysis.
Gearing up for another shot at tolling, PennDOT and the Turnpike Commission submitted a formal written response to the Federal Highway Administration's memorandum issued in 2008. The filing included detailed financial analysis including the toll-funded payments being made between the two state transportation agencies from Provident Capital Advisors. "By filing this addendum, we're taking a vital step toward closing a huge transportation-funding gap for our state," said PTC Chief Executive Joe Brimmeier. "Without tolls on I-80, state lawmakers and the administration would have to plug a $473 million gap in next year's budget, and that gap will steadily widen, resulting in a $60 billion decrease in infrastructure funding over the remaining 47-year term of the I-80 lease." The third application was submitted on October 29, 2009.
Also gearing up was US Representative Glenn "GT" Thompson of Centre County, and other lawmakers, to beat back any attempt to make I-80 a toll road. Thompson was among federal and state officials meeting in Washington, DC on December 17 expressing their displeasure with the idea. "I still have a concern that tolling is possible. But if that happens that would be based on a political decision, not on law," he said. Representative Thompson said his remarks focused on how Act 44 was formulated, which he says does not meet "the letter of the law." He made it clear that tolls will not only hurt business along the corridor, but around the state. "Tolling existing Interstate infrastructure is truly an anti-stimulus," he said. "This is by letting Act 44 stand," he went on to say, "They have gone out and borrowed money with no plan to pay it back. What they are doing is gambling with the state of Pennsylvania by rolling the dice." The most recent application included provisions such as allowing all non-commercial E-ZPass customers to travel through their first toll point without being charged, E-ZPass rebates for commercial carriers, and a $2.5 billion, 10-year plan for various improvements to I-80. Thompson scoffed and said, "I've seen a lot of promises made in Washington. The Pennsylvania Turnpike Commission can't be trusted. I don' t think there is enough things they can promise and do." US Representatives Thompson and Chris Carney met with federal Transportation Secretary Ray LaHood, Federal Highway Administrator Victor Mendez, Dana Gresham, assistant secretary for Government Affairs, as well as US Representatives Kathy Dahlkemper and Paul Kanjorski on January 19, 2010. They wanted to make it known that a toll road would cripple the economy of the area they represented; however, neither Thompson nor Carney were given any assurances that the state's application would be rejected. If it would be rejected, there was no backup plan. State Representative Joesph Markosek, chairman of the House Transportation Committee, said Act 44 was Plan B, because the Legislature did not want to raise taxes or fees.
One of the worst, if not the worst, traffic accidents in the state's history took place on February 10, 2010 in Clearfield County. It was actually a combination of accidents that began with the first one reported at 9 AM on the eastbound lanes at mile marker 116 involving 14 trucks and three passenger cars, with additional vehicles crashing until the final one made contact at mile marker 118 which brought the total to 30 trucks and 20 passenger cars. The crash originated when two tractor-trailers jackknifed at mile marker 118, blocking both lanes and forcing the vehicles behind to collide with those two trucks. The lone fatality was the driver of a vehicle that ran into the side of one of the trucks near mile marker 116. Approximately 100 emergency responders had to access the site by traveling west in the eastbound lanes, and were on the scene for five hours. Due to the enormity of the accident, some of the travelers had to be tended to at the scene then transported via Clearfield County-owned all-terrain vehicles to the locations of the ambulances. Interstate 80's eastbound lanes were closed from Exit 111 to Exit 120 for 12 hours while debris was cleared.
US Representative Glenn Thompson told supporters during a campaign swing in February 2010 that he expected good news on the I-80 tolling front. While politicians from the Interstate 80 corridor were coming out against tolling, one came out on the opposite side. State House Speaker Keith McCall, from Carbon County, wrote federal Transportation Secretary Ray LaHood urging him to ignore "a vocal minority of our congressional delegation" and approve the tolls. "While I understand their desire to fight on behalf of their constituents,'' McCall said, "it is imperative that your office review this application (for tolls) in the proper context and with the foresight to look at the larger picture of the Commonwealth's best interest at the core -- the jobs and infrastructure improvements that the Commonwealth so desperately needs ... There can be no worse time to restrict funding options or to take away options for states nationwide ... ." Governor Rendell also made one last push for the tolling on March 23 when he met with LaHood, which he felt "optimistic" that authority would be granted.
That optimism would be tempered on April 6, 2010 when the Federal Highway Administration announced that once again, Pennsylvania's application to toll I-80 had been rejected due to not meeting federal requirements. The FHWA stated that all money collected from tolls on I-80 would have to go towards maintaining the Interstate, and not other road and bridge projects around the state as PennDOT and the PTC wanted. That afternoon, Governor Rendell called for a special session of the state Legislature to meet May 4 to address what would be a $472 million shortfall in funds, and to finish its work before the end of the fiscal year on June 30 to coincide with the new state budget. Without the tolls or anything to supplement funding, there would only be $450 million available for PennDOT ($250 million for transit and $200 million for road and bridge construction), whereas if tolls had been approved, there would have been approximately $922 million available. Drawing from State Representative Joe Markosek's earlier comments about Act 44 being "Plan B," State Representative David Levdansky said, "Now we need Plan C -- C standing for cuts." State Representative Rick Geist of Blair County began laying out his ideas on how to cull more money: moving the funding of the State Police to the state's general fund from the Motor License Fund, tolling I-95 in southeastern Pennsylvania, creating more public-private partnerships for road and bridge construction, and lessening the burden on the state for mass transit from an 87% state/13% local funding mix to a 75%/25% split. The fate of Act 44 itself was unknown, with some legislators pushing for its repeal and others figuring it's a waste of time repealing it since the FHWA rejected its core concept.
While talk of tolling the remainder of the Interstate was going on, work on the existing toll plaza on I-80 was being planned. The Delaware River Joint Toll Bridge Commission was looking to build high-speed E-ZPass, also known as Open Road Tolling (ORT), lanes at the Delaware Water Gap Toll Bridge. Originally the lanes were planned to open by Memorial Day 2010, but rejected the construction bids it received. Frank G. McCartney, Executive Director of the DRJTBC, commented on their action saying, "Rather than start the construction project late and have it drag into the summer months, we have decided to postpone the work so any lane closures will occur after Labor Day. This new schedule will mitigate potential negative impacts to the region's seasonal tourism and recreational economy." He added that the new deadline of Thanksgiving 2010 was still four years ahead of the time frame outlined in the 2006 Northerly Crossings Study. The engineering contract for the project was awarded on April 26, 2010 and the construction contract on June 28, 2010. Work began in early September with the removal of three lanes of the eight-lane toll plaza and finished with the lane opening to traffic around 11:45 AM on November 22. Over the week following the opening, from November 23 to November 29, 81,000 vehicles used the lane and 156,987 vehicles used it in the second week of operation. During the night of May 9 and morning of May 10, successful tests were run on electronic vehicle monitoring system in the right shoulder adjacent to the Express E-ZPass lane, one of the last milestones in the project. The project officially ended August 1, 2011 and a 4-foot by 32-foot banner with the DRJTBC logo and the words "Express E-ZPass is Here! Thank you for your patience" was hung on the Oak Street overpass just west of the toll plaza for drivers the following day.
Separate from the ORT project, the Delaware River Joint Toll Bridge Commission was looking to rehabilitate the bridge itself for the first time since 1989. Work entailed bearing and deck joint replacement, cleaning and painting of the superstructure, repairs to the substructure, replacement of the bridge drainage and under-bridge lighting, and seal coating of the deck. The $18.8 million project was substantially complete by the beginning of November with the remaining work wrapping up by mid-December. On February 7, 2013, the Pennsylvania chapter of the American Council of Engineering Companies (ACEC-PA) presented a Diamond Award for Engineering Excellence to the DRJTBC and STV, the engineering firm that provided construction management and inspection services for the rehabilitation project, during a ceremony in Hershey. The New Jersey chapter of the same organization bestowed the same award on March 13 during a ceremony in Jamesburg, New Jersey.
No one likes a traffic jam and everyone has heard the expression "when life hands you lemons, you make lemonade," well those two things came together December 6, 2010. A group of men traveling back home to Michigan were just some of the people stuck on the Interstate that afternoon in a traffic jam caused by an accident. Unlike others in the line of traffic, they decided to while away the time by dancing.
Hunting is a very popular sport in northern Pennsylvania, and one man took the sport a little too close to the Interstate. On the evening of December 4, 2010, State Police cited Erich May of State College for shooting on or across a highway after he killed a deer in the median near mile marker 107 in Clearfield County.
Travelers on the Interstate on March 7, 2011 in Monroe County found a traffic jam, but it was not due directly to weather. Part of the roadway at the Sullivan Trail underpass collapsed onto that road closing it and forcing the closure of the Interstate 80's left lane. PennDOT officials were alerted to the problem by the State Police earlier in the day. "There's no structural issues because of this. This is strictly the wing wall holding up the embankment to Interstate 80," said PennDOT bridge engineer Jay McGee. The "wing wall" is part of an overpass that holds back dirt from the embankment supporting the roadway that is passing overhead. The cause of the collapse was originally attributed to the wet weather that had passed through the area the day before. Crews temporarily rebuilt the embankment until a permanent replacement wing wall was constructed, and the other wing walls at that bridge and the one for westbound I-80 strengthened, in the summer of 2011.
At least three people were killed and another 100 were injured in a pile-up that between Exit 28 and Exit 42 in Venango County on the afternoon of February 25, 2012. The chain-reaction accident involved more than 70 vehicles, several of which were tractor-trailers, during whiteout conditions caused by lake-effect snow showers from Lake Erie. "The snow was just blowing sideways. The visibility was just cut down drastically, probably 50 feet maybe, at times even less," said Kara Spagnola, of Zelienople. "They were just smashed together. You couldn't see where one truck began and the other one ended. We couldn't see any cars at all but from what some witnesses had said that they had seen some cars smashed up in between the tractor trailers." The poor conditions hampered emergency response, but the eastbound side managed to reopen around 11 PM that night and the westbound side early morning of February 26.
As stated above, the section through the Stroudsburg-East Stroudsburg area is one of the oldest sections of Interstate 80 in the state, and it shows. Improvements have been slated for the alignment such as widening from four to six lanes between Ninth Street and Park Avenue, but Bob Werts had another idea. A member of the Safe 80 Task Force, the group pushing for improving the Interstate, Mr. Werts proposed double-decking the expressway rather than widening it horizontally in the traditional way. He did concede that going that way would be more expensive than the estimated $300 to $500 million projected for the widening project, but that it could be built without taking private property. Ron Young, spokesman for PennDOT, addressed the concern by saying the planned widening will still be cheaper, even with property acquisition factored. Planned 10-foot interior shoulders and 12-foot exterior shoulders will allow disabled vehicles to be moved from the travel lanes, as well as acting as temporary lanes for traffic to get around. Longer ramps at interchanges will allow merging traffic to get up to highway speeds, but improvements won't begin until 2020 at the earliest.
At a ceremony held on the Turnpike to unveil its initial 70 MPH speed limit zone on July 23, 2014, Transportation Deputy Secretary Brad Mallory announced that on August 11, the speed limit would increase on Interstate 80 as part of a pilot project. The Act 89 transportation bill passed in November 2013 gave PennDOT the power to raise speed limits on their highways to a maximum of 70 MPH. The new limit officially went into effect on August 11 encompassing 88 miles of the Interstate from Exit 101 in Clearfield County to mile marker 189 in Clinton County, with installation of the new signs taking place that entire week. Support for the higher speed limit came from a surprising source, as Clearfield County emergency service officials thought it was a safe move. "The increase of speed doesn't mean you have to drive 70 mph. It is the maximum allowable speed, but the key is to consider that people maintain safe driving distances, they are alert to the traffic conditions and weather around them, than it can be a safe speed limit," Joesph Bigar, Clearfield County director of emergency services, said. While some sections of Interstate 80 are notorious for multi-vehicle accidents, especially in harsh weather, he believes that it ultimately comes down to a driver's own responsibility behind the wheel.
When the Coronavirus, or COVID-19, pandemic swept into the country in March 2020, PennDOT took measures to stem the spread to their employees and staff. At 12:01 AM on March 17, all rest areas and welcome centers across the state, including the ones in Mercer, Venango, Jefferson, Centre, Clinton, Columbia, Montour, Luzerne, and Monroe counties, were closed to the traveling public. Also all Driver License and Photo License centers were closed for two weeks and construction projects on roads under the Department of Transportation's jurisdiction were stopped. Hearing that construction work was halted could come as welcome news, the idea of closing down the rest areas did not sit well with truckers, trucking firms, nor some elected officials. It was then announced that on Thursday, March 19, barricades would come down at 13 rest areas across the state, including the ones in Venango, Centre, and Montour counties, and they would be reopened with portable restroom facilities while the permanent facilities would remain closed. "Every decision made has been in the interest of mitigating the spread of COVID-19 and we are constantly reevaluating our response," said PennDOT spokeswoman Alexis Campbell. "That said, we also recognize that drivers need and deserve access to rest areas." PennDOT announced on March 24 that an additional 10 would reopen, including the ones in Jefferson County. Those as well as the ones reopened earlier would provide normal service with additional cleaning and maintenance. An additional five were reopened on Friday, March 27 which included the ones in Luzerne and Monroe counties.
The Delaware River Joint Toll Bridge Commission also took measures to stem the spread to their employees and staff. At 10:00 PM on March 24, all tolled bridges, including the Delaware Water Gap Toll Bridge, went to a cashless toll collection system. E-ZPass users would pass through the plazas as normal, and drivers who normally paid by cash were directed to the far right lane of the toll plazas and to have their license plate captured. A bill for the toll only, without additional administrative or violation fees, would then be sent to their address which would then have to be paid within 30 days or else each unpaid transaction would face a $30 violation fee. At 11 PM on May 13, the DRJTBC began accepting cash payments again. Additional safety measures were put in place, such as toll collection staff being given plastic face shields, masks, and nitrile gloves. They also encouraged drivers paying by cash to wear a face covering when using a cash lane.
On February 7, 2021, PennDOT workers discovered a woman's body off the eastbound off-ramp at Exit 199/Mill Run in Union County. The ramp was closed while state troopers investigated. The body was identified as Rebecca Landrith, 47, a professional model in New York City and from Virginia. The Union County coroner said she had been shot in the head multiple times and ruled her death a homicide. Troopers believe the victim traveled through Indiana and Wisconsin between February 4 and February 6. Police apprehended Tracy Rollins, Jr., 28, of Dallas, Texas on February 10 at a truck stop in Southington, Connecticut. Authorities believe Landrith was likely shot elsewhere before Rollins dumped her body at the interchange. Pennsylvania state police determined he was driving a tractor-trailer, which was discovered by Connecticut troopers at a truck stop near the interchange of Interstates 84 and 691. Rollins was detained on a $1 million bond on a charge of being a fugitive from justice and faces extradition to Pennsylvania.
Placing tolls on Interstate 80 has of course been discussed since it opened, and another idea came to light on February 18, 2021. Instead of tolling the entire highway, PennDOT wants to put toll gantries at four specific bridges along the route.
With the amount of revenue from the gasoline tax falling due to more fuel-efficient vehicles as well as a drop in driving due to the COVID-19 pandemic, the Department of Transportation's budget has been taking a hit. Nine bridges across the state are targeted to be a part of the PennDOT Pathways Major Bridge Public-Private Partnership (P3) Initiative, and were selected from various regions so as to not impact one part of the state more severely than another. Toll gantries would be installed at the crossings and, because PennDOT is forbidden from collecting tolls, would be operated by the Pennsylvania Turnpike Commission with E-ZPass and PA Turnpike TOLL BY PLATE equipment to read tags or captures license plates with tolls ranging from $1 to $2 for cars. The cost for trucks has yet to be determined but would be based on a combination of height and number of axles. The PTC would then forward the money to the Department of Transportation for replacement or rehabilitation and continued maintenance of the bridges. One that is being looked at is the widening, bridge replacement, and interchange reconfiguration project at Exit 54 in Allegheny County. Needless to say, the public, legislators, and trucking companies were not pleased to hear this news. During an Appropriations Committee hearing on February 23, 2021, where more than a half dozen committee members questioned Transportation Secretary Yassmin Gramian about the potential tolls, state Representative Mike Carroll of Luzerne County reminded his colleagues they had no one to blame but themselves. He mentioned that the Public-Private Transportation Partnership Board was created by a 2012 law passed that delegated approval for just this situation to appointees of the governor and top lawmakers. While Representative Carroll did not vote for the bill, others who are now criticizing the prospect of bridge tolls did.
Brandon Moree, director of members communications for the Pennsylvania Motor Truck Association, which represents about 1,400 trucking firms, has been encouraging members to contact legislators and fill out online surveys by PennDOT about the proposal. The group supported the Act 89 legislation passed in 2013 that increased funding through a rise in the fuel tax. "Here we are seven years later and we're being asked to pay the bill again," Moree said. "We feel we already pay our fair share. We feel like where fuel taxes already are, we pay enough." Rick Daley, president of PMTA's Western Pennsylvania district and a vice president at Tri-State Trailer Sales Inc. on Neville Island in Allegheny County, suggested an alternative would be for the state to help train more truck drivers, because he's aware of many companies that could ship more loads if they had more drivers, and therefore would pay more taxes and fees. Others are also questioning whether the cost of installing the tolling gantries and associated equipment outweighs the benefit from the small tolls proposed for cars. The Federal Highway Administration still has to review the plan and decide if tolls are allowed to be charged. The Associated Pennsylvania Constructors, a prominent highway construction trade association in the state, came out on March 24, 2021 to oppose the idea. While the group generally supports tolling to fund projects, Executive Vice President Robert Latham explained to the House Transportation Committee that the cost of private financing would drive up project costs and relying on tolling to cover construction costs is risky.
The State Senate passed a bill on April 28, 2021 to force PennDOT to start the planning process over by providing more transparency about its proposals, publicly advertising them, opening the plan up to public comments, and seeking approval from both the governor and the Legislature. The bill passed 28 to 19 with support from all of the Republican senators and one Democrat senator. During the floor debate, Senate Appropriations Committee Chairman Pat Browne, citing successful transportation funding efforts have usually required cooperation between lawmakers, said "This initiative and the way it is being advanced is totally counter to that legacy." Senator John Sabatina from Philadelphia said, "As much as I loathe to tax my constituents to fix a bridge, I'd rather tax them than have them suffer through a catastrophe when the Girard Point Bridge falls down." He added, sooner or later "a bridge is going to collapse and we're all going to look at each other and say, 'how did that happen? How could we have prevented that?'" The bill now goes to the House of Representatives, but it will probably not go further as Governor Wolf opposes it and the Senate lacks a veto-proof majority.
On July 16, 2021, US Representative Guy Reschenthaler proposed an amendment to the annual transportation funding bill to prohibit PennDOT from using federal money if it imposes tolls on bridges or roadways that are part of the federal highway system. "This is nothing more than a tax on Pennsylvania's workers and families who use these bridges every day to travel to work and school," Representative Reschenthaler said during the introduction to his amendment during a markup hearing by the House Appropriations Committee. "It would disproportionately impact our nation's tradesmen, medical professionals, and others who aren't part of what I call the 'Zoom class,'" he added. The amendment was rejected by a 33 to 24 vote. US Representative David Price, chair of the subcommittee on Transportation, Housing and Urban Development, said that it was outside the jurisdiction of the committee to rule of state tolling plans and punish states for imposing certain tolls. "It would pre-empt the commonwealth's authority to make decisions on this at the local or state level where the authority currently lies," Representative Price said. It would "be reconstituting this committee as the Pennsylvania Board of Transportation." While not completely endorsing the tolling plan, the Federal Highway Administration acknowledged that PennDOT is considering the right options when looking at new sources of revenue in a statement they issued in mid-October 2021 in what is referred to as a "concurrence."
The plan suffered a setback on November 16, 2021 when the Pennsylvania House passed a bill to void the proposal. State representatives voted 125 to 74 to require legislative approval to add tolls as well as requiring PennDOT to publicly advertise any toll proposals, take public comments, and require approval from both the governor and Legislature. The legislation requires a Senate vote but faces opposition from Governor Tom Wolf. While the United States Congress passed the Infrastructure Investment and Jobs Act ten days earlier, the tolling plan would pay for the repair or reconstruction of the bridges and keep the influx of federal dollars for other projects across the state. "We are all elected to represent our areas and have a voice for them, but the way this transpired, we did not have a voice," said Representative Sheryl Delozier, whose district would be affected by proposed tolls on the John Harris Memorial Bridge on Interstate 83 in Harrisburg. Representative Mike Carroll of Luzerne County, the ranking Democrat on the Transportation Committee, cited Republicans having turned aside a Democratic proposal to require approval of specific projects by the Legislature when the Public Private Transportation Partnership was approved by the majority Republican General Assembly in 2012. "It was your caucus' idea," Representative Carroll told House Republicans. "You voted for it — your caucus. You advanced it to Governor Corbett and he signed it." Representative Tim Hennessey, the Transportation Committee chairman, mentioned the new infrastructure bill being a "sudden influx of money" which could be used to fund bridge repairs. "Frankly, the citizens of Pennsylvania will have a hard time understanding the need for tolling in light of that," Representative Hennessey said. However, Representative Carroll warned that "Every single county in the state will have projects that do not get done if we have to dedicate $2 billion of the $4 billion to fix nine bridges."
On February 24, 2022, PennDOT Secretary Yassmin Gramian told the Senate Appropriations Committee at a hearing on the 2022-2023 budget that the department is willing to consider alternatives to tolling but hasn't seen any other ideas that would generate the $2.5 billion needed to replace the nine bridges. She said the state is about $8.1 billion short on needed road and bridge funding every year, and the department is proposing a public-private partnership where the bridges would be turned over to a private company for replacement and maintenance for 30 years with the tolls paying the cost. Ms. Gramian stressed the importance keeping the nine bridges open without weight restrictions and replacing them before they have to be closed. The still will receive $4 billion over five years through the federal infrastructure program, but that will just address the shortfall. She said the state needs to spend $1 billion of its own money to get that, so the state will still be short. The department was in the process of reviewing proposals from two teams of contractors that submitted formal proposals after three had originally expressed interest in the project. They refused to identify the group which dropped out and expected to choose a contractor within the following weeks. One of the proposals was from a group with an international firm as the leader and the other a national firm. Senate Transportation Committee Chairman Wayne Langerholc, Jr. questioned why specifications were written to exclude Pennsylvania firms from being the lead. PennDOT's director of the Alternative Funding Program, Ken McClain, said only large firms have the capacity to handle projects of this size, but the contract will be written so that Pennsylvania firms get 65% of the work. Under questioning from Senator Devlin Robinson, McClain said the bridges were picked because they were all built in the early 1960s, have deterioration, need upgrades such as wider shoulders and higher side railings, and were chosen to give geographical balance to distribute the impact. He added the department is committed to keeping any excess money beyond usage for construction, maintenance, and a reserve fund, from tolling for projects in the area of the tolled bridge. Studies would have been conducted after tolls were implemented to see whether a large volume of motorists were using local roads to avoid the toll and make improvements on those roads where needed.
On March 9, 2022, the Department of Transportation announced it had picked a consortium of companies, now called Bridging Pennsylvania Partners, to manage construction on up to nine bridges. It said the group was chosen from among three finalists, but it had not decided which of the nine bridges would be eventually tolled. The winning applications included three international firms: US-based subsidiaries of Israel-based Shikun & Binui, a development subsidiary of Australia-based Macquarie Group, and Spanish construction firm FCC Construcción. The application included four other firms which specialize in design or heavy construction and have US-based parent companies with a headquarters in Pennsylvania. PennDOT and the consortium was to have entered into a "pre-development agreement" to finalize the design and packing of the bridges to be built, financed, and maintained. The department was in the midst of conducting public hearings and environmental reviews on the bridges. The first bridges was scheduled to be under contract by December 2022, and after the design process, construction expected to begin between Fall 2023 and Spring 2024.
One of the final steps before tolling could begin was that the Federal Highway Administration would have to review the plans. US Representative Glenn "GT" Thompson met with the FHWA during the week of March 6 to raise concerns over the PennDOT program, specifically the "grave economic and safety impacts these proposals will have on the local communities and the Commonwealth." The administration said that the Department of Transportation would have to go through the National Environmental Policy Act process for each bridge that is planned to be tolled. The NEPA evaluates environmental and related social and economic effects of a proposed action and includes citizen involvement. "While FHWA does not have the authority to outright reject PennDOT's bridge tolling proposals, it does have a duty to provide adequate oversight of the process, which to this point, has had zero accountability to anyone – most of all to local stakeholders and the traveling public," Thompson said. "While this will slow the pace of PennDOT's proposals, the Biden Administration should not turn a blind eye to PennDOT's haphazard plans." Secretary Yassmin Gramian reported that PennDOT reached out to more than 60,000 homes and businesses statewide, but did not indicate how they felt about the proposed bridge tolling. "The Secretary likes to boast that public engagement and feedback has been central to PennDOT`s bridge tolling plan," Thompson said. "However, we know that more than 90% of Pennsylvanians vehemently oppose bridge tolling."
All of this back-and-forth would be for naught when on May 18, 2022, Commonwealth Court Judge Ellen Ceisler granted a preliminary injunction to halt the tolling plans. The ruling came in response to the lawsuit filed by municipalities in the Harrisburg area that objected to tolling the John Harris Memorial Bridge on Interstate 83. A PennDOT spokesperson said that evening that they were reviewing the opinion. The judge's order prohibits PennDOT from taking any further action which includes conducting studies, hearings or meetings, design development, right-of-way acquisition, tolling, construction, or expenditure of any funds. On April 25, PennDOT argued in court that the municipalities lacked standing to bring their complaints and had no active claim because any claimed impact from the project hadn't occurred yet. In her opinion, Judge Ceisler wrote that the municipalities involved in the suit do indeed have standing to state a claim as they have both a substantial and direct interest in the matter. Furthermore, she wrote that the petitioners were denied proper procedure when PennDOT approved the Pathways Bridge Public-Private Partnership (P3) without consulting them, and that not identifying specific bridges in the initiative was a violation by the board. "[The Act] plainly requires this consultation to precede approval: the Board's duty is to consult with those affected by 'proposed' transportation projects, not projects already approved," Ceisler wrote. "All evidence in the record points to the conclusion that the board did not consult with affected persons before approving the initiative; instead, it (or, more accurately, [PennDOT]) purported to do so afterward, once specific bridges were announced." The judge also found the board never showed any finding that the partnership was in the best interest of the Commonwealth as required by law. "At best, the board's interest determination is implicit; at worst, the board failed to make any finding at all," the judge wrote. "The board essentially approved a massive multi-billion dollar infrastructure initiative on an admittedly meager record, consisting of a 4-page recommendation from [PennDOT], a presentation, and minimal discussion, and without understanding which, or how many, pieces of public infrastructure the initiative would affect."
Even still, a group of Republican state senators held a rally at the state capitol on June 8 to protest the tolling of the nine bridges. The lawmakers were joined by members of the No P3 Bridge Tolling coalition, a group of chambers of commerce, business owners, and local officials that was created to oppose PennDOT's tolling plan. It turns out, on June 30, 2022, Pennsylvania's Commonwealth Court permanently blocked the plan to toll the nine bridges. PennDOT spokesperson Alexis Campbell said the legislature "failed" to offer solutions beyond the P3 program to assist with infrastructure funding. She said the department was reviewing the opinion when asked if PennDOT indented to appeal to the state Supreme Court. "The Wolf administration continues to welcome discussions with the General Assembly on alternative funding sources that can replace the gas tax, which is no longer a dependable source of funding to meet all bridge and highway needs in this commonwealth," she said.
In the aftermath of the decision, US Representative Glenn "GT" Thompson called on Secretary of Transportation, Yassmin Gramian, to resign. "For more than a year, I have voiced my concerns to PennDOT Secretary Gramian that the agency was putting forth an untenable tolling proposal. Along the way, she made it clear through her actions that public engagement was merely an afterthought. This was apparent when she refused to take questions from federal and state legislators at a field hearing last spring in Clarion. Under Secretary Gramian, PennDOT has wasted millions of dollars in taxpayer funds through her quest to impose a new tax upon Pennsylvanians and the traveling public," Rep. Thompson said. "She has violated both the law and the public's trust — Secretary Gramian should resign, effective immediately." In response, the Wolf Administration issued the following response: "It is unfortunate that Congressman Thompson– who voted NO on the legislation that is now the Bipartisan Infrastructure Law– is wasting taxpayer time and money spewing false claims regarding PennDOT's public engagement. Instead of playing political games, the congressman's time would be better spent working on a solution for alternative funding sources that will support Governor Wolf's desire to phase out Pennsylvania's gas tax. Pennsylvanians deserve solutions, not pr stunts. Secretary Gramian is an incredible leader and highly-qualified infrastructure expert with more than 30 years of experience in the industry. The governor is proud she serves the commonwealth, and that she will continue to do so."
Even with the courts putting the kybosh on the plan, PennDOT could still work with the group of contractors and investors led by Australian-based Macquarie Infrastructure Developments, LLC known as the Bridging Pennsylvania Partners. The only problem is that the department would still need to find a way to fund the work, which for all nine bridges, would add up to about $2.5 billion. A bill passed by the General Assembly on July 7 and signed by Governor Tom Wolf on July 11, puts more restrictions on how public-private partnerships can be established. The bill also allows the state to move forward with Macquarie so it doesn't lose $14.8 million in preliminary work the group and PennDOT had done over the previous 18 months, as well as giving the General Assembly more time to review partnership deals. "Now that [the bill] is officially official, we'll get rolling," said PennDOT spokesperson Alexis Campbell. "These bridges are important and we want to make sure we can get them done and have as much money available as possible to get our other work done." A spokesperson for Macquarie said the state has informed them to be on stand-by while it decides how to proceed. If it walks away from the deal, the state would owe the company a relatively small amount of money.
Links:
Exit Guide
Interstate 80 Ends
Interstate 80 Pictures
Delaware Water Gap Toll Bridge - Delaware River Joint Toll Bridge Commission
E-ZPass - Delaware River Joint Toll Bridge Commission
Interstate 80 - Andy Field/Alex Nitzman
Interstate 80 - David Golub
Interstate 80 - David Steinberg
Interstate 80 Pictures - Andy Field/Alex Nitzman
Interstate 80 Pictures - Steve Alpert
Interstate 80 Photos - Valerie Deane
---
INFORMATION
Western Entrance:
Ohio state line three miles west of West Middlesex
Eastern Entrance:
New Jersey state line at the Delaware Water Gap Bridge in Stroudsburg
Length:
310.70 miles
National Highway System:
Entire length
Names:
Z. H. Confair Memorial Highway
Keystone Shortway
SR Designation:
0080
Counties:
Mercer, Venango, Butler, Clarion, Jefferson, Clearfield, Centre, Clinton, Union, Northumberland, Montour, Columbia, Luzerne, Carbon, and Monroe
Multiplexed Routes:
PA 66: Exit 60 to Exit 64
Truck PA 28: Exit 78 to Exit 81
Alternate US 220: Exit 158 to Exit 161
US 220: Exit 161 to Exit 178
US 209: Exit 302A to Exit 309
Former Designation:
US 611 (1953 - 1963): Exit 310 to the New Jersey state line
I-82 (1957 - 1958): Exit 293 to the New Jersey state line
US 611 (1963 - 1965): Exit 299 to Exit 310
Former LR Designations:
1009: Ohio state line to Exit 293
1002: Exit 293 to Exit 304
794: Exit 304 to the New Jersey state line
Emergency:
911

Traffic Cameras:
US 219
PA 255
PA 153
PA 879
Alternate US 220/PA 150 East
Alternate US 220/PA 150 West
PA 93
I-81
PA 309
Advisory Radio:
1640 AM
---
Back to Pennsylvania Highways
Back to Pennsylvania Interstate Highways
Page updated November 05, 2022.
Content and graphics, unless otherwise noted, copyright © Jeffrey J. Kitsko. All rights reserved.
Information sign courtesy of Richard C. Moeur.
Information courtesy of the Pennsylvania Department of Transportation, Pennsylvania Turnpike Commission, Delaware River Joint Toll Bridge Commission, The Story of the Keystone Shortway by the Keystone Shortway Association, Rand McNally, Associated Press, Greensburg Tribune-Review, Pittsburgh Tribune-Review, KDKA-TV Pittsburgh, Federal Highway Administration, The Daily Item, Centre Daily Times, Northeast Pennsylvania News, Pittsburgh Post-Gazette, Penn State Collegian, Williamsport Sun-Gazette, The Clearfield Progress, Pocono Record, the Hazleton Standard-Speaker, WNEP-TV Scranton, KYW-TV Philadelphia, WTAE-TV Pittsburgh, WTAJ-TV Altoona, and Philadelphia Inquirer.