American Legion Memorial Highway
---
The longest north-south Interstate in Pennsylvania, which was also planned to be a toll highway, has its beginnings back in the 1950s. In fact, the part from Scranton to the New York line was to be a continuation of the Northeast Extension, but no final designs were completed by the Turnpike Commission. Another extension that would have followed the current I-81 alignment, referred to as the Scranton Extension, and connected to the mainline Turnpike anywhere from east of Harrisburg to the Delaware River Bridge. This was also planned before the Federal-Aid Highway Act of 1956 that was passed on June 29 of that year.
With the act passed, work on this highway was transferred over to the Department of Highways. In 1958, construction began on the part from Exit 188 to Exit 191. In 1959, construction began on the section from the Maryland state line to Exit 3. Another section was under construction at the same time from Exit 194 to the New York state line.
In 1960, the section from Exit 188 to Exit 191 was completed. In 1961, more of Interstate 81 opened from Maryland to Exit 3 and Exit 211 to the New York state line.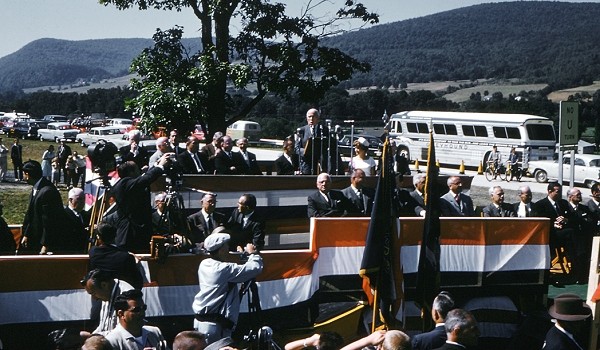 Ribbon-cutting ceremonies for the Exit 211 to New York state line section in August
1961. (Pennsylvania Department of Highways)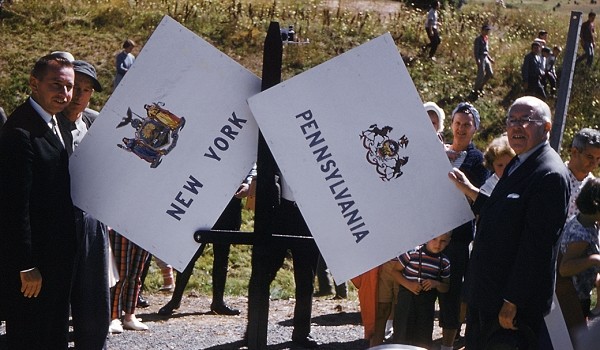 Representatives from both Pennsylvania and New York standing at the state line.
(Pennsylvania Department of Highways)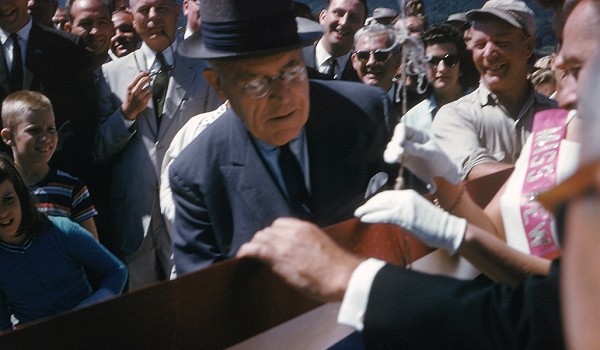 Governor David Lawrence cutting the ribbon to signify the completion of Interstate 81.
(Pennsylvania Department of Highways)
While those sections opened that year, work began from Exit 44 to Exit 48, Exit 187 to Exit 188, and Exit 191 to Exit 194. In 1962, the sections from Exit 44 to Exit 48, Exit 187 to Exit 188, and Exit 191 to Exit 211 opened while construction got under way on the sections from Exit 3 to Exit 44, Exit 48 to Exit 52, and Exit 186 to Exit 187. In 1963, the sections from Exit 3 to Exit 5, Exit 48 to Exit 52, and Exit 186 to Exit 187 opened to traffic while construction began on the Exit 170 to Exit 175 section.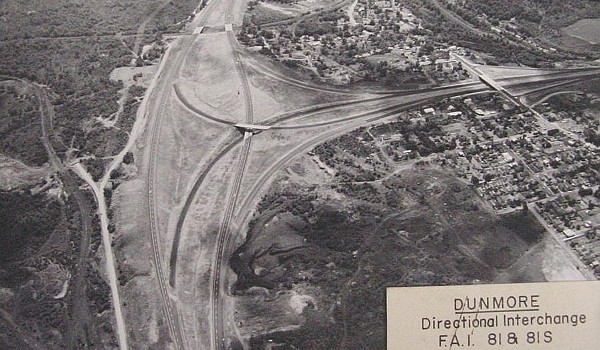 The current Exit 187 in the 1960s. Interstate 81 is from bottom to right in the picture.
(Pennsylvania Department of Highways)
In 1964, the sections from Exit 29 to Exit 44 and Exit 170 to Exit 175 opened to traffic while construction began from the Butler Drive overpass to Exit 170, Exit 175 to Exit 178, and Exit 180 to Exit 186.
A ceremonial groundbreaking took place on the morning of April 16, 1964 at the present location of the Interstate 80 interchange to kick off construction of the segment between Exit 145 and the Butler Drive overpass. Governor William Scranton joined Secretary of Highways Henry D. Harral, US Representative Daniel J. Flood and W. J. Millyard from the Canadian consul in Philadelphia to shovel the first spade-fulls of earth.
In 1965, the section from Exit 5 to Exit 29 opened to traffic while construction commenced on the sections from Exit 134 to the Lofty Road overpass and Exit 178 to Exit 180 which included upgrading the then PA 315 alignment.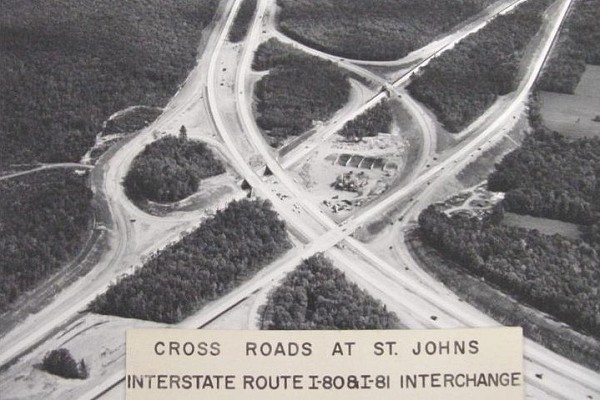 The I-81 interchange with I-80 in the 1960s. (Pennsylvania Department of Highways)
In 1966, the Interstate opened from Exit 165 to Exit 170 and Exit 175 to Exit 186 while construction began from Locust Lake State Park to Exit 134 and Exit 143 to Exit 145. In 1967, the section from Exit 145 to the cloverleaf at Interstate 80 opened to traffic, while construction began on large sections: Exit 77 to the Interstate 78 interchange, PA 72 underpass to Locust Lake State Park, and Lofty Road overpass to Exit 143. Construction of the PA 72 to Locust Lake State Park section involved more than moving ground, it also involved demolishing a village. Rausch Creek, a former Philadelphia and Reading Coal & Iron Company town, was built around the turn of the 20th Century and located approximately a mile south of the US 209 interchange. Engineers will looking for an easy grade to take the Interstate from north of Pine Grove to the top of Broad Mountain, and when the surveyors from the Department of Highways came to stake out the proposed alignment in 1965, it meant the death knell for the village. By 1967, Rausch Creek was a virtual ghost town as families had already moved to Tremont, Pine Grove, and other nearby locales. They left willingly because they decided not to halt construction on a highway that was considered vital to the economy of the area; however, they received no financial compensation because mining interests owned the properties and houses.
In 1968, the sections from Exit 143 to Exit 145 and Interstate 80 to Exit 165 opened to traffic, while construction began from Interstate 83 to Exit 77 and Interstate 78 to the PA 72 underpass. In 1969, the section from Exit 116 to Exit 143 opened to traffic, while construction began on the sections from Exit 52 to the Locust Point Road overpass, Exit 65 to Exit 66, and Exit 69 to Exit 70.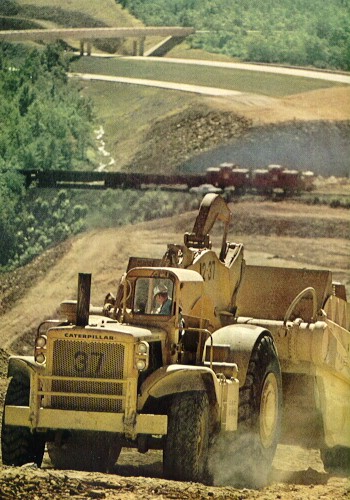 Construction going on south of Hazleton in 1968.
(James P. Blair/National Geographic)
In 1970, the sections from Interstate 83 to Exit 104 and Exit 112 to Exit 116 opened and work began on the section from Locust Point Road overpass to Exit 57. In 1971, the section from Exit 104 to Exit 112 opened to traffic while construction began on the section from Exit 66 to Exit 69 which included construction of the large stack interchange at US 22/US 322 in Wildwood Park. In 1973, work began on the section from Exit 57 to Exit 65. This signaled Interstate 81 was either complete and open to traffic or under construction through the Commonwealth. In 1975, the section between Exit 65 and Exit 66 which included the George N. Wade Bridge was finally completed, with the remaining sections from Exit 57 to Exit 65 and Exit 66 to Interstate 83 opening on September 11 of that year. The final cost of Interstate 81 from Maryland to New York was $442,950,000.
Work began in April 2001 to rebuild the highway from Exit 20 to north of Exit 24. The $25.4 million project included complete pavement removal and concrete replacement on both the northbound and southbound highways and shoulders, extension of the ramps at two interchanges, bridge improvements, new drainage, improved guiderails, and updated signing. Bridges carrying Pine Stump Road, PA 696, and Mainsville Road were also rehabilitated. The work was completed in Fall 2003.
Work also began in that same month on another section of I-81 from the Susquehanna River to north of the interchange with Interstate 83. This six-lane section of Interstate 81 carries nearly 100,000 vehicles a day, with truck traffic accounting for 24% of the volume. Next to the Syracuse, New York area, this is the most heavily traveled section of the Interstate between Knoxville, Tennessee and the Canadian border. This was also one of the roughest sections of concrete pavement to be address by PennDOT in their commitment to improve the Interstate Highway System of Pennsylvania. The $74.5 million project included reconstruction of all six lanes of the highway and shoulders, some interchange ramp improvements, rebuilding bridge decks with some widened, upgrading signage including installation of new overhead variable message signs (VMS), new drainage, and new guiderail. Longer on-ramps from Interstate 83 were built with the entire project completed in 2004.

Northbound traffic and construction at the I-83 interchange.
(PennDOT)


Demolition of the northbound bridge at the I-83
interchange. (PennDOT)
On May 16, 2001, State Senator Terry Punt secured a commitment from the Pennsylvania Department of Transportation to start the process of widening the highway to six lanes on a 77-mile section in southern Pennsylvania from the Maryland state line to PA 581 and from I-83 to I-78. Also, the ramps onto and off of the Interstate would be lengthened to current standards. The state would join Virginia, West Virginia, and Maryland in planning to widen the current four-lane Interstate. PennDOT recommended to the Pennsylvania Transportation Commission on May 24 that the study be given "immediate priority status" on the commission's 12-year plan. The $12 million state and federal-funded study by DMJM Harris was completed in 2004. In 1998, a multi-state task force recommended that Pennsylvania study widening the highway; however, PennDOT emphasized improving the highway surface. The senator lobbied during the past four years to win approval of the project. He said that the highway is currently being "strangled and suffocated" by the volume of traffic, which it was not designed to carry. The entire project would cost $1 billion, which was raised to $1.8 billion by the American Association of State Highway and Transportation Officials by June 2010. PennDOT then announced on January 8, 2019 that they were looking to widen the Interstate to six lanes between Maryland and the Interstate 78 interchange, and the price tag had gone up to $2.9 billion. The additional lanes would be cut from the grassy median. "This will have to be done in small chunks," said Mike Keiser, PennDOT District 8 executive. The widening study had first been done in 2005 and a revision had just been completed. "The widening is needed to achieve acceptable levels of service for the 2030 projected traffic volumes," Keiser told members of the Carlisle Area Chamber of Commerce. Federal money would be sought to complete the project.
Drivers traveling between mile marker 108 and mile marker 158 could breathe a little easier starting December 6, 2001. PennDOT unveiled 102 emergency call boxes that day that were installed earlier in the year along the highway between those two points in Schuylkill and Luzerne Counties. Those needing help could find four buttons inside the boxes: one for police, one for fire, one for ambulance, and a fourth for a tow truck. After they pressed a button, they had the ability to talk to a state police dispatcher who made sure the appropriate crews were dispatched to the scene. The reason that this section was picked is that the area is prone to dense fog, high winds, and severe winter weather conditions. The boxes were a part of a $1.6 million Intelligent Transportation System project that included weather monitoring stations, variable message signs, and traffic counters. However, they didn't last long, as PennDOT cut the cord on April 12, 2004. Many of them had quit working a year earlier, and although PennDOT promised to fix them, each call box cost $1,000 to operate and with the proliferation of cell phones, the decision was made to scrap them altogether. Prior to this, the only highways in Pennsylvania with call boxes were the Turnpike and its extensions, and Interstate 80 between Exit 212 and Stroudsburg in the late 1960s.
December 28, 2001 was not a good day to be on the Interstate, as a wreck on the highway outside of Hazleton claimed the life of a 13-year-old girl, according to the Luzerne County Emergency Management Agency. The crash involved about 30 vehicles and caused multiple injuries.
On September 24, 2002, Mayor Tom Newcomer of Chambersburg cast his first tie-breaking vote when Borough Council hit a deadlock on the issue of construction of the long proposed Exit 17 and another south of the town. Councilman Allen Coffman, agreeing with a citizens' group on the matter, said that federal funding should be directed from the Exit 17 project to construction of an exit south of Chambersburg to serve numerous warehouse and distribution centers that have opened there, one of which includes the Chambers-5 Business Park. David G. Sciamanna, president of the Greater Chambersburg Chamber of Commerce has said of the controversy, "The whole agricultural protection argument was grasping at straws and just a way to find any reason to delay the project. I think it is over." Supporters of the exit say that it will ease congestion on US 30 and offer an alternative route to new development north of Chambersburg. Critics say that it will not solve congestion problems, and will dump more cars on country highways and pressure rural Greene Township to develop.
One thing parents do not like while driving are noisy children in the backseat. However, it is just that which saved Patsy Harvey of Muncie, Indiana on July 5, 2003. She climbed into the backseat to quiet her grandchildren, while her husband Selby continued to drive southbound on the Interstate. Minutes after doing so, a log from an overturned truck on the US 22/US 322 ramps above, came crashing down through the passenger-side windshield. Around a dozen logs, each weighting around 1,000 pounds each, spilled onto the ramp with that stray one falling over the side and onto Interstate 81. The family and driver of the truck were taken to Holy Spirit Hospital and treated for minor injuries.
In March 2004, the 15-year-old battle over the long proposed Exit 7, now Exit 17, at Walker Road near Chambersburg finally came to an end. The Department of Transportation began a $15.7 million project to not only build the Walker Road interchange but also rehabilitate approximately 3.8 miles of the Interstate from US 30 to approximately one-quarter mile south of Exit 20. Median shoulder widening and addition of auxiliary lanes between US 30 and the new interchange resulted in a six lane expressway. Walker Road's overpass was relocated approximately one-quarter mile south of the former location. Construction on Interstate 81 included pavement patching, bituminous pavement overlay, and guiderail, drainage, and signing improvements. The project concluded on September 30, 2005.
Even when the winter is turning the corner into spring, the Interstate can be treacherous. On the afternoon of March 5, 2004, twelve vehicles including a tractor-trailer and box truck, were involved in the pile-up between McAdoo and Frackville. Not only did emergency crews have to deal with this one, but also two minor accidents on the northbound lanes north of the pile-up and another in the southbound lanes in the same area. The cause was determined to be fog. It didn't take long for crews to have the accidents cleared and Interstate 81 to reopen that night.
Wednesday, February 14, 2007 will be remembered more for the snow and ice storm than romantic evenings for most of eastern Pennsylvania. Even those just passing through, or attempting to, on the Interstate won't soon forget Valentine's Day 2007. As conditions began to deteriorate with seven inches of snow followed by three inches of ice, several tractor-trailers began to jack-knife and others becoming stuck trying to negotiate the Interstate. PennDOT closed it between Exit 85 and Exit 165 on Thursday, February 15 and it did not reopen until 4 PM on February 17. The storm and the problems it caused forced Governor Ed Rendell to declare a statewide disaster emergency which authorized state agencies to use all available resources and personnel to assist in relief. It took 150 employees with 141 pieces of equipment to clear the ice and snow off I-78, I-80, and I-81.
It takes a really big snow storm to close roads and that is exactly what hit on February 9, 2010. Governor Rendell took proactive measures and closed I-81 from Maryland to I-80 at 2:00 PM the following day. In a press release he stated, "For your safety, do not drive. You will risk your life and, potentially, the lives of others if you get stuck on highways or any road. The National Weather Service issued blizzard warnings for several counties in Pennsylvania and visibility is at or near zero. Motorists must stay off Interstates 81, 83, and 78 until my administration lifts the restriction," which happened on February 11.
The Harrisburg morning commute on May 9, 2013 was not a smooth one for those who regularly use US 22. At 6:10 AM, a tanker truck hauling 7,500 gallons of diesel fuel traveling the ramp from Interstate 81 northbound to US 22/US 322 westbound lost control and crashed, bursting into flames. Fortunately, no other vehicles were involved and the driver managed to escape the cab before the truck exploded, which burned for about 45 minutes and caused guide rail to melt and the roadway surface to explode. The fuel that did not burn leaked into Paxton Creek and the lake in Wildwood Park.
US 22/US 322 and Interstate 81 were closed immediately so PennDOT could determine the structural integrity of the affected bridges. The ramp where the accident took place as well as the bridge that carried US 22 eastbound south towards downtown Harrisburg would both need replaced. Traffic on US 22 westbound and the ramp from it to I-81 northbound resumed later that morning at 10:30 AM, the ramp to I-81 southbound at 1:40 PM that afternoon, the ramp from I-83 northbound to I-81 southbound reopened at 4:45 PM, and later that night, Exit 61 and Exit 65 reopened. Governor Tom Corbett signed a disaster emergency proclamation on the night after the accident. "This accident has created a traffic nightmare for thousands of citizens as they try to go about their daily lives to work, school and other activities," Corbett said. "But the economic impact across the Northeast United States and Mid-Atlantic region is potentially staggering when you consider the amount of commerce that travels through Pennsylvania on these roads every day." To provide a detour route, the Turnpike Commission waived tolls for anyone entering and exiting at Exit 226/Carlisle and Exit 247/Harrisburg East from May 9 to midnight on May 13.
Demolition of the affected spans began on May 10, with the first being the US 22 eastbound span. At the same time, temporary median crossovers were built north and south of the bridge to restore eastbound traffic was happened at 3 PM on May 12. Demolition of the US 22 span was completed the following day at a cost of $2.1 million, with Interstate 81 northbound traffic being restored at 7 PM and southbound traffic at 7:35 PM. PennDOT learned on May 14 that the USDOT released $2 million in emergency funds to pay for work getting the Interstate reopened. The new eastbound span opened to one lane of traffic at 3:20 PM on November 14, 2013, and the $3.3 million phase officially came to a close a week later at 1 PM after the temporary crossovers were removed and guiderail installed. US 22 westbound was restored to two lanes of traffic a little after 3 PM on November 21.
A ground breaking ceremony, with PennDOT, state, and local officials in attendance, took place on July 10, 2013 for the reconstruction of Exit 178 in Luzerne County. Work began in June of that year and will entail widening the Interstate as well as rehabilitating existing bridges over Lidy Road, PA 315, and Plane Street, replacing the pedestrian bridge just north of Exit 178, construction of new exit and entrance ramps, three new roundabouts, construction of two new bridges, and construction of a new roadway. On March 25, 2014, the northbound and southbound ramps at Exit 178A were closed in preparation of the combining of the two interchanges. The $41.9 million project is expected to be completed in November 2015.
Road rage is a problem on roads, and on the morning of January 4, 2014, it took a deadly turn when a man from Maine was shot and killed along the southbound lanes near Exit 3 in Franklin County. Timothy Davison called 911 while traveling northbound around 2 AM and told operators he had been chased at least 15 miles by a truck that looked like a Ford Ranger and one of the occupants was firing a weapon at him. The suspect rammed the victim's vehicle, forcing it into the median, and once it was disabled, the suspect approached and fired several rounds. State Police offered a reward of $10,000 for any information leading to an arrest, and the family of Timothy Davison offered an additional $10,000. On February 19, the State Police released details about paint that was lifted from the victim's SUV. It has been determined the suspect was driving a Lapis blue Ford Ranger truck that was manufactured between 1993 and 1997. Twenty months after that incident, John Wayne Strawser Jr. of Belington, West Virginia was arrested for killing his ex-girlfriend, Amy Lou Buckingham, in Tunnelton, West Virginia. When that made the news, Jamie and Courtney Breese, a couple from Waynesboro, say they argued with Strawser the night of the shooting, and he may have mistaken Davison's SUV for theirs. Strawser was convicted of first-degree murder in the death of Buckingham in April 2015 and sentenced to life in prison in West Virginia. He was then sentenced to a second consecutive life sentence in the death of Davison in August 2019.
Divots began to appear in the pavement along a 20-mile-long section in Luzerne County in May 2014. PennDOT engineers took core samples from the Interstate in the area that had been resurfaced just two years prior. The cores that were extracted all crumbled in the cross-section of the pavement that was laid in 1988, but the pavement that was laid during construction of I-81 held together. In all, over a dozen core samples were taken from different parts of the expressway on May 13. Those samples were then shipped to a testing facility in Harrisburg to determine what happened and the proper course of action to fix the problem.
An incident similar to the 2014 deadly shooting in Franklin County was suspected in the fatal shooting of Tyrone M. Shaw of New Jersey on February 4, 2019. Initially it was believed he was involved with a road rage incident that was reported at mile marker 72. Shaw was found by a state trooper who had stopped to assist, bleeding from the head from an apparent single gunshot wound, laying on the ground between his GMC Yukon and the guiderail on the shoulder of the Interstate in Dauphin County. He and his vehicle were seen on the shoulder from 6:30 PM to 11:15 PM, the hazard lights had been activated, and its rear drive-side tire was flat. Dauphin County Coroner Graham Hetrick confirmed that Shaw's death was a homicide. Police are asking for dashcam footage from trucks and vehicles from that day and time.
When the Coronavirus, or COVID-19, pandemic swept into the country in March 2020, PennDOT took measures to stem the spread to their employees and staff. At 12:01 AM on March 17, all rest areas and welcome centers across the state, including the ones in Franklin, Cumberland, Dauphin, Luzerne, Lackawanna, and Susquehanna counties, were closed to the traveling public. Also all Driver License and Photo License centers were closed for two weeks and construction projects on roads under the Department of Transportation's jurisdiction were stopped. Hearing that construction work was halted could come as welcome news, the idea of closing down the rest areas did not sit well with truckers, trucking firms, nor some elected officials. It was then announced that on Thursday, March 19, barricades would come down at 13 rest areas across the state, including the ones in Cumberland and Luzerne counties, and they would be reopened with portable restroom facilities while the permanent facilities would remain closed. "Every decision made has been in the interest of mitigating the spread of COVID-19 and we are constantly reevaluating our response," said PennDOT spokeswoman Alexis Campbell. "That said, we also recognize that drivers need and deserve access to rest areas." PennDOT announced on March 24 that an additional 10 would reopen, including the northbound rest area in Lackawanna County and southbound rest area/welcome center in Susquehanna County. Those as well as the ones reopened earlier would provide normal service with additional cleaning and maintenance. The rest areas/welcome centers in Franklin and Susquehanna counties reopened April 6.
With the amount of revenue from the gasoline tax falling due to more fuel-efficient vehicles as well as a drop in driving due to the COVID-19 pandemic, the Department of Transportation's budget has been taking a hit. Nine bridges across the state are targeted to be a part of the PennDOT Pathways Major Bridge Public-Private Partnership (P3) Initiative, and were selected from various regions so as to not impact one part of the state more severely than another. Toll gantries would be installed at the crossings and, because PennDOT is forbidden from collecting tolls, would be operated by the Pennsylvania Turnpike Commission with E-ZPass and PA Turnpike TOLL BY PLATE equipment to read tags or captures license plates with tolls ranging from $1 to $2 for cars. The cost for trucks has yet to be determined but would be based on a combination of height and number of axles. The PTC would then forward the money to the Department of Transportation for replacement or rehabilitation and continued maintenance of the bridges. One that is being looked at is the widening, bridge replacement, and interchange reconfiguration project at Exit 54 in Allegheny County. Needless to say, the public, legislators, and trucking companies were not pleased to hear this news. During an Appropriations Committee hearing on February 23, 2021, where more than a half dozen committee members questioned Transportation Secretary Yassmin Gramian about the potential tolls, state Representative Mike Carroll of Luzerne County reminded his colleagues they had no one to blame but themselves. He mentioned that the Public-Private Transportation Partnership Board was created by a 2012 law passed that delegated approval for just this situation to appointees of the governor and top lawmakers. While Representative Carroll did not vote for the bill, others who are now criticizing the prospect of bridge tolls did.
Brandon Moree, director of members communications for the Pennsylvania Motor Truck Association, which represents about 1,400 trucking firms, has been encouraging members to contact legislators and fill out online surveys by PennDOT about the proposal. The group supported the Act 89 legislation passed in 2013 that increased funding through a rise in the fuel tax. "Here we are seven years later and we're being asked to pay the bill again," Moree said. "We feel we already pay our fair share. We feel like where fuel taxes already are, we pay enough." Rick Daley, president of PMTA's Western Pennsylvania district and a vice president at Tri-State Trailer Sales Inc. on Neville Island in Allegheny County, suggested an alternative would be for the state to help train more truck drivers, because he's aware of many companies that could ship more loads if they had more drivers, and therefore would pay more taxes and fees. Others are also questioning whether the cost of installing the tolling gantries and associated equipment outweighs the benefit from the small tolls proposed for cars. The Federal Highway Administration still has to review the plan and decide if tolls are allowed to be charged. The Associated Pennsylvania Constructors, a prominent highway construction trade association in the state, came out on March 24, 2021 to oppose the idea. While the group generally supports tolling to fund projects, Executive Vice President Robert Latham explained to the House Transportation Committee that the cost of private financing would drive up project costs and relying on tolling to cover construction costs is risky.
The State Senate passed a bill on April 28, 2021 to force PennDOT to start the planning process over by providing more transparency about its proposals, publicly advertising them, opening the plan up to public comments, and seeking approval from both the governor and the Legislature. The bill passed 28 to 19 with support from all of the Republican senators and one Democrat senator. During the floor debate, Senate Appropriations Committee Chairman Pat Browne, citing successful transportation funding efforts have usually required cooperation between lawmakers, said "This initiative and the way it is being advanced is totally counter to that legacy." Senator John Sabatina from Philadelphia said, "As much as I loathe to tax my constituents to fix a bridge, I'd rather tax them than have them suffer through a catastrophe when the Girard Point Bridge falls down." He added, sooner or later "a bridge is going to collapse and we're all going to look at each other and say, 'how did that happen? How could we have prevented that?'" The bill now goes to the House of Representatives, but it will probably not go further as Governor Wolf opposes it and the Senate lacks a veto-proof majority.
On July 16, 2021, US Representative Guy Reschenthaler proposed an amendment to the annual transportation funding bill to prohibit PennDOT from using federal money if it imposes tolls on bridges or roadways that are part of the federal highway system. "This is nothing more than a tax on Pennsylvania's workers and families who use these bridges every day to travel to work and school," Representative Reschenthaler said during the introduction to his amendment during a markup hearing by the House Appropriations Committee. "It would disproportionately impact our nation's tradesmen, medical professionals, and others who aren't part of what I call the 'Zoom class,'" he added. The amendment was rejected by a 33 to 24 vote. US Representative David Price, chair of the subcommittee on Transportation, Housing and Urban Development, said that it was outside the jurisdiction of the committee to rule of state tolling plans and punish states for imposing certain tolls. "It would pre-empt the commonwealth's authority to make decisions on this at the local or state level where the authority currently lies," Representative Price said. It would "be reconstituting this committee as the Pennsylvania Board of Transportation." While not completely endorsing the tolling plan, the Federal Highway Administration acknowledged that PennDOT is considering the right options when looking at new sources of revenue in a statement they issued in mid-October 2021 in what is referred to as a "concurrence."
The plan suffered a setback on November 16, 2021 when the Pennsylvania House passed a bill to void the proposal. State representatives voted 125 to 74 to require legislative approval to add tolls as well as requiring PennDOT to publicly advertise any toll proposals, take public comments, and require approval from both the governor and Legislature. The legislation requires a Senate vote but faces opposition from Governor Tom Wolf. While the United States Congress passed the Infrastructure Investment and Jobs Act ten days earlier, the tolling plan would pay for the repair or reconstruction of the bridges and keep the influx of federal dollars for other projects across the state. "We are all elected to represent our areas and have a voice for them, but the way this transpired, we did not have a voice," said Representative Sheryl Delozier, whose district would be affected by proposed tolls on the John Harris Memorial Bridge on Interstate 83 in Harrisburg. Representative Mike Carroll of Luzerne County, the ranking Democrat on the Transportation Committee, cited Republicans having turned aside a Democratic proposal to require approval of specific projects by the Legislature when the Public Private Transportation Partnership was approved by the majority Republican General Assembly in 2012. "It was your caucus' idea," Representative Carroll told House Republicans. "You voted for it — your caucus. You advanced it to Governor Corbett and he signed it." Representative Tim Hennessey, the Transportation Committee chairman, mentioned the new infrastructure bill being a "sudden influx of money" which could be used to fund bridge repairs. "Frankly, the citizens of Pennsylvania will have a hard time understanding the need for tolling in light of that," Representative Hennessey said. However, Representative Carroll warned that "Every single county in the state will have projects that do not get done if we have to dedicate $2 billion of the $4 billion to fix nine bridges."
It wasn't an accident that shut both directions of the roadway down in Cumberland County on February 22, 2022, but rather loose cows. Three cows fell off a trailer near mile marker 50, but were corralled by troopers into a fenced area on the side of the Interstate. Unfortunately, some of the cows did suffer minor injuries.
On February 24, 2022, PennDOT Secretary Yassmin Gramian told the Senate Appropriations Committee at a hearing on the 2022-2023 budget that the department is willing to consider alternatives to tolling but hasn't seen any other ideas that would generate the $2.5 billion needed to replace the nine bridges. She said the state is about $8.1 billion short on needed road and bridge funding every year, and the department is proposing a public-private partnership where the bridges would be turned over to a private company for replacement and maintenance for 30 years with the tolls paying the cost. Ms. Gramian stressed the importance keeping the nine bridges open without weight restrictions and replacing them before they have to be closed. The still will receive $4 billion over five years through the federal infrastructure program, but that will just address the shortfall. She said the state needs to spend $1 billion of its own money to get that, so the state will still be short. The department was in the process of reviewing proposals from two teams of contractors that submitted formal proposals after three had originally expressed interest in the project. They refused to identify the group which dropped out and expected to choose a contractor within the following weeks. One of the proposals was from a group with an international firm as the leader and the other a national firm. Senate Transportation Committee Chairman Wayne Langerholc, Jr. questioned why specifications were written to exclude Pennsylvania firms from being the lead. PennDOT's director of the Alternative Funding Program, Ken McClain, said only large firms have the capacity to handle projects of this size, but the contract will be written so that Pennsylvania firms get 65% of the work. Under questioning from Senator Devlin Robinson, McClain said the bridges were picked because they were all built in the early 1960s, have deterioration, need upgrades such as wider shoulders and higher side railings, and were chosen to give geographical balance to distribute the impact. He added the department is committed to keeping any excess money beyond usage for construction, maintenance, and a reserve fund, from tolling for projects in the area of the tolled bridge. Studies would have been conducted after tolls were implemented to see whether a large volume of motorists were using local roads to avoid the toll and make improvements on those roads where needed.
On March 9, 2022, the Department of Transportation announced it had picked a consortium of companies, now called Bridging Pennsylvania Partners, to manage construction on up to nine bridges. It said the group was chosen from among three finalists, but it had not decided which of the nine bridges would be eventually tolled. The winning applications included three international firms: US-based subsidiaries of Israel-based Shikun & Binui, a development subsidiary of Australia-based Macquarie Group, and Spanish construction firm FCC Construcción. The application included four other firms which specialize in design or heavy construction and have US-based parent companies with a headquarters in Pennsylvania. PennDOT and the consortium was to have entered into a "pre-development agreement" to finalize the design and packing of the bridges to be built, financed, and maintained. The department was in the midst of conducting public hearings and environmental reviews on the bridges. The first bridges was scheduled to be under contract by December 2022, and after the design process, construction expected to begin between Fall 2023 and Spring 2024.
One of the final steps before tolling could begin was that the Federal Highway Administration would have to review the plans. US Representative Glenn "GT" Thompson met with the FHWA during the week of March 6 to raise concerns over the PennDOT program, specifically the "grave economic and safety impacts these proposals will have on the local communities and the Commonwealth." The administration said that the Department of Transportation would have to go through the National Environmental Policy Act process for each bridge that is planned to be tolled. The NEPA evaluates environmental and related social and economic effects of a proposed action and includes citizen involvement. "While FHWA does not have the authority to outright reject PennDOT's bridge tolling proposals, it does have a duty to provide adequate oversight of the process, which to this point, has had zero accountability to anyone – most of all to local stakeholders and the traveling public," Thompson said. "While this will slow the pace of PennDOT's proposals, the Biden Administration should not turn a blind eye to PennDOT's haphazard plans." Secretary Yassmin Gramian reported that PennDOT reached out to more than 60,000 homes and businesses statewide, but did not indicate how they felt about the proposed bridge tolling. "The Secretary likes to boast that public engagement and feedback has been central to PennDOT`s bridge tolling plan," Thompson said. "However, we know that more than 90% of Pennsylvanians vehemently oppose bridge tolling."
All of this back-and-forth would be for naught when on May 18, 2022, Commonwealth Court Judge Ellen Ceisler granted a preliminary injunction to halt the tolling plans. The ruling came in response to the lawsuit filed by municipalities in the Harrisburg area that objected to tolling the John Harris Memorial Bridge on Interstate 83. A PennDOT spokesperson said that evening that they were reviewing the opinion. The judge's order prohibits PennDOT from taking any further action which includes conducting studies, hearings or meetings, design development, right-of-way acquisition, tolling, construction, or expenditure of any funds. On April 25, PennDOT argued in court that the municipalities lacked standing to bring their complaints and had no active claim because any claimed impact from the project hadn't occurred yet. In her opinion, Judge Ceisler wrote that the municipalities involved in the suit do indeed have standing to state a claim as they have both a substantial and direct interest in the matter. Furthermore, she wrote that the petitioners were denied proper procedure when PennDOT approved the Pathways Bridge Public-Private Partnership (P3) without consulting them, and that not identifying specific bridges in the initiative was a violation by the board. "[The Act] plainly requires this consultation to precede approval: the Board's duty is to consult with those affected by 'proposed' transportation projects, not projects already approved," Ceisler wrote. "All evidence in the record points to the conclusion that the board did not consult with affected persons before approving the initiative; instead, it (or, more accurately, [PennDOT]) purported to do so afterward, once specific bridges were announced." The judge also found the board never showed any finding that the partnership was in the best interest of the Commonwealth as required by law. "At best, the board's interest determination is implicit; at worst, the board failed to make any finding at all," the judge wrote. "The board essentially approved a massive multi-billion dollar infrastructure initiative on an admittedly meager record, consisting of a 4-page recommendation from [PennDOT], a presentation, and minimal discussion, and without understanding which, or how many, pieces of public infrastructure the initiative would affect."
Even still, a group of Republican state senators held a rally at the state capitol on June 8 to protest the tolling of the nine bridges. The lawmakers were joined by members of the No P3 Bridge Tolling coalition, a group of chambers of commerce, business owners, and local officials that was created to oppose PennDOT's tolling plan. It turns out, on June 30, 2022, Pennsylvania's Commonwealth Court permanently blocked the plan to toll the nine bridges. PennDOT spokesperson Alexis Campbell said the legislature "failed" to offer solutions beyond the P3 program to assist with infrastructure funding. She said the department was reviewing the opinion when asked if PennDOT indented to appeal to the state Supreme Court. "The Wolf administration continues to welcome discussions with the General Assembly on alternative funding sources that can replace the gas tax, which is no longer a dependable source of funding to meet all bridge and highway needs in this commonwealth," she said.
In the aftermath of the decision, US Representative Glenn "GT" Thompson called on Secretary of Transportation, Yassmin Gramian, to resign. "For more than a year, I have voiced my concerns to PennDOT Secretary Gramian that the agency was putting forth an untenable tolling proposal. Along the way, she made it clear through her actions that public engagement was merely an afterthought. This was apparent when she refused to take questions from federal and state legislators at a field hearing last spring in Clarion. Under Secretary Gramian, PennDOT has wasted millions of dollars in taxpayer funds through her quest to impose a new tax upon Pennsylvanians and the traveling public," Rep. Thompson said. "She has violated both the law and the public's trust — Secretary Gramian should resign, effective immediately." In response, the Wolf Administration issued the following response: "It is unfortunate that Congressman Thompson– who voted NO on the legislation that is now the Bipartisan Infrastructure Law– is wasting taxpayer time and money spewing false claims regarding PennDOT's public engagement. Instead of playing political games, the congressman's time would be better spent working on a solution for alternative funding sources that will support Governor Wolf's desire to phase out Pennsylvania's gas tax. Pennsylvanians deserve solutions, not pr stunts. Secretary Gramian is an incredible leader and highly-qualified infrastructure expert with more than 30 years of experience in the industry. The governor is proud she serves the commonwealth, and that she will continue to do so."
Even with the courts putting the kybosh on the plan, PennDOT could still work with the group of contractors and investors led by Australian-based Macquarie Infrastructure Developments, LLC known as the Bridging Pennsylvania Partners. The only problem is that the department would still need to find a way to fund the work, which for all nine bridges, would add up to about $2.5 billion. A bill passed by the General Assembly on July 7 and signed by Governor Tom Wolf on July 11, puts more restrictions on how public-private partnerships can be established. The bill also allows the state to move forward with Macquarie so it doesn't lose $14.8 million in preliminary work the group and PennDOT had done over the previous 18 months, as well as giving the General Assembly more time to review partnership deals. "Now that [the bill] is officially official, we'll get rolling," said PennDOT spokesperson Alexis Campbell. "These bridges are important and we want to make sure we can get them done and have as much money available as possible to get our other work done." A spokesperson for Macquarie said the state has informed them to be on stand-by while it decides how to proceed. If it walks away from the deal, the state would owe the company a relatively small amount of money.
Snow squalls detrimentally impact travel on the Interstate during the months of February and March 2022. On Saturday, February 19, they were the cause of five consecutive crashes that took place at 1:07 PM at mile marker 139.2 which shut down the northbound in Schuylkill County. Three commercial vehicles and 10 passenger vehicles were involved in the first crash resulting in four people being injured. The second crash involved a jackknifed tractor-trailer and six cars, the third involved tractor-trailers and a GMC Acadia, the fourth involved a sedan and a van, and the fifth involved a van which was sideswiped by a tractor-trailer. The northbound lanes reopened around 6 PM that night.
Between the two, the worse one took place in the morning on Monday, March 28 at Exit 116/PA 901 which involved 80 vehicles (39 commercial vehicles and 41 passenger vehicles) in a chain-reaction crash and closed the northbound lanes between Exit 116 and Exit 119. First responders, including the Schuylkill County coroner, arrived on the scene to discover utter carnage. Firefighters were still putting out multiple vehicle fires into the afternoon. "We started calling ambulances from across the county and actually from outside of the county also, started notifying the hospitals that we had expected severe injuries," said John Matz, Schuylkill County Emergency Management Coordinator. Twenty-four people who were injured were taken to area hospitals, dozens more were taken to a Wegman's distribution center and the Goodwill Fire Station in Minersville, and others staying in local hotels for the night. "The American Red Cross has been working with them to determine who needs to be housed overnight. Other ones have been able to schedule a car, transportation, or something, or be picked up by family," said Matz.
Drivers described the whiteout conditions seemed to come out of nowhere. They heard explosions and felt their vehicles getting hit. "All of a sudden, it was just noise – car hitting car, truck, explosion. Something blew up back there with that big fire. It was just terrible, unbelievable," said Bob Kenney. "I just veered to the left, and I went in the woods. Luckily, I didn't hit anybody, but I hit a tree," said Francisco Diaz, who was on his way to Tobyhanna. "Glass from my door fell on me. I found glass on my neck and in my boots. I have a cut here and one here too," he added. "All of a sudden, it was just noise. Car hitting car, truck, explosion," said Bob Kenney, of Cornwall, Ontario. Candy and David Gerken were driving home to Watertown, New York when they encountered the whiteout. "All of a sudden, all I saw was a wall of trucks sideways," Candy said. "We got hit from that side, banged over there, pushed over there, and ended up in a ditch and got hit again." David added, "We're trying to get out of the way of not getting run into by another car, but they hit us, and it just kept going."
The most harrowing story was of Ann White, an 80-year-old woman from Vermont, who was driving home from Florida. She said she couldn't see a thing and then she crashed into a tractor-trailer. She was helplessly trapped in her car as at least 10 vehicles hit her. "I said, 'Don't let me survive this crash only to be taken out by the car slamming into me.' I didn't know whether they were semis plowing into me," she said. Crews managed to rescue her by pulling her through her car's windshield. She spent the night in a local hotel before being picked up by her children in Schuylkill County.
It took two days for crews to open the roadway as every vehicle that was pulled from the pile exposed more damage, some of them badly burned. A long row of tow trucks stretched at least a quarter mile down the Interstate as the recovery operations continued. Besides that, a massive fire which burned for nearly a day itself hampered first responders. After the vehicles had been cleared, PennDOT crews had to re-mill the roadway to remove the top layer of asphalt because so much oil, fuel, and anti-freeze had been spilled. The northbound lanes reopened just before 1 AM on Wednesday, March 30. The morning of that day, state police investigators confirmed six people had died. DNA testing was needed to positive identify the four men and two women, who were found in a group of vehicles that were on fire. Two people, believed to be from Montgomery County, were found dead in a box truck. In addition, a man in a tractor-trailer, a man and woman in a car, and another man in a car, all believed to be from out of state, were found dead.
Links:
Exit Guide
Interstate 81 Ends
Interstate 81 Pictures
Capital Beltway Map
Focus I-81 - Northeastern Pennsylvania Alliance
I-81 Corridor Coalition
I-81 Stack Interchanges - Alex Nitzman
Interstate 81 - Andy Field/Alex Nitzman
Interstate 81 - David Golub
Interstate 81 - David Steinberg
Interstate 81 Pictures - Andy Field/Alex Nitzman
Interstate 81 Pictures - Steve Alpert
Interstate 81 Photos - Valerie Deane
---

INFORMATION
---
Back to Pennsylvania Highways
Back to Pennsylvania Interstate Highways
Page updated December 12, 2022.
Content and graphics, unless otherwise noted, copyright © Jeffrey J. Kitsko. All rights reserved.
Information sign courtesy of Richard C. Moeur.
Information courtesy of the Pennsylvania Department of Transportation, the Public Opinion of Chambersburg, the Associated Press, the Harrisburg Patriot-News, the Reading Eagle, WNEP-TV Scranton, the Easton Express-Times, KDKA-TV Pittsburgh, the Pittsburgh Post-Gazette, the Hazleton Standard-Speaker, KYW-TV Philadelphia, United Alert, WHP-TV Harrisburg, WGAL-TV Lancaster, WTAE-TV Pittsburgh, WTAJ-TV Altoona, Greensburg Tribune-Review, Rand McNally, Alex Nitzman, Chris Wright, and Jason Cowdell.