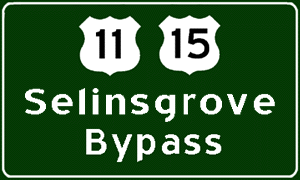 ---
Here is the ramp where US 11/US 15 merges to the Selinsgrove Bypass. The ramp visible to the left is just a gravel roadbed, and would be the US 11/US 15 southbound ramp to US 522 southbound.
Looking north at the expressway as it ends.
Here's wide shot from the median. There were cones on the roadway when this video was shot, but we had no idea of what was going on.
Further south on the bypass with it's exit at PA 35. The light setup was three to four lights over the ramps, with one light over the main freeway at each ramp.
US 522 splits to the south. View on the left from December 21, 1993. View on the right taken from April 25, 1994. This interchange also marks US 522's northern terminus.
The bypass takes US 11/US 15 traffic out of the town of Selinsgrove, from where US 522's northern terminus is also located, and was built in the 1970's. The northern terminus is dead exit, with the roadway heading north of the US 11/US 15/US 522 junction into an open field as pictured above. I haven't been on this expressway since April of 1994, and don't know whether or not there is construction to extend it further northward.
Here is a map of the interchange. According to Mapquest, US 522 now terminates in Selinsgrove at Business US 15. This is erroneous as US 522 does indeed terminate at US 11/US 15, with their being no Business US 15.
---
Back to Pennsylvania Highways
Back to Pennsylvania US Highways
Page updated January 16, 2010.
Page courtesy of Alex Nitzman who originally produced the page and photographed the expressway.