Marine Corps League Memorial Highway
---
The US highway that splits the Keystone State in half did not reach Pennsylvania until after the system was initially signed. In 1927, the route was extended into Pennsylvania to end at Harrisburg. In 1936, the designation was extended along the eastern shore of the Susquehanna River to Williamsport and north to New York. In 1938, the highway was widened from US 11 to Lemoyne and Harrisburg to PA 443. Also that year, the designation was moved onto Harris Place from Market Street and Hepburn Street between their intersections with Harris Place.
In 1940, widening took place in Sunbury, Northumberland to Lahrs Road, and Montoursville to Westminster Drive. In 1941, the alignment was widened from US 22/US 322 to Amity Hall. However, the big news that year was the movement of the designation from the eastern shore of the Susquehanna River to its current alignment on the western shore from Lemoyne to Williamsport. With the move, the designation was removed from Front Street in Harrisburg, and Susquehanna Trail, Broad Street, Third Street, and Washington Boulevard in Lycoming County. In Williamsport, it was moved to Market Street to come into the city from South Williamsport. Widening took place between Sylvan Dell Road and Old Montgomery Road in Lycoming County. In 1946, the highway was widened from Selinsgrove to Shamokin Dam, while the designation moving kept going in Williamsport. Northbound traffic would be moved to Market Street and Hepburn Street while southbound traffic would use Hepburn Street, Pine Street, and Seventh Street. The following year the designation would move one block south to Sixth Street. In 1949, the highway was widened at the Snyder/Union County line while construction began on a new Market Street Bridge in Williamsport to replace a two-lane span.
The 1950s began with widening taking place from Port Trevorton to Selinsgrove, PA 54 to Sylvan Dell Road, and Old Montgomery Road to Williamsport in 1951. On August 29 of that year, the Market Street Bridge opened which prompted changes in the route in South Williamsport. Southbound traffic remained on Market Street while northbound traffic was moved to Hastings Street. In 1952, the section from Amity Hall to Port Trevorton was widened. The following year the highway was widened from Glenwood Road to Siddonsburg Road and Allenwood to PA 54. Widening took place at the Pennsylvania Turnpike interchange in 1954. Construction began on a new alignment around Powys that year which opened to traffic in 1955. Also that year, the sections from the Turnpike to Carlisle Pike in Camp Hill and from Powys to Upper Panus Road were widened. Construction began in Camp Hill on the section of expressway from the Turnpike to Simpson Ferry Road. In 1956, widening took place from Upper Arnot Road to Arnot Road while the first section of expressway opened from the Turnpike to Simpson Ferry Road, and from Simpson Ferry Road to 32nd Street upgraded to an expressway. The designation was placed on its current alignment on 32nd Street, Cumberland Boulevard, and Walnut Street and removed from Gettysburg Pike, Gettysburg Road, Simpson Ferry Road, Hummel Avenue, 18th Street, State Street, Market Street, and Front Street. Medians began to be installed along the route from Sunset Lane to Van Scoyoc Road, 32nd Street to the M. Harvey Taylor Bridge approach, Kinkora Heights to Cove Road, US 22/US 322 to Amity Hall, in Half Falls, College Park to PA 45, White Deer to Mill Road, Old Montgomery Road to South Williamsport, and the Market Street Bridge to Third Street. Widening took place from Williamsport to Garden View. Construction began on new alignments from Dillsburg to the Turnpike interchange and PA 274 to Amity Hall, both of which opened the following year. Also in 1957, construction began on a bypass of York Springs from Sunset Lane to an interchange with PA 94 and north to Van Scoyoc Road which opened in 1958.
The 1960s continued to see work to widen and divide the alignment to create a safer US 15. In 1962, the section from Selinsgrove to the split with US 11 north of Shamokin Dam saw one installed in 1962. Construction began that year on new alignments from the Maryland state line to PA 234 and Van Scoyoc Road to Franklin Church Road. In 1963, the new alignment from Maryland to PA 394 opened removing the designation from Emmitsburg Road, Baltimore Street, Lincoln Avenue, and Harrisburg Road, while construction was extended north from PA 234 to Sunset Lane. The segment from Van Scoyoc Road to Franklin Church Road opened and a median was installed from there to the end of the expressway in Dillsburg. Another place a median was installed was from the US 11 split north of Shamokin Dam to College Park. In 1964, construction began on the expressway from West Milton to White Deer while a median was installed in Williamsport from Oliver Street to Race Street where an interchange was built. The first section of the West Milton to White Deer expressway section opened from New Columbia Road to White Deer, while both directions of travel were signed on Sixth Street and Pine Street in Williamsport in 1965. The next expressway segment to open was from West Milton to New Columbia Road while a median was installed on the section from the Lewis Township line to the Jackson Township line in Lycoming County. In 1968, the section of expressway from PA 394 to Sunset Lane opened and the difference in this part from the Maryland to PA 394 segment was it was built with four lanes instead of two. Also that year, medians were installed from Lewisburg to West Milton and Race Street in Williamsport to Hepburnville. In 1969, construction began on the section from PA 14 in Trout Run to Lewis TR 685.
The 1970s began with work concluding on that section of expressway. In 1971, construction began to widen and install a median at the I-81 interchange between Valley Road and the Perry County line. Also that year, construction began on the section of I-180 from the Hepburn Street interchange to the Maynard Street interchange. In 1972, construction started on the expressway from the Market Street Bridge to the Hepburn Street interchange and Maynard Street interchange to the Foy Avenue interchange. In 1973, the construction around the I-81 interchange finished while construction began from PA 284 to the Sebring interchange. In 1974, construction began on the Selinsgrove Bypass and from the Business US 15 interchange north of Mansfield to the PA 287 interchange. While those were beginning, the section between the Hepburn Street interchange and Maynard Street interchange opened and received the US 15 designation removing it from Market Street, Sixth Street, Pine Street, and High Street. It left the current alignment at Maynard Street with northbound traffic following Third Street, Campbell Street, and High Street, and southbound traffic on Park Avenue, Cemetery Street, West Fourth Street, and Maynard Street. The expressway from Maynard Street to the interchange with US 220 and from there to Foy Avenue opened to traffic in 1975 and thus removed the designation from Williamsport's streets. The expressway section from PA 284 to the Sebring interchange opened as a Super 2 two-lane expressway in 1976. A year later the Selinsgrove Bypass opened and removed the designation from Market Street through the borough, while construction began on the PA 114 interchange. Not only did that open in 1978, but also the section of expressway from the Business US 15 interchange north of Mansfield to the PA 287 interchange.
Expressway construction continued into the 1980s when construction began on the Mansfield Bypass from the Business US 15/PA 660 interchange south of the borough to the Business US 15 interchange north of the borough in 1985. It opened to traffic in 1987 as a Super 2 two-lane expressway. Upgrading was also in order in the 1980s when PennDOT, realizing the growing traffic on US 15, began construction on the other set of lanes on the Gettysburg Bypass. Construction finished in 1989, providing four lanes of highway from Maryland to Harrisburg. Also that year, construction began from the Foy Avenue interchange to the Hepburnville interchange.
The 1990s began with that section of expressway opening to traffic in 1990, and with it the designation was signed to the Hepburnville interchange and then back to the original alignment. In 1993, construction began from the Hepburnville interchange to the Saint Michaels Road underpass. In October 1994, this section of expressway opened to traffic with a temporary interchange north of Powys while construction began from Powys to the PA 14 interchange in Trout Run. In 1996, the highway was upgraded to an expressway from the PA 114 interchange to the Turnpike interchange and construction began from the Sebring interchange to the SR 2005 underpass north of the village. In October of that year, the expressway opened from Powys to PA 14. In 1997, construction of a second set of lanes from Steam Valley to the Sebring interchange began. The segment from the Sebring interchange to the SR 2005 underpass was completed in September 1997. The new lanes from Steam Valley to Sebring opened in November 1998 and cost $25.2 million. In 1999, construction began on a 10.1 mile section from Mount Patrick to McKees Half Falls as well as from north of Sebring to a temporary interchange north of Blossburg at SR 2005 which cost $82 million and was completed in November 2000.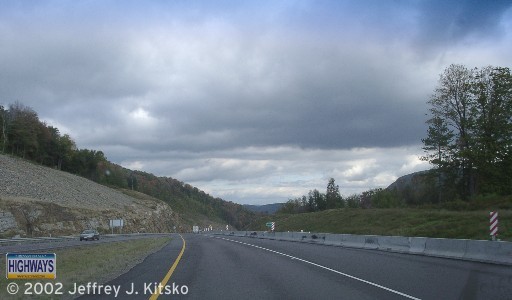 The end of the expressway north of Blossburg until 2004.
Studies began in 2000 on how to redesign the US 11/US 15/PA 581 interchange in Camp Hill. Congestion due to growth of the area and poor design are the leading factors in rebuilding the interchange. Parts of the study included a new interchange at Zimmerman Drive and US 15, removing the Gettysburg Road interchange, and modifying the existing interchange. The project was divided into two parts: the first part involved relocating the previous interchange at Gettysburg Road to a diamond interchange at Lower Allen Drive, construction of a third lane in the northbound directions between Slate Hill Road and Lower Allen Drive, reconfiguring lanes at the PA 581 interchange, reconstruction of various side roads, new storm water drainage facilities, guiderail, signing, and traffic signals which began in March 2008 and was completed in late 2010 at a cost of $57.7 million. The second part of the project began in January 2009 and consisted of widening to six lanes and reconstruction of US 15 between the Gettysburg Road interchange and Harvard Avenue, replacing and widening bridges, elimination of the US 15 northbound ramp to US 11 southbound/PA 581 westbound which was replaced by a signalized left-turn lane, drainage improvements, sound barrier and retaining wall construction, new traffic signals, highway lighting, signing, curbs and sidewalks, and box culvert extensions. The left turn lane was part of the plan for years, and after a fatal crash in July 2005, PennDOT was taken to task over why the ramp switch could not be made then. Engineers determined there was not enough room on the bridge that carried US 15 over PA 581 to put in a left-turn lane that would be long enough, but that was rectified in this segment of the project which wrapped up in August 2011 at a cost of $50.8 million.

Construction was the name of the game in 2001 with numerous projects beginning. A new interchange at Lisburn Road in Cumberland County and the expressway segment from Blossburg to the southern end of the Mansfield Bypass began that year. In February 2001, construction began on the second set of lanes from Business US 15 south of Canoe Creek to PA 287 and in November 2001 work started on the Tioga Rest Area/Welcome Center overlooking the Tioga Reservoir.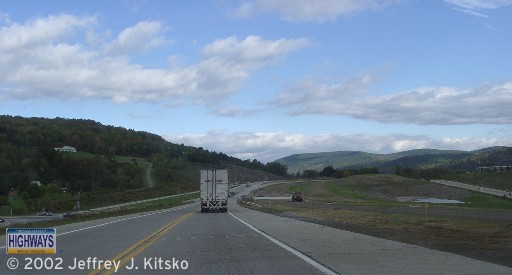 Northbound at the US 6 interchange during construction of the second set
of lanes as seen on October 5, 2002.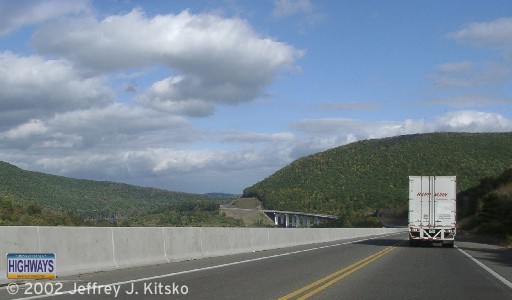 Northbound approaching the Mill Creek bridge with construction of the
southbound lanes occurring on the other side of the Jersey barrier.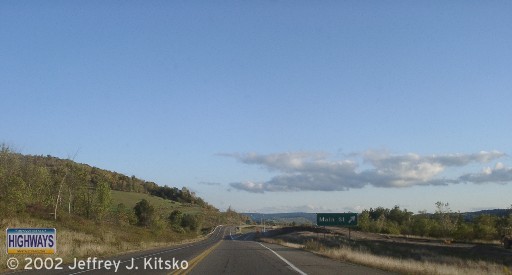 Southbound at the northern terminus of Business US 15, where grading
can be seen to the right of the sign.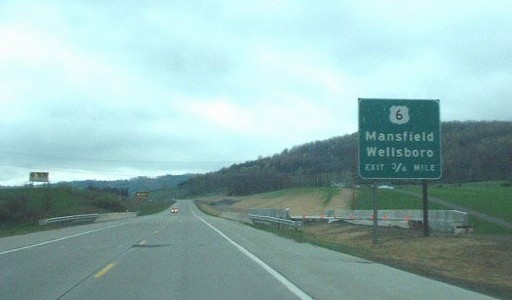 Construction of the southbound overpass at Lambs Creek Road as seen
on April 28, 2002. (Doug Kerr)
One project that was completed in Fall 2001 was the one between Mount Patrick and McKees Half Falls. The result was a four-lane, at-grade highway which was the last segment between US 22/US 322 and the Selinsgrove Bypass to be widened. The southern half of the project zone has a Jersey barrier in the median, while the northern half has a center turning lane. Six signalized jug-handled intersections are located along the section whose traffic signals are linked and coordinated. The cost of the project was $47.2 million.
The year 2003 saw many of the projects that began come to an end, such as the diamond interchange at Lisburn Road opened which eliminated the signalized intersection at that location. The $6.8 million Tioga Rest Area/Welcome Center opened on April 24 and includes the Senator John Heinz Memorial Overlook with displays on the lumber industry in Tioga County. In fall of that year, the new $74 million lanes between the Business US 15/PA 660 interchange and the welcome center opened with the remainder to PA 287 opening in 2006 at a cost of $18.8 million. Construction began on the twin bridges over PA 49 that year as well which cost $2.8 million and were completed in 2006.
In October 2003, the alignment of the Central Susquehanna Valley Thruway project was approved. Nothing happened in seven years until December 2, 2010 when the Appalachian Regional Commission approved a new Appalachian Development Highway System corridor designated as Corridor P-1. The new corridor covers the portion of US 15 between the US 22/US 322 interchange near Harrisburg and Interstate 80/Interstate 180 interchange near Milton. This new corridor was formed by transferring 12.5 miles of the cancelled Corridor O-1 along US 322 between Interstate 80 and Phillipsburg, and with this, money allocated for the ADHS can be used. However, the $604 million needed to complete the CSVT is more than the amount of funding provided to complete the entire Appalachian Development Highway System within Pennsylvania. US Representative Bill Shuster introduced a bill in the House of Representatives to allow the use of toll credits to match federal money for transportation projects in March 2011, which would allow completion of this expressway. Another bill was introduced by US Senator Ben Cardin of Maryland and co-sponsored by Senators Bob Casey and Pat Toomey in August 2011 in the Senate. On November 26, 2013, State Transportation Secretary Barry Schoch announced that the state would allocate $558 million, of a revised estimate of $615 million total, towards completion of the CSVT. Project website: http://www.csvt.com.
While good news came that month, Fall 2003 was not a good time for the section being built north of the Tioga Welcome Center. It was then that sinking was beginning to take place 100 yards north of the entrance to the rest area under the new southbound lanes. A crack was discovered along the shoulder of the southbound lanes in May 2004 just north of the welcome center. The reason was the soft, clay-like glaciated soils underneath began to settle due to the wet weather Pennsylvania had experienced for the previous four years. Similar settling had been seen on the Blossburg to Mansfield section, but did not result in such a disastrous ending. In April 2005, a contract was let to shift both the northbound and southbound lanes eastward onto more stable ground, which will cost approximately $3.35 million.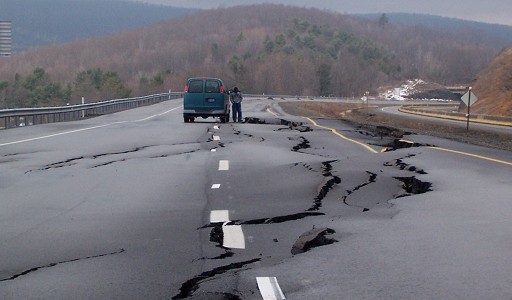 Looking north towards the PA 287 interchange. (PennDOT)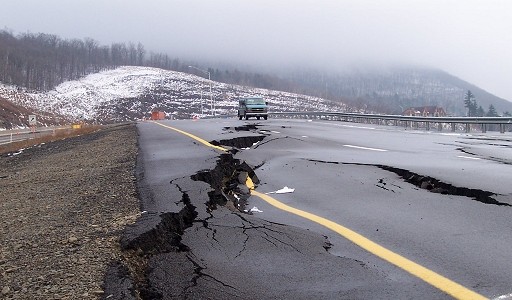 Looking south with the welcome center off to the right. (PennDOT)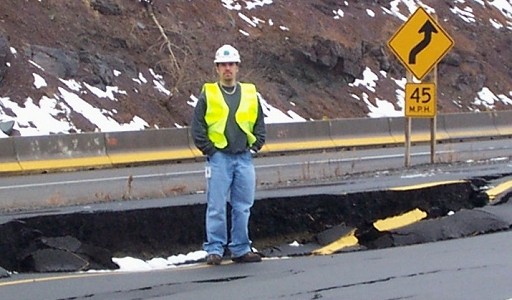 Illustrating how much the lanes had sunk. (PennDOT)
With time taking its toll on the Market Street Bridge in Williamsport, ground was broken on May 7, 2004 and construction began three days later for its replacement. A new two-lane span was built to the west of the former bridge for southbound traffic which opened on July 11, 2006. The original bridge was demolished a month later to allow construction of a second two-lane span for northbound traffic which opened in October 2007. Both feature aesthetic piers, extra width for bikes and pedestrians with ramps to the levees, and lighting. The bridge was dedicated on October 18, 2007 and then renamed the Carl E. Stotz Memorial Little League Bridge, after the founder of Little League Baseball, on August 24, 2011. Also included was construction of a SPDI to facilitate traffic to and from Interstate 180/US 220, as well as reconstruction of Via Bella into a two-lane arterial with roundabouts at three intersections. While construction was completed in 2007, other associated work continued into 2008 which raised the final cost to $67 million.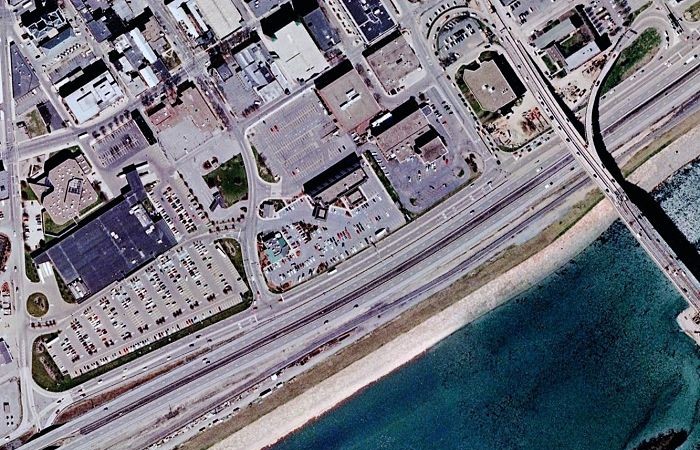 Aerial view of Via Bella prior to reconstruction and the connections made between it and the former
Market Street Bridge. US 15 southbound turned left onto Court Street then took a loop ramp onto
Market, while northbound traffic exited at Mulberry Street which looped to Via Bella. (Google Earth)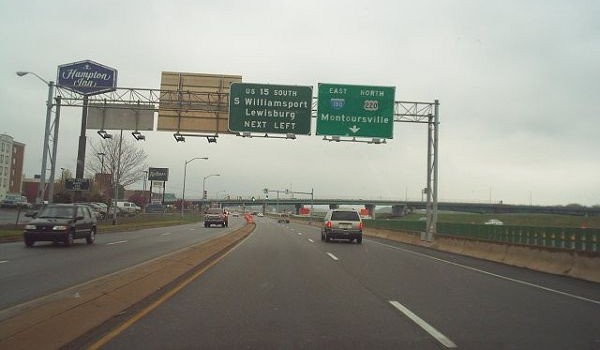 US 15 southbound on Via Bella approaching Court Street prior to construction.
(Doug Kerr)
The Blossburg to Mansfield section finished in 2004, with a ribbon cutting ceremony taking place at 1 PM on October 29. State Transportation Secretary Allen D. Biehler, PE, and other dignitaries were in attendance. Earth moving and bridge construction was performed by New Enterprise Stone & Lime Company Inc. of New Enterprise, and paving performed by Glenn O. Hawbaker Inc. of State College which totaled $53 million. Work was expected to finish in November, but concluded one month earlier than expected according to Rick Mason of PennDOT District 3. However, it was not smooth sailing as problems arose during construction such as in November 2003 when a large section of a bridge north of Blossburg fell and had to be replaced. A soil slide near Covington had to be stabilized as well. The northbound lanes opened on October 29, while southbound traffic continued to use the old alignment until November 5 when the southbound lanes of the expressway opened to traffic.
On February 4, 2005 at 11 AM, ground was broken at the Tioga Welcome Center for the last leg of expressway to the New York state line. State Senator Roger Madigan, chairman of the Senate Transportation Committee, was on hand to offer remarks. On October 1, 2008, this section opened to traffic. Department of Transportation Secretary Allen Biehler joined federal, state, and local officials along with New York officials in a joint ceremony to open the 5.5 miles in Pennsylvania and 1.2 miles in New York. "This is truly a milestone event," said Biehler. "Thanks to a significant investment in resources, we've been able to make this corridor much safer, easier and more efficient to travel, and more attractive for economic growth. With the opening of this section, travelers now have a four-lane connection between Interstate 80 and the New York border." The project included construction of full interchanges at PA 287 and PA 49, several small structures, two large sets of twin bridges over the Tioga and Cowanesque Rivers, wetland mitigation, and related miscellaneous features. The final cost of construction was $102 million.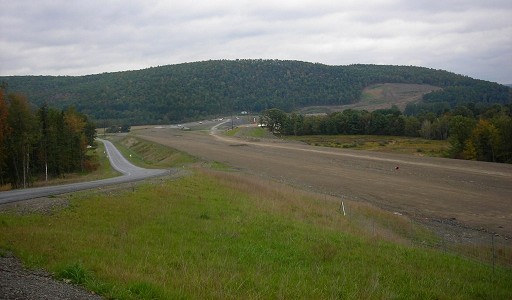 Facing northbound towards the PA 49 interchange and Cowanesque River.
Construction was only up to the New York state line, which is at the
large cleared area on the hill. (Doug Kerr)
The last barrier standing in the way of Interstate 99 shields was the section between Lewis Township Route 685 and PA 284 in Buttonwood. While interchanges were built at Green Mountain Road and Steam Valley Road, the one at PA 184 was a sticking point. The original plan had one being constructed south of Fry's Turkey Ranch which would force southbound travelers to backtrack to the restaurant. In Fall 2003, the Fry family requested that the interchange be built near the former US 15/PA 184 intersection to provide better access to their business. The plan was to keep PA 184 mostly on its current alignment near the restaurant with a small curve to connect with the interchange, unlike the larger one needed for the area proposed south of the Turkey Ranch. The US 15 alignment would be straightened near the restaurant and a large curve in the southbound lanes was eliminated with the remainder of the lanes used for the interchange. The homes of Howard W. Fry III, grandson of the restaurant co-founder, and his mother would be moved to nearby family-owned land for the new expressway.

Future I-99 Corridor sign
southbound near Trout Run.
Federal, state, and local officials held a groundbreaking ceremony on March 14, 2008 on Steam Valley Mountain. "This project represents the last major upgrade to Route 15 currently planned between Williamsport and the New York border," said Department of Transportation Secretary Allen Biehler, P.E. He noted that this project was the largest single contract in the history of PennDOT District 3-0. Work entailed consisted of resurfacing the existing northbound lanes between the PA 14 and PA 184 interchanges and realigning those lanes from that interchange to the PA 284 interchange. The southbound lanes were also realigned due to steep grades and sharp bends, as that was the original two-lane alignment of US 15, between the PA 284 and PA 14 interchanges. A portion of the original southbound lanes were retained as the connector between the Cogan House interchanges. Other segments of the project included building a full interchange at PA 184 which the Fry's had requested and a split-diamond interchange with Stream Valley Road and Green Mountain Road just to the south. Four new bridges, six box culverts, and a retaining wall were built and 3.5 million cubic yards of earth was moved. Dignitaries held a ribbon-cutting ceremony on November 17, 2009 to signal the opening of the new southbound lanes, and the entire $60 million project finished in September 2010. In October 2011, Roads & Bridges Magazine named this project as the number one project for their Top 10 Roads list.
Williamsport officials gathered August 25, 2009 at the foot of the Market Street Bridge to kick off a campaign to rename the bridge for one of the city's famous residents. Mayor Gabriel J. Campana outlined plans for a campaign to urge the state to rename the span the "Carl E. Stotz Little League Bridge" in honor of the father of Little League Baseball. Campana said he would ask City Council to approve a resolution of support for the name change at its September 3 meeting while State Representative Rick Mirabito said he would introduce legislation in Harrisburg to make the name change official. Also in attendance that day showing their support were Steve Keener, president and CEO of Little League Baseball, Inc. and former Lycoming County Treasurer Karen Stotz-Myers, daughter of the late Carl Stotz.
While work was continuing on upgrading US 15 in Steam Valley, another project was beginning to rehabilitate an older section of expressway in Williamsport. On July 19, 2010, work began on reconstruction and resurfacing the route from the Interstate 180/US 220 interchange to the bridges over West Third Street. The project included rehabilitating the bridges over Lycoming Creek, Lycoming Valley Railroad, West Third Street, including painting, new expansion dams, concrete deck repairs, membrane waterproofing, and epoxy surface treatments. Rehabilitating the on-/off-ramps from West Third Street and on-ramp from US 220, restoring the West Fourth Street on-ramp, guide rail upgrades, drainage improvements, highway lighting upgrades, and the replacement of two overhead sign structures also took place. The $7.1 million project was completed in October 2011.
When the Coronavirus, or COVID-19, pandemic swept into the country in March 2020, PennDOT took measures to stem the spread to their employees and staff. At 12:01 AM on March 17, all rest areas and welcome centers across the state, including the one in Tioga County, were closed to the traveling public. Also all Driver License and Photo License centers were closed for two weeks and construction projects on roads under the Department of Transportation's jurisdiction were stopped. Hearing that construction work was halted could come as welcome news, the idea of closing down the rest areas did not sit well with truckers, trucking firms, nor some elected officials. It was then announced that on Thursday, March 19, barricades would come down at 13 rest areas across the state and they would be reopened with portable restroom facilities while the permanent facilities would remain closed. "Every decision made has been in the interest of mitigating the spread of COVID-19 and we are constantly reevaluating our response," said PennDOT spokeswoman Alexis Campbell. "That said, we also recognize that drivers need and deserve access to rest areas." PennDOT announced on March 24 that an additional 10 would reopen, and including the original 13, all would provide normal service with additional cleaning and maintenance. The rest area/welcome center in Tioga County reopened on April 7.
Links:
Exit Guide
US 15 Auxiliary Routes
US 15 Pictures
I-99/US 15 Construction Progress Map
Interstate 99
Interstate 180
The Route 15 Coalition
Terminus of US 15 - Dale Sanderson
US 11/US 15 Selinsgrove Bypass - Alex Nitzman
US 15 Expressway Scenes - Alex Nitzman
US 15 in North Central Pennsylvania - John Walter
US 15 Pictures - Andy Field/Alex Nitzman
US 15 Pictures - Steve Alpert
US 15 Photos - Valerie Deane
---

INFORMATION
Southern
Entrance:
Maryland state line two miles south of Fairplay
Northern
Entrance:
New York state line in Lawrenceville
Length:
189 miles
National
Highway
System:
Entire length
Names:
Blue and Gray Highway, 32nd Street, Cumberland Boulevard, Walnut Street, Front Street, Enola Road, Susquehanna Trail, State Road, Charles Attig Memorial Highway, Granger Hollow Road, Derr Road, Montgomery Pike, Eighth Avenue, Hastings Street, Market Street, Lagani Hanne Trail, Dolly M. Wilt Memorial Highway, William B. Wilson Highway, and Harold G. Strait Memorial Highway
SR
Designations:
SR 0015
SR 0011: PA 581 to Shamokin Dam
SR 0180: Exit 27 to Exit 29
SR 6015: PA 287 to the New York state line
Counties:
Adams, York, Cumberland, Perry, Juniata, Snyder, Union, Lycoming, and Tioga
Expressway:
Maryland state line to PA 94
Cumberland County line to US 11
PA 274 to US 22/US 322
Market Street to US 522
Milton to White Deer
I-180/US 220 to the New York state line
Multiplexed
Routes:
PA 74: Dillsburg
US 11: PA 581 to Shamokin Dam
PA 147: Shamokin Dam to the Central Susquehanna Valley Thruway
I-180: Exit 27 to Exit 29 in Williamsport
US 220: Exit 27 to Exit 29 in Williamsport
Former
Designations:
PA 4 (1925 - 1930): Amity Hall to Shamokin Dam
PA 24 (1926 - 1928): Maryland state line to Lemoyne
PA 14 (1927 - 1928): Lemoyne to Amity Hall
US 111 (1927 - 1936): Shamokin Dam to Williamsport
PA 641 (1928 - 1956): PA 641 to Carlisle Pike
PA 5 (1928 - 1935): Lemoyne to Amity Hall
PA 404 (1928 - 1941): Shamokin Dam to PA 642 and White Deer to Allenwood
PA 404 (1935 - 1941): Allenwood to Williamsport
Bypass US 11 (1935 - 1947): PA 581 to Front Street
PA 14 (1935 - 1941): Lemoyne to Amity Hall

BicyclePA Route:
US 22/US 322 to PA 35
US 522 to SR 1023
11th Avenue to US 11

Traffic Cameras:
US 15
Lower Allen Drive
---
Back to Pennsylvania Highways
Back to Pennsylvania US Highways
Page updated October 05, 2022.
Content and graphics, unless otherwise noted, copyright © Jeffrey J. Kitsko. All rights reserved.
Information sign courtesy of Richard C. Moeur.
Information courtesy of the Pennsylvania Department of Transportation, Rand McNally, General Drafting, WHTM-TV Harrisburg, Route 15 Coalition, The Sunbury Daily Item, Williamsport Sun-Gazette, Wellsboro Gazette, Harrisburg Patriot-News, Pittsburgh Post-Gazette, and Len Pundt.