Chester County Expressway (Oxford Bypass)
---
This Chester County freeway was constructed in the 1960's. It gave a bypass of such communities as Oxford, West Grove, Toughkenamon, and Nottingham. The designation for US 1 in southeastern Pennsylvania is given Baltimore Pike. The old section of route 1, which still serves the aforementioned communities, is now known as Old Baltimore Pike and has no signed route designation.
The expressway is four lanes in width, with a 55 mph speed limit. Original concrete exists still on most of the highway, but some resurfacing has taken place. Signage has been slowly replaced since around 1992.
Vidcaps from July 1999.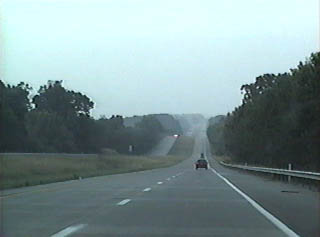 Here's a scene northbound on US 1.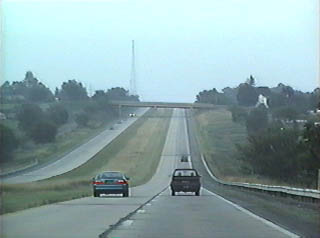 Looking southbound at US 1. Original concrete is still present here.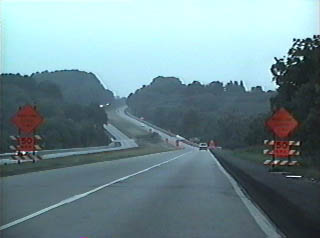 The eastern 2 miles of the US 1 expressway was under construction.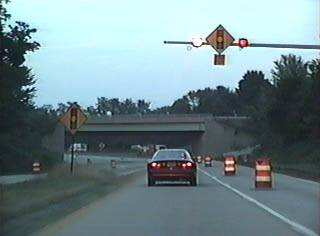 The eastern ending at old US 1. A "Y" crossover interchange exists from southbound US 1 to old US 1 for Toughkenamon.
Text only sign on the PA 10 overpass.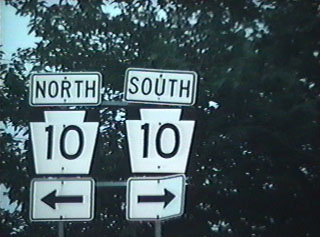 PA 10 shields at the end of the off ramp from southbound US 1.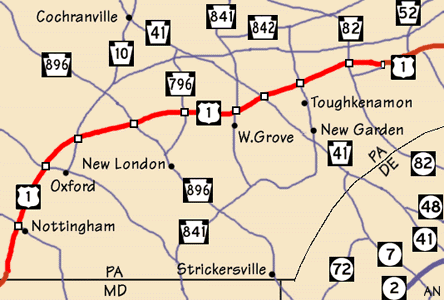 Links:
US 1
US 1 - Andy Field/Alex Nitzman
---
Back to Pennsylvania Highways
Back to Pennsylvania US Highways
Page updated January 17, 2010.
Page courtesy of Alex Nitzman who originally produced the page and took the pictures of the expressway.