---
A relatively young designation as compared to other US highways in Pennsylvania, this one did not appear in the Commonwealth until 1935. The designation followed the current US 202 alignment from Delaware to Business US 322 to enter West Chester on High Street. In downtown West Chester it changed course to follow Gay Street and then Paoli Pike to the village of the same name where it was multiplexed with US 30 to the current PA 252 to New Centerville. From there it was signed on Swedesford Road to King of Prussia where it rejoined was is the current alignment through to Norristown where it was signed on DeKalb Street. Between Norristown and Doylestown, it followed the current alignment but in the latter it continued through the downtown area on State Street and returned to the current alignment. West of New Hope, it turned onto the current PA 179 to travel into New Jersey.
In 1938, the route was widened on its multiplexes with US 30 in Paoli and US 309 between Montgomery Square and Montgomeryville. In the following decade, the widening work took place in Bridgeport in 1946 from Henderson Road to the Schuylkill River.
The 1950s were more eventful in the life of US 202. In 1953, the route was split in Norristown with southbound traffic utilizing Johnston Highway, Markley Street, and Lafayette Street while northbound traffic continued to utilize DeKalb Street. Construction on the first section of expressway began from Business US 322 to the US 322 west interchange in the West Chester area in 1954 and opened the following year. Also in 1955, the route was widened from King of Prussia to Henderson Road and from Schoolhouse Road to Gwynedd. The US 202 designation was moved onto the West Chester Bypass from Business US 322 to the Paoli Pike interchange. In 1958, the route was widened at the West Chester Bypass, in Doylestown, and in New Hope while a median was installed on the section between Schoolhouse Road and Gwynedd. A median was installed on the section between the Delaware state line and Business US 322 in 1959.
If the 1950s saw more activity on the route than the previous decades, the 1960s would continue the trend. In 1964, the Pennsylvania Department of Highways proposed constructing an expressway paralleling the US 202 corridor from Delaware to New Jersey. The 59 mile-long expressway, which was referred to as the Piedmont Expressway in planning reports, would cost $146 million and serve as an outer beltway for the Philadelphia area. The Department of Highways divided the project into eight sections, and placed seven of them on their six-year improvement program. It was not the first time a plan like this would be proposed. In 1932, a plan to build a parkway roughly along the route of US 202 was proposed by the then Regional Planning Federation, now the Delaware Valley Regional Planning Commission, but never got off the ground.
Construction on the next segment of expressway began in 1965 from the PA 252 interchange to the I-76 interchange and was completed in 1967 as was a median installation from I-76 to Gulph Road. In 1968, construction began on the section from US 30 to the PA 252 interchange and a year later, work began on the part from the US 322 interchange to US 30.
The 1970s began with the opening of the expressway from US 322 to PA 100 and US 30 to PA 252 in 1970. The remainder between PA 100 and US 30 opened to traffic in 1971, and with it the designation was removed from its old routing and placed onto the expressway. Also opening that same year was the 1,682-foot-long New Hope-Lambertville Toll Bridge on July 22, 1971. With endings also came beginnings in 1971 as construction began on the Doylestown Bypass from Main Street to Pebble Hill Road. In 1972, construction began on the southbound bridge over the Schuylkill River and extended from Pebble Hill Road to PA 313 on the Doylestown Bypass. A median was construction from Gulph Road to the northbound/southbound split in Norristown. The first segment of the Doylestown Bypass opened to traffic in 1973 from Main Street to the existing US 202 alignment east of the borough.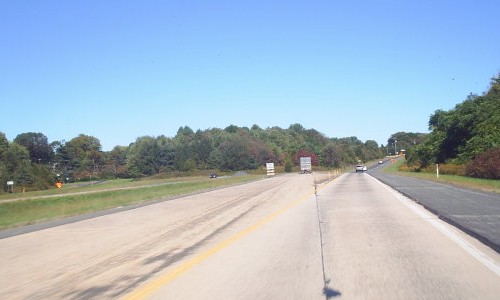 Stub ramp at East State Street east of Doylestown which would have
continued the Piedmont Expressway to New Jersey. (Doug Kerr)
In 1975, the designation was moved out of New Hope onto the New Hope-Lambertville Toll Bridge and signed on what was to be a temporary roadway to connect the old alignment to the bridge. Built in 1973, the highway was to have been replaced by the cancelled Piedmont Expressway. Construction began in 1975 on the rest of the Doylestown Bypass from US 202 west of Doylestown to Main Street which opened in its entirety the following year. The new Schuylkill River bridge and roadway for southbound US 202 from Norristown to the original US 202 alignment opened as well in 1976. Good and bad news in 1977 with the good news being the designation was removed from Doylestown and placed on the bypass. The bad news was PennDOT withdrew funding for the expressway segment through Bucks County due to opposition from residents who saw it as a truck bypass and would destroy the rural quality in the county. That is the reason for the stub ramps at the US 202/PA 611 interchange south of Doylestown. Another section to get the fiscal axe was the planned segment from Upper Merion Township to Montgomery Township in Montgomery County.
Another segment that would not see the light of day was from Valley Forge to Lower Gwynedd Township. The expressway would have taken one of two paths: the existing alignment would be upgraded to an expressway or another route paralleling PA 363 that would bypass Norristown utilizing the US 422 expressway and rejoin the US 202 near the Pennsylvania Turnpike-Northeast Extension.
The planned expressway alignment from the Delaware state line to the southern end of the West Chester Bypass seems to be the forgotten one. It would have parallel the existing US 202 alignment to the west. An interchange with the cancelled US 1 expressway would have been constructed in the vicinity of the Brandywine Battlefield State Park. This expressway would have continued into Wilmington to provide access to I-95 and another cancelled highway the DE 141 Expressway. However, no right-of-way was purchased for this section.
In 1978, ramps were constructed on the new southbound highway at PA 23 for the proposed Schuylkill Parkway, but were revamped in 1986 after the project was scrapped.
In 1983, the Delaware Valley Regional Planning Commission recommended building the US 202 expressway from Doylestown south to a proposed extension of the Fort Washington Expressway near Lansdale. In 1989, another study by the commission concluded that the expressway could use existing land set aside for the construction, thus preventing personal properties being acquired for the project. PennDOT began engineering and environmental studies along this section in 1990. The original route was to be 10.5 miles, but was shortened to 8.9 miles in the mid-1990s. Approval for this new highway came from the Federal Highway Administration on August 27, 1998.
The 1990s saw improvements take place along the route. In the late 1990s, PennDOT spent $3.6 million to rebuild 2.6 miles of the route from King of Prussia to Bridgeport. On March 16, 1999, PennDOT began work on rebuilding the section of US 202 from Tredyffrin Township, Chester County to Upper Merion Township, Montgomery County. The process began in 1986 with environmental impact studies along the route, with preliminary designs in the early 1990s, and concluded with PennDOT receiving final engineering and environmental design approval from the Federal Highway Administration in 1996.
The project consisted of widening the existing expressway to six lanes from North Valley Road to Gulph Road. New bridges were built at Old Eagle School Road and South Warner Road as well as new sound barriers installed and drainage improvements occurred.

Grading for the new highway (PennDOT)

Pouring the concrete (PennDOT)

Placing the finishing touches (PennDOT)

The new highway open to traffic. (PennDOT)
The interchange between US 202, US 422, and I-76 was rebuilt so weaving would be decreased. A new ramp from US 202 northbound to I-76 eastbound and a new collector-distributor highway now provides access from US 202 southbound to US 422 and I-76. The new ramp opened to traffic on December 13, 2001, at that time the former ramp from northbound US 202 to eastbound I-76 closed.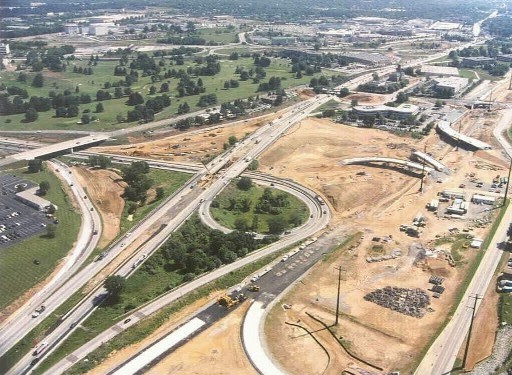 Collector-distributor ramp system under construction at the US 422
interchange. (PennDOT)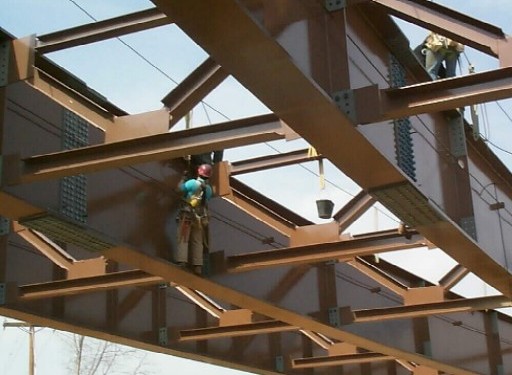 Workers standing on bridge beams over new ramp. (PennDOT)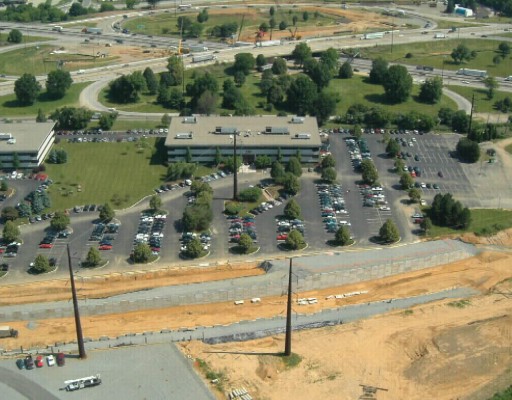 Construction of the new ramp from US 202 north to I-76 east. (PennDOT)
In early 2001, sinkholes proved to be a problem within the interchange. They had been anticipated, which PennDOT planned $30,000 for sinkhole mitigation due to disturbing the top soil. Some of them were 150-feet-deep and forced emergency work to be performed to stabilize them by pumping grout into the voids, as was done at the Mid-County Interchange project on the Turnpike which is located nearby. So much grout was needed that a production facility was built at the site. The cost of the work was $17 million and reached to nearly ten times the original projected price when the work ended.

Sinkhole at the US 422 interchange. (PennDOT)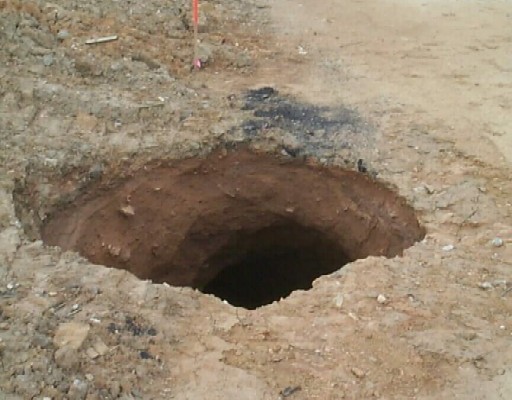 Another sinkhole at the US 422 interchange. (PennDOT)
Part of the interchange opened in early 2002. Other interchanges rebuilt were the Chesterbrook Boulevard interchange in Paoli with Chesterbrook Boulevard being extended south to PA 252. Swedesford Road interchange and the Valley Forge Road interchange saw minor improvements.


Green indicates lanes and ramps to be reconstructed
or reconfigured; red indicates new lanes and ramps to be
constructed on new alignment. (PennDOT)
One of the more challenging aspects of the project was the moving of the historic King of Prussia Inn, which used to sit in the median of US 202 just north of the I-76 interchange. In August 2000, the inn was moved from the old location to Bill Smith Boulevard in Upper Merion.
Two views of the historic King of Prussia Inn's move in August 2000. (PennDOT)
The $290 million project concluded at 10:30 AM on October 30, 2003, when Pennsylvania Transportation Secretary Allen Biehler cut the ribbon signaling the rehabilitation was completed.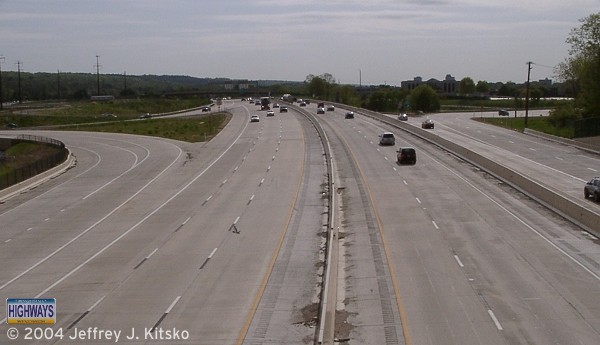 Looking southbound from the Old Eagle School Road overpass onto the rebuilt section.
On June 16, 2005, PennDOT announced work would begin on a $13.6 million project to install ITS equipment on US 202 in Delaware and Chester Counties. The $14.7 million project finished in June 2008 after crews installed 33 closed circuit TV cameras, 22 dynamic message signs, and 61 incident detectors along the route as well as PA 100 and US 30 in Chester County. The equipment is connected to the Philadelphia Traffic Management Center in King of Prussia.
The Montgomery Township, Montgomery County to Doylestown Township, Bucks County section of the US 202 expressway that was discussed in the late-1980s and early-1990s and approved in 1998 was slated to begin in 2003. The then $280 million "new alignment alternative" would have consisted of four 12 foot-wide lanes and grades kept at a maximum of four percent with a design speed of 65 MPH. Interchanges were planned to be built at PA 63, PA 309, County Line Road, Bristol Road, and PA 611. The project was slated to be completed in late 2006. However, with PennDOT restructuring their 12-Year Transportation Program, the project is now being reevaluated which prompted a study entitled "A Look At New Solutions" in April 2004. The project alternative which spells out a $161 million, two-lane parkway to be built in Section 700 was announced on February 16, 2005. Neither PennDOT nor the Delaware Valley Regional Planning Commission have the necessary $383 million to build the expressway that was discussed through most of the 1990s. Neighbors for Bucks County Preservation, a local advocacy group, favored an option that used roundabouts, but that idea was not suited for congestion management.
On September 14, 2005, Governor Edward Rendell announced the restart of acquiring land for the Section 700 project. "Today I am directing the Department of Transportation to move forward with the planned improvement along the US Route 202 Section 700 corridor," Governor Rendell said. "The people of this region have waited for decades for state government to relieve congestion along this corridor. We are now moving forward with an affordable and practical solution."
Ground was broken on November 21, 2008 for the 100% state-funded, $200 million project included construction of a four-lane, at-grade roadway between PA 63 and PA 463 and a two-lane parkway between PA 463 and PA 611, five-foot paved shoulders/bicycle lanes, new traffic signals at nine intersections, left turns at all intersections, 11 new bridges and overpasses, 12-foot-wide bicycle/walking path, five trailhead parking areas, stylized barriers, culverts, retaining walls and bridge surfaces to simulate a traditional, stone appearance, landscaped medians and other aesthetic enhancements.
Construction began a month later on the Southern Section from PA 63 to PA 463, the first of three phases of parkway construction, which cost $31.7 million and stretches 1.8 miles. Construction on the 3.3-mile, $25 million Central Section (PA 463 to Pickertown Road) and 3.4-mile, $42.2 million Northern Section (Pickertown Road to PA 611) began on January 21, 2010 and January 18, 2010 respectively.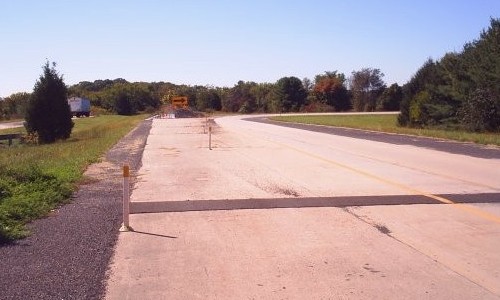 The former stub ramp southwest of Doylestown at PA 611 where the
US 202 Parkway connects to the existing US 202. (Doug Kerr)
LieutenantGovernor Jim Cawley and Secretary of Transportation Barry J. Schoch joined local officials to open the US 202 Parkway on December 3, 2012. "Today we usher in a new transportation era in Bucks and Montgomery counties with the opening of the Route 202 Parkway," Cawley said. "The state's newest roadway brings a badly needed infusion of capacity along this busy corridor to help reduce congestion and enhance traffic flow." Upon opening, it was designated Pennsylvania's 20th Scenic Byway. "This designation will help us preserve the scenic views commuters, bicyclists and pedestrians will enjoy when traveling on this new and beautifully landscaped parkway in southeastern Pennsylvania," said Secretary Schoch.
Construction is underway on improving more of the existing expressway farther south in Chester County. PennDOT divided the project into four contracts: the first began in March 2007 and consisted of replacing the Swedesford Road, Church Road, and Mill Lane and improving the PA 401/Phoenixville Road, Phoenixville Road/Planebrook Road/Swedesford Road intersections which wrapped up in Fall 2008. The second contract involved modifying the Swedesford Road, PA 29, and abandoned railroad bridges, and replacing the Cedar Hollow Road bridge which began in February 2008 and finished in Summer 2010. The third contract is to widen the four-lane expressway to six lanes from US 30 to North Valley Road, rebuild seven overpasses to increase horizontal and vertical clearances, building new collector-distributor ramps for the PA 29 interchange, new ramps for the PA 401 interchange, installation of traffic cameras and variable message signs, upgrading drainage system, and building sound walls at various locations where needed which began April 21, 2011 with a groundbreaking attended by transportation Secretary Barry J. Schoch, P.E., and federal, state, and local officials. "Today we launch construction on a highly anticipated project that will transform an aging and worn stretch of Route 202 into a modern six-lane highway," Schoch said. "When completed, this expansion will help keep commuters moving safely and smoothly through the Great Valley area." The $295.8 million project began in 2007 and is expected to finish in late 2015. Project website: http://www.us202-300.com/.
Sinkholes are a problem in the King of Prussia area, and one rear its ugly head on February 4, 2011. A 75-foot-wide section of pavement sank six inches in the northbound lanes around 5 AM near the King of Prussia Mall, forcing Upper Merion police to close the road until the problem could be evaluated and repairs made. Upon investigating the sinkhole, PennDOT crews discovered a water main and a sewer main break compounding the problem. To make matters even worse, on that afternoon, it was learned that the sinkhole extended into the southbound lanes as well which necessitated closure of those. About 200 yards of concrete was pumped into the hole to stabilize the area, then it was covered with about 10 inches of asphalt before the roadway was reopened around 5 PM the following day.
The Delaware River Joint Toll Bridge Commission was also looking to improve their section of US 202. In April 2013, the Commission awarded a contract for rehabilitation of the New Hope-Lambertville Toll Bridge with work beginning soon after. The project included rehabilitation, repair, and repaving US 202 approaches to the bridge and on-/off-ramps at PA 32 and NJ 29; repointing, joint sealing, and concrete repairs to the bridges over PA 32 and NJ 29; sealing the decks of all three bridges; and cleaning and painting of all lights and overhead sign structures. One of the unique aspects of the project was this marked the first time the DRJTBC used emulsified foamed asphalt, a new paving technique that involves recycling most of the former surface, instead of milling and repaving with new asphalt. The $12.9 million project concluded in Fall 2013.
When the Coronavirus, or COVID-19, pandemic swept into the country in March 2020, the Delaware River Joint Toll Bridge Commission took measures to stem the spread to their employees and staff. At 10:00 PM on March 24, all tolled bridges, including the New Hope-Lambertville Toll Bridge, went to a cashless toll collection system. E-ZPass users would pass through the plazas as normal, and drivers who normally paid by cash were directed to the far right lane of the toll plazas and to have their license plate captured. A bill for the toll only, without additional administrative or violation fees, would then be sent to their address which would then have to be paid within 30 days or else each unpaid transaction would face a $30 violation fee. At 11 PM on May 13, the DRJTBC began accepting cash payments again. Additional safety measures were put in place, such as toll collection staff being given plastic face shields, masks, and nitrile gloves. They also encouraged drivers paying by cash to wear a face covering when using a cash lane.
Links:
Exit Guide
US 202 Auxiliary Routes
US 202 Pictures
US 122 (Decommissioned)
E-ZPass - Delaware River Join Toll Bridge Commission
New Hope-Lambertville Toll Bridge - Delaware River Joint Toll Bridge Commission
Doylestown Bypass - Steve Anderson
Terminus of US 202 - Dale Sanderson
US 202 Expressway - Steve Anderson
US 202 Pictures - Andy Field/Alex Nitzman
US 202 Pictures - Steve Alpert
US Route 202 - David Golub
---

INFORMATION
Southern
Entrance:
Delaware state line three-quarters of a mile south of Johnsons Corners
Northern
Entrance:
New Jersey state line at the New Hope-Lambertville Toll Bridge in New Hope
Length:
58.70 miles
National
Highway
System:
Entire length
Names:
Wilmington Pike, DeKalb Street (northbound), West Johnson Highway (southbound), Markley Street (southbound), DeKalb Pike, US 202 Parkway, Doylestown Bypass, Buckingham Road, York Road, and Lower York Road
SR
Designation:
0202
Counties:
Delaware, Chester, Montgomery, and Bucks
Expressway:
Business US 322 to I-76
PA 611 to PA 313
Multiplexed
Routes:
US 322: US 1 to West Chester
PA 152: Chalfont
PA 611: Doylestown Bypass
PA 263: Buckingham to Lahaska
Former
Designations:
US 122 (1926 - 1935): Delaware state line to Business US 322, King of Prussia to PA 611, and PA 313 to PA 179
PA 22 (1927 - 1928): Delaware state line to West Chester
PA 52 (1927 - 1928): King of Prussia to PA 611 and PA 611 to PA 179
PA 12 (1927 - 1928): PA 309 south to PA 463

Pennsylvania
Byway:
DeKalb Pike to PA 611

Traffic Cameras:
US 1 (Southbound)
Watkins Road (Southbound)
South of Green Tree Drive (Southbound)
PA 926 (Southbound)
North of Skiles Boulevard (Northbound)
US 322 (Northbound)
US 322 (Southbound)
South of Bolmar Street (Northbound)
North of Westtown Road (Northbound)
West Chester Pike (Northbound)
North of Paoli Pike (Northbound)
PA 100 (Southbound)
Boot Road (Northbound)
Morstein Road (Northbound)
South of King Road (Southbound)
US 30 (Southbound)
South of PA 401 (Northbound)
Church Road (Southbound)
North of Mill Lane (Northbound)
PA 29 (Southbound)
North of Cedar Hallow Road (Southbound)
North of North Valley Road (Northbound)
Howellville Road (Southbound)
North of Chesterbook Boulevard (Northbound)
North of PA 252
PA 252 (Southbound)
West Valley Road (Northbound)
Devon Park Drive
Continental Boulevard
US 422 (Southbound)
I-76 Merge (Northbound)
I-76 (Northbound)
Allendale Road
Town Center Road
---
Back to Pennsylvania Highways
Back to Pennsylvania US Highways
Page updated May 18, 2022.
Content and graphics, unless otherwise noted, copyright © Jeffrey J. Kitsko. All rights reserved.
Information sign courtesy of Richard C. Moeur.
Information courtesy of the Pennsylvania Department of Transportation, Delaware River Joint Toll Bridge Commission, Philadelphia Inquirer, Rand McNally, General Drafting, WPVI-TV Philadelphia, WTXF-TV Philadelphia, Len Pundt, and Steve Anderson.