The late, great, comedian Rodney Dangerfield's famous catch phrase was "I don't get no respect," and it seems US 122 would feel the same way. In the course of its life, it is the only mainline US route that has traversed Pennsylvania to have been signed along two different alignments. The first time was in 1928, when it roughly followed what is now the US 202 and Business US 202 alignments between Delaware and New Jersey. Its first southern terminus was Wilmington and after it has passed through Delaware, Chester, Montgomery, and Bucks counties, continued to its first northern terminus at its parent, US 22, in White House, New Jersey.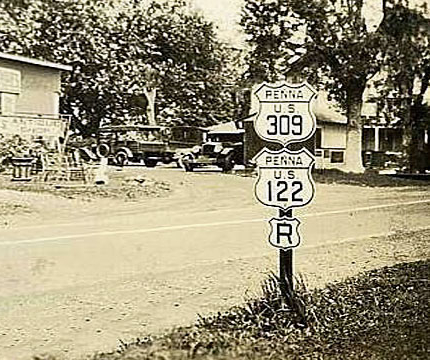 US 309, US 122, and Right Turn markers on an assembly within the multiplex of the two routes on Bethlehem Pike in Montgomery County. (Unknown)
The route entered from Delaware to follow Wilmington-West Chester Pike, Wilmington Pike, and South High Street to enter West Chester. Leaving the borough, it followed East Gay Street, Paoli Pike, West Lancaster Avenue, East Lancaster Avenue, Bear Hill Road, Swedesford Road, West Dekalb Pike, East Dekalb Pike, and entered Norristown on Dekalb Street. Between there and Doylestown, it followed Dekalb Pike to Bethlehem Pike where it joined US 309 until departing on Doylestown Road to West Butler Avenue and East Butler Avenue through Chalfont as well as New Britain before entering Doylestown on West State Street and exiting on East State Street. North of Doylestown, it was posted on York Road, Lower York Road before traversing New Hope on West Bridge Street and East Bridge Street prior to exiting the Commonwealth across the Delaware River on the New Hope-Lambertville Bridge.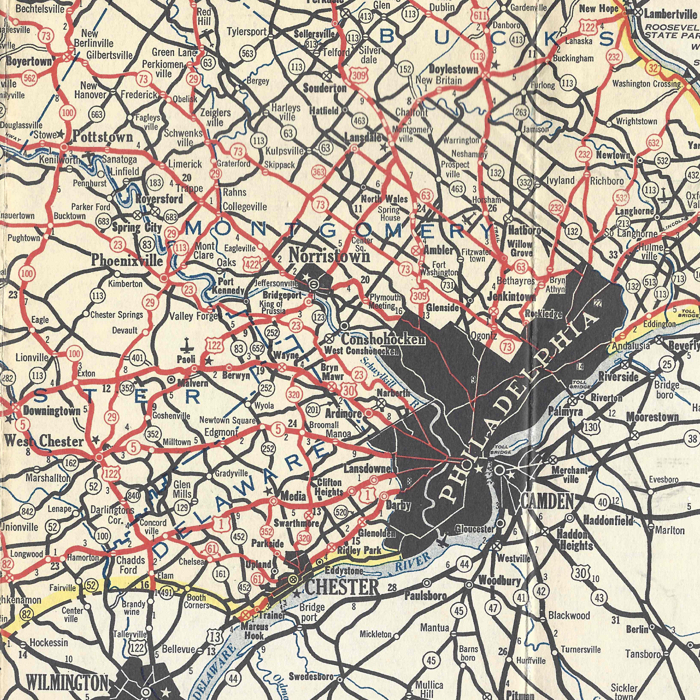 The path of US 122 through southeastern Pennsylvania as it was in 1934. (Pennsylvania Department of Highways)
In 1935, the route was decommissioned on that alignment and instead posted along the former PA 42 alignment from its intersection with US 1 at Market Street in Oxford to US 222 in Reading. It then replaced the eastern half of US 120 from Reading, where it was posted on Morgantown Road, Lancaster Avenue, Bingaman Street, Fifth Street, and Centre Avenue, continuing north to Pottsville where it was posted on Center Street and Nicholas Street, and to its new terminus in Northumberland.
Even though it was only around for half of the 1930s, that short amount of time saw a lot of work take place on its new right-of-way. The first big project was construction of a new alignment south of Orwigsburg between Brick Hill Road and West Market Street which started in 1937 and was opened to traffic a year later. With the opening of the bypass of Orwigsburg, the route was removed from Brick Hill Road, East Market Street, and West Market Street. The route was widened to three lanes (one lane in each direction and a shared passing lane in the middle referred to a "suicide lane") in the US 30 multiplex between Compass Road and Octorara Trail, Huller Lane to Mohrsville and Zweizig Road to Hamburg in Berks County, Memorial Drive to Pottsville, and Dark Water to Frackville in 1939.
Upgrades continued into the 1940s with sections from Reading to Huller Lane and Marshallton to Tharptown being widened that first year of the decade. In 1941, the route was widened from the Frackville borough line to West Pine Street just north of the borough, Centre Street to Catawisssa Road in Ashland, and Maysville Road to Excelsior Road in Northumberland County. However, work would take a hiatus during World War II, but would resume in 1946. Numerous widening projects took place that year from Molino to Brick Hill Road, Saint Clair to Dark Water, West Pine Street to Fountain Springs, one mile south of Mount Carmel to Maysville Road, Excelsior Road to Marshallton, Overlook Boulevard to Dogwood Road and Maple Road to Fox Road in Northumberland County, and Sudbury to the Susquehanna River crossing. Two years later, widening work took place between Mohrsville and Zweizig Road as well as Dogwood Road to Jasmine Road in Northumberland County. Perhaps the biggest change to take place in 1948 was in the alignment between Ashland and Centralia. Prior to that year, US 122 traveled Catawissa Road between Ashland and Brynsville then Brynsville Road to Locust Avenue in Centralia. The route was extended along Centre Street to Memorial Boulevard, a four-lane, divided roadway which replaced the two-lane Catawissa Road.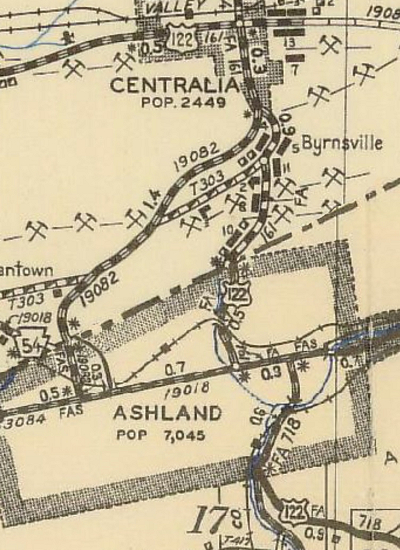 US 122's path between Ashland and Centralia prior to 1948 when it utilized Catawissa Road. (Pennsylvania Department of Highways)
Widening projects continued in 1949 with work taking place between Port Clinton and Moline, Fountain Springs to Ashland, and from Centralia to one mile south of Mount Carmel. That same year saw construction commence on Pottsville Boulevard between Mauch Chunk Street and Ann Street just to the north of the city.
Two events took place during 1950, one being the route was widened between Pottsville and Cumbola. The other involved the former city, as the first section of Pottsville Boulevard opened between Mauch Chunk Street and Ann Street. Due to the opening of that section, the US 122 designation was removed from South Center Street, North Center Street, Nichols Street, and Ann Street. Meanwhile, construction began in 1950 on the section of Pottsville Boulevard between Center Street and Mauch Chunk Street which opened two years later and the designation removed from Mount Carbon-Arch Road and South Center Street. Another construction project began in 1955 on a four-lane, divided roadway between South Fourth Street in Hamburg to Blue Mountain Road just north of the borough in Berks County. That project wrapped up the following year, and the designation removed from South Fourth Street, North Fourth Street, Port Clinton Avenue, and Blue Mountain Road.
Out of all the changes in the route that took place in the 1950s, the most pronounced was the decommissioning of US 122 between Oxford and Morgantown. The Department of Highways submitted the application to the American Association of State Highway Officials to do so on May 13, 1955. Out of the nearly 36 miles on the chopping block, they cited almost 11 miles of pavement that was only 16-feet-wide and a little over eight miles which was only 18-feet-wide, including 4.25 miles of grades over 6% and a little over four miles of horizontal curves over 6%. Those were the reasons citied in the application that the AASHO Executive Committee approved on July 19, 1955.
Numerous projects to convert the route to a divided highway by installing a median divider, usually in the form of a raise curb, took place in 1958. The locations that saw this work were Bellemans Church Road to Hughes Hill Road in Berks County, between the old alignment and Holly Road south of Deer Lake in Schuylkill County, Brick Hill Road to West Market Street also in Schuylkill County, Schuylkill Have to South Center Street in Pottsville, Dark Water to Altamont Boulevard, Ashland to the Northumberland County line, and Weigh Scales to just north of Old Reading Road.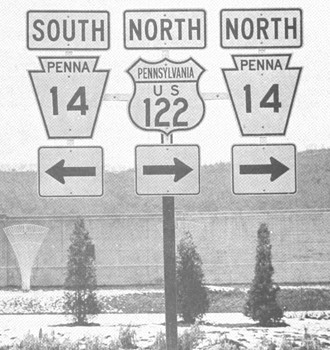 US 122 directional assembly at the start of the PA 14 multiplex in Sunbury from the late 1950s.
(Pennsylvania Department of Highways)
The final decade of US 122's existence saw just one last improvement take place in the form of a median being installed from the Ontelaunee Township line to Bellemans Church Road in Berks County in 1962. This included a new alignment being built to the east of and bypassing Berkley Road just north of Ontelaunee. That year also happened to be when the Department of Highways submitted an application on June 15 to the American Association of State Highway Officials to decommission the route entirely. They cited a policy that was established by AASHO effective January 1, 1959 which stated that any US route less than 300 miles in length and/or within one state should be eliminated as the main reason. Another reason given on the application was the opening of Interstate 180, currently Interstate 176, between Morgantown and Reading in the fall and the anticipation that it would siphon traffic off of US 122. The US Route Numbering Committee approved the decommissioning on November 30, 1962 and AASHO's Executive Committee approved the decision the following day. US 122 would be replaced by PA 10 between Morgantown and Reading, and PA 61 between Reading and Sunbury.
INFORMATION
Southern Terminus:
PA 23 in Morgantown
Northern Terminus:
US 11/Water Street in Northumberland
Length:
102.84 miles
Names:
Morgantown Road, Bingaman Street, South 5th Street, North Fifth Street, Centre Avenue, Pottsville Pike, Centre Street, Centre Turnpike, Pottsville Boulevard, Pottsville-Saint Clair Highway, Joseph H. Long Boulevard, Skyline Drive, South Leigh Avenue, West Oak Street, Fountain Street, Broad Street, South Hoffman Boulevard, Centre Street, North Memorial Boulevard, Locust Avenue, Mount Carmel-Centralia Road, East Fifth Street, South Market Street, East Avenue, West Avenue, North Poplar Street, West Girard Street, Front Street, Chestnut Street, Mount Carmel Street, East Sunbury Street, West Sunbury Street, North Sixth Street, State Street, Market Street, North Front Street, Bridge Avenue, and King Street
LR Designations:
06089: PA 23 to Shiloh Road in Caernarvon Township
06090: Shiloh Road to Harvey Road Caernarvon Township
274: Harvey Road to Lancaster Avenue in Reading
148: Morgantown Road to Fifth Street in Reading
518: Bingaman Street to Penn Street in Reading
157: Penn Street to Centre Avenue in Reading
160: Fifth Street in Reading to the Schuylkill County line
141: Berks County line to PA 443 in Schuylkill Haven
140: PA 443 to Mount Carbon Arch Road in Mount Carbon
140 Parallel: Mount Carbon Arch Road to Mauch Chunk Street in Pottsville
162 Parallel: Mauch Chunk Street to Norwegian Street in Pottsville
161 Parallel: Norwegian Street to Ann Street in Saint Clair and southbound lanes in Blythe and New Castle townships
161: Ann Street to Oak Street in Frackville and Centre Street in Ashland to PA 14 in Sunbury
398: PA 924 to Broad Street in Fountain Springs
18: Front Street in Sunbury to Water Street in Northumberland
2: Water Street to Front Street in Northumberland
Counties:
Berks, Schuylkill, Columbia, and Northumberland
Multiplexed Routes:
PA 724: Philadelphia Avenue and Philadelphia Avenue in Cumru Township, Berks County
US 222: Morgantown Road to Centre Avenue in Reading
PA 383: East Wall Street to Shackamaxon Street in Leesport
PA 895: Molino to Deer Lake
PA 443: North Manheim Township to Schuylkill Haven
PA 45: Centre Street in Ashland to Snake Road in Conyngham Township, Columbia County and Mount Carmel to Strong
PA 14: Sunbury to Northumberland
Expressway:
None
Former Designations:

PA 42 (1927 - 1935): Morgantown to Reading
PA 42 (1927 - 1928): Reading to Frackville
PA 35 (1927 - 1928): Frackville to Fountain Spring
PA 45 (1927 - 1928): Ashland to Tharptown
PA 94 (1927 - 1928): Shamokin to Paxinos
PA 35 (1927 - 1928): Paxinos to Northumberland
PA 55 (1927 - 1928): North 11th Street to South Front Street in Sunbury
US 120 (1928 - 1935): Reading to Northumberland
Decommissioned:
1962
Replaced By:
PA 10: Morgantown to Reading
PA 61: Reading to Sudbury
PA 147: Sudbury to Northumberland
Links:
PA 10
PA 61
PA 147
US 120 (Decommissioned)
End of Historic US 122 (1928 - 1935) - Dale Sanderson
End of Historic US 122 (1935 - 1963) - Dale Sanderson