Appalachian Thruway
Bud Shuster Highway
---
Well this is it, the ugly stepchild to Interstate 99, or is that the other way around? The highway that for many years was king through the Appalachian spine has been demoted and replaced by the designation that is a thorn in many people's sides: I-99.
In 1928, the northern entrance was moved from the New York state line north of Lawrenceville to the border at South Waverly. From when it was signed in 1926 until that year, it turned north at Williamsport to follow the current US 15 alignment using Water Street, Race Street, and Lycoming Creek Road. Then the route changed to follow West Fourth Street, Campbell Street, High Street, Hepburn Street, Market Street, and Washington Street. Also that year, the route was under construction from Lakemont to Greenwood and concluded a year later.
The route through Williamsport was change again in 1934 when it was signed on Harris Place between Hepburn Street and Market Street to provide a shorter path. In 1938, the highway was widened between Duncansville and Hollidaysburg.
Widening continued into the next decade when sections in Tipton to Tyrone, in Jersey Shore, Westminster Drive to Montoursville, and Athens to Sayer taking place in 1940. In 1941, the highway was widened from Hiller Road to Old Cement Road and the route changed to its current alignment between I-180 and Hughesville. Prior to that year, it continued south on Susquehanna Trail to Muncy then on the current PA 405 alignment to Hughesville. Another change in the routing took place in 1946, when the designation swapped alignments with PA 64 between Milesburg and Mill Hall. The route followed the current PA 144/PA 150 to Bellefonte, PA 550 to Zion, and PA 64 to Mill Hall. Another change took place in Williamsport, with northbound traffic following Hepburn Street, Seventh Street, and Market Street and southbound signed on Market Street, and Hepburn Street. Also that year, the highway was widened between Tipton and Bellewood. In 1948, the southbound route was changed again in Williamsport to follow Hepburn Street, Pine Street, Sixth Street, and Market Street. In 1949, the highway was widened from Greenwood to Bellewood, in Avis, and from Williamsport to Westminster Drive.
The 1950s saw the widening work continue with sections in Bedford and from Palmers Lake to Williamsport which was completed in 1951. In 1956, the highway was widened at the interchange with the Pennsylvania Turnpike in Bedford. In 1958, widening took place from Montoursville to Halls and in Towanda. Also in that same year, a median was installed from Hollidaysburg to Lakemont, Greenwood to the Antis Township line, and Plank Road to Pine Run Road.
The 1960s began with the section from Pine Run Road to Williamsport getting a median in 1960. In 1961, construction began on the northbound alignment of Pleasant Valley Boulevard from South 22nd Street to South Second Street and a median was installed between PA 36 and South 22nd Street. It would receive the designation for northbound US 220 while the original path became the southbound lanes a year later. The designation swapped alignments with PA 36 in 1964, with PA 36 moving to Logan Boulevard and US 220 to Plank Road between Hollidaysburg and Altoona. Also in 1964, the highway was widened between Country Club Lane and Flemington while a median was installed on the route through Montoursville. In 1965, the alignment changed courses again in Williamsport, this time both directions were signed on the same course on Hepburn Street and Market Street. In 1966, construction on the portion of Interstate 80 that carries the US 220 designation began from Exit 158 to Exit 161. In 1967, construction was extended from Exit 161 to Exit 173 while the first segment of lone US 220 expressway began from Avis to Jersey Shore. Construction on an at-grade section began from Milesburg to Blanchard that year as well, due to the construction of Foster Joseph Sayers Dam and creation of the lake by the same name. The former alignment is still used for access to the lake and can be seen at Alex Nitzman's Abandoned U.S. 220 page. A year later, the section between PA 26 and Blanchard opened. In 1968, the section from Exit 161 to Exit 173 opened while construction began from that exit to Exit 178. Many segments opened in 1969: Milesburg to PA 26, the first section of US 220 expressway from Avis to Thomas Street, and from Exit 158 to Exit 161 on Interstate 80. Not only did sections open, but another got under way that year from Business US 220 to PA 56 in Bedford and Thomas Street to Plank Road in Lycoming County even a widening project from Milesburg to I-80.
The 1970s began with the opening of the Bedford Bypass from Business US 220 to PA 56, Exit 173 to Exit 178, and the section of from Thomas Street to Plank Road in 1970 as well as completion of the widened route from Milesburg to I-80 with a median. Three more projects began that year: Tyrone Bypass from the Tipton/Grazierville interchange to PA 350, from the US 220 alignment to the Reach Road interchange in Williamsport, and from PA 199 to Pine Street. In 1971, the Bedford Bypass received the US 220 designation while construction began from Maynard Street to Hepburn Street. The Bellefonte Bypass also started in 1971 and opened the following year as a "Super-2" expressway, a two-lane expressway built on a four-lane right-of-way. Construction began in 1972 from Reach Road to Maynard Street and Hepburn Street to the Market Street Bridge. In Bradford County, the new expressway segment from PA 199 to Pine Street opened while work began from there to the Southern Tier Expressway near South Waverly. In 1973, the section from West Fourth Street to Reach Road opened while at the same time construction began on sections from the Wayne Township line to the Susquehanna River and from the Bradford County Airport to US 6 near Towanda. Two more sections of expressway would open in 1974: Maynard Street to Hepburn Street and Pine Street to the Southern Tier Expressway which became the new northern terminus. The designation was removed from Keystone Avenue, Mohawk Street, and Spring Street through Athens, Sayre, and South Waverly. Construction began in 1974 on sections from PA 477 to the Castanea Township line and from the Susquehanna River to Avis. Even widening work took place that year from Sonestown to Wrights View. In 1975, work began on the sections of expressway from PA 56 to the Blair County line, Eagle Township line to the Wayne Township line, and PA 87 to Pennsdale. Opening that year was the section from Reach Road to Hepburn Street which caused the designation to be changed to Front Street, Mulberry Street, and Washington Boulevard. The Tyrone and Towanda bypasses opened to traffic in the year of the bicentennial, while another change in the routing took place in Williamsport. The designation was placed on Third Street and southbound traffic used Basin Street and Fourth Street in downtown. In 1977, several more sections opened to traffic from PA 447 to Lock Haven, current PA 150 interchange to Avis (which eliminated the temporary interchange at Central Avenue), and Third Street to Pennsdale. In 1978, the section from PA 120 to PA 150 opened and the US 220 designation moved onto Interstate 80 from Exit 158 to Exit 178 and the new expressway between Milesburg and Avis.
The 1980s began with more sections of expressway opening from PA 56 to the King/Claysburg interchange and from Hepburn Street to the Faxon interchange in 1980. Blair County would finally see construction taking place in 1982, when the section between the Newry Lane underpass to the Plank Road interchange was started. Construction continued in Lycoming County, this time to fill in the gap between the Faxon interchange and Third Street. Construction was extended from Plank Road to 17th Street two years later, at the same time the gap between Faxon and Third Street was completed. Once that section was completed, PennDOT multiplexed US 220 with the Interstate 180 designation. In 1986, this section from a temporary Newry Lane interchange to 17th Street opened to traffic which alleviated congestion in downtown Altoona. With that completed, attention turned to the section between the temporary interchanges at King/Claysburg interchange and Newry Lane which became marked as proposed on the 1986 Department of Transportation map. It wouldn't take long for that gray, dashed line to be turned into a colored one as construction began on it the following year. In 1988, the section from a new temporary interchange at PA 164 to the one at Newry Lane opened, which prompted its closure. The final year of the 1980s saw the segment between King/Claysburg interchange and the temporary interchange at PA 164 open, and the temporary interchange closed.
After the Bedford to Altoona link had been completed, there was the gap between Altoona and Tyrone to close. Construction began in 1991 to close that gap between 17th Street and the Tipton/Grazierville interchange. It opened to traffic in 1995, creating an uninterrupted route from south of Bedford Springs to north of Tyrone: free of cross traffic, traffic signals, and slow trucks which was a detriment on narrow, mountainous, old US 220. All was not quiet on the expressway, as in 1996 another shield began to spring up next to the familiar US 220s: I-99. Representative Bud Shuster who was responsible for funds for the expressway construction the expressway designated an Interstate from Bedford to Tyrone. In 1997, other lanes from PA 64 to I-80 were built to make it a four-lane highway.
December 28, 2001 was not a good day to be on the highway, as icy conditions caused a tractor-trailer full of garbage to overturn in Jersey Shore. The accident cause state police to close down both the north and southbound lanes of US 220 for several hours. What made things even more difficult was that most of the traffic on the highway was detoured onto it because Interstate 80 was closed due to a massive accident. The highway reopened on Saturday, December 29.
After almost four years of construction, the next section to open was from the Mount Nittany Expressway to the Bellefonte Bypass on November 25, 2002. Ribbon cutting ceremonies started at 10 AM at the Park Avenue interchange near Beaver Stadium, which marked the official opening of the expressway. Once opened, the US 220 designation was moved to follow US 322 to State College then north to I-80 from the former alignment which received the Alternate US 220 designation.


Piece of ceremonial ribbon used at the opening of the
section from US 322 to PA 26.
(PennDOT; courtesy of Geoff Hatchard)
The official name of the project was the PA 26 Relocation Project, which started in January 1999 and cost $195 million to build. As other expressway projects in Pennsylvania, an open house was held on October 26, 2002 called a "Roll & Stroll." Around 1,000 people are estimated to have walked, biked, skated and strolled along the new expressway. A four-mile race to benefit the United Way of Centre County was held on the right-of-way, with Penn State's ROTC cadets participating with the public. This section did not officially become part of I-99 until 2008 when the Bald Eagle to Mount Nittany Expressway section was completed.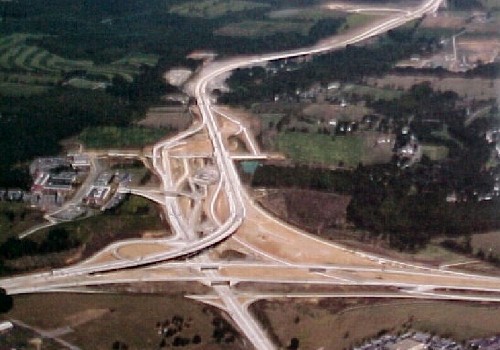 Looking northward at the interchange with US 322 in State College in
Summer 2002. (PennDOT)

Looking north on the southbound lanes
near Harrison Road. (Michael Brand)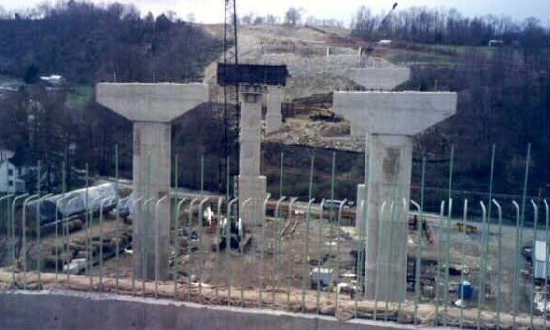 Looking southbound across PA 144 near Bellefonte in April 2000.
(Michael Brand)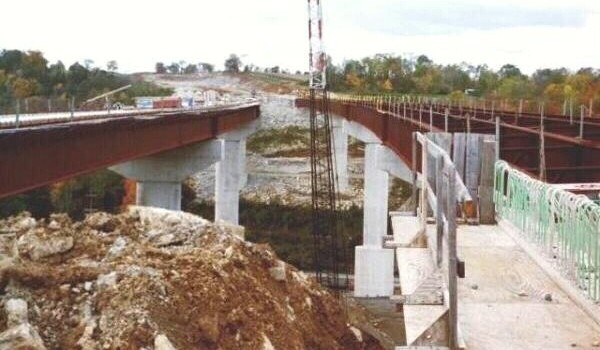 Overpass at PA 144 under construction in October 2000. (Michael Brand)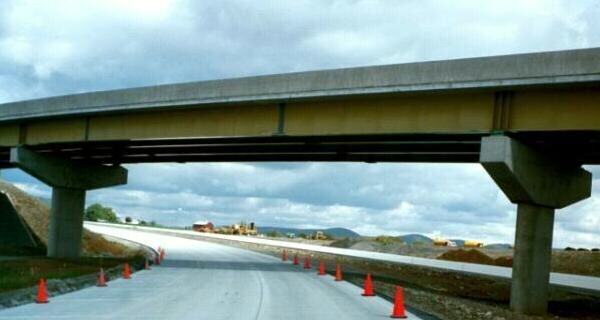 Looking north on the southbound lanes at the I-99/US 220/PA 26/PA 64 interchange.
The ramp above leads from I-99/US 220 south to PA 26/PA 64. (Michael Brand)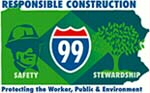 Construction began in Fall 2000 on the section from Bald Eagle to State College with completion originally scheduled for late 2003. However, that changed in February 2004 when construction crews unearthed vast quantities of acid rock at Skytop Mountain. Gary Byron, assistant regional director for the state Department of Environmental Protection said he has never seen a bigger potential for stream damage than the uncovering of this material. "It's the worst I've seen, and I've been here 27 years," he said. "The bottom line is, PennDOT's environmental-impact work for I-99 missed this geologic formation." Between 500,000 and one million cubic yards of acid rock, previously sealed in geologic formations, is now exposed to rainwater that drains into Buffalo Run which is a tributary of Spring Creek. Byron went on to say that the rock "is rare, but it is very wicked in chemical composition." Soda ash briquettes are being used to neutralize the acidic drainage as it washes into the stream. On March 8, the Department of Environmental Protection shut down construction in a half-mile section until a solution could be reached. By August, the run-off had contaminated 19 wells requiring one home to have bottled water to supplant the contaminated stuff coming out of the faucets. Three wells became contaminated during a 90 minute hearing in Harrisburg about the acid rock run-off.


A sediment basin near the PA 550 overpass used to monitor run-off. The mainline of the Interstate is on the
right side behind the orange safety fence.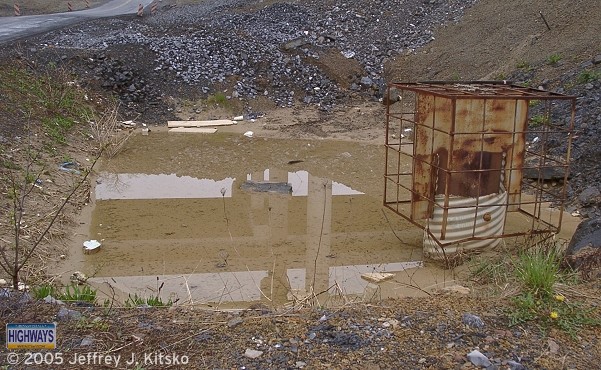 Stormwater basin on the side of PA 550 near the overpass.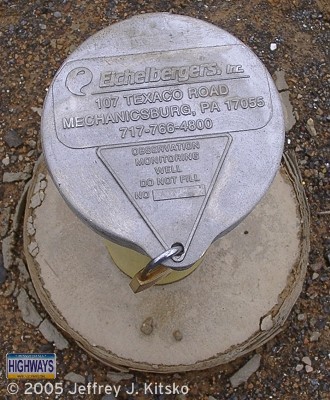 Well to monitor seepage into the groundwater.
Removal of the pyritic rock was placed in the hands, or trucks, of an Indiana County company. A $26 million contract to haul piles of approximately 650,000 cubic yards of the rock 75 miles away to a fly ash pit near Ebensburg was signed by Robindale Energy Services in January 2006. An additional $14 million would go to covering up the 400,000 cubic yards that will remain on Skytop Ridge. When started in the summer, the operation had 50 trucks making three round trips a day for 200 days or 30,000 truckloads. The fly ash in the mine helped neutralize the sulfuric acid. The other option PennDOT explored was building an "engineered rock placement area" to dump the pyritic rock on Skytop. A third option to use Bauxsol was dismissed in 2005. Even though it worked effectively, the state determined it would be too difficult to apply it to all of the affected areas.
Some of the rock had to stay on the ridge, either on a rock face or to act as support for the Interstate. To shield it from oxygen and water, the areas was covered with three layers of impermeable plastic as well as lime-kiln dust and synthetic webbing.
In April 2006, Transportation Secretary Allen Biehler announced the total cost of clean up would be $50.5 million. By 2008, the cost rose to $79 million because of two factors. Two years earlier oil was trading at $70/barrel and officials were expecting to only have to truck 667,000 cubic yards, rather than 1 million cubic yards, of rock to the disposal site.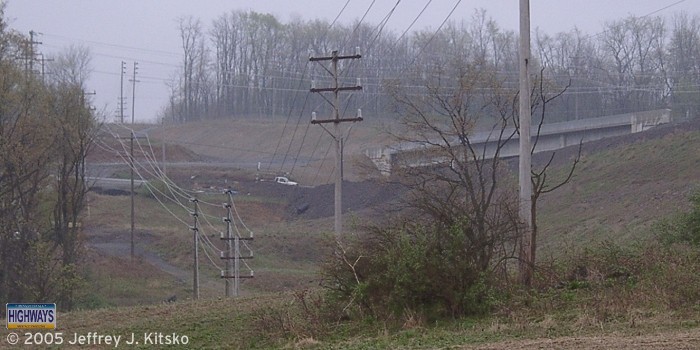 View from PA 550 looking towards the former and current US 220 alignments.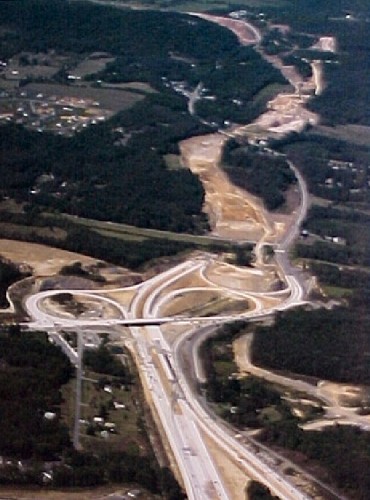 Looking southbound towards Bald Eagle Mountain at
the Gray's Wood interchange in Summer 2002.
(PennDOT)

Facing southbound on Bald Eagle Mountain in September 2002. The
highway running through the picture was the former alignment for
US 220. (PennDOT)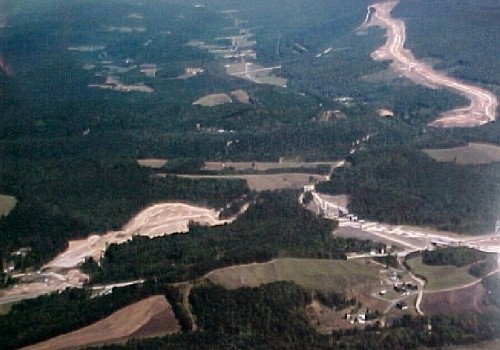 Facing northeast from Port Matilda towards State College in September
2002. (PennDOT)
After seven years of construction, and delays involving pyritic rock, a portion of the Bald Eagle-to-State College segment opened on December 17, 2007. The northbound lanes from PA 350 to Skytop Mountain and southbound lanes from Port Matilda to PA 350 were supposed to open thirteen days earlier, but the opening was postponed to give crews more time to prepare. The opening was then moved to December 13 before it was cancelled due to winter weather.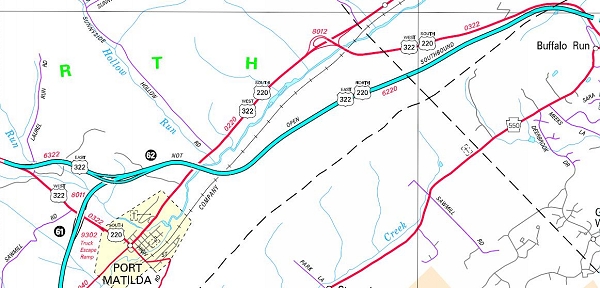 While clean-up of acid rock kept the southbound side of the expressway closed, US
220 had its northbound and southbound directions split.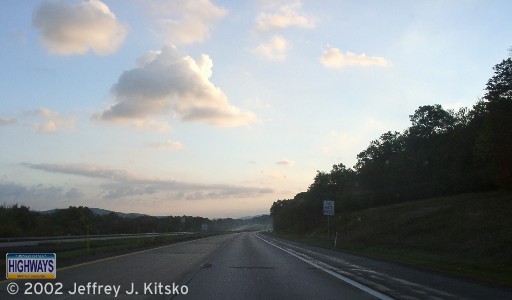 Before construction began, traffic was narrowed to one lane and forced to
exit at PA 350.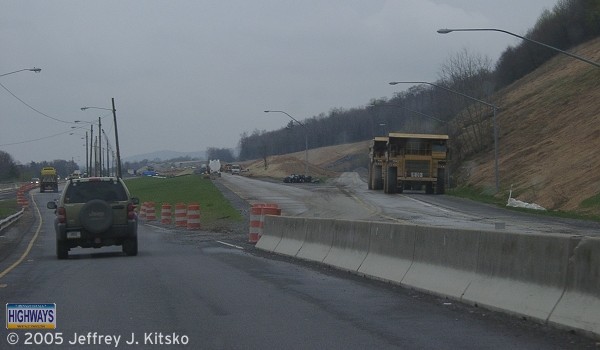 During construction, traffic must detour onto a temporary roadway. In the middle is the
former stub end and where the large dump trucks are parked is the old exit ramp.
Even though the cleanup of the acid rock continued, PennDOT decided to open as many completed sections to move as much traffic off the antiquated US 322 as possible. Eastbound traffic used a temporary ramp on Skytop Mountain to rejoin the former alignment while the westbound traffic continued to use the former route. Federal, state, and local officials gathered on November 24, 2008 to mark the completion of the expressway and pay tribute to former US Representative Bud Shuster who spearheaded the effort for high-speed route through central Pennsylvania. "This project became a reality through the tireless work and dedication of Congressman Bud Shuster," Secretary of Transportation Allen Biehler said. "Bud was instrumental not only for making this roadway a reality in the region, but for delivering the entire corridor." Shuster himself spoke at the opening by saying I-99 "really was the premier dream...seeing an Interstate going north to south through our region." The acid rock clean up, which added $82 million to the cost, was alluded to a few times but not mentioned outright. The highway opened at 3 PM which was just in time for its first winter weather test that evening as most of it is higher than the original route and therefore its bridges freeze faster.
Bald Eagle to Port Matilda

- PennDOT
Port Matilda to State College

- PennDOT
The Department of Transportation began an access study in the Summer 2013 on the portion of the route form the West Fourth Street interchange in Jersey Shore to PA 287. "We have had ongoing safety concerns and congestion concerns regarding that corridor for quite some time. We are hoping to find out, from an engineering standpoint, what we an do to make this heavily-traveled corridor more forgiving for drivers," said Rick Mason of PennDOT. Engineers will collect data from various sources, and rather than looking to widen the road, will seek ways to manage access points
An interchange project at Auction Road in Clinton County, the only remaining intersection on the route in the county, began on June 3, 2013. The first phase consisted of construction of on and off-ramps on the eastern side of the route finished in April 2014 at a cost of $2.9 million. The second phase will consist of building the remaining two ramps on the western side of the route which began on October 22, 2014 and finish in Spring 2015 at a cost of $12.4 million.
Links:
Exit Guide
US 220 Auxiliary Routes
US 220 Pictures
I-99/US 220 Construction Progress Map
Interstate 99
Interstate 99 - Andy Field/Alex Nitzman
Interstate 99 - David Steinberg
Interstate 99 Pictures - Andy Field/Alex Nitzman
Kurumi's Trippy Drive '71 - Scott Oglesby
Terminus of US 220 - Dale Sanderson
US 220 Pictures - Doug Kerr
US 220 Pictures - Steve Alpert
US 220 Photos - Valerie Deane
UNDER CONSTRUCTION

INTERCHANGE WITH I-80
Currently this is a modified diamond interchange. The new interchange will be a new expressway to expressway, high-speed, semi-directional Y at the location of the current Exit 161. An additional exit for local highways will be constructed east of the interchange. For a detailed plan of the interchange, see https://www.pahighways.com/interstates/I80-I99interchange.pdf.

On March 6, 2006, PennDOT announced changes to the interchange to avoid a similar fate to the Skytop Mountain section. The revised plan moves the interchange closer to Nittany Creek, reduces the amount of material to be moved by 400,000 cubic yards, and retaining walls instead of hillside excavation. The discovery of pyrite is not new as PennDOT had known about it for two years and as more surveying and core borings took place, the necessity of reducing the impact of the interchange on the seam became more apparent. The changes will not result in any cost savings, but compared to paying for remediation of the acid rock drainage, it will end up cheaper than the alternative. Bidding on the $80 million high-speed interchange was to have begun in December 2008, with the local interchanges at Jacksonville Road and I-80 at Shay Lane scheduled to be bid at the end of 2006.

Talk about the interchange began again in 2009 when at a meeting of the Centre County Metropolitan Planning Organization on June 10, Chairman Kent Baker urged building the two interchanges even with opposition from Howard, Marion Township, and local residents. The roadblock in the way for the CCMPO was resolving controversy over the local interchange with Jacksonville Road which would help in securing $150 million to start construction. Marion officials said they do not oppose the high-speed interchange but fear the local interchange would attract too many cars and trucks to a sub-standard roadway. They came to the meeting with a document signed by 182 residents against the local interchange and only six in favor. The volunteer fire department in Howard sided with Marion officials but officials from Spring Township and Bellefonte have written the MPO and PennDOT is support of the dual interchange plan. An idea to combine the two interchanges was dismissed due to the confines within the Nittany Creek gap through Bald Eagle Mountain. Marion Township officials offered a compromise if the local-access interchange could not be eliminated in PennDOT improving Jacksonville Road and Hubler Ridge Road from the I-80/I-99 interchange to PA 150 north of Howard. PennDOT has only committed to a three-mile improvement of Jacksonville Road between the interchanges, far short of the ten proposed wanted by Marion Township. Benner Township engineer Doug Weikel insisted that his motion in support of the local interchange not include the improvements so as not to cause problems with procurement of funding.

On June 23, 2009, the Centre County Metropolitan Planning Organization voted to move forward with plans for the I-80/I-99 interchange and the local interchange nearby. Officials want to tap into $1.5 billion in American Recovery and Reinvestment Act monies to help with the projects that total $162 million. PennDOT has finished design work for the $43 million local interchange and is completing design of the $119 million high-speed interchange. Plans are to acquire $50 million to $60 million from the Appalachian Regional Commission with stimulus money covering the rest of the costs. President of the Howard Volunteer Fire Company Thomas Bowes objected to the Interstate 80 interchange with PA 26 saying that traffic from the interchange in addition to the potential re-opening of the Jacksonville stone quarry would jeopardize response time but create the potential for severe or fatal accidents on Jacksonville Road. Bellefonte opposes abandoning the local interchange because truck traffic would end up on the borough's older streets not designed for truck traffic. The Federal Highway Administration warned the CCMPO that if the interchanges are scrapped, the Commonwealth will have to repay approximately $27 million in federal money spent on design.

Local transportation planners originally designated the high-speed I-80/I-99 interchange as the number one transportation priority on the draft of Centre County's Long Range Transportation Plan at a meeting on March 23, 2010 of the Centre County Metropolitan Planning Organization. Then, much to the delight of local residents and Marion Township officials, the CCMPO reversed their decision and removed the project due to fiscal constraints. With the interchange put on hold, the organization changed its focus towards reconfiguring the ramps and replacing the overpass at the Waddle Road interchange.

The interchange gained traction in March 2019 when PennDOT unveiled plans to construct the local access interchange two miles east of the current PA 26 interchange on Interstate 80. The $34 million project is expected to be put up for bids on April 23, 2020 with completion scheduled in December 2021. The next bids would go out in March 2022 for improvements to Jacksonville Road, bridge improvements to the eastbound and westbound structures over Hubler Ridge Road and Sand Ridge Road on Interstate 80, and construction of the high-speed interchange between it and Interstate 99. The Jacksonville Road improvements are planned to be completed by July 2023, the bridge improvements by December 2023, and the high-speed interchange by December 2025. "It opens up the extension of I-99, but the feds are still looking," said PennDOT Assistant District Executive of Design Thomas Zurat. "Probably the biggest concern for 99 right now is the section going up to Williamsport. Once you get up into Lock Haven and up into Jersey Shore, it narrows down with a lot of houses and businesses for just a short section and then it opens back up to four lanes. That is kind of the restriction right now. It wouldn't take us much to connect 80 to the Lock Haven bypass; that lower part is farm fields and you could do that. It's the piece north of that that would be a little more difficult."

The three-phased project to finally tie Interstate 99 and Interstate 80 together began July 17, 2020. Funding through a federal Infrastructure for Rebuilding America grant amounting to $35 million was announced in July 2018. While the actual construction began on July 27, crews placed work zone and traffic control signs between Exit 161 and Jacksonville Road ten days earlier. Preliminary work will include erosion and sedimentation control in addition to building emergency pull-offs which will cost approximately $52 million. Phase Two will be construction of the local interchange with PA 26 that will be located two miles to the east of the current interchange at Exit 161 on Interstate 80 and will cost $4.4 million. Phase Three will be construction of the actual high-speed interchange between the two Interstates, and will cost approximately $135 million. Project website: https://www.penndot.gov/SR26Localinterchange.
PROPOSED

NORTH OF I-80
According to Eric High, project engineer for PennDOT District 3, it has not been decided to extend the I-99 designation to I-86 in New York state via US 220 and US 15 as of yet. There are two gaps in the expressway between I-80 and Williamsport: I-80 to Salona and Jersey Shore to Williamsport. Environmental studies and preliminary engineering began by summer 2000 for the Jersey Shore to Williamsport section. The I-80 to Salona section is not as far in the construction process. PennDOT is studying traffic patterns to determine where to connect the expressway to I-80. However, with the release in 2004 of the revised 12-Year Transportation Program, both segments are up in the air due to being deferred. However, I-99 milemarkers and exit numbers have appeared on the expressway from PA 477 to the Lycoming County line.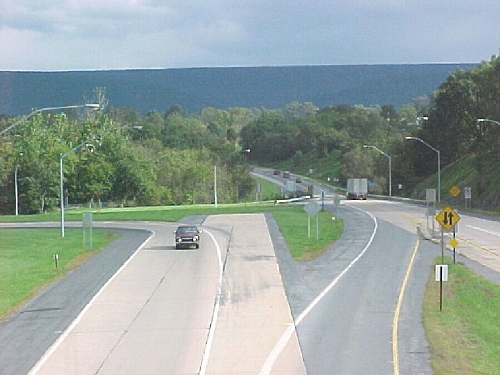 End of the expressway at PA 477 with a stub indicating a future extension
to I-80, which is only three miles away. (PennDOT)
---

INFORMATION
Southern
Entrance:
Maryland state line 11 miles south of Centerville
Northern
Terminus:
New York state line in South Waverly
Length:
248 miles
National
Highway
System:
Maryland state line to Pennsdale
US 6 to I-86/NY 17
Names:
Appalachian Thruway, Bud Shuster Highway, Bald Eagle Valley Road, Plank Road, 28th Division Highway, Mount Nittany Expressway, Z. H. Confair Memorial Highway, Keystone Shortway, Frank D. O'Reilly Jr. Highway, Marine Corps League Memorial Highway, Main Street, Cliff Avenue, German Street, Front Street, and Bridge Street
SR
Designations:
0220
0099: Exit 1 to Musser Lane
0080: Exit 158 to Exit 178
0180: US 15 to Pennsdale
Counties:
Bedford, Blair, Centre, Clinton, Lycoming, Sullivan, and Bradford
Expressway:
Business US 220 to Musser Lane
Exit 158 to Exit 178 on I-80
Fairground Road/Auction Road to PA 287
West Fourth Street in Williamsport to Exit 15 of I-180
Main Street to US 6
PA 199 to I-86/NY 17
Multiplexed
Routes:
I-99: Exit 1 to Musser Lane
US 322: Port Matilda to State College
PA 26: Exit 81 to I-80
I-80: Exit 158 to Exit 178
PA 44: PA 44 North to Jersey Shore
US 15: Exit 29 to Exit 27B
I-180: Exit 29 to Exit 15
PA 42: Beech Glen to Muncy Valley
Truck PA 42: Muncy Valley to Laporte
PA 87: Dushore
Former
Designations:
PA 64 (1927 - 1928): Maryland state line to Bedford Springs
PA 44 (1927 - 1928): Graysville to Williamsport
PA 85 (1927 - 1928): I-180 to Hughesville
PA 42 (1927 - 1928): Hughesville to PA 199
PA 642 (1928 - 1941): I-180 to Hughesville
PA 120 (1970 - 1978): I-80 to PA 447
PA 120 (1977 - 1978): PA 447 to PA 120

BicyclePA Route:
PA 414 to Main Street

Traffic Cameras:
Cross Keys
Plank Road
Logan Boulevard
Frankstown Road
17th Street
PA 350
Grays Woods
US 322
Park Avenue
Weaver Hill Road
---
Back to Pennsylvania Highways
Back to Pennsylvania US Highways
Page updated September 30, 2022.
Content and graphics, unless otherwise noted, copyright © Jeffrey J. Kitsko. All rights reserved.
Information sign courtesy of Richard C. Moeur.
Information courtesy of the Pennsylvania Department of Transportation, Rand McNally, WNEP-TV Scranton, Centre Daily Times, WPXI-TV Pittsburgh, and Williamsport Sun-Gazette.