---
While this route was created in 1926 along with the others, it was only signed from Lewistown to Selinsgrove. A year later it would be signed from Maryland to Lewistown and replace another US designation, US 622, from McConnellsburg to Mount Union. In 1929, the highway was under construction from Needmore to Webster Mills and completed the following year. Also in 1930, the route was paved from Warfordsburg to Needmore.
In 1947, the highway was widened from the US 22 West intersection north of Mount Union to the current US 22 West intersection. In 1949, the designation was changed in Selinsgrove. Originally the route followed University Avenue and Pine Street to end at US 11/US 15.
In 1953, the route was widened between the US 22 South/US 322 East and US 22 North/US 322 West intersections in Lewistown. In 1955, the route was widened from PA 103 to US 22 South/US 322 East. In 1958, the route was widened from the Granville Township line to PA 103 while construction began on the Lewistown bypass from US 22/US 322 to Walnut Street which opened a year later. Also in 1959, the route was widened from the PA 104 North intersection in Middleburg to the Borough of Middleburg/Franklin Township line.
In 1960, construction began on a section of I-70 near Warfordsburg from the Maryland state line to Exit 168. This would eventually become a part of the new route for US 522 from Maryland into Pennsylvania. In 1961, this opened to traffic and the designation moved off Buck Valley Road onto the new Interstate.
In 1974, the designation was moved from Market Street, Valley Street, and Walnut Street and placed on Juniata Street and Charles Street to the multiplex with US 322 in Lewistown. In 1977, the northern terminus was extended one mile north to intersect US 11/US 15 at the new Selinsgrove Bypass. A year later the designation was routed to bypass Beaver Springs, where it was previously signed on Gross Road and Centre Avenue.
In 1999, a new alignment opened to the east of Mount Union from Allenport to US 22. The designation was removed from Shirley Street and North Jefferson Street in Mount Union.
A groundbreaking ceremony on March 31, 2000 signaled the beginning of construction on the Northern Lewistown Bypass, with the first section involving widening and repaving four miles of US 22/US 522 from Wakefield Road to Airport Hill Road which began in April 2000 and finished in 2003. The next section involved building the expressway from south of Country Lane to the high-speed interchange at US 322 as well as rehabilitating three miles of it in the interchange area and constructing a new Electric Avenue interchange, all of which began in January 2001. The section from Airport Hill Road to just south of Country Lane began in January 2002.
A "Roll & Stroll" community day was held on October 15, 2005 which allowed local residents to walk or bike down the new expressway from 12 PM to 4 PM. A dedication was held between Caldwell Hill Road US 322 which unveiled the official name of the bypass as the Vietnam Veterans Memorial Highway.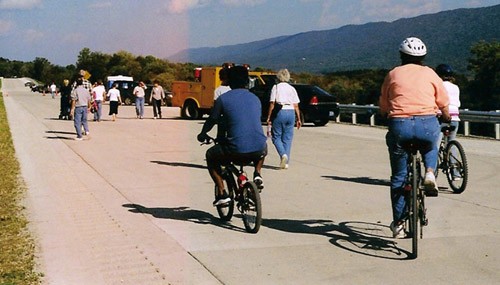 "Roll & Stroll" attendees walking and biking down the unopened
expressway. (PennDOT)
The 12 new miles of expressway and ramps cost more than $130 million and opened on November 21, 2005. A ceremony attended by local officials and the media took place between Caldwell Hill Road and the Electric Avenue interchange.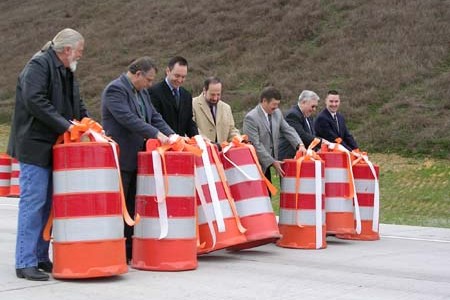 Instead of a ribbon-cutting, a barrel-rolling signifies the opening of
the expressway. L to R: Ralph Mashuda, Mashuda Corporation
president; William Gomes, AICP, Planning Director, Mifflin County;
Senator Jake Corman; Mike Glazer representing Congressman
John Peterson; Kevin Kline, P.E., District Executive of District 2-0;
Representative Larry Sather; and Representative Adam Harris.
The last piece to open was the entire Industrial Park interchange which toke place in 2006.
Links:
US 622
Terminus of US 522 - Dale Sanderson
US 522 Pictures - Doug Kerr
US 522 Pictures - Steve Alpert
US 522 Photos - Valerie Deane
---

INFORMATION
Southern
Entrance:
Maryland state line three miles south of Warfordsburg
Northern
Terminus:
US 11/US 15 in Selinsgrove
Length:
127 miles
National
Highway
System:
Maryland state line to Exit 168
Fort Littleton to US 11/US 15
Names:
Dwight D. Eisenhower Highway, Great Cove Road, Second Street, Ridgley Street, Shirley Street, Croghan Pike, William Penn Highway, Vietnam Veterans Memorial Highway, Walnut Street, Glenwood Road, Alfarata Road, Wagner Road, Market Street, Main Street, and Susquehanna Trail
SR
Designations:
0522
0070: Maryland state line to Exit 168 in Warfordsburg
0022: Mount Union to US 322 East
Counties:
Fulton, Huntingdon, Mifflin, and Snyder
Expressway:
Maryland state line to Exit 168 of I-70
Lewistown to US 322 East
Multiplexed
Routes:
I-70: Maryland state line to Exit 168 in Warfordsburg
PA 655: Needmore to one mile north of the village
US 22: Mount Union to US 322 East
US 322: Lewistown to US 322 West
PA 235: Beaver Springs
PA 104: Middleburg
Former
Designations:
PA 4 (1925 - 1928): Selinsgrove to US 11/US 15
PA 19 (1926 - 1928): Mount Union to Selinsgrove
PA 46 (1927 - 1928): Warfordsburg to Needmore
PA 44 (1927 - 1928): Needmore to Mount Union
PA 45 (1927 - 1928): Mount Union to Lewistown
US 111 (1928 - 1936): Selinsgrove to US 11/US 15
US 11 (1928 - 1977): Selinsgrove to US 11/US 15
US 15 (1936 - 1977): Selinsgrove to US 11/US 15

BicyclePA Route:
Market Street to US 11/US 15

BicyclePA Route:
Forbes Road to Burnt Cabins
---
Back to Pennsylvania Highways
Back to Pennsylvania United States Highways
Page updated September 30, 2022.
Content and graphics, unless otherwise noted, copyright © Jeffrey J. Kitsko. All rights reserved.
Information sign courtesy of Richard C. Moeur.
Path of Progress shields courtesy of Bruce Cridlebaugh.
Information courtesy of the Pennsylvania Department of Transportation, Rand McNally, H. M. Gousha, and Tim Reichard.