One of the originally planned routes to traverse Pennsylvania, US 622 was a designation which did not last long. The Pennsylvania Department of Highways was upset with the American Association of State Highway Officials' choice of alignments for the then new United States Numbered Highway System. While AASHO chose alignments that were most congruent to north-south and east-west travel, the Department of Highways wanted single US routes to replace each of the cross-state PA routes that had been posted just a year earlier which they themselves had replaced named trails such as the Lincoln Highway. In the case of the latter, US 30 and US 1 were picked to replace PA 1 which was the numerical designation for the famed highway. Even more confusing was US 111, US 11, and US 120 were set to replace PA 4 along the Susquehanna Trail.
Aside from the main US 22, there were to be six branches approved for Pennsylvania: US 122, 222, 322, 422, 522, and 622.
Pennsylvania did not send representatives to the Joint Board on Interstate Highways North Atlantic States meeting nor gave a reason, but threatened to not endorse the plan. AASHO added several routes to the system prior to November 11, 1926 when the US routes became official at the request of William H. Connell, Pennsylvania's Engineering Executive and Deputy Secretary of Highways but even still, it was not enough to appease the Commonwealth. By early in 1927, issues of state line connections had been resolved so something else was stopping the Commonwealth from agreeing to posting US route markers.
More changes to routes continued to take place throughout 1927 involving the alignments of US 19, US 120, and US 422 inside the state. By the time things were ironed out and route markers were actually posted in the Commonwealth, US 622 was replaced with an extended US 522 whose originally proposed alignment would have only stretched between Lewistown and Selinsgrove.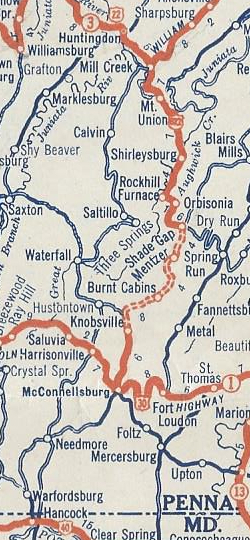 The route of US 622 as it would have been designated in 1927. (H. M. Gousha)
INFORMATION
Southern Entrance:
Maryland state line two miles south of Warfordsburg
Northern Terminus:
US 22 at Big Valley Pike in Mill Creek
Length:
70.46 miles
Names:
Buck Valley Road, Great Cove Road, South 2nd Street, North Second Street, Croghan Pike, Ridgley Street, East Shirley Street, West Shirley Street, North Jefferson Street, and William Penn Highway
LR Designations:
38: Maryland state line to Lincoln Way in McConnellsburg
192: Lincoln Way to Waterfall Road in Dublin Township, Fulton County
193: Waterfall Road to Town Hill Street in Shade Gap
121 Spur: Town Hill Street to Nellytown Road in Shade Gap
121: Nellytown Road to US 22 in Mount Union
33: Mount Union to Big Valley Pike in Mill Creek
Counties:
Fulton and Huntingdon
Multiplexed Routes:
None
Expressway:
None
Former Designations:
None
Decommissioned:
N/A: never posted
Replaced By:
US 522: Maryland state line to Mount Union
US 22: Mount Union to Mill Creek
Links:
US 22
US 522
U.S. 22 - The William Penn Highway - Federal Highway Administration
The Almost US Routes of 1926 - Dale Sanderson