The only US route in Pennsylvania to have been signed on two different alignments at two different times in the same county, US 6N started as a "consolation prize" for Erie. From 1928 when the Commonwealth first started posting US route markers until 1931, the western terminus of US 6 was located at US 20 in the city. It was in 1931 when US 6 was extended to Greeley, Colorado, which then became the location of its western terminus. Erie was then served from the mainline US 6 via a spur signed as US 6N. Its southern terminus was US 6 where the current US 19 and PA 97 roundabout is located in Waterford Township, just southeast of the borough of the same name, in Erie County. From that point it followed the current alignments of US 19 and PA 97 to the northern terminus of their multiplex, and then US 6N followed the current PA 97 and PA 8 alignments to its northern terminus at US 20 in Erie.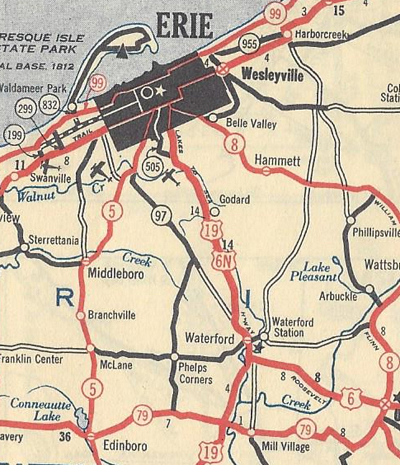 The original alignment of US 6N in Erie County from 1931 to 1935. (Pennsylvania Department of Highways)
By 1935, a study by the Department of Highways determined that a change in US 6N's route was needed to relieve traffic congestion in Erie. The current alignment was chosen in order to keep a connection to US 20, and help facilitate traffic wanting to continue into Ohio and on to Cleveland. In a May 6, 1935 letter to the American Association of State Highway Officials, Secretary of Highways Warren Van Dyke requested that approval of the change take place at their Executive Committee meeting in June so the Department of Highways could implement changes that same year.
The route has not changed that much in the years since it was realigned. In 1958, the route was widened from PA 18 in Albion to the borough's border with Elk Creek Township. That same year, construction on the interchange with Interstate 90 began which included upgrading US 6N to a four-lane, divided roadway from US 20 to just east of the Sanford Road/Church Road intersection that was completed in 1960. A few years later, in 1966, work would begin to do the same just west and east of the future Interstate 79 interchange in Washington Township, west of Edinboro, which was completed in 1968.
The highway is mostly through farmlands of the Great Lakes Plain, so it is like driving through a state such as Kansas which is a rarity in the Commonwealth. Just like Kansas, this area became the target of tornadoes in the worst outbreak to hit Pennsylvania on the evening of May 31, 1985. The Borough of Albion was especially hit hard with a twister that ranked an F4 on the Fujita Scale with winds swirling between 207 and 260 miles per hour (would now be ranked an EF5 on the Enhanced Fujita Scale introduced in 2007), just one step down from an F5 which is the most severe of all tornadoes. An eight to ten block area and two trailer parks were leveled with 17 killed in Albion, and combined with Cranesville which sits just to the northeast, there were 82 injuries and 309 buildings damaged or destroyed. Property damage in Albion totaled $13 million which accounted for one-third of the tax base.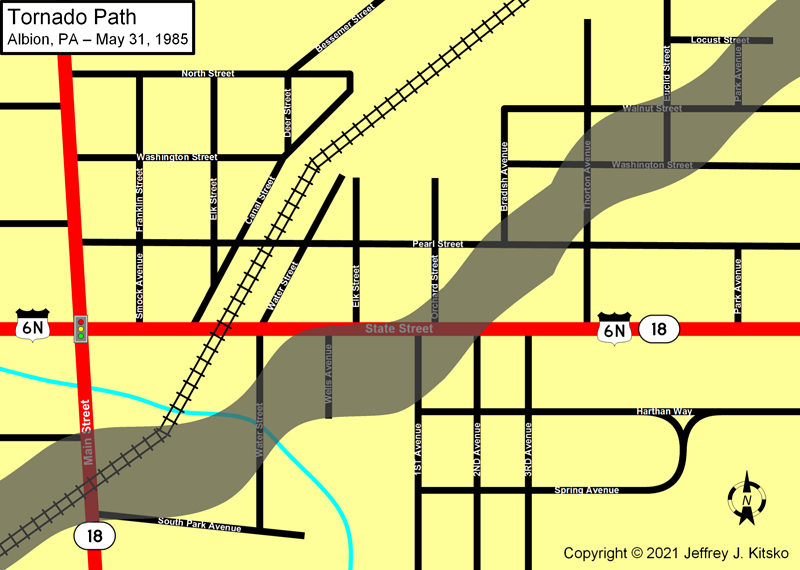 The damage path of the F4 tornado that hit Albion on May 31, 1985.
INFORMATION
Western Terminus:
US 20 one-half mile east of West Springfield
Eastern Terminus:
US 6/US 19 six miles east/north of Cambridge Springs
Length:
27.81 miles
National Highway System:
I-90 to US 6/US 19
Names:
SR 3006, West State Street, East State Street, SR 0018, Crossingville Road, West Plum Street, East Plum Street, and Waterford Street
SR Designations:
3006
0018: Main Street in Albion to Wellsville
Multiplexed Route:
PA 18: Main Street in Albion to Wellsville
County:
Erie
Expressway:
None
Former Designations:
PA 98 (1927 - 1928): US 20 to PA 18 in Albion
PA 79 (1928 - 1935)
Former LR Designations:
85: US 20 to PA 18 in Albion
295: PA 18 in Albion to PA 18 in Wellsville
709: PA 18 in Wellsville to US 6/US 19
Links:
May 31, 1985 Tornado Outbreak
Albion, PA - National Weather Service-State College
Albion, PA F4 Tornado May 31, 1985 - Highways & Hailstones
End of US Highway 6N - Dale Sanderson