Originally, this route was to have had a more lengthy presence in the Commonwealth. When the US highway system was first planned, US 120 was to have connected Erie and Philadelphia, much like US 322 somewhat does presently. The route would have had its western terminus in Erie and followed the current PA 97, US 6, PA 321, US 219, PA 120, PA 150 alignments to Central Avenue, Railroad Street, and Allegheny Street, then onto the current PA 44 and US 220 alignments to enter Williamsport. In Williamsport, the route would have followed West Fouth Street, Campbell Street, Park Avenue, Hepburn Street, Seventh Street, Market Street, Washington Street (now Washington Boulevard), and Third Street before entering Montoursville on Broad Street, then continuing on what are now Lycoming Mall Boulevard and SR 2014 to enter Muncy via Main Street. East of Muncy, the route would have followed the Susquehanna Trail and current PA 405 and PA 147 into Northumberland. From there it would have followed the current PA 147, PA 61, Business US 422, and US 422 alignments then follow Ben Franklin Highway, High Street through Pottstown and Sanatoga, Ridge Pike, Main Street through Trappe and Collegeville, Germantown Pike, and Germantown Avenue to its eastern terminus at US 309/Bethlehem Pike in the Chestnut Hill neighborhood of Philadelphia.
Once the dust had cleared from the fight between the Department of Highways and the American Association of State Highway Officials over the proposed alignments of the US routes and they were posted throughout the state in 1928, US 120 comprised less mileage than originally proposed and was separated into two segments much like US 422 is presently. The western section was only between US 219 in Ridgway and US 220 in Lock Haven, while the eastern section just ran between US 11 in Northumberland and US 22 and US 222 in Reading. It entered Reading on Centre Avenue and Fifth Street to end at Franklin Square where Penn Avenue and Fifth Street currently intersect.
Even in its first year of existence, it was still was not a complete roadway and that isn't a reference to its two separate sections. Most of the route between Sinnemahoning and Lock Haven was a mix of paved, unpaved, and under construction sections. In 1928, the route was unimproved from the Clinton County line to three miles west of Keating, under construction from two miles west of Keating to Shintown, unpaved from Shintown to a point one mile east, paved from that location to Hyner, and under construction between Hyner and Lock Haven. The eastern section also saw construction taking place from the peak of Little Mountain to Shamokin in Northumberland County. The following year saw the route under construction from one and one-half miles west of Sinnemahoning to PA 872 in Jericho, paved from the Cameron County line to two miles east, unimproved from there for two miles with the remainder to Keating paved including the section which was under construction the previous year, unimproved from Keating to Shintown, and unimproved from Hyner to Lock Haven. Construction was completed on the section from Little Mountain to Shamokin in 1929 while construction began from Mount Carbon to Schuylkill Haven.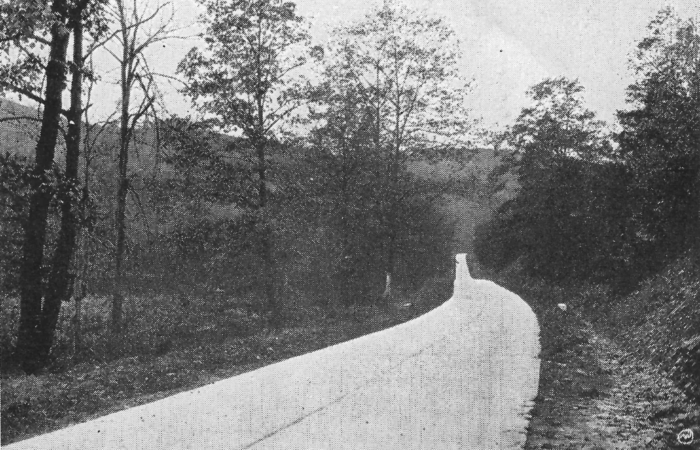 Part of the route between Saint Marys and Emporium as it looked in 1929. (Pennsylvania Department of Highways)
The first year of the 1930s saw construction starting on the unimproved sections in Clinton County: the two-mile-long section two miles east of the Cameron County line, two miles west of Keating to one mile east of Shintown, one mile east of Hyner to Lock Haven. The previously unimproved section of US 120 from Hyner to one mile east was paved in 1930. In Reading, the designation was moved one street to the west and placed on Fourth Street. All construction along both sections of US 120 was completed in 1931 which marked the first time in its history that it was entirely paved. Another route change took place in Reading in 1931, when US 120 was placed back on its previous alignment into the city on Centre Avenue. However, due to a change in the path of US 22 which passed through Reading at that time, its eastern terminus was truncated to the intersection of Centre Avenue and Fifth Street.
The change in the eastern terminus of the eastern section was made moot in 1935 when that entire section was decommissioned and replaced with US 122, which itself was replaced by the US 202 designation between Delaware and New Jersey.
The route of the eastern section of US 120 as it was in its final year of existence. (Pennsylvania Department of Highways)
Not much significant happened on the remaining section of US 120 for the rest of its history, except for the highway being widened between PA 46 and Sinnemahoning Portage Creek in Emporium and the part between the two railroad crossings in Renovo which took place in 1955.
On May 24, 1966, the Department of Highways applied to the American Association of State Highway Officials to decommission the route. They cited a policy that was established by AASHO effective January 1, 1959 which stated that any US route less than 300 miles in length and/or within one state should be eliminated as the reason. AASHO's US Route Numbering Subcommittee approved the elimination of US 120 at their meeting on July 4, 1966 with the Executive Committee approving it the following day. Work to remove the US 120 markers and replace them with PA 120 markers would conclude by the end of that year.
INFORMATION
Western Terminus:
US 219 in Ridgway
Eastern Terminus:
US 220 in Lock Haven
Length:
104.27 miles
Names:
Depot Street, Front Street, Saint Marys Road, Ridgway Road, State Street, South Saint Marys Street, Railroad Street (eastbound), North Saint Marys Street (westbound), General Edward Meyer Boulevard, South Saint Michaels Street, Brusselles Street, Bucktail Trail, Truman Road, West Fourth Street, East Fourth Street, East Allegany Avenue, Third Street, Main Street, Renovo Road, Huron Avenue, Susquehanna Avenue, West Water Street, East Water Street, and Jay Street
LR Designations:
99: US 219 to Broad Street in Emporium
105: Broad Street in Emporium to East Main Street in Lock Haven
58 Spur: East Main Street to East Church Street in Lock Haven
Counties:
Elk, Cameron, and Clinton
Multiplexed Routes:
PA 255: South Saint Marys Street to North Michael Street in Saint Marys
PA 144: Tamarack Road to Birch Street in Renovo
Expressway:
None
Former Designation:

PA 55 (1927 - 1928)
Decommissioned:
1966
Replaced By:
PA 120
Links:
PA 120
End of Historic US 120 - Dale Sanderson