Pennsylvania Turnpike
Dwight D. Eisenhower Highway
---
When the Interstate Highway System was first proposed, Interstate 70 had a different routing than it does currently. The then Department of Highways routed the Interstate north at Washington on what is now the current alignment of I-79. It was to travel through Pittsburgh on the Penn-Lincoln Parkway and meet with the Turnpike at Monroeville. What is now I-70 was designated I-70S, as the map in the I-70S section of the Pennsylvania's Decommissioned Interstates page illustrates.
Construction on the Turnpike section began in late 1938 with the opening on October 1, 1940. For the complete history of the Turnpike: Pennsylvania Turnpike
In 1953, construction began on a new alignment for PA 71 from Bentleyville to PA 481. The following year that section opened while construction began from PA 481 to Speers. In 1955, that section opened to traffic as construction began on a new alignment for PA 981 from Belle Vernon to PA 51. In 1956, that section opened while construction began on the new Monongahela River bridge to connect the new sections of expressway on either sides of the river. Construction also commenced on the section from Exit 46 to Exit 51 in that year. The bridge opened to traffic in 1957. In 1958, the section from Exit 46 to Exit 51 opened while construction began on the sections from PA 519 to Bentleyville and from Exit 51 to the Turnpike; and the following year the highway was opened in its entirety from PA 519 to the Turnpike. In 1959, construction began on the section from Exit 20 to Exit 25.
In 1960, that section opened from a temporary interchange at Zediker Station Road to PA 519. At the same time, construction began on the section from the Locust Avenue overpass to Zediker Station Road and from Exit 163 to Exit 168. In 1961, construction commenced on the section from Exit 6 to Exit 15 while the section from Warfordsburg to two miles past Amaranth opened to traffic. This was completed utilizing the existing US 522 right-of-way to the Maryland state line. In 1962, construction began from the end near Amaranth to one mile south of Crystal Spring. This new right-of-way paralleled PA 126, which I-70 replaced as the main road from Breezewood to Warfordsburg. Construction on the western part of the Interstate was extended from the West Virginia state line to Exit 6 and from Exit 15 to Exit 21. That year, the section from Exit 21 to PA 519 opened. The following year, the highway was finished from Exit 6 to Exit 25 and from Amaranth to Crystal Spring. In 1964, the highway opened in its entirety from Breezewood to the Mason-Dixon Line; however, it was originally planned to connect directly to the Pennsylvania Turnpike.
Two provisions of Section 113 of the Federal-Aid Highway Act of 1956 proved unlucky in regards to those plans. Section 113(b) stated that funds could be used for approaches to any tolled alignment as long as a toll-free highway option was available to drivers. Section 113(c) stated that funds could be used to build an interchange between a free Interstate and an toll Interstate, as long as the state highway agency, toll authority, and Bureau of Public Roads entered into an agreement to stop collecting tolls once the bonds were retired. The Turnpike Commission showed no desire to stop collecting tolls, and not only decided to balk at using the Federal-aid funds for the connection, but decided against using its own revenue for an interchange. During a Special Subcommittee on the Federal-Aid Highway Program hearing on May 10, 1966, Franklin V. Summers, PTC's Director of Operations said, "We are willing to share whatever we legally can, of course, in making such direct connections; and we are doing so on some of them. However, where new interchanges would not afford an increase, great increase in revenue, we do not feel that these matters should be thrust upon the turnpike commission." He pointed out that the PTC was concerned at facing possible declining revenues when Interstate 80 would be completed across the middle of the State. With the Turnpike Commission unwilling to use its own money for an interchange, the Department of Highways used the Federal-aid funds to extend I-70 north from the Turnpike to US 30 which followed the stipulation of Section 113(b). The situation will not be rectified any time soon since the owners of the numerous gas stations, restaurants, and motels that line US 30 said their businesses would be forced to close their doors with an Interstate-Turnpike direct connection. Michael Dawida, a Pittsburgh area state senator, who had been involved in an accident at the intersection, announced his intention on July 26, 1989 to introduce a bill to be put forward in the state senate that would close the gap. He said at a new conference, "Anyone who has sat in that traffic, waiting five minutes to travel one mile, knows just how frustrating it can be — and how dangerous." PennDOT told Dawida that a direct connection is feasible, and the Turnpike Commission already owns land where it would be constructed. "It's one of those inexplicable things in government where no one has gone and done the logical thing," Dawida said. The reason, as the state senator explained, lies in the political pressure exerted by Breezewood merchants as is in located in the district formerly represented by US Representative Bud Shuster the chair of the House Transportation Committee. State Senate Pro Tempore Robert Jubelier, who represented Breezewood, did not like the idea and felt Dawida should have consulted him before announcing the bill. "Why doesn't he complain about the traffic in the Squirrel Hill Tunnel? My constituents are always complaining about the tie-ups there when they try to get into Pittsburgh," Jubelier said. Senator Dawida eventually dropped his push for a direct interchange. As a "consolation prize," PennDOT changed traffic patterns, upgraded US 30, and improved the traffic signals in a $4.5 million modernization project.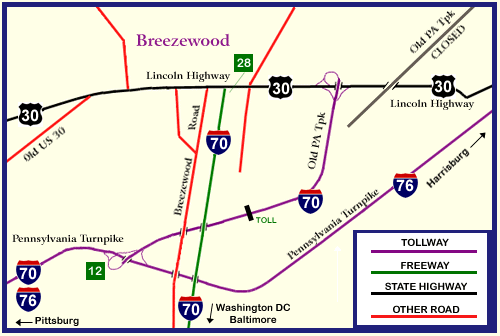 The debacle that is Breezewood. (C. C. Slater)
The only section left to open was to connect Pennsylvania's I-70 to West Virginia's section of I-70. Construction began in 1966 and opened in 1968, signaling the completion of Interstate 70 through Pennsylvania.
The bridge over the Monongahela River has always been a point of congestion with interchanges right on either side. In 1977, the first corrective steps to eliminate the dangerous conditions was taken in the form of lowering the speed limit in the area to 45 MPH and erect overhead signs to designate the left lanes as through lanes and the right lanes as local lanes. PennDOT was not done there, as they planned to rebuild or replace the bridge to eliminate the bottlenecks.
With wear and tear on the highway in Washington and Westmoreland counties was taking its toll by 1978, it was announced that a resurfacing project would take place on ten miles of the Interstate. On March 1, 1978, State Representative James Manderino of Monessen, the House majority leader announced that the $4.5 million resurfacing would take place in the summer in Westmoreland County and lesser amount would be done in Washington County. He was aware of the condition the expressway had fallen into because he traveled Interstate 70 from his district office to Harrisburg. "I've lost hubcaps myself on the potholes on that road," Manderino said. The Interstate that had seen two slowdowns a week earlier by truckers protesting the potholes would receive a new three-inch layer of asphalt at a cost of $1.5 million between the Youghiogheny River and PA 31. A six-mile section between Belle Vernon and the Youghiogheny would also be resurfaced and a Jersey barrier installed to replace the box-girder guard rail. The partial resurfacing would take place between Belle Vernon and the Bentleyville interchange. PennDOT had planned to build a new alignment for I-70 in the area for nearly a decade, but shelved the idea due to various reasons and the rocky financial situation facing the department.
The resurfacing started, but by September, hairline cracks began to develop on the section poured between the Youghiogheny and Monongahela Rivers, although pavement for the westbound side had not be laid yet. PennDOT District 12 also sent a letter to the Trumbull Corporation, contractors for the project, directing the firm to replace about 150 tons of asphalt laid earlier in the month on the I-70 ramps at PA 51. Since it was laid, the asphalt design had been changed by the PennDOT Bureau of Materials, Testing, and Research. Because of the late date in the construction season, these problems jeopardized the completion before winter. This raised suspicion from state Representative Charles Laughlin of Beaver, a member of a special House subcommittee on potholes. Skeptical that the $8.2 million of taxpayer money will last as long as ten years claimed by PennDOT, he said the incident "hurts the credibility of the entire job." PennDOT had been watching closely since Laughlin visited the site on September 8 and warned: "This project will be watched like you wouldn't believe...we're (legislators) not going to be embarrassed by another waste of PennDOT money." Terry Conner, an assistant engineer in District 12, said certain sections of Trumbull's work must be completed in the current construction season or motorists would face another bumpy winter on the interstate. The brightest part of this story was that Eagle Paving Company of Uniontown, doing $2.2 million worth of resurfacing on the highway in Washington County would be half-finished by early October. Eidemiller Construction Company of Greensburg, doing $1.3 million of resurfacing on a 3.8 mile section between PA 31 and the Youghiogheny River, would finish around the same time.
Surface problems still lingered on the Interstate, but in May 1989 they came from the Smithton High Level Bridge. On May 18, 1989, PennDOT ordered the closure of the bridge and nine-mile section from the bridge to New Stanton, after cracks were found in the main support beams during a routine inspection. The cracks were caused by faulty construction methods when temporary welds were used to hold metal plates onto the beams to which they were being attached. The tacks should have been removed, since they do not let the bridge contract and expand with the seasons and instead crack. The shutdown forced drivers to take a detour of nearly 50 miles via US 119 and PA 51. State Police Trooper Christopher Walsh, who spent several hours overtime rerouting traffic onto US 119 and through Uniontown, said, "I think this is the worst days I've ever spent on this job." Fire companies from Yukon, Smithton, Hutchinson, and Turkeytown joined to help direct traffic. Ambulance services were asked to place vehicles in strategic locations along the detour in case of emergencies. Truckers, such as Darrell Seaman, from Peoria, Illinois, felt the inconvenience the most since their rigs could not use local shortcuts. He said of the detour, "I'm stuck here overnight. That road closing stopped me from getting my load on time. Now I have to pick it up a day later and I won't be home for the weekend." Also feeling the pinch from the closing were the truck stops on the Interstate. "It's dead here without those truckers," said Constance Lankey, an employee at the New Stanton West Auto/Truck Plaza. She added, "This place is nothing. They can't keep it closed too long because it is a main bridge, but two weeks would be lovely for a vacation."
The news did not get any better when on May 19, PennDOT engineers discovered more cracks. The threat now was that some of the cracks discovered earlier might have stretched into the main steel members of the truss. Since every joint of hundreds must be check, the bridge would remain closed. At least those driving cars could forego having to go through Uniontown to continue on I-70, as PennDOT shortened the detour to between PA 51 and the Smithton exits. After five days of being closed, the Smithton High Level Bridge reopened just after 4 PM on May 23, after PennDOT engineers worked overtime for nearly five days inspecting welds and doing minor repairs.
The 1990s proved to be a dangerous time to drive I-70. In January 1993, state police were looking for an individual who had strewn huge sections of metal and other debris on the Interstate in southern Westmoreland County during the night. The debris included pieces of steel and steel gears, and also rocks and boards. In one instance, a heavy piece of metal welded to a chain and suspended from the Smithton Pike overpass. "The metal section was dangling five feet from the roadway and a tractor-trailer slammed into it," said Sergeant Klaus Behrens, commander of the Belle Vernon barracks. "The driver wasn't hurt, but his truck was pretty well damaged. He was lucky. He could have been killed." Police didn't know if the person left after depositing the debris on the highway, or sat and waited to watch the havoc. Behrens added, "We're seeing damage to undercarriages, exhaust systems, oil pans have been ripped out and tires have been punctured. I'm sure there's a lot more damage that we don't know about because people aren't reporting it." Then over the span of 1999, rocks had been thrown off of overpasses near the PA 31 interchange. The last incident happened on October 10, 1999 when a couple was traveling under the Exit 42 overpass and their car was hit with what looks like a piece of metal. No one was ever arrested for either incident.
Rehabilitation was the name of the game during the 1990s. In March 1995, PennDOT began rebuilding the western I-70/I-79 interchange. Crews rebuilt four bridges, ramps, and a mile-long section of the Interstate. The newly rebuilt pretzel-like interchange reopened in December 1995. Originally the plan called for work to stop during the winter and resume in the spring, with completion in August 1996. However, thanks to merchant complaints, legislative intervention, and a $200,000 incentive to A&L Construction of Belle Vernon to finish any work that required traffic restrictions within the year, the project would conclude earlier than anticipated. After winter, they returned in Spring 1996 to complete adding extra lighting, guide rail installation, and perform bridge painting.
In Spring 1999, reconstruction started on a section between Exit 42 and Exit 42A. Although covering only slightly more than a half-mile, the project will $10 million. The reason for the high price is that two short bridges were rebuilt from the foundation up and the four-foot median was widened to ten feet. The project finished in December 1999. I-70 was so bad in this area, that a year earlier while touring Interstates in the Pittsburgh region, PennDOT Secretary Bradley L. Mallory ordered it resurfaced despite the fact it would be ripped out 18 months later.
Again in 2000, Interstate 70 seemed to be a highway to avoid as with the debris problems in the 1990s. On January 8, 2000 a driver was shot while traveling in the eastbound lanes near the Beau Street Exit by another driver. A Chevrolet Blazer was seen tailgating the vehicle outside of Washington and when the car tried to get away, the driver of the Blazer pulled up alongside and fired three shots into the car hitting the passenger. The man in the passenger seat died later that night.
PennDOT was also monitoring a section of I-70 in Washington County for mine subsidence in 2000. If you know anything about Southwestern Pennsylvania, you'll know that for years it was a major coal producing region and now is a major problem in this area. This problem, however, stems from the Consol Energy's Mine 84 decision to remove coal from underneath the Interstate which caused a 1.5-mile segment of the highway to drop six inches on May 17, 2000. The Pennsylvania State Police, Department of Environmental Protection, and Transportation monitored this section around the clock and made repairs as needed. An overpass had to be temporarily supported, the speed limit in the area was reduced, provisions for lane closures and detours made, visual monitoring patrols, and real-time monitoring of ground movement with a call back alarm capability. An array of thirty-two tiltmeters were installed along the shoulder of the Interstate. If there was significant movement, PennDOT would alert the other agencies to see if lane closures were necessary. Longitudinal cracks developed between the lanes which necessitated temporary lane closures so that the cracks could be filled and the bumps milled down. The cost for the precautionary measures and repairs totaled $2,153,370.
The problem could have been easily avoided if the state would have purchased the mineral rights under Interstate 70 and Interstate 79 back in 1962 when the Interstates were still on the drawing board. "The state Mining Commission had the option, but after considering all the factors, decided not to buy any of the support coal. It basically determined it would wait and deal with the consequences," said Sandra Hamm, a spokeswoman for Consol Energy, owner of Eighty Four Mining. It was determined that it would cost $1,081,749 in 1962, and $40,449,024 in 1999, to purchase the coal. The state did buy the mineral rights under the interchanges of Interstate 70 and Interstate 79 and below the supports for bridges over rivers. Two years later, a study performed by GeoTDR of Westerville, Ohio, concluded that the mining activity did not pose a danger to motorists and validated the state's decision not to purchase the mineral rights under the Interstate. "The study found that the safety of motorists was not compromised by the mining, and from a financial standpoint, the Commonwealth made the proper decision not to purchase the coal under the highway," said David E. Hess, secretary for the state Department of Environmental Protection, which spent $24,000 for the study. A analysis contained in the study compared costs of highway repairs versus buying the coal. The state would have had to spend more than $40 million to buy the more than 5.6 million tons of coal to prevent subsidence damage. The DEP said $924,000 had been spent for precautionary measures in addition to $1.2 million to repair roadway damage from subsidence. For more on the longwall mining, see the Department of Environmental Protection site.
One missing piece of the repaving of I-70 in the 1990s, the Smithton High Level Bridge over the Youghiogheny River, was rehabilitated starting on March 1, 2000. The project involved replacing the bridge deck, expansion dams, bearings, and the east abutment completely. Over 640,000 pounds of new structural steel was used to repair the superstructure. In addition, new overhang brackets were installed in order to widen the bridge by 10 feet. Work was also performed on the approaches to the bridge, improving drainage, guide rail, signing, pavement, and shoulders. The bridge was also repainted as part of the $17.2 million project performed by Dick Corporation of Pittsburgh which concluded on October 11, 2001, one full year ahead of schedule.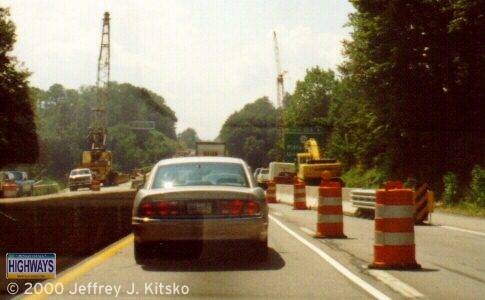 Smithton High Level Bridge during rehabilitation in August 2000.
The year 2001 also saw work performed again on the section between West Virginia and Washington. The concrete that seemed to start breaking up as soon as it was poured in a reconstruction project in 1989, needed replaced. Several miles of the eastbound lanes were so bad that truck drivers traveling in a row could see water squirt out of the cracks and joints as their rigs crossed the state line and rolled over the unstable pavement slabs. In addition, parts of the eastbound shoulder were heaving because of the crushed slag used as a roadway base expanding under wet conditions. The westbound lanes where crushed concrete and gravel were used as a base instead of slag were in good shape. PennDOT paid Guepel Construction Company, an Ohio-based firm which has since gone out of business, $7.5 million for the original work and about $100,000 to another company in 1998 to replace deteriorated slabs in the worst three locations of the eastbound highway. Also, PennDOT had been sending its own maintenance crews out to make emergency repairs and seal cracks that developed in the pavement. This time around, the Department of Transportation spent more than $7 million to repair the slabs and shoulders on 5.3 miles from the West Virginia state line to east of Exit 6, and cover the expressway with a three and one-half inch layer of asphalt. The project began in Spring 2001 and concluded in Fall 2001. A separate project to repave about three miles of the Interstate between Exit 11 and Exit 15 took place in Summer 2001.
Rarely can one describe an accident as having a "pleasing aroma." However, one accident that had one happened on August 15, 2003 on the bridge that spans the Monongahela River. The reason was that the truck involved was carrying 15,000 pounds of garlic powder. Emergency personnel from nearby communities were at the bridge, which carries 20,000 to 30,000 vehicles per day, for almost 12 hours after the accident occurred at 6 AM first extinguishing the fire and then cleaning up debris. The westbound side of the bridge was reopened around 9:30 PM, after PennDOT officials completed an inspection of the span. The cause of the accident was determined to be driver error, as Victor Nikitchuck of Antelope, California lost control of the tractor-trailer as he was traveling eastbound. The passenger side of the truck hit a bridge abutment, which ruptured the gas tank and ripped open the side of the trailer. The gasoline from the tank caught fire, as did the 14,649 pounds of garlic powder in the trailer when both spilled onto the bridge deck. Thankfully, no one was injured in the accident and the eastbound side reopened the following day.
One incident that could have had lethal results occurred on December 27, 2005 when a beam from the Lakeview Drive overpass, just east of the I-79 interchange, collapsed onto the eastbound lanes. Around 5:45 PM that night, a precast concrete box beam and part of the guide rail on the eastern side of the bridge, snapped in the middle and dropped 30 to 40 feet onto the busy lanes. Two vehicles were damaged as a result. Vickie Scott Barber of Cincinnati, Ohio, her six-year-old daughter, and 22-month-old son were taken to Children's Hospital of Pittsburgh for treatment. While Vickie and her son did not appear to be injured, her daughter was treated for a possible fractured leg. Another car, driven by Vincent Carr, was damaged by falling concrete. He and his girlfriend were treated for minor injuries from broken glass. PennDOT District 12 Executive Joe Szczur said, "We're fortunate more people were not injured." Construction equipment was brought in from a site near Pittsburgh International Airport to begin removal of the beam and repairing the damaged surface, while a team of engineers from PennDOT's headquarters in Harrisburg assessed the damage. Deputy Secretary Gary Hoffman, said "This is the most dramatic collapse I have seen."
The section above the westbound lanes was not damaged, but will be demolished along with the rest of the structure. It might be a year until the overpass is rebuilt at a cost of $5 million. The overpass had been inspected in March 2004 and another conducted five months earlier. Both noted "some distress and deterioration" and indication trucks had hit it, but nothing severe to warrant closure. Early speculation was longwall mining to the east of the area in 2000, which damaged the Interstate, led to the collapse. It was determined that wear and tear and the history of damage from trucks was the cause. The westbound lanes opened before 6 PM on December 28, and the eastbound later that night.
After evaluating other bridges of similar construction and age along the I-70 corridor, two more were closed on January 13, 2006 on Main Street in South Strabane near the western I-70/I-79 interchange and Sumney Road in Somerset Township. Both had been listed as "structurally deficient" and after inspections determined hidden and undetected corrosion of concrete, concrete-encased steel reinforcing rods, and cables, due to salt and water they were closed at 10 AM as a precaution. PennDOT will replace the Main Street overpass using a "design-build" contract to speed replacement, which will be completed around Thanksgiving. The Sumney Road overpass was demolished and not replaced due to the light amount of traffic that utilized that road.
Another bridge along the Interstate in Washington County was demolished in 2010, but only because damage it received by a truck. On October 18 around 5 PM, a crane being hauled by Tony Kyle struck the McIlvaine Road overpass at Exit 31 and put a four-inch-wide gouge through seven of its 13 concrete beams. Due to the oversized load, the special hauling permit that he was issued instructed him to take Exit 31 and re-enter Interstate 70 at the same interchange. A witness called State Police with a description of the westbound truck, which did not stop after the accident and thus it was treated as a hit-and-run. Kyle was eventually caught at the Bridgeville rest area on Interstate 79, where a PennDOT employee recognized the truck and phoned police. He was charged with 14 summary traffic violations, including causing damage to property and not reporting an accident, when he appeared in front of a district justice on the afternoon of October 19. Demolition of the span under an emergency contract was completed by 9:30 AM on that morning, costing about $1 million. It was not the first time Kyle was behind the wheel of a truck that hit a bridge in Pennsylvania, as on April 24, 2008, another crane he was hauling for the same company, Coastal Carriers, hit a bridge on Interstate 81 in Cumberland County. Unlike in this accident, when the crane collided with that bridge, a chain hook flew off and injured a woman in a nearby vehicle. After initially pleading not guilty in June of that year, he did not show up for the hearing two months later. Due to his absence, he was found guilty and ordered to pay $65,000 in fines. When he failed to pay the fines, bench warrants were issued for each of his 11 citations. Construction on the new bridge began in March 2011 and it opened, with a 16-feet, six-inch Interstate highway standard clearance (one foot, nine inches higher than the old span) and longer to accommodate future widening, on July 4, 2011.
By the late 2000s, it was apparent that Interstate 70 in Washington and Westmoreland counties had outlived its design. An ambitious plan was put forth by PennDOT that would rebuild the inadequate Interstate into a safer, faster roadway. Totaling half a billion dollars, work would entail replacing or rehabilitating existing deteriorating bridges, upgrade existing interchange acceleration and deceleration ramps, improve the roadway geometry, replace bridges with less than 16' - 6" clearance, and improve traffic flow. The first two interchanges to be rebuilt were PA 519 and Smithton for a total of $29 and $27 million respectively. Project website: http://www.i-70projects.com.
As plans moved forward to upgrade the Interstate between West Virginia and the Turnpike, a few business owners voiced concerns over the plans for the highway in New Stanton. Under the initial $50 million plan released in January 2012, I-70 would be widened from four to six lanes, the New Stanton and Hunker interchanges would be collapsed into one with new entrance and exit ramps would be built 1,600 feet west due to space limitations at the present Center Avenue interchange, two roundabouts would be constructed on either side of the expressway at that interchange, and Bair Boulevard would be extended. Business owners were concerned that if motorists had to travel too far from the new interchange to reach their establishments, they might just skip exiting altogether. Stella Morgan, landlord of three service stations and owner of TJ's Restaurant and Sports Lounge said, "If they go ahead with this plan, you and I both know peoples' habits, and people just won't drive extra distances. They aren't going to drive extra to get to the businesses over on this end of town." The design was revised again for unveiling at a public meeting on January 31, 2013 that added Rachel Drive improvement to connect with Bair Boulevard and West Byers Avenue. A total of 46 property owners would lose a portion of their land, two homes and two businesses would be demolished. Property acquisition began in 2014 with the final four acquired in 2015. Sixty trees were removed, which had to be completed before March when the endangered Indiana bat would return to live in them, before construction began in August 2015. Leading up to the beginning of work, patrons to the McDonald's there could watch a PennDOT-created video on the project while they ate their burgers. "It's popular, and (people) are asking a lot of questions," Jamie Gaworski, business supervisor, told fellow business operators, PennDOT officials and municipal leaders during a project meeting in the New Stanton fire hall.
Snow wreaked havoc on the Interstate on January 12, 2016, when it caused three separate pile-ups all within a mile involving 31 vehicles in Washington County. Accidents in both directions stranded drivers during the white-out conditions. Wrecked vehicles were moved to on-ramps to allow first responders to open the road while awaiting tow trucks to take the vehicles. Fortunately there were no serious injuries.
Longwall mining is also responsible for causing ripples in Interstate 70's surface on February 5, 2019 just east of the West Virginia state line. Temporary stoppages and slow traffic were encountered by motorists traveling in both directions between the state line and Exit 1 as PennDOT performed emergency repairs. They also temporarily lowered the speed limit to 45 MPH to prevent vehicles from hitting buckled sections of pavement. "When longwall mining occurs, the Interstate can be expected to settle about two to five feet in some areas," PennDOT District 12 Executive Joseph Szczur wrote in one of the district's newsletters. "Because of this concern, we have a multi-phase monitoring plan in place to keep track of all the interstate longwall mining activities." The Alliance Coal Company's Tunnel Ridge Mine will be working beneath I-70 during the next phase of longwall mining, and Szczur said the process will happen nine more times underneath the roadway between now and 2038. Besides human inspection, Alliance will provide daily updates about mining activities, 3D scans will show changes in land contours, and measuring tools will keep abreast of movement at the surface and alert personnel if changes exceed an allowable limit.
Tragedy struck the Interstate on the afternoon of August 5, 2019 when Brian Hayden of Monessen crashed his vehicle at 2:40 PM into a barrier on the Smithton High Level Bridge over the Youghiogheny River. Westmoreland County Coroner Ken Bacha said, "It appears that the collision was him trying to possibly drive the car off the bridge." Westbound traffic had to be detoured off at the Smithton exit while state police investigated the incident. His body was recovered by rescue teams on the Great Allegheny Passage near Cedar Creek Park.
When the Coronavirus, or COVID-19, pandemic swept into the country in March 2020, PennDOT took measures to stem the spread to their employees and staff. At 12:01 AM on March 17, all rest areas and welcome centers across the state, including the one in Washington County and the two in Fulton County, were closed to the traveling public. Also all Driver License and Photo License centers were closed for two weeks and construction projects on roads under the Department of Transportation's jurisdiction were stopped. Hearing that construction work was halted could come as welcome news, the idea of closing down the rest areas did not sit well with truckers, trucking firms, nor some elected officials. It was then announced that on Thursday, March 19, barricades would come down at 13 rest areas across the state and they would be reopened with portable restroom facilities while the permanent facilities would remain closed. "Every decision made has been in the interest of mitigating the spread of COVID-19 and we are constantly reevaluating our response," said PennDOT spokeswoman Alexis Campbell. "That said, we also recognize that drivers need and deserve access to rest areas." PennDOT announced on March 24 that an additional 10 would reopen, and including the original 13, all would provide normal service with additional cleaning and maintenance. The rest area/welcome center in Washington County reopened April 6.
Links:
Exit Guide
Interstate 70 Ends
Interstate 70 Pictures
Breezewood Services
Pennsylvania Turnpike
E-ZPass - Pennsylvania Turnpike Commission
Pennsylvania Turnpike Commission
Pennsylvania Turnpike Toll/Mileage Calculator - Pennsylvania Turnpike Commission
A Relief Route That Never Was: I-70 - Adam Prince
Interstate 70 - Andy Field/Alex Nitzman
Interstate 70 - David Steinberg
Interstate 70 Pictures - Andy Field/Alex Nitzman
Interstate 70 Pictures - Eric Stuve
Interstate 70 Pictures - Steve Alpert
Interstate 70 Photos - Valerie Deane
---

INFORMATION
Western Entrance:
West Virginia state line one mile west of West Alexander
Eastern Entrance:
Maryland state line two miles east of Warfordsburg
Length:
173.80 miles
National Highway System:
Entire length
Names:
Pennsylvania Turnpike: Exit 75 to Exit 161
Raymond P. Shafer Highway: Exit 18 to Exit 21
Dwight D. Eisenhower Highway: Exit 147 to Maryland state line
SR Designations:
0070: West Virginia state line to Exit 75 and Exit 147 to the Maryland state line
7076: Exit 75 to Exit 161
0030: Breezewood
Counties:
Washington, Westmoreland, Somerset, Bedford, and Fulton
Multiplexed Routes:
I-79: Exit 34 to Exit 38
I-76: Exit 75 to Exit 161
US 30: Breezewood
US 522: Exit 168 to the Maryland state line
Former Designations:
PA 1 (1925 - 1930): Breezewood
I-70S (1957 - 1964): Exit 18 to I-76/PA Turnpike
PA 981 (1958 - 1959): Exit 43 to Exit 46A
PA 71 (1958 - 1964): Exit 32B to Exit 43
Alternate PA 71 (1959 - 1963): Exit 32B to Exit 25 and Exit 43 to I-76/PA Turnpike
Former LR Designations:
798: West Virginia state line to Exit 21
62088: Exit 21 to Exit 25
62054: Exit 25 to Exit 27
62052: Exit 27 to Exit 35
62136: Exit 35 to Exit 36
62097: Exit 36 to the Westmoreland County line
118: Washington County line to Exit 43
64144: Exit 43 to Exit 49
64148: Exit 49 to Exit 51
64164: Exit 51 to Exit 57
117: Exit 57 to Interstate 76/Pennsylvania Turnpike
267: US 30 to Exit 168
38: Exit 168 to the Maryland state line
Emergency:
911 (PennDOT-owned segments)
*11 (Pennsylvania Turnpike)

Highway Conditions:
http://www.paturnpike.com/webmap/
1-866-976-TRIP

Traffic Camera:
New Stanton
Advisory Radio:
1610 (Interstate)
1640: Exit 75 to Exit 161
---
Back to Pennsylvania Highways
Back to Pennsylvania Interstate Highways
Page updated September 30, 2022.
Content and graphics, unless otherwise noted, copyright © Jeffrey J. Kitsko. All rights reserved.
Information sign courtesy of Richard C. Moeur.
Information courtesy of the Pennsylvania Department of Transportation, Pennsylvania Department of Environmental Protection, Federal Highway Administration, Rand McNally, Pittsburgh Post-Gazette, Pittsburgh Press, Greensburg Tribune-Review, KDKA-TV Pittsburgh, WTAE-TV Pittsburgh, and WPXI-TV Pittsburgh.