Pennsylvania Turnpike
Schuylkill Expressway
---
To many people, this Interstate is the Pennsylvania Turnpike, but only from Ohio to Valley Forge. What many might not know, is that it was at one time referred to as Interstate 80S. The designation changed to the current I-76 in 1963.
The Pennsylvania Turnpike part of I-76 was built in sections. The Original Turnpike is Exit 67 to Exit 226, built in the late 1930s and opened on October 1, 1940. The Philadelphia Extension is Exit 226 to Exit 326, built in the late 1940s and opened on November 20, 1950. The Western Extension is Ohio state line to Exit 67, built in the late 1940s and opened on December 26, 1951. For its complete history, see the Pennsylvania Turnpike page.
Planning for a cars-only parkway, such as in New York City, to parallel the Schuylkill River began in 1932. The Valley Forge Parkway, as it was named, would connect Fairmount Park to the Valley Forge National Historic Park with a potential extension to Pottstown and Reading. However, unlike New York City, Philadelphia did not have someone as powerful as Robert Moses to push the plan through and so it ended up shelved.
In 1947, the plan resurfaced with the Philadelphia City Planning Commission approving a river route for an expressway. Two proposals were drawn up: one like today's expressway alignment, but instead of crossing the river at University City, it would have followed the river into southwestern Philadelphia and crossed the Delaware River via a tunnel. The second proposal was what eventually led to today's expressway. The entire expressway would have four 12-foot-wide lanes (two in each direction) and where possible there would be eight-foot-wide shoulders. Six lanes would be built from Exit 339 to Exit 344 and Exit 346B to Exit 347B. Both directions would be separated by a four-foot-wide median with reflectorized curbs.
Construction on the earliest section of the expressway to be built began in 1950 on the part from the Turnpike to Exit 339. A year later, the section from Exit 326 to Exit 328 opened as part of the Philadelphia Extension. In 1952, the section from Exit 328 to Exit 332 opened. Construction on the Walt Whitman Bridge began in August 1953 and concluded with a ribbon cutting on May 16, 1957.
On September 1, 1954 the remainder of the expressway to City Avenue opened. Planners in 1950 predicted that 41,000 cars a day would use this stretch, compared to a 1981 study that counted 132,000 cars a day using the same stretch of expressway.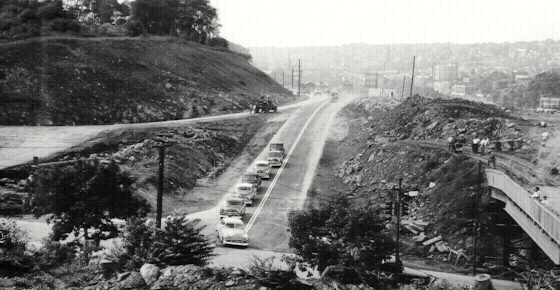 The first section of the Schuylkill Expressway opens. (Philadelphia Inquirer)
The section to the Vine Street Expressway and the Walt Whitman Bridge were both under construction in 1955. On November 25, 1958, the section from City Avenue to the Vine Street Expressway opened and on June 30, 1959 the section from Exit 346C to the Walt Whitman Bridge opened. The last section to open was from the Vine Street Expressway to Exit 346C in 1960.
Even with the completion, officials saw that the expressway would not be able to handle the growing traffic so the first operational study was conducted. Out of this study, in 1962, the Department of Highways proposed a parallel route in the eventually cancelled Manayunk Expressway which would sit on the eastern bank of the Schuylkill. Widening the Schuylkill Expressway to eight lanes was also a solution pursued utilizing the existing expressway and building four eastbound lanes above from the 30th Street Station and south through the University of Pennsylvania and Philadelphia Civic Center area. Its completion was scheduled for 1976.
Not only did the 1960s bring the completion of the expressway into Philadelphia, and a direct connection to the Pennsylvania Turnpike, but an Interstate designation as well. The Turnpike was to be marked I-80S, this meant that it was a route south of the main I-80. This would be multiplexed with PA 43, the designation that was already in place on the Schuylkill. PA 43 is now used to designate the Mon-Fayette Expressway.
Rand McNally shows Interstate 80S on the Turnpike from 1960 to 1964. The truth of the matter is that markers never went up because the Turnpike was not up to Interstate standards until the late 1960s. This was due in part to the seven two-lane tunnels on the main section. Even the official Turnpike maps never designated it as I-80S. In 1964, the Department of Highways wanted a continual Interstate connection between Pittsburgh and Philadelphia. They received I-76 in 1964 and marked it from the Point in Pittsburgh to Broad Street in Philadelphia. A fitting number for Philadelphia since the Constitution was signed there and the birth of the United States was in 1776. The rest of the route into Ohio retained the I-80S designation.
Not to the scale of widening as proposed in the 1960s, construction to widen the expressway from Exit 339 to Exit 341 began in 1969. The work involved construction of a collector/distributor system of ramps for the US 1 and Lincoln Drive/Kelly Drive interchanges. The construction finished in 1972.
In 1971, I-76 was extended out to I-79 west of Pittsburgh over the Parkway West. The following year, the designation was changed yet again to follow the Turnpike to Ohio on its present course. That is when the Penn-Lincoln Parkway received the I-376 designation. In 1974, I-76 was rerouted out of Center City and placed on the Schuylkill Expressway to the Walt Whitman Bridge.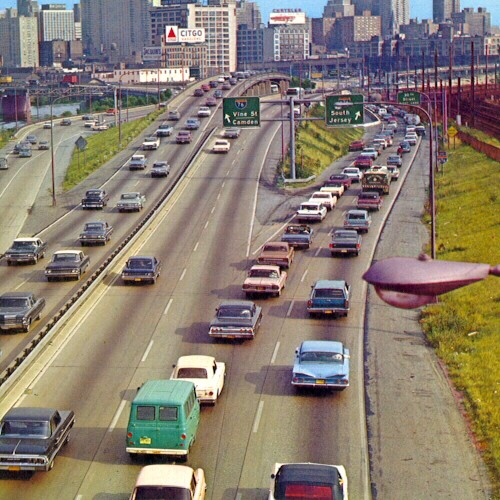 I-76/I-676 interchange in the early 1970s. (H. Armstrong Roberts)
Again in 1970, proposals came into play on how to improve the expressway. A series of recommendations came about in a report entitled the "South Central Transportation Study." It recommended widening the expressway to at least six lanes between the Turnpike and Walt Whitman Bridge, building a Grays Ferry Spur along Grays Ferry Avenue, and building a ramp from I-76 westbound to eastbound Walnut Street. And again, these recommendations were not followed.
At 11:35 AM on October 7, 1983, a truck hauling 8,600 gallons of gasoline, traveling in the right lane of westbound I-76 in Philadelphia, crossed the left lane and crashed into the Jersey barrier separating the highway. The gasoline spilled and ignited after the truck overturned on the barrier. Two persons suffered fatal injuries and another was seriously injured when three eastbound vehicles, which were caught in the fuel spill, burned. Although firefighters seemed to have extinguished the fire, smoldering embers ignited excess fuel trapped beneath the westbound access ramps resulting in injuries to two firefighters and a member of the media. The NTSB determined that the cause of the accident was fatigue in the rear axle assembly of the trailer.
Time began to take its toll on the Schuylkill by the 1980s. With mounting life and property losses from the numerous accidents and lawsuits filed against them, PennDOT devised a $250 million plan to rebuild the expressway from Valley Forge to the Schuylkill River bridge. The project began on March 1, 1985, in what became known as the "Schuylkill Squeeze." The project included repaving with a skid-resistant material, rehabilitating the Vine Street Expressway interchange, redecking and rebuilding 50 bridges, installing a Jersey barrier in the median, installing new reflective signs to replace the aged button-copy ones, improving shoulders, entrance/exit ramps, acceleration/deceleration ramps, and drainage.
During the work, a problem was discovered with the new Vine Street Expressway interchange, which was sinking under its own weight. The problem was rectified with a new lightweight concrete that rested on steel beams that were hammered into the ground and rested on bedrock. Finally, in September 1989, the project was completed and Philadelphia had a dramatically improved highway.
In a move to reduce traffic congestion, the Delaware River Port Authority removed tolls on the Walt Whitman Bridge for eastbound drivers in 1992.
The Schuylkill really earned the name "Sure-kill Expressway" on September 24, 2000. Perhaps the worst accident in the history of the highway occurred when a tractor-trailer plowed into a line of cars stopped because of an earlier accident, which resulted in three dead and nine injured. The accident occurred shortly after midnight on the westbound side of the highway, two miles east of the Conshohocken interchange Upon impact, the truck continued down the highway only to burst into flames and cause a couple of cars to explode. "It was a big mangled wreck," said Lieutenant William Hill of the Pennsylvania State Police's Belmont barracks. Twelve vehicles, including two trucks and ten passenger vehicles were involved. The highway was closed for hours until 5:45 AM when the eastbound lanes reopened and 8:02 AM when the westbound lanes reopened.
The exit renumbering that took place on I-76 in the summer of 2000 was not the first for one segment of the expressway. In 1974, when the designation changed from I-676 to the current I-76 from the Vine Street Expressway to the Walt Whitman Bridge, so did the exit numbers to continue the numbering sequence. The numbers began with Exit 1 at 30th Street and ended with Exit 6 at Passyunk Avenue. The remaining exits to the bridge were not numbered.
A double-decker Schuylkill Expressway has been discussed, and if Pennsylvania House Speaker John Perzel has his way, it will become a top priority for PennDOT. In his discussions with Governor Rendell, he has pushed the double-decker proposal for I-76 and I-95, as well as eliminating the two deadliest intersections on Roosevelt Boulevard. Explaining his vision, Perzel said, "You will pay like a $10 fee. You'll go up. You'll be able to go down to the airport and get off at Center City. It will be quick, and it will be fast." Rendell said of the projects, "If we had the money, sure. It would be great." He added that it would all depend on how much federal highway aid Pennsylvania would receive, and if the Commonwealth received less than expected, none of the projects would get off the ground. No plans were in effect to raise the gas tax to make up for lack of money from Washington. Department of Transportation spokesman Charles Metzger said, "The subject is not surprising. The Schuylkill is very congested. The governor and the speaker are both on board with the project. We will have to investigate it further."
Usually congestion on the Schuylkill is from the volume of traffic it carries, except on October 11, 2004. A suspicious metal box with the letters "ELF" was seen by a Norfolk-Southern Railroad employee suspended from a PECO Energy high-tension line tower near the Belmont Avenue/Green Lane interchange. Authorities were alerted around 6:30 PM and closed both eastbound and westbound until around 9:30 PM. Members of the state and Montgomery County bomb squads were brought in to take care of the package by first blasting it with a water cannon to open it and when that failed, the squads deposited it in a steel explosion containment vessel to detonate it at an undisclosed location. The FBI is investigating if there is a connection to the Earth Liberation Front, which uses the acronym "ELF." They have had interest in bringing transmission towers down and are connected to the January 2003 fire at an Erie car dealership.
It was hard to differentiate between the Schuylkill Expressway and Schuylkill River on August 2, 2009. Heavy thunderstorms drenched the southeastern section of the Commonwealth, and especially southern Montgomery County, with as much as 4.5 inches of rain. Water and mud washed over a concrete barrier along the shoulder near the Conshohocken Curve, even with a drainage system built into the hillside, around 11 AM and 15 minutes later began to inundate the westbound lanes causing traffic in both directions to grind to a halt by 11:30 AM. About 1,000 feet of the expressway was covered in water, mud, and debris, and at least one vehicle in either direction was caught in the floodwaters. State Police closed Interstate 76 and began to divert traffic at Interstate 476.
PennDOT crews with front loaders cleared the mud and debris from both directions and cleared out storm drains that were clogged with mud. The westbound lanes reopened by 3 PM, but the westbound lanes wouldn't reopen until 7:30 PM. Ironically, a mudslide occurred just one-tenth of a mile west of this one with similar results on August 1, 2004. During the following two weeks, workers would sweep the dirt and mud from the shoulder, remove mud and debris from behind the concrete barrier along the shoulder, and clean out the drainage pipes on the embankment adjacent to the expressway which caused the mess. More flooding would occur on July 10, 2010 at the South Street exit and again three days later in the eastbound lanes at 9:45 AM at Belmont Avenue but the roadway reopened shortly after 11:30 AM and one of the westbound lanes at the Conshohocken curve was closed due to flooding. When storms blew through on June 10, 2013, flooding occurred at the same location, forcing eastbound traffic down to one lane.
In an effort to reduce congestion at the US 202 interchange, Montgomery County officials in conjunction with PennDOT began construction on a partial interchange at the intersection of South Gulph and South Henderson Roads on December 1, 2009. The project included a new on- and off-ramp for westbound traffic, widening both surface streets, building sidewalks along those two roads, and sound wall installation. The $10.5 million project, funded by federal stimulus money, was opened in two phases: the on-ramp opened on May 4, 2011 and the off-ramp opened on November 4, 2011, becoming Exit 329.
It takes a really big snow storm to close roads and that is exactly what hit on February 9, 2010. Governor Rendell took proactive measures and closed I-76 at 2:00 PM the following day. In a press release he stated, "For your safety, do not drive. You will risk your life and, potentially, the lives of others if you get stuck on highways or any road. The National Weather Service issued blizzard warnings for several counties in Pennsylvania and visibility is at or near zero." The Schuylkill Expressway reopened at 5 AM on February 11.
With years of heavy traffic wearing out the surface of the Walt Whitman Bridge, the Delaware River Port Authority looked to redeck the iconic crossing. On May 19, 2010, the DRPA awarded two contracts totalling $139,774,286.67: $128,085,778 contract to American Bridge Company of Coraopolis, Pennsylvania for construction and an $11,688,508.67 contract to Urban Engineers, Inc./URS Corporation of Philadelphia for construction monitoring. The project included an entirely new deck over the Delaware River, removal of the suspended span, installation of new lightweight concrete-filled jointless grid deck, structure improvements, new parapets, and a new steel shell moveable median barrier. Construction wrapped up six months early in December 2013.
For an expressway that has endured flooding and mudslides, it was a lone tree that snarled traffic during the afternoon of February 25, 2011. The tree fell into the eastbound lanes near Conshohocken, blocking the right lane until 3 PM when it was removed. A few months later on April 7, it was a group of vultures feeding on a deer carcass that slowed morning traffic down due to people gawking just east of the Conshohocken Curve. PennDOT removed the deer's body to prevent the vultures from returning.
During the afternoon rush hour on May 13, 2011, it wasn't mudslides, flooding, nor vultures feeding that shut traffic down, but a Penn Star medical helicopter landing just east of the US 202 interchange. A mother driving her child to the hospital, after an accident on his bike caused by a seizure, called 911 while stuck in traffic on the Schuylkill Expressway. Arriving paramedics decided that airlifting the boy to Children's Hospital would be preferable, so police closed the expressway for the helicopter to land.
A heat wave in early June 2011 cause part of the expressway to buckle. On June 8, the right lane of the eastbound lanes heaved near Exit 346B and was closed through the evening rush hour for repairs.
The last weekend of September 2015 was another important time in the history of the City of Philadelphia. Pope Francis became the second pontiff since John Paul II in 1979 to visit "The City of Brotherly Love," and with his visit came travel restrictions. On Friday, September 25, the entire section of the Schuylkill Expressway eastbound from Interstate 476 to Interstate 95, and westbound from Interstate 95 to US 1/Roosevelt Expressway was closed and did not reopen until late on Sunday, September 27.
Utilizing shoulders to expedite rush hour traffic has been used successfully in other cities, and it might come to Philadelphia as well. PennDOT is studying the option of opening the shoulders during peak times, 6 - 9:30 AM and 4 - 8 PM between US 202 and US 1, would avoid attracting additional drivers to an already congested roadway. Double-decking the roadway has been studied, but comes with a high price tag. "If the alternative is decking on I-76, this is a way better proposal," said Nick Klein, a professor at Temple University's department of community and regional planning. "Alternatively, we may hope as part of their study they're looking at other ways to manage demand." Several people raised questions about the idea with Keith Hartington, senior transportation planner for the Delaware Valley Regional Planning Commission saying of the plan that "It's just a temporary congestion release." Michael Noda, who runs the blog Sic Transit Philadelphia, also worried that opening the shoulders would rob first-responders of a clear path to accidents. "When there's a problem on the Schuylkill, those shoulders serve an important purpose," Noda said. Breakdown areas could be added, Hartington said, and the hard shoulders would be complemented by cameras, signs and control systems that could quickly close the shoulders to traffic if they were required by emergency vehicles. If the hard shoulders become a reality, upgrades would likely be needed to ramps and the shoulders, which would need to be sturdy enough to handle truck traffic. Other issues to be studied would be whether opening the shoulders in one place would create bottlenecks in other areas, and if bridge support pillars could block traffic on the shoulders.
While using the shoulders is still being studied, a plan to use variable speed limits is moving forward. On June 7, 2018, Governor Tom Wolf and Transportation Secretary Leslie Richards announced a $8.6 million plan to install variable speed limit signs and changeable overhead signs along the expressway. The variable speed limit system will indicate limits of 55 in Montgomery County and 50 in Philadelphia as the defaults, and then be able to be adjusted in real-time according to traffic and weather conditions. A ramp meter system will also be installed to cut down on stop-and-go traffic and rear end collisions. In addition, PennDOT assumed ownership of and modernized corridors parallel to the Schuylkill Expressway and traffic signals on those roadways. Work began in late July 2018 and was completed in 2019. The variable speed limit signs went online on April 8, 2021. PennDOT District 6 will also build a new traffic management center on a parcel near the current location in King of Prussia due to the current one operating at 40 percent over capacity.
On the morning of June, 21, 2019, a fire broke out and an explosion ripped through the Philadelphia Energy Solutions Refining Complex in Southwest Philadelphia. Due to the proximity of the complex, the eastbound Schuylkill Expressway was closed for about an hour in the area but reopened just before 6:30 AM.
When the Coronavirus, or COVID-19, pandemic swept into the country in March 2020, the Delaware River Port Authority took measures to stem the spread to their employees and staff. At 6:00 AM on March 26, all bridges, including the Walt Whitman Bridge, went to a cashless toll collection system. E-ZPass users would pass through the plazas as normal, and drivers who normally paid by cash would have their license plate captured. A bill for the toll only, without additional administrative or violation fees, would then be sent to their address. At 6 AM on May 11, the DRPA began accepting cash payments again. Additional safety measures were put in place, such as staff wearing face coverings and a protective plastic shield now in place in the toll booth window. They also encouraged drivers paying by cash to wear a face covering when using a cash lane.
A rehabilitation project began April 7, 2020 on the segment of Interstate 76 between the Passyunk Avenue interchanges and the Walt Whitman Bridge Toll Plaza, which is under the jurisdiction of the Delaware River Port Authority. Improvements will include milling of the roadway pavement and resurfacing, full-depth reconstruction and curb replacement in select areas, shoulder grading, adding drains, removing and replacing latex-covered concrete on bridge decks, bearing rehabilitation, rehabilitation of pedestrian tunnels, installing new light poles and electrical lines, installing new fiber optic lines, and removing and replacing sign structures. The $74 million project is expected to conclude in Winter 2023.
There is a western counterpart to this Interstate as well which runs from Denver, Colorado to Interstate 80 near Big Springs, Nebraska.
Links:
Exit Guide
Interstate 76 Ends
Interstate 76 Pictures
Interstate 80S (Decommissioned)
Pennsylvania Turnpike
E-ZPass - Delaware River Port Authority
E-ZPass - Pennsylvania Turnpike Commission
Interstate 76 Designation and Independence Day - Federal Highway Administration
Pennsylvania Turnpike Commission
Pennsylvania Turnpike Toll/Mileage Calculator - Pennsylvania Turnpike Commission
Walt Whitman Bridge - Delaware River Port Authority
I-76 Schuylkill Expressway - Scott Kozel
Interstate 76 - Andy Field/Alex Nitzman
Interstate 76 - David Golub
Interstate 76 - David Steinberg
Interstate 76 Pictures - Andy Field/Alex Nitzman
Interstate 76 Pictures - Eric Stuve
Interstate 76 Pictures - Steve Alpert
Interstate 76 Photos - Valerie Deane
Schuylkill Expressway - Steve Anderson
Walt Whitman Bridge - Steve Anderson
---

INFORMATION
Western Entrance:
Ohio state line in Enon Valley
Eastern Entrance:
New Jersey state line at the Walt Whitman Bridge in Philadelphia
Length:
352.50 miles
National Highway System:
Entire length
Names:
Pennsylvania Turnpike: Ohio state line to Exit 326 in Valley Forge
Schuylkill Expressway: Exit 326 in Valley Forge to the New Jersey state line
SR Designations:
7076: Ohio state line to Exit 326
0076: Exit 326 to the New Jersey state line
Counties:
Lawrence, Beaver, Butler, Allegheny, Westmoreland, Somerset, Bedford, Fulton, Huntingdon, Franklin, Cumberland, York, Dauphin, Lebanon, Lancaster, Berks, Chester, Montgomery, and Philadelphia
Multiplexed Routes:
I-70: Exit 75 to Exit 161
US 1: Exit 339 to Exit 340B
US 30: Exit 342 to Exit 344
Former Designations:
PA 43 (1952 - 1964): Schuylkill Expressway
I-80S (1957 - 1958): Exit 326 to the New Jersey state line
I-280 (1958 - 1960): Exit 326 to the New Jersey state line
I-80S (1960 - 1963): Exit 326 to Exit 344
I-680 (1960 - 1963): Exit 344 to the New Jersey state line
I-80S (1964 - 1972): Ohio state line to Exit 57
I-676 (1963 - 1974): Exit 344 to the New Jersey state line
Former LR Designations:
769: Exit 326 to Exit 339
67057: Exit 339 to Exit 347A
Emergency:
*11 (Pennsylvania Turnpike)
911 (Schuylkill Expressway)

Washington's Trail:
Exit 67 to Exit 75

Highway Conditions:
http://www.paturnpike.com/webmap/
1-866-976-TRIP

Traffic Cameras:
Gateway (Eastbound)
Gateway (Westbound)
Warrendale (Westbound)
Warrendale (Westbound)
Pittsburgh (Westbound)
Pittsburgh (Eastbound)
New Stanton (Westbound)
Breezewood (Westbound)
Breezewood (Eastbound)
Susquehanna River Bridge (Eastbound)
Susquehanna River Bridge (Westbound)
Harrisburg East (Westbound)
Valley Forge (Eastbound)

Traffic Cameras:
Ramp to US 202/US 422 (Eastbound)
West of Croton Road (Eastbound)
Weadley Road (Eastbound)
West of Gypsy Road (Westbound)
Gulph Mills (Eastbound)
East of Gulph Mills (Westbound)
West of Matsonford Road (Eastbound)
I-476 (Eastbound)
PA 23 (Westbound)
Mile Marker 332.6 (Westbound)
Conshohocken Curve (Westbound)
Conshohocken Curve (Westbound)
West of Waverly Road (Eastbound)
East of Waverly Road (Eastbound)
West of Gladwyne (Eastbound)
West of Gladwyne (Westbound)
East of Gladwyne (Eastbound)
West of Belmont Avenue (Westbound)
Belmont Avenue (Eastbound)
East of Belmont Avenue (Westbound)
City Avenue (Westbound)
City Avenue (Eastbound)
US 1 (Eastbound)
Ramp to US 1 North (Eastbound)
West of Montgomery Drive (Westbound)
Montgomery Drive (Eastbound)
East of Montgomery Drive (Eastbound)
West of Girard Avenue (Eastbound)
Girard Avenue (Eastbound)
East of Girard Avenue (Westbound)
West of Spring Garden Street (Eastbound)
Spring Garden Street (Westbound)
I-676 (Eastbound)
East of I-676 (Westbound)
30th Street (Westbound)
West of South Street (Westbound)
East of South Street (Eastbound)
University Avenue (Eastbound)
East of Grays Ferry Avenue (Eastbound)
Vare Avenue (Eastbound)
Ramp to Passyunk Avenue (Eastbound)
26th Street (Eastbound)
Advisory Radio:
1640 AM: Ohio state line to Exit 326
---
Back to Pennsylvania Highways
Back to Pennsylvania Interstate Highways
Page updated September 30, 2022.
Content and graphics, unless otherwise noted, copyright © Jeffrey J. Kitsko. All rights reserved.
Information sign courtesy of Richard C. Moeur.
Washington's Trail shield courtesy of Bruce Cridlebaugh.
Information courtesy of the Pennsylvania Department of Transportation, the Pennsylvania Turnpike Commission, Delaware River Port Authority, City of Philadelphia Operations of Emergency Management, Greater Valley Forge Transportation Management Association, Greensburg Tribune-Review, Philadelphia Daily News, Philadelphia Inquirer, Philadelphia Business Journal, WPVI-TV Philadelphia, WCAU-TV Philadelphia, KYW-TV Philadelphia, Easton Express-Times, the Bucks Local News, United Alert, Allentown Morning Call, Steve Anderson, and Len Pundt.