Amos K. Hutchinson Bypass
---
Originally planned as the North-South Expressway in the 1960s, completing this route was transferred from PennDOT to the Turnpike Commission under Act 61-Turnpike Organization, Expansion, and Toll Road Conversion Act which was passed in September 1985 by the state legislature. The official groundbreaking ceremony took place on a site in Hempfield Township west of Greensburg in August 1990.
Construction progressed quickly on the expressway, as only 16 months after the groundbreaking four out of seven contract sections were ahead of their projected completion. Section 70B, located south of Middletown Road, was 99% complete which was a year ahead of when it was to be finished. "In that area the grass is growing and trees are planted," said David Sheradon, general construction coordinator with the Pennsylvania Turnpike Commission. "In general, it is going well."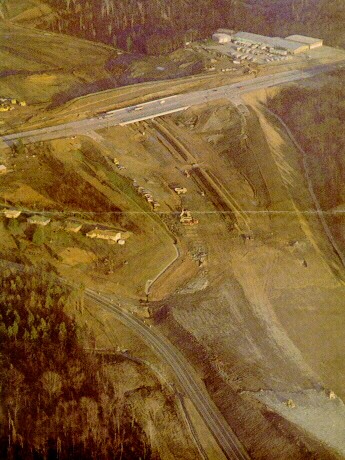 The base is being installed at the US 30
interchange. The highway at the bottom-left
corner is the Walton Tearoom Road. The
buildings at the upper-right corner are the former
Jeanette Importing complex. Where the trees are
behind the complex is where the new Hempfield
Plaza (with a Wal-Mart) now stands. Across from
that is the new Hempfield Square. Also, a new
Home Depot and Dick's Sporting Goods store
has been built on the area in the upper-left
corner. Since the highway opened, a lot of
development has taken place along this section
of US 30. (Greensburg Tribune-Review)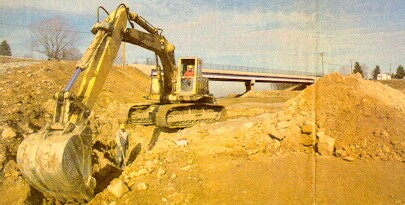 Construction workers installing drainage pipes. The bridge
in back is the Middletown Road overpass which is a mile
from the Hempfield Area Senior High School.
(Greensburg Tribune-Review)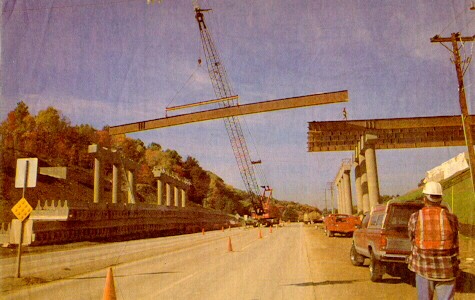 Bridge support being lifted into place above PA 130. The bridge is
276-feet-long. (Greensburg Tribune-Review)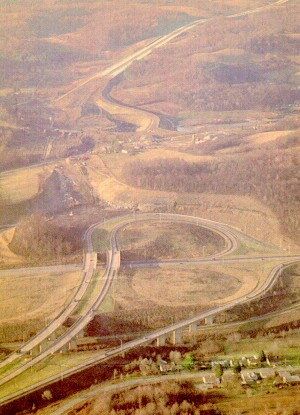 Construction at the US 119/PA Turnpike 66
interchange. At the top of the page is a
section of the completed highway. You can
see the grading taking place in the trumpet
interchange to make it a complete cloverleaf.
(Greensburg Tribune-Review)
Even the environment was helped with the construction of the expressway. Hillsides were planted with Crown Vetch, a hearty covering used to prevent slopes from eroding and reduce maintenance. Wildflowers were planted in selected areas close to the PA 130 and PA 136 interchanges. Taller grasses were planted along storm water basins to provide cover for nesting birds. Sparrow hawk boxes were installed along the right-of-way to allow birds to patrol the bypass in search of food.
If the birds were happy, the people living along the expressway were not. Some landowners did receive hefty settlements for their land being acquired for the project, but others only received headaches. Eleanor Sabo on Arona Road in New Stanton said her brick house developed exterior cracks on three sides from blasting during construction. The PTC refused to honor the claim that the cracks were caused by the blasting. Sabo said she couldn't afford an attorney to pursue the fight. "There are people who have lost a well and they told me my building was old and I was to expect that with an old building," she added. "It ticks me off."
On July 13, 1993, the first section of the 13.2 mile highway opened from US 119 to US 30. It was four months earlier than the original projected timeframe of November 1993. The PTC's first "Community Day on the Expressway," which has become a staple prior to the opening of a highway, was held that I attended. I had the chance to walk on the expressway while some of the other attendees rode their bikes or skated on the alignment.
The remaining section from US 30 to US 22 opened on December 9, 1993, and the total cost of construction came out to $282 million. This expressway, which is named in honor of a former Greensburg state representative, was designed as a truck bypass for Greensburg because the route of US 119 is narrow, winding, and hilly. The original PA 66 through the city was changed to Business PA 66 and the bypass is now the new route for PA 66. It is confusing to see the above marker for the length of the highway and then the regular marker appears between Exit 0 and Exit 1 heading southbound. Even at Exit 1, the directional assemblies have a PA 66 marker for southbound traffic and a PA Turnpike 66 marker for northbound traffic.
A new system to collect tolls was introduced on PA Turnpike 66, called the PTC Credit Card. A driver pulls up in a marked lane, swipes the card along a "reading" machine, and the toll is calculated. The driver then pulls away without having to sit in a line while someone fumbles for change or cash.
Some might have needed that credit card. Becky Killian of Delmont, while exiting the expressway at PA 130 on September 2, 1998. Having pre-selected two quarters to pay the toll, one became wedged in her seat. She tossed her quarter in and drove off, and a week later received a phone call from a state trooper. He said that a janitor watched her drive off and wrote down her license plate. For that, she would be receiving a fine in the amount of $167.50. Stacey Skibo of Ebensburg sympathizes with Becky. On December 2, 1998, you could have seen her trying to flag down motorists at the US 30 interchange trying to get change for a dollar. She said of the incident, "I don't understand why you have to put up with this. Who carries enough change to use this road anyway?" Jane Koblak of Jeannette also had troubles with the highway, and would use it more if not for the ramps. She said, "Three or four times I've had to back up into traffic onto (Route 30) when I didn't have the right change." I have seen people do this, and even had someone almost back up into me so I advise against this practice.
Construction began on transforming the US 22 interchange/Exit 14 from a cloverleaf into a SPDI (Single Point Diamond Interchange) on April 5, 1999, which represented another step in the plan to widen US 22 from Monroeville through Westmoreland County. One of the more popular guests on hand for the groundbreaking was Nicholas Eremic from Sloan Elementary School. For an school science fair, he drew a design of what the interchange will look like upon completion. His father, Wayne who is the foreman at the site for Golden Triangle Construction of Imperial, hung it on his office wall. "I saw all the pictures and drawings associated with this project, but it wasn't until I saw Nicholas' drawing that I really was able to visualize it," said a smiling James Keys, manager of the Westmoreland County Maintenance office for PennDOT. Nicholas was presented with a certificate on behalf of the state by Elizabeth Sarge-Voras, deputy director of aviation for Pennsylvania and the keynote speaker. Brad Mallory, Secretary of Transportation, was unable to attend because of a death in the family.
Michael H. Dufalla, district engineer for PennDOT District 12 in Uniontown said the topography of the area that encompasses the interchange was a challenge when designing the new interchange. "We had a lot of constraints here, with the hillsides and the commercial development. We knew we needed to do something different. We needed a better taper (flow of cars onto and off of the arteries)." In addition to PennDOT, Mackin Engineering Company who designed the new interchange and Golden Triangle Construction, the other key organization in the construction is L. Robert Kimball & Associates of Ebensburg, a consultant firm.
On April 6, 1999, workers moving telephone poles on US 22 struck a four inch gas line. Police closed down the highway and detoured traffic. On October 9, 1999, the beams were lifted into place for the new bridge that carries US 22 over PA 66. The interchange partially opened on August 31, 2000 then completely opened on September 14, 2000. The entire project cost $23 million. "It's a diamond interchange, but it's not a normal diamond because it has two connecting legs and two lights on each side. This has one light on each side, and moving traffic is a lot more efficient. I went through it a couple of times this morning, it's a very slick operation," said Mike Dufalla, PennDOT District 12 engineer said on the day it opened.
Left is the original cloverleaf interchange and the right is the completed SPDI.
(PennDOT)
The first major accident occurred on the highway on October 18, 2000 when a man driving a Dodge Dakota Sport truck hit a barrier as he approached the mainline toll plaza in the southbound lanes. The truck flipped onto its side and rescuers had to extract the driver through the roof of the truck. None of the toll plaza workers injured.
Even a decade after completion, people are still not happy. In a civil lawsuit filed in November 2003 against the Pennsylvania Turnpike Commission, James Johnston, Jr. and his wife Margaret, state that noise from the traffic on PA Turnpike 66 is too loud. In 1990, the couple was forced to sell more than 14 acres of their property by court-ordered eminent domain, near the US 30 interchange, to the PTC so the expressway could be built. They received $400,000 for the land. Their house was also moved for construction of the highway, but is now close to US 30 since it has been widened to accommodate the growth around Exit 6. The Johnstons want the commission to pay an unspecified amount in damages as well as erect a sound barrier. The battle has been on going since 1991, when James Johnston told the Greensburg Tribune-Review that noise from the expressway would be a nuisance and he was unsuccessful in obtaining a sound wall. The court ordered the PTC to pay them another $150,000 in October 2003.
Thanksgiving travelers got an early present on November 24 when toll collectors and maintenance personnel walked off the job for the first time in 64 years at 4 AM, forcing the PTC to wave tolls on the busiest day of the year. Teamsters Local 77 and 250 walked off the job due to not receiving raises unlike non-union employees. The Commission offered a raise of $21 per hour over three years, fully paid health care package, 15 paid holidays, an average of four weeks of vacation a year, and a no-layoff clause for three years. The union rejected the offer, but would not comment on the reason. No tolls were collected on PA Turnpike 66. A tentative agreement was reached through negotiating sessions that began November 29 at 2:30 PM and ended on November 30 around 10 PM, ending the seven day strike. Tolls were reinstated at 9 AM on December 1, 2004.
The E-ZPass drought on the bypass finally came to an end in 2006. On March 16, 2006, the PTC announced that the mainline toll plaza would be equipped by July and then the toll ramps starting in New Stanton and working north retrofitted. Where there are two or more toll lanes, at least one is designated E-ZPass only. The old coin-drop equipment was replaced with new machines, such as found at PA Turnpike 43's Jefferson Hills Toll Plaza, that can provide change up to $5 and issue receipts. The cost of signs, upgrading ramps, electronics, new coin-drop machines and associated equipment was $15.7 million. All work should be completed by the end of the year. PTC Spokesman Bill Capone said, "We hear from many people who use the extensions but who haven't been motivated to enroll in E-ZPass" due to the fact it hadn't been implemented on PA Turnpike 66. In early 2019, it was announced yet another change in toll collection would take place that year with the expressway going cashless. On October 27, Collinson, Inc. began work in February on a $737,716 contract to install signs so the system could begin operation by the end of October. As of October 27, all transactions are conducted with E-ZPass or PA Turnpike TOLL BY PLATE for those without a transponder who will receive a bill by mail for the cost of their trip.
Links:
Exit Guide
PA Turnpike 66 Pictures
Pennsylvania Turnpike
No Cash Zone - Pennsylvania Turnpike Commission
Pennsylvania Turnpike Commission
Pennsylvania Turnpike 66 Toll/Mileage Calculator - Pennsylvania Turnpike Commission
---

INFORMATION
Southern Terminus:
US 119 at Exit 0A in New Stanton
Northern Terminus:
US 22 at Exit 14 in Delmont
Length:
13.70 miles
National Highway System:
Entire length
Name:
Amos K. Hutchinson Bypass
SR Designation:
7066
County:
Westmoreland
Multiplexed Routes:
None
Former Designation:
PA Toll 66 (1993)
Former LR Designations:
None
Emergency:
*11

Washington's Trail:
Exit 0A to Exit 6

Highway Conditions:
https://www.paturnpike.com/webmap/PTCIE-2.aspx
1-866-976-TRIP
---
Back to Pennsylvania Highways
Back to Pennsylvania Toll Highways
Page updated February 26, 2021.
Content and graphics, unless otherwise noted, copyright © Jeffrey J. Kitsko. All rights reserved.
Information sign courtesy of Richard C. Moeur.
Washington's Trail shield courtesy of Bruce Cridlebaugh.
Information courtesy of the Pennsylvania Turnpike Commission, Greensburg-Tribune Review, Pittsburgh Post-Gazette, and The Pennsylvania Turnpike: A History by Dan Cupper.