---
One of the most rural US highways to traverse Pennsylvania, US 209 originally began as an intrastate highway. The southern terminus was located in Clarks Ferry and the northern terminus was in Milford. In 1927, the route was under construction from Newtown to Minersville and completed the following year.
The first significant rerouting took place in 1933 when the designation was moved onto the current alignment between Llewellyn and Mar Lin. The designation was signed on the current SR 4005 into Minersville and current PA 901 from the borough to Mar Lin. The next change was the movement of the northern terminus from Milford to Kingston, New York in 1935. The southern terminus was moved from Clarks Ferry to its current location in Millersburg in 1936. In 1939, the route was widened from Milford to the Westfall Township line.
The 1940s began as the 1930s ended with widening taking place in Tower City, current PA 901 East to Pottsville, Schuylkill County line to the Borough of Summit Hill line, in Nesquehoning, Packerton to Lehighton, and the Milford Township line to Matamoras in 1940. In 1941, the widening continued in Tamaqua, in Tremont, Lehighton to Weissport, and PA 612 to East Stroudsburg. That same year a new alignment opened between Pottsville and Port Carbon which prompted the designation to be removed from Bacon Street through Palo Alto. Improvements would be postponed until 1946 when a new alignment was finished between Machamer Avenue in Lykens and SR 4010 and the designation moved off Pottsville Road and Market Street through Williamstown. Widening took place that same year between East Stroudsburg to PA 447 North.
Widening was still on the agenda in the 1950s with the section being widened in Jim Thorpe in 1950 then from Nesquehoning to East Center Street in 1955. In 1956, widening took place from Coaldale to the Carbon County line. Widening continued in 1958 when sections in Elizabethville, in Lykens, Tower City to Reinerton, and in Branch Dale and saw work. Construction on the first expressway section of US 209 was when construction of Interstate 80 from Exit 308 to Exit 310 began in 1959.
The section from Exit 308 to Exit 309 opened in 1960 and a year later construction began from Exit 298 to Exit 308. In 1962, the section of Interstate 80 from Exit 305 to Exit 308 and with that, the designation was removed from passing through Stroudsburg and East Stroudsburg via Main Street, Washington Street, Courtland Street, and Milford Road. Construction on another section of expressway began from the current PA 33 South interchange to Snydersville that year as well. In 1963, construction began from Sciota to the PA 33 South interchange and the PA 33 North interchange to Interstate 80. The route had a median installed on it from PA 901 West to the current PA 901 East intersection. The expressway opened to traffic from Sciota to Interstate 80 in 1964, and with it the designation moved onto the new alignment. In 1969, the highway was divided from Weissport to the Pennsylvania Turnpike Northeast Extension and again in 1975 between Pottsville and New Philadelphia.
On July 27, 2001, the Federal Highway Administration approved plans for the Marshalls Creek Bypass. This project would include construction of a new, four-lane limited access bypass of US 209 and PA 402, plus widening of US 209 to relieve congestion in Marshalls Creek which was originally proposed in 1991. Everything seemed on course until Pyrite, which forced a halt to Interstate 99 construction on Skytop Mountain, was discovered in the path of the projected highway in 2004. Testing was conducted to determine the exact amount and remediation plans were included in the contract proposal. The first challenge to the project was in 1997 when an endangered species of fish was discovered in Marshalls Creek which necessitated a revision in the design.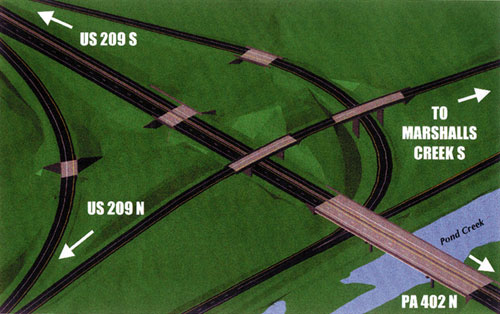 Planned interchange with PA 402 (PennDOT)
After the issue with the Pyrite was settled, ground was broken for the start of Stage One on August 24, 2005. The initial $14.2 million phase consisted of preliminary grading and drainage for the PA 402 section of the bypass, as well as replacement wetlands and relocating a section of Oak Grove Drive. Cul-de-sacs were built in the White Birch Estates community near Oak Grove Drive. Three intersections on US 209 at Buttermilk Falls Road, Buttermilk Falls Road at River Road, and US 209 at Winona Falls Road/River Road were improved with new turning lanes, new traffic signals, and upgrades to drainage and signage. This phase was completed in 2007.
The rising costs of materials caught up with the bypass project in April 2008 when PennDOT halted work. "We are facing such daunting challenges because of the cost of bridge repairs and tremendous inflation rates in construction materials," said PennDOT spokesman Rich Kirkpatrick. The entire project was originally to cost $68 million had risen to $200 million. In a meeting with state and local officials on April 17, Department of Transportation representatives reassured them that the project would not be abandoned. "But we'll see," Middle Smithfield Board of Supervisors Chairman Scott Schaller said, adding, "I would not bet the house on it." PennDOT conducted new traffic studies in June to see if a scaled back bypass utilizing two lanes instead of four could work instead.
A good sign for the bypass came on October 21, 2008 when the Northeastern Pennsylvania Alliance Rural Planning Organization, the official Rural Planning Organization for Monroe, Carbon, Lackawana, Wayne, Luzerne, Pike and Schuylkill Counties, voted to adopt a funding plan. They approved up to $27.7 million which is sufficient to fund either Option 4C or Option 1. Stage Two began the following year in January 2009 which consisted of a new traffic signal at the intersection of US 209 and Mount Nebo Road/Oak Grove Drive, relocating a section of Oak Grove Drive which included construction of a new bridge over Pond Creek, and various improvements to the storm water system along US 209 north of Marshalls Creek. On March 30, 2009, construction began on Park-and-Ride Lot with more than 400 spaces at the intersection of US 209 and Mount Nebo Road/Oak Grove Drive. The entire stage was completed on November 23, 2009 at a cost of $6.3 million.
The contract for the final stage of the project was awarded on May 26, 2010 to Leeward Construction, Inc. of Honesdale at a price of $18,209,378. Stage Three consisted of building a new two-lane alignment for US 209 to bypass Marshalls Creek as well as improving intersections on several secondary roads in Smithfield and Middle Smithfield Townships. Ground was broken on August 25, 2010 and work came to an end with the opening of the new section of roadway on June 11, 2012, four months earlier than expected.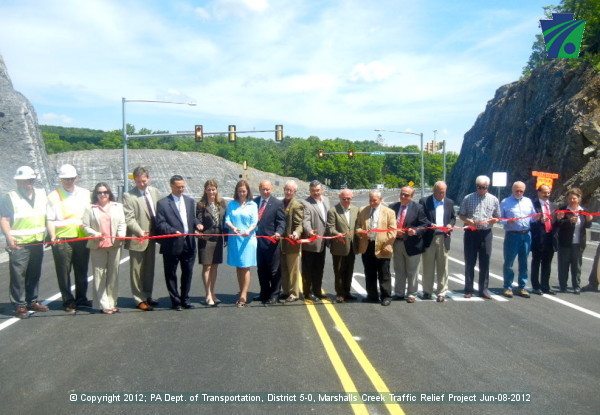 Ribbon-cutting ceremony held June 11, 2012
Heavy rains from Hurricane Irene and Tropical Storm Lee in 2011 caused damage to many roads in northern Pennsylvania, and US 209 was no exception. The northbound lane dropped several inches, forming cracks on the road surface, and the embankment on the side of the road along the Delaware River dropped several feet which forced the closure of the highway in October 2011. The damage was fixed by building a 500-foot-long retaining wall below the road with 120 large earthen anchors to hold it in place. The $4.3 million repair project began on July 30, 2012 and was expected to be completed in October, but work was stopped due to the approach of Hurricane Sandy, so the route reopened to traffic four months later on November 21. Since this section of US 209 is inside the Delaware Water Gap National Recreation Area, and therefore under the jurisdiction of the National Park Service, the tab was paid for by the Federal Highway Administration.
When the Coronavirus, or COVID-19, pandemic swept into the country in March 2020, PennDOT took measures to stem the spread to their employees and staff. At 12:01 AM on March 17, all rest areas and welcome centers across the state, including the one in Pike County, were closed to the traveling public. Also all Driver License and Photo License centers were closed for two weeks and construction projects on roads under the Department of Transportation's jurisdiction were stopped. Hearing that construction work was halted could come as welcome news, the idea of closing down the rest areas did not sit well with truckers, trucking firms, nor some elected officials. It was then announced that on Thursday, March 19, barricades would come down at 13 rest areas across the state and they would be reopened with portable restroom facilities while the permanent facilities would remain closed. "Every decision made has been in the interest of mitigating the spread of COVID-19 and we are constantly reevaluating our response," said PennDOT spokeswoman Alexis Campbell. "That said, we also recognize that drivers need and deserve access to rest areas." PennDOT announced on March 24 that an additional 10 would reopen, and including the original 13, all would provide normal service with additional cleaning and maintenance.
Extensive repairs began the week of March 7, 2022 on a seven-mile section of the route within the Delaware Water Gap National Recreation Area. The work is funded by the Great American Outdoors Act (GAOA) and is part of an overall project estimated at over $21 million to completely rehabilitate 14 miles of the route through the park over the next two years. "Repairs to the road surface, subsurface and drainage systems will extend the life of the road, eliminate the ongoing cost of frequent patching of potholes and other temporary corrective measures, and improve safety for motorists and bicyclists, including correcting the steep drop-offs on the road's shoulders," said Sula Jacobs, park superintendent. "When completed, motorists will have a much smoother, safer, and enjoyable drive." Work will include milling the existing pavement, full-depth patch repair and spot base repair, culvert replacements, shoulder reconstruction, and new line markings between Middle Smithfield Township, Monroe County and Lehman Township, Pike County. Contractors began staging equipment and materials as well as started surveying and marking the road at that time, with construction starting after the surveying was complete. All work is expected to be finished by the end of the year.
The second phase of the project will include repairs to the route between Delaware and Dingman townships in Pike County. While preliminary work got underway in 2022, the full construction phase won't begin until 2023. Part of this section had to be closed on the morning of March 17 due to increased erosion of a slope between the road and the Delaware River. The affected 4.9-mile-long section stretched between PA 739 and Raymondskill Road in Pike County. A damaged culvert and outflow pipe were determined to be the culprits according to Deputy Superintendent Eamon Leighty. Officials from the Federal Highway Administration conduced damage assessments and found similar issues at another section where the northbound shoulder was previously closed. With the erosion worsening at both locations by April 4, a single-lane closure with temporary traffic signals to control traffic were implemented at both by April 8. The only time US 209 would be complexly closed would be if heavy rain or storms are forecasted, and 48 hours after to allow time for runoff so the areas can be reassessed. In the meantime, park staff will continue to monitor the area for changing conditions.

US 209 Truck Information
Monroe and Pike Counties
---

Marshalls Creek to Milford*
*The National Park Service bans all commercial vehicles from this
section as it falls under their jurisdiction.
Links:
Exit Guide
US 209 Auxiliary Routes
US 209 Pictures
Interstate 80
Terminus of US 209 - Dale Sanderson
US 209 Pictures - Andy Field/Alex Nitzman
US 209 Pictures - Steve Alpert
US Route 209 - David Golub
---

INFORMATION
Southern
Terminus:
PA 147 in Millersburg
Northern
Entrance:
New York state line at the Mid-Delaware Bridge in Matamoras
Length:
148.70 miles
National
Highway
System:
PA 248 to I-80
US 206 to US 6
Names:
Union Street, State Street, Main Street, Grand Avenue, Tremont Street, Bunting Street, Pottsville Highway, Pottsville-Minersville Highway, Market Street, Centre Street, Mauch Chunk Street, River Road, Weigand Boulevard, South Coal Street, Pike Street, Market Street, Valley Street, Broad Street, West Water Street, Water Street, Patterson Street, Catawissa Street, Lehigh Avenue, Susquehanna Street, First Street, Bankway Street, Bridge Street, Interchange Road, Hamilton West, Z. H. Confair Memorial Highway, Keystone Shortway, Seven Bridge Road, Marshalls Creek Bypass, Milford Road, and Grand Army of the Republic Highway
SR
Designations:
0209
0080: Exit 302A to Exit 309
0006: Milford to the New York state line
Counties:
Dauphin, Schuylkill, Carbon, Monroe, and Pike
Expressway:
Sciota to I-80
Exit 304 to Exit 309 of I-80
Multiplexed
Routes:
PA 125: Tremont
PA 901: Mar Lin to Pottsville
PA 33: Sciota to Snydersville
I-80: Exit 302A to Exit 309
US 6: Milford to the New York state line
Former
Designations:
PA 7 (1925 - 1928): Milford to the New York state line
PA 12 (1927 - 1928): Business US 209 to the New York state line
PA 33 (1927 - 1928): Millersburg to Business US 209
PA 901 (1928 - 1933): Llewellyn to Mar Lin
PA 402 (1928 - 1962): Minisink Hills to Seven Bridge Road
Former LR Designations:
199: PA 147 to Minersville-Llewellyn Road in Llewellyn and PA 901 to PA 61 in Pottsville
725: Minersville-Llewellyn Road to PA 901
162: Market Street in Pottsville to Coal Street in Middleport and Old Route 209 to Broadway in Jim Thorpe
1103: Middleport to Old Route 209 one-quarter mile west of Tamaqua
163: Jim Thorpe to PA 443 in Lehighton
164: Lehighton to Lesh Road in Monroe County
164 Alternate: Lesh Road to I-80
794: Exit 304 to Exit 309 of I-80
45011: I-80 to Buttermilk Falls Road in Monroe County
461 West: Buttermilk Falls Road to Seven Bridges Road in Monroe County
167: Business US 209 to US 6 in Milford
8: US 6 to the New York state line

BicyclePA Route:
Harrity Road to Cherry Hill Road

BicyclePA Route:
PA 534 to Silver Spring Road

BicyclePA Route:
Milford to the New York state line
---
Back to Pennsylvania Highways
Back to Pennsylvania US Highways
Page updated May 18, 2022.
Content and graphics copyright © Jeffrey J. Kitsko. All rights reserved.
Information sign courtesy of Richard C. Moeur.
Information courtesy of the Pennsylvania Department of Transportation, Rand McNally, National Park Service, the Pocono Record, the Pittsburgh Post-Gazette, and The Express-Times.