North Star Way
Buffalo-Pittsburgh Highway
---
Prior to the dawn of the 21st Century, this corridor only saw one major event when 2,200 people died on May 31, 1889 in the greatest disaster in the United States at the time in Johnstown. The 1889 flood unleashed 20 million gallons of water onto the unsuspecting city and it would see significant flooding in 1936 and again in 1977. Flooding became such a constant in Johnstown that it would become known as "Flood City." The current alignment of US 219 passes approximately 100 yards to the west of the remains of the South Fork Dam, which caused the 1889 catastrophe. On September 11, 2001, United Airlines Flight 93 crashed eight miles to the east of US 219 and in July 2002 nine miners were trapped in Quecreek two miles to the west of the corridor in Somerset County.
In the early days the route passed through Somerset, Johnstown, and Ebensburg. In Johnstown, the route followed Franklin Street, Washington Street, Walnut Street, and William Penn Avenue. Originally, the designation ended in DuBois but was extended in 1927 to Ridgway, then north to New York a year later. In Bradford, the designation followed South Avenue, Main Street, and East Main Street to head to Foster Brook and New York. In 1928, the route was under construction from Lantz Corners to Lewis Run.
In 1934, the alignment was under construction from Mundy's Corners to the Cambria Township line and completed the following year. A change in designation took place in Johnstown in 1938 when the route was signed on Napoleon Street, Johns Street, and Iron Street to form a bypass of downtown.
In 1940, the highway was widened in Meyersdale and at the Lincoln Drive intersection south of DuBois. In 1946, the route was changed to North Center Street and Plank Road north of Ebensburg. Prior to that year, the designation was signed on Highland Avenue and Colver Road between Ebensburg and the current US 219 alignment. Also that year, the highway was widened from Custer City to South Bradford. In Johnstown, the designation was moved to Conemaugh Avenue from Iron Street while Napoleon Street between Somerset Street and Johns Street became known as Stony Creek Street. In 1948, the highway was widened at the Jackson Street intersection in Goods Corner.
The 1950s began with widening taking place in Somerset and a new alignment under construction from Halsey Road in Halsey to Lantz Corners. The following year this segment was completed; however, without the US 219 designation. It would not be until 1952 that this section would receive the US 219 markers. Previously, the designation was signed on the current PA 321 alignment to Kane and then US 6 to Lantz Corners. In 1953, the designation was removed from Brotherton Road and PA 31 between Berlin and Somerset to its current alignment. Also that year, the highway was widened between South Bradford and Bradford. In 1955, the highway was widened from Bradford to Foster Brook. Widening continued the following year with sections from New Germany Road to Ebensburg, in Grampian, and in DuBois being completed. In Johnstown, Stony Creek Street became Johns Street. In 1958, the highway was widened in Mahaffey. In the final year of the 1950s, construction began on the Mundys Corner bypass.
The 1960s began with another change in the alignment in downtown Johnstown, with northbound signed on Union Street and southbound on Johns Street between Washington Street and Johns Street. In 1961, the Mundys Corner and Ebensburg bypasses opened and the segment between the two was widened and a median was installed. Also that year, the highway was widened between Stony Lane and Ridgway. Construction on the first section of expressway began in fall 1962 between Scalp Avenue and the Johnstown Expressway. Work would be extended to the PA 869 interchange in 1964. The section between Scalp Avenue and the Johnstown Expressway opened in 1965, while construction began from the Tower Road overpass to US 22. While work would finish on the section from the Johnstown Expressway to PA 869 finished, it began on the segment between PA 869 and Tower Road in 1966. The expressway opened from PA 869 to US 22 in 1967, and the designation moved onto it from the current PA 271 alignment. The designation was also removed from downtown Johnstown by turning at Ferndale onto Eisenhower Boulevard to Scalp Avenue and joining the expressway at that interchange. Construction began in 1968 on the section from the PA 601 connector north of Somerset to the PA 56 East/Scalp Avenue interchange. Also that year, the highway was widened and a median installed on it at the Interstate 80 interchange. In 1969, the section from US 30 to PA 403 opened while work began on the Bradford Bypass from Owens Way to Elm Street.
The first year of the 1970s was celebrated with two new sections of expressway opening from PA 56 east to PA 403 and from US 30 to the PA 601 connector. With that opening, the US 219 designation was signed on a continuous expressway-grade highway from Somerset to Ebensburg. Prior to the opening, the designation was signed on PA 601 and PA 985 between Somerset and Johnstown. While that section opened, construction began from the US 219 alignment southeast of Somerset to the connector that year. In 1971, the segment of the Bradford Bypass from Owens Way to Elm Street opened, and the designation moved off South Avenue. However, now the designation was signed on Elm Street, Davis Street, and Main Street to keep the continuity. Construction began from Elm Street to the Mill Street underpass that year as well. In 1973, two sections of the highway opened: US 219 to the PA 601 connector and Elm Street to Mill Street. The designation was removed from Plank Road, East Main Street, and North Center Street through Somerset. Another routing change happened in Bradford with US 219 signed on Mill Street to East Main Street and southbound traffic was signed on Fisher Avenue and Homestead Avenue. The designation was removed from Elm Street, Davis Street, and East Main Street to Mill Street. The following year, construction began on the Ebensburg bypass from US 22 to US 422. In 1975, construction continued on the Bradford Bypass from Mill Street to the New York state line. In 1977, the Ebensburg Bypass opened to traffic from US 22 to US 422; however, the designation was still signed on US 22, Old US 219, Center Street, and Plank Road. The US 219 designation would not switch to this route until the following year, and even then drivers had to follow West High Street into the borough to continue on the route. Another section to open was from Mill Street to the Foster Brook interchange opened. In 1979, the entire Bradford Bypass opened to traffic to the New York state line.
Something that hadn't happened in almost a decade occurred in 1990 when construction began on the section from US 22 to Plank Road. The following year it opened and the designation was removed from passing through Ebensburg. In January 1997, environmental studies began on the Meyersdale Bypass and entered the construction phase that same year. However, if you looked on the 1976 Department of Transportation map, you'd think work began that year. The bypass opened to traffic in January 1999.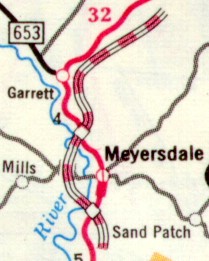 Meyersdale Bypass in 1976.
(PennDOT)
Also during the 1990s, is when Representative John Murtha spearheaded a campaign to get money for the upgrading of US 219 to expressway standards through Pennsylvania. He referred to this highway as Interstate 67, and said that it would provide a much needed highway connection through west-central Pennsylvania and a NAFTA corridor from Buffalo to Miami.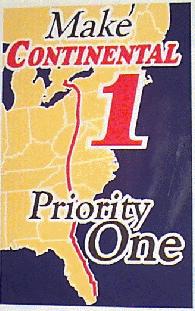 Promotional map depicting
the entire proposed route.
(Representative John Murtha)
On April 25, 2001, it was announced that PennDOT would be studying upgrading US 219 between the Meyersdale Bypass and the end of the US 219 expressway in Somerset. Even though engineering studies were conducted back in the 1970s on this section, environmental requirements and highway design standards had changed since that time and required revisions. Ron Samuel of PennDOT District 9 said a minimum of five alternatives will be analyzed for the project: a relocation of US 219 to the eastern portion of the study area west of Berlin, relocation to the west in the vicinity of the Garrett Shortcut, transportation system management which would include improvements such as intersection realignments, traffic signals, truck climbing lanes, reduction of curves, a no-build alternative, and one additional alternative not yet defined.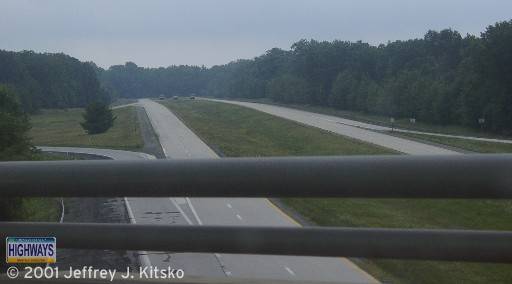 The former end of the expressway southeast of Somerset which terminated
at the border of a state game land. The three vehicles in the median
are PennDOT trucks.
Funds were secured in the 2000 Fiscal Year for studying the corridor for improvements. Pennsylvania along with New York received $400,000 to conduct economic impact and traffic analysis studies from Interstate 80 near DuBois to Buffalo. The Commonwealth also received $500,000 to assist in plans to connect the Turnpike to US 219 and to provide a link to Interstate 68 in Maryland.
Is this a case of "Bud Envy?" I noticed the following sign on the expressway segment from US 22 to the end north of Ebensburg. "Jack" refers to Representative John P. Murtha (D) who is the representative for the district that US 219 traverses. Just as his counterpart Bud Shuster slapped his name on I-99/US 220, I guess John decided that two can play at that game and did the same. No other section of the expressway has these signs.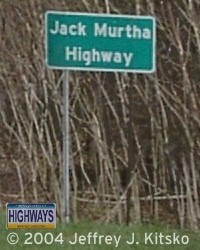 Construction for the extension of the Bradford Bypass from near the Kwik Fill on US 219 to Owens Way began on June 24, 2002. The new segment of expressway opened to traffic on October 10, 2003 and cost $7,537,000 to build. The work included a new bridge over Owens Way, and the usual drainage, landscaping, signing, guiderail installation, utility relocation, and wetland mitigation.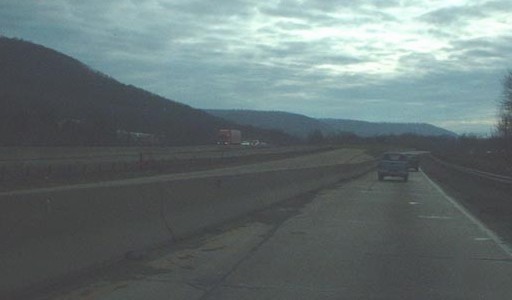 The former southern end of the Bradford Bypass at Owens Way. It was
like the ends of other expressway segments along the route. (Doug Kerr)
Trouble loomed for the plan to upgrade US 219 to an expressway north of Ebensburg. In 2004, PennDOT released its revised 12-Year Transportation Program and this section was deferred at that time. As a "consolation prize," PennDOT requested from AASHTO an Alternate US 219 for SR 4013 in Cambria County and PA 36 between Carrolltown and Mahaffey to be signed in 2015.
Construction began on Phase I of the Johnsonburg Bypass in April 2006 and concluded in November 2007. This section involved building a 694-foot-long bridge over the Buffalo & Pittsburgh Railroad line, sound walls, and approaches to the bridge. Construction on Phase II, which completed the highway by crossing the western branch of the Clarion River and connecting back to the original alignment, began on March 24, 2008. Work consisted of the building of two bridges, four retaining walls, a rail crossing, roadway, guiderail, lighting, signs, traffic signal installations, and pavement markings. The $32 million project was completed on September 21, 2010 when the US 219 designation was removed from Center Street and Marvin Street through town and the new alignment was officially designated the Sam Guaglianone Bypass.
On August 9, 2007, Transportation Secretary Allen Biehler along with other state and local officials dedicated US 219 between Maryland and Cambria County as the "Flight 93 Memorial Highway." "The heroism of the victims of Flight 93 is something we want to always remember," Secretary Biehler said. "Everyone who travels this route will never forget the bravery and unselfishness of those on the flight." Joining him was state Senator Richard Kasunic who sponsored the legislation to change the name, and Kenny Nacke whose brother was aboard on United 93. Also in attendance were the National Park Service as well as members of the Shanksville Volunteer Fire Department, who were the first that responded to the initial report of a plane crash near Indian Lake.
After years of talk but no action, state officials had basically written-off upgrading US 219 to an expressway through southern Somerset County. Even PennDOT had removed this section from its 12-Year Plan. That was until Fourth of July 2008 when the 2008-2009 state budget was signed into law by Governor Edward Rendell, which allocated $35 million for construction. It will be enough to match the $46 million coming from the Federal government. Late on July 3, a Senate committee approved the money which followed a week of intense behind-the scenes lobbying. Pressure for inclusion was a bi-partisan effort with the governor, state senators and representatives, Somerset County commissioners, and even US Representatives John Murtha and Bill Shuster involved. The cost of completing the expressway between the Maryland state line and Somerset is $600 million.
In January 2010, Somerset County Commissioners were looking optimistically to Congress to reverse its decision on turnpike toll credits which would guarantee $35 million for preliminary work on the Meyersdale-to-Somerset section including engineering, moving utilities, appraising property, and acquiring right-of-way. In its last major transportation bill, Congress said the Commonwealth could not count cash collected on the Turnpike system as matching money on highway projects which stalled the project. Following an intense lobbying and e-mail campaign, county commissioners and the public were able to get Governor Ed Rendell to free up $35 million which was half the state match needed to complete the project. PennDOT District 9-0 Executive Tom Prestash outlined the three phases for the 12-mile-long corridor: earthmoving to grade the highway would be the first phase for $160 million, phase two would build overpasses and bridges for $76 million, and phase three would cover the paving for $55 million. The initial $35 million will cover the "preconstruction" and first phase, but the additional $35 would cover phases two and three. In September 2010, US Representative Mark Critz, who was voted in to replace the late John Murtha, announced he would sponsor legislation to make the route part of the Appalachian Highway System. If approved, the designation would provide additional money for development of an expressway alignment all of the way to Bradford near the New York state line. US Representative Bill Shuster introduced a bill in the House of Representatives to allow the use of toll credits to match federal money for transportation projects in March 2011, which would allow completion of this expressway. Another bill was introduced by US Senator Ben Cardin of Maryland and co-sponsored by Senators Bob Casey and Pat Toomey in August 2011 in the Senate.
Work on the missing link from Meyersdale to Somerset began on February 15, 2013 when two tree companies began clearing a total of 250 acres of trees in the right-of-way. However, the Mountain Watershed Association, an environmental group from Fayette County, filed a complaint with the Army Corp of Engineers in the same month, contending the project could potentially harm things discovered after the final environmental impact study was completed in 2005. It could disturb two hibernation areas of the endangered Indiana Bat, as well as streams and wetlands, and PennDOT's application was vague about where the contractor would dump the 4.5 million cubic yards of material that would be excavated. However, the group is not opposed outright to the project and believe it will create jobs, increase safety along US 219, and improve the infrastructure of the county. On May 20, 2013, the United States Environmental Protection Agency gave the "green light" for construction to proceed. The official groundbreaking ceremony, with state and local officials in attendance, was held on August 27, 2013. "As we all know there were a lot of naysayers, people saying it can't be done," said US Representative Bill Shuster. "(They said), 'It's too big of a project,' but here we are today standing here and it's going to be a reality." Earthmoving work commenced on September 27, 2013. The federally funded, $330 million project included construction of 11 miles of four-lane highway, guiderail, high-tension median cable guiderail, signage, installation of lighting at interchanges, pavement markings and construction of six bridges, the highest being the one over Buffalo Creek which is 1,100-foot-long and 220-feet-high. The new section opened to traffic on November 21, 2018 removing the designation from the windy route through Garrett and Berlin, but not without delays such as rainy weather as well as a 1,500-foot-long section of pavement that needed to be poured again due to not meeting standards.
Pennsylvania has some of the most structurally-deficient bridges in the nation, and fortunately so far nothing on the scale of Minneapolis' I-35W bridge collapse has taken place. However, that changed on June 18, 2015, when a bridge carrying US 219 over Elk Creek in Ridgway collapsed. The bridge, weakened from flooding in 2014, was in the process of being repaired when it gave way, taking with it several construction workers. Thankfully all of them survived with only minor injuries.
After completion of the new expressway alignment between Meyersdale and Somerset, attention turned to the section from the former south to the Maryland state line. In a letter to PennDOT Secretary Leslie S. Richards on October 15, 2019, Maryland Transportation Secretary Pete Rahn requested the two states file a joint application for federal money. "Prior to the United States Department of Transportation issuing a notice of INFRA 2020 funding opportunity, I am writing to request our departments jointly issue a request for proposals to draft an INFRA 2020 application to advance dualizing the remaining (highway) segment," Rahn said in the letter. In the letter, he recognized the competitive nature of the grant process and identified the possible benefit of a dual application.
While looking to the future, PennDOT was still concentrating on the present with an open house at Salisbury Volunteer Fire Department on October 30, 2019 to discuss improvements to the current corridor between Maryland and Meyersdale. "We talked to a lot of the stakeholders on what are the needs of the existing alignment, with the idea of identifying improvements...that we can do to the existing alignment to make it safer for the people that are using 219 now," said Vince Greenland, PennDOT assistant district executive for design. The eight possible projects include drainage work, tree removal and embankment work for sight distance improvements, intersection improvements, upgrading the traffic signal in Salisbury, passing zone reviews, and resurfacing the entire 7-mile-long section, with widened shoulders and edge rumble strips. "These improvements will be in place, and are going to be of good use, even if there is money to build an extension of 219," said Greenland. "Obviously, we don't have the money for that right now, so that money that we have to spend on the existing 219 will be put to good use."
To get the ball rolling on completing the last 5 miles inside the county, Somerset County Commissioners hired Pendulum Strategies, a Washington, DC lobbying firm, to push for the project on Capitol Hill. Prior to the COVID-19 pandemic, there was a prospect of more federal highway money available becoming likely, and coalitions in Pennsylvania, Maryland, and West Virginia all backing the project "a lot of planets are aligning now...and we need to be more aggressive in pursuit of funds," said Commissioner Pamela Tokar-Ickes. Deciding to double their lobbying efforts, the county commissioners hired another lobbying firm, Nelson Mullins, on June 16, 2020. One of their staffers includes Ron Klink, who served in congress representing Pennsylvania's 4th District, and who worked at WTAJ-TV Altoona and KDKA-TV Pittsburgh before entering politics. "Ron's a native of Summit Township and just like fellow Somerset Countian Michael Frazier with Pendulum both under the importance of this project to Somerset County," Tokar-Ickes said.
While the snow may have stopped falling in Johnsonburg by March 2022, but something else continued to fall: deer. Near the northern end of the bypass, above Center Street, deer have been wandering onto the roadway from the hillside, panic, and when one jumps off the bridge, the rest would follow. Resident Bill Boylan said that at least 25 deer had jumped to their death. He and other residents tried to reach out to PennDOT to no avail. "PennDOT apparently doesn't see the wisdom of putting maybe a diversion fence for the deer, or maybe some nets to catch all the debris that comes off from the snowplows that plow it over," said Boylan. He added that all that is needed is a barrier of some type to divert them from the bypass. Another concerned resident, Julie Padasak, had reached out to the state and local game commissions who in turned pointed her to PennDOT. She feels that the deaths could impact hunting season in the area. "All of 'em are doe and that's, you know, potentially could have been how many more deer populating. If they wouldn't have died, they are the mothers to carry the, the baby deer," said Padasak. She is also concerned that the bodies will begin to stink as the weather warms. "But they're literally jumping to death," added Padasak. "And that, to me, looking at them, it's disturbing." PennDOT said they had only learned of the issue at the beginning of March. "We started taking a look at it, trying to really determine where the deer coming from, you know, how are they ending up on that bridge is really the problem we've got to solve first before we can determine if there's anything we can do or not," said District Executive Tom Zurat.
On April 20, 2022, the Department of Transportation announced that additional Appalachian Program Development (APD) funding in the federal Bipartisan Infrastructure Law (BIL) is helping to accelerate the upgrading of US 219 in Somerset County. The $53 million investment was committed today to continue the remaining pre-construction activities of final design, right-of-way, and utilities to upgrade the county's last remaining two-lane section of roadway to a four-lane, limited-access expressway. The new expressway would be between the current Interstate 68 interchange in Maryland and the southern end of the Meyersdale Bypass. "The Bipartisan Infrastructure Law is making significant progress possible across Pennsylvania," PennDOT Secretary Yassmin Gramian said. "This investment also shows the commitment to growing and supporting our rural economies and transportation system." This funding is in addition to $6 million in APD funds announced in November 2020 which have been used to begin environmental studies and selecting the alignment. "Senator Pat Stefano and I have been advocating for this expansion project of US 219 for years to improve interstate commerce and highway safety," said Senator Wayne Langerholc, Jr., chairman of the Senate Transportation Committee. "Today's announcement securing $53 million of Federal Appalachian Program Development funding will complete essential pre-construction activities and will continue promoting the project's benefits to secure funding for the construction of this critical corridor." Even though funds for pre-construction work have been secured, federal, state, and local officials will have to continue to secure funds for construction of the new highway.
Links:
Exit Guide
US 219 Auxiliary Routes
US 219 Pictures
Johnstown Flood
Quecreek Mine Accident
Shanksville and Flight 93
Continental 1
Terminus of US 219 - Dale Sanderson
US 219 Pictures - Steve Alpert
---

INFORMATION
Northern
Entrance:
New York state line one mile north of Foster Brook.
Southern
Entrance:
Maryland state line six miles south of Salisbury.
Length:
201.80 miles
National
Highway
System:
Entire length
Names:
Flight 93 Memorial Highway, Grant Street, North Star Way, Jack P. Murtha Highway, Plank Road, Main Street, Bigler Avenue, Philadelphia Avenue, Chestnut Avenue, Cherry Tree to Patchin Road, Patchinville to Burnsi Road, Mahaffey to Curry Run Road, Curry Run-Bells Landing Road, Bells Landing-Grampian Road, First Street, Grampian-Chestnut Grove Road, Chestnut Grove-Luthers Road, 28th Division Highway, C&M Junction Road, Salem to DuBois Road, Buffalo-Pittsburgh Highway, Brady Street, Liberty Boulevard, DuBois Avenue, Cherry Street, Broad Street, Sam Guaglianone Bypass, Center Street, and Marvin Street
SR
Designation:
0219
Counties:
Somerset, Cambria, Indiana, Clearfield, Jefferson, Elk, and McKean
Expressway:
Meyersdale to Ebensburg
South Bradford to the New York state line
Multiplexed
Routes:
PA 56: Scalp Avenue to the Johnstown Expressway
PA 36: McGees Mills to Mahaffey
US 322: Luthersburg to US 322 West
PA 948: Boot Jack to Ridgway
Truck PA 770: Timbuck to Custer City
PA 770: Custer City to Degolia
PA 346: Bradford to Foster Brook
Former
Designations:
PA 6 (1926 - 1928): Maryland to Meyersdale and Ebensburg to Wilcox
PA 10 (1927 - 1928): Lewis Run to Bradford

BicyclePA Route:
Park Avenue to PA 830

Traffic Cameras:
Scalp Avenue
PA 756
Johnstown Expressway
Galleria Drive
Liberty Boulevard
---
Back to Pennsylvania Highways
Back to Pennsylvania US Highways
Page updated May 18, 2022.
Content and graphics, unless otherwise noted, copyright © Jeffrey J. Kitsko. All rights reserved.
Information sign courtesy of Richard C. Moeur.
Information courtesy of the Pennsylvania Department of Transportation, Rand McNally, Len Pundt, Continental 1, WJAC-TV Johnstown, WTAJ-TV Altoona, Altoona Mirror, the Johnstown Tribune-Democrat, Pittsburgh Post-Gazette, Williamsport Sun-Gazette, and the Cumberland Times-News.