The original planned alignment of US 106 would have had it start at Wyalusing and follow the current US 6, US 11, and Business US 6 alignments to Carbondale and US 6 would have followed what became the route of US 106. However, due to disagreements between the Department of Highways and the American Association of State Highway Officials, US routes were not designated in the state until 1928. By the time route markers were posted across the Commonwealth, US 6 and US 106 had flipped routes between Wyalusing and Carbondale with the former taking what is for the most part its current path. US 106 was signed to follow the current PA 706 to and signed with US 11 to Kingsley where it switched to the current PA 106 to Carbondale.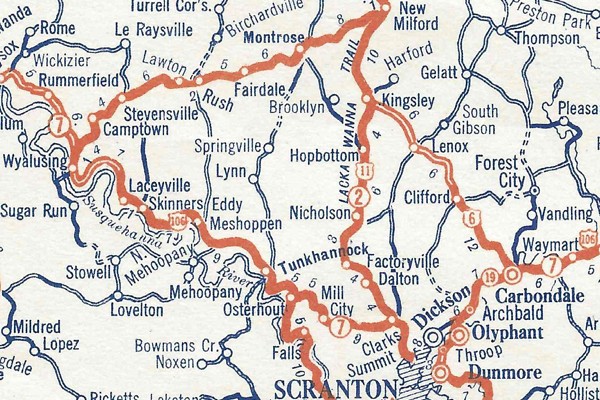 The route of US 106 between Wyalusing and Carbondale as it would have been designated in 1927.
(H. M. Gousha)
In the first year of its existence, a new alignment was being built between West Carbondale Road west of Waymart and Maple Avenue just west of Honesdale that smoothed out and improved the route between Carbondale and Honesdale. A year later, the new alignment opened between West Carbondale Road and Prompton, removing the route from West Carbondale Road, Carbondale Road, Honesdale Road, Keen Lake Road, Church Street, and River Road. However, it was still under construction between Prompton and Honesdale.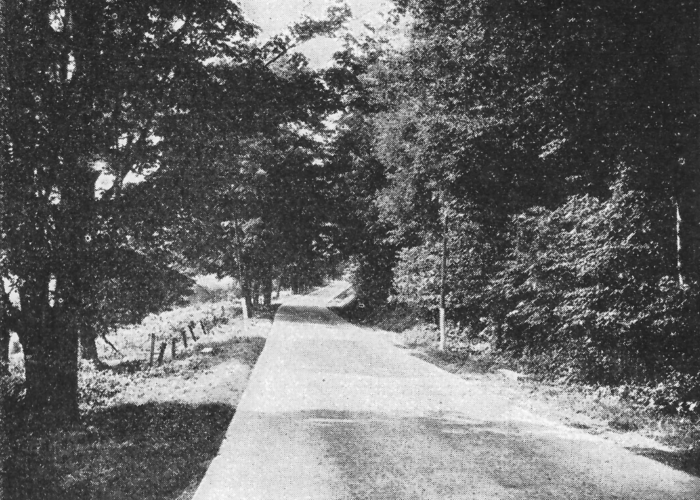 Part of the route near Montrose in Susquehanna County in 1929. (Pennsylvania Department of Highways)
In 1930, the section between Prompton and Honesale would open to traffic which would remove the route from Old State Road, Locust Street, and Maple Avenue.
A section of US 106 near Lenox in Susquehanna County in 1930. (Pennsylvania Department of Highways)
US 106 was widen from two to three lanes, which consisted of one travel lane in each direction and a center passing lane both directions could use also referred to as a "suicide lane," from Carbondale to the Wayne County line in 1940. Ten years later, the route was widened between PA 90 (presently PA 191) and Honesdale. In 1951, the route was widened to three lanes with the center passing lane between the Lackawanna County line and Press Drive just east of the PA 296 intersection.
The last improvement to the route took place in 1961 when the highway was widened between Honesdale and Delaware Street just east of Honesale.
The beginning of the end came in late 1971 when the Department of Transportation applied to the American Association of State Highway Officials to decommission the route and replace it with state route designations. They cited a policy that was established by AASHO effective January 1, 1959 which stated that any US route less than 300 miles in length and/or within one state should be eliminated as the reason. On December 3, AASHO's US Route Numbering Subcommittee approved the application, with PennDOT announcing it had officially decommissioned the route on March 14, 1972; however, work to change signs would continue into April.
INFORMATION
Western Terminus:
US 6 in Wyalusing
Eastern Entrance:
New York state line over the Delaware River one-half mile east of Darbytown
Length:
94.95 miles
Names:
Church Street, Taylor Avenue, Wyalusing Street, Grow Avenue, Greenwood Street, Brooklyn Road, Lackawanna Trail, Main Street, Fallbrook Road, Dundaff Street, North Main Street, Canaan Street, Roosevelt Highway, Grand Army of the Republic Highway, Fortinia Road, West Park Street, Park Street, Fourth Street, Willow Avenue, Grandview Avenue, Texas Palmyra Highway, and Beach Lake Highway
LR Designations:
14: US 6 to South Main Street in Montrose
9: South Main Street to US 11 south in Kingsley
174: US 11 to Main Street in Carbondale
6: Main Street to US 6 east in Indian Orchard
335: US 6 to the New York state line
Counties:
Bradford, Susquehanna, Lackawanna, and Wayne
Multiplexed Routes:
PA 267: Ballpark Road to PA 267 north
PA 29: South Main Street in Montrose to PA 29 north
PA 167: Owego Street in Montrose to Tiffany
US 11: US 11 north to Kingsley
US 6: Carbondale to Indian Orchard
PA 191: Park Street to Fourth Street in Honesdale
Expressway:
None
Former Designations:

PA 47 (1927 - 1928): Wyalusing to Stevensville and Kingsley to Carbondale
PA 67 (1927 - 1928): Stevensville to New Milford
PA 2 (1925 - 1928): New Milford to Kingsley
PA 7 (1925 - 1928): Carbondale to Indian Orchard
PA 19 (1926 - 1928): Indian Orchard to the New York state line
Decommissioned:
1972
Replaced By:
PA 706: Wyalusing to US 11
PA 106: US 11 to Carbondale
PA 652: Indian Orchard to the New York state line
Links:
PA 106
PA 652
PA 706
End of Historic US 106 - Dale Sanderson