Having very little history to its designation, US 711 was created as a route of compromise. The Pennsylvania Department of Highways was upset with the American Association of State Highway Officials' choice of alignments for the then new United States Numbered Highway System. While AASHO chose alignments that were most congruent to north-south and east-west travel, the Department of Highways wanted single US routes to replace each of the cross-state PA routes that had been posted just a year earlier which they themselves had replaced named trails such as the Lincoln Highway. In the case of the latter, US 30 and US 1 were picked to replace PA 1 which was the numerical designation for the famed highway. Even more confusing was US 111, US 11, and US 120 were set to replace PA 4 along the Susquehanna Trail.
Pennsylvania did not send representatives to the Joint Board on Interstate Highways North Atlantic States meeting nor gave a reason, but threatened to not endorse the plan. AASHO added several routes to the system prior to November 11, 1926 when the US routes became official at the request of William H. Connell, Pennsylvania's Engineering Executive and Deputy Secretary of Highways. One of them being US 711, but even still, it was not enough to appease the Commonwealth. By early in 1927, issues of state line connections had been resolved so something else was stopping the Commonwealth from agreeing to posting US route markers.
More changes to routes continued to take place throughout 1927 involving the alignments of US 19, US 120, and US 422 inside the state. By the time things were ironed out, US 711 was replaced with a combination of an extended US 111 and US 220's path changing from following the Susquehanna Trail between Williamsport and the New York state line to the current PA 405 alignment between Muncy and Hughesville and then its current alignment for the most part between there and the Empire State.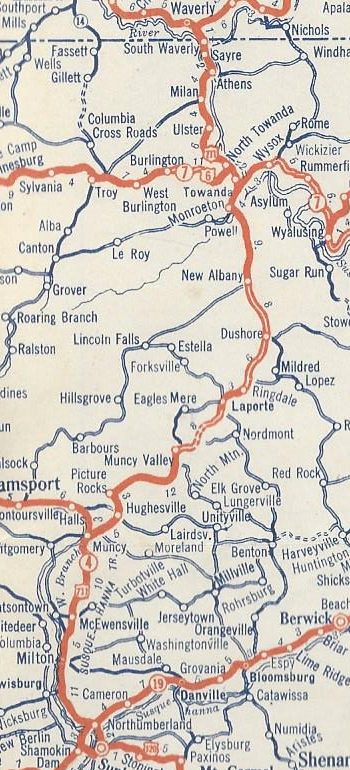 The route of US 711 as it would have been designated in 1927.
(H. M. Gousha)
INFORMATION
Southern Terminus:
US 11 in Northumberland
Northern Terminus:
New York state line in South Waverly
Length:
101.97 miles
Names:
Duke Street, Front Street, Susquehanna Trail, South Front Street, North Front Street, Main Street, South Main Street, East Penn Street, Trout Pond Boulevard, North Main Street, Cliff Avenue, South German Street, North German Street, James Monroe Avenue, Roosevelt Highway, Grand Army of the Republic Highway, York Avenue, Reuter Boulevard, Tomahawk Road, South Keystone Avenue, and North Keystone Avenue
LR Designations:
18: Northumberland to Main Street in Watsontown
240 Spur: Main Street to Brimmer Avenue in Watsontown
240: Brimmer Avenue in Watsontown to Main Street in Muncy
19: Main Street in Muncy to Main Street in Laporte
17: Main Street in Laporte to Means Street in Towanda
212: Means Street in Towanda to Old Mills Road in North Towanda
287: Old Mills Road in North Towanda to the New York state line
Counties:
Northumberland, Lycoming, Sullivan, and Bradford
Multiplexed Routes:
None
Expressway:
None
Former Designations:
None
Decommissioned:
N/A: never posted
Replaced By:
US 111: Northumberland to Muncy
US 220: Muncy to the New York state line
Links:
US 111 (Decommissioned)
US 220
The Almost US Routes of 1926 - Dale Sanderson