Veterans of Foreign Wars of the
United States Memorial Highway
---
One of Pennsylvania's first interstates to be built, Interstate 83 began as the Department of Highways upgraded US 111 to an expressway. Construction on the first section between Exit 33 and Exit 39B began in 1950. Two years later this section opened and was christened the Harrisburg-York-Baltimore Expressway. Also in 1952, construction began on the sections between Exit 39B and Exit 41B in Lemoyne and between Paxton Street and Exit 50. In 1954, those two sections were opened to traffic while construction began on the part between Exit 28 and Exit 32.
In 1955, the section between Exit 28 and Exit 32 opened to traffic and the section of US 111 between Exit 32 and Exit 33 was upgraded to an expressway. In 1956, construction began on the section from Exit 22 to Exit 28 and opened to traffic in 1958. The operative word at the Department of Highways in 1958 must have been "completion," as construction began on most of the remainder of the expressway: Maryland state line to Exit 22 and Exit 41B to Exit 45. The latter segment included the Susquehanna River crossing known as the John Harris Bridge. In 1959, the section from the Maryland state line to Exit 16 opened with Pennsylvania Governor David L. Lawrence and Maryland Governor J. Millard Tawes cutting the ribbon at the Queen Street interchange opening the roadway. "It's official now," a York Gazette and Daily story said about the official date. "You can drive from the outskirts of Harrisburg to the outskirts of Baltimore without seeing a traffic light."
Not only did the expressway receive the I-83 designation in 1960, but more sections opened to traffic: Exit 16 to Exit 22, completing the bypass of York, and Exit 41B to Exit 43. In 1961, the section between Exit 43 and Exit 45 opened to traffic with a twist: the expressway was completed, and the US 111 designation moved onto it and the northern terminus from Lemoyne to US 22. Interstate 83 would become a "solo act" for the first time in 1963 when the US 111 shields were taken down, leaving only one designation; however, the Interstate was not complete by today's standards.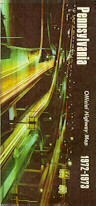 In 1968, construction began on the sections from Exit 45 to Exit 47 and Exit 50 to Exit 51. Two years later, the latter would open to traffic but the Exit 45 to Exit 47 segment would take a little while longer. The reason being is that it involves the massive Eisenhower Interchange, one of the most complex if not largest, in the Commonwealth. This last section would open to traffic in 1971. A picture of it was featured on the cover of the 1972-1973 Department of Transportation map seen at the left.
In the late 1990s there was talk of extending I-83 northward to Williamsport and further. Since PennDOT has been rebuilding US 15 north of the city as an expressway, and with many expressway sections between it and Harrisburg, an extension of the designation seems appropriate. However, the US 15 widening projects near Amity Hall did not result in an expressway and is an at-grade, four-lane highway with a turning lane in the middle. PennDOT has no plans to upgrade the highway to expressway standards; therefore, the Interstate designation could not proceed any further than Clarks Ferry.
In July 2001, work began on rehabilitating the bridges within the Eisenhower/Hershey Interchange. The $4.7 million project will be conducted in stages over the next four years and includes concrete repair, replacement of expansion joints which are worn and need to be replaced, and updating the guide rail. The project is scheduled to be completed in June 2004.

Eisenhower Interchange (Harrisburg Patriot-News)
An unusual accident took place on the morning of November 19, 2001, when a tractor-trailer carrying 8,400 live chickens lost its load on Interstate 83 southbound ramp in the Eisenhower Interchange at 8:30 AM. The driver said that he was going around the bend when the trailer tipped, and spilled the crates of live chickens onto the highway. Some of the chickens fell onto the Interstate, while others landed on the railroad tracks below. Cleanup crews acted quickly to get the birds off the highway; however, it still had to be closed for about 45 minutes and trains delayed for hours as they worked to clean up the mess.
Time was beginning to take its toll on the expressway by 2003. In March of that year, PennDOT began repairing and resurfacing the Interstate between Exit 19 and Interstate 81. The project also involved doing the same to Eisenhower Boulevard, Paxton Street, and a portion of Derry Street between the on- and off-ramps with Interstate 83. The overlay used is called Novachip, which is a very thin application of asphalt that seals and protects the underlying concrete from water damage and deterioration. It also increases traction for vehicles and prevent skidding. The project was originally scheduled to conclude at the end of 2004, but due to unusually wet weather during last year's construction season and cool temperatures in the fall, the project stretched into 2004 and ended in June. The cost of the project was $9,825,862.
One of the problems with Interstate 83 is that it is a narrow expressway, because it was built before the construction standards for Interstates were created. However, it isn't too late to undo the mistakes of yesteryear. PennDOT began a rehabilitation project in the area of Exit 14 and Exit 15 in York in May 2003. The project included: improvement of existing geometric conditions, signals at ramp intersections, construction of turning lanes at ramp intersections, widening and realignment of ramps, pavement rehabilitation and resurfacing, and bridge improvements. The project concluded on December 6, 2006 at a cost of $58 million.
It takes a really big snow storm to close roads and that is exactly what hit on February 9, 2010. Governor Rendell took proactive measures and closed I-83 at 2:00 PM the following day. In a press release he stated, "For your safety, do not drive. You will risk your life and, potentially, the lives of others if you get stuck on highways or any road. The National Weather Service issued blizzard warnings for several counties in Pennsylvania and visibility is at or near zero. Motorists must stay off Interstates 81, 83, and 78 until my administration lifts the restriction," the latter of which happened on February 11.
A project to improve safety at the PA 124/Mount Rose interchange (Exit 18) in York began in 2012. Work will entail widening and rebuilding sections of Interstate 83, PA 124, Camp Betty Washington Road, Haines Road, and Green Hill Road, reconfiguring the interchange itself, construction of four new bridges, replacing and widening three exiting bridges, widening of three existing box culverts, construction of a new box culvert, and installation of two new sound walls. New traffic signals will be installed at six intersections, updated drainage and guiderails, signing and pavement markings, and new highway lighting round out the $58.3 million project which is projected to conclude in Summer 2018.
One of the most heavily traveled sections of the Interstate is from the Turnpike into downtown Harrisburg and north to Interstate 81, which was the focus of a study that concluded in 2003. It was estimated that it would cost $1 billion to rebuild all of the 11 miles at once, so instead improvements were broken down into separate projects. The first was improving the section from Exit 40B to Exit 42 in Cumberland County where three off-ramps and two on-ramps would be removed or reconfigured. At Exit 41B, the southbound off-ramp would be removed and a longer acceleration ramp would be built in place of the existing ramp to Interstate 83 southbound from PA 581. The Lemoyne interchange, Exit 42, would be removed completely, and the Highland Park and Lemoyne exits replaced with a new ramp to Lowther Street. The bridge carrying PA 581 over South 10th Street would be replaced as would the bridge carrying Lowther Street over I-83, but the biggest part of the project is the addition of another northbound lane between Exit 40B and the John Harris Bridge. Crews closed the former Exit 42/Lemoyne interchange on the night of July 31, 2014, which was the last exit before the John Harris Bridge. Construction began on August 12, 2013, and the $22.1 million project and finished in Summer 2015. This as well as future projects, made possible by the passage of Act 89 in November 2013, such as widening and reconstructing Interstate 83 between Union Deposit Road and Interstate 81, redesigning and reconstruction of the Eisenhower Interchange, and widening of the Interstate between the John Harris Memorial Bridge and the Eisenhower Interchange were all part of the revised 12-year plan announced on August 14, 2014. The widening of the bridge will not involve any construction, but rather reconfiguring the current three lanes into four by eliminating the shoulder. The new lane will connect the New Cumberland on-ramp to the Second Street off-ramp, with the Lowther Street on-ramp merging into the new lane. Project website: http://www.i-83beltway.com/.
Mine subsidence has been an issue with highways across the state, but it was a metal culvert causing problems for a section of the Interstate in York County just north of the Maryland state line. Work to repair a culvert was scheduled for February 28, 2014 due to a dip in the southbound lanes that occurred over the preceding week. After excavation to repair the damage uncovered a void of 13 inches deep and eight-feet-wide under the right lane and extending into the left lane, PennDOT closed the southbound lanes of the Interstate at 1 AM on the morning of March 1. Repair work continued until the morning of March 2 when the roadway was reopened at 1:30 AM. Repairs took place the following weekend to stabilize the northbound lanes beginning on the night of March 7 and concluding at 8:40 AM the following morning. A $6 million resurfacing project took place between the construction seasons of 2014 and 2015 from the state line to Exit 4.
Construction began in April 2015 to rebuild the roadway and reconfigure the Exit 18/PA 124 interchange both to more modern standards. Also included in the $58.3 million project is widening Mount Rose Avenue to seven lanes; upgrading traffic signals along PA 124; construction of seven bridges, two box culverts, and two noise walls; and building an access road to a nearby business park.
The original timetable for the project had a completion date of June 2018; however, that target date was missed. Cherry Hill Construction, of Jessup, Maryland, requested more time and money as the project at that time was up to $59.7 million, just a little over what the second lowest bidder, G.Z. & F.C. Wagman Inc. of York County, offered to do the work at $59.5 million. State Representative Stan Saylor, said he wants to introduce a bill in the next legislative session that would allow entities to consider awarding a contract to the next bidder if they are within 1% of the lowest bidder's price. The bill would also allow the entity to research the bidders and any that have been historically late or over-budget on completing a project would automatically be disqualified. "Let's be honest," he said. "If it were [York-based] Kinsley or Wagman on this project, we would not be having this conversation knowing the way they operate. The project would be completed this year." Representative Kristin Phillips-Hill cautioned that such action would have to take place on the federal level as well due to funding coming from both the state and federal levels of government. Many issues have caused the project to drag on such as 12 project superintendent changes, relocation of utilities took longer than expected, and weather caused delays. Mike Keiser, PennDOT's executive for the south-central district, also said other "things" caused delays but would not go into detail on specifics.
In early 2018, Cherry Hill's parent company Tutor Perini assumed control of the project to ensure its completion, but with a caveat. In order to play "catch-up," they wanted to close the PA 124 overpass entirely to speed the process, but PennDOT was not on board with that idea. The agency accepted some blame, but not all, for the project's delays, and said they were negotiating with Tutor Perini for a final price tag and completion date, but warned that negotiations could break down and everything be settled in arbitration by the state Board of Claims. Before Tutor Perini stepped in, Cherry Hill was losing money on the project, and for good reason. They were ordered to redo pavement and curbing on Haines Road as neither met Department of Transportation specifications, but the agency would not go into specifics on how many times during construction completed work had to be redone. PennDOT began assessing Cherry Hill penalties of $5,825 a day for not having the project done in November 2018. It then began tacking on an additional $4,885 per day, bringing the total to $10,710, on February 10, 2019 due to a ramp detour for the I-83 southbound on-ramp that was to have ended the day before. Currently the projected completion date is late 2019 or early 2020, a year and a half late.
Work to resurfacing the Interstate between Exit 4 and Exit 10 began in Spring 2018, but Mother Nature was uncooperative. Due to the numerous storm that pelted York County, crews lost 50 days of work. The northbound side was able to be completed that year, but only the top coat of asphalt had been laid from Exit 4 to the bridge over PA 216 at Exit 8. "They'll pave as much as they can until November 15, and then the rest of the paving will have to wait until the spring to be finished," PennDOT spokesman Greg Penny said. Crews worked nights and weekends to try to finish before winter set in, but they also continued on placing guide rails and new signs, installing edge-line rumble strips, applying epoxy paint, and other things. The $11 million project resumed April 1, 2019 to finish paving the southbound section between Exit 8 and Exit 4, and was completed by June of that year.
In August 2018, the York County Planning Commission released a study of 5.3 miles of the Interstate in northern York County. The "I-83 Master Plan," as it was dubbed, looked to address the increasing congestion planned in the coming decades. Some of the suggestions were widening the roadway to six lanes, which would cost $150 million, and constructing new interchanges such as a partial one or full one at Canal Road between Exit 24 and Exit 28. The results laid out a variety of small and large projects, plus the $280 million price tag, which local officials saw at the December 6, 2018 York Area Metropolitan Planning Organization meeting. PennDOT could toss in $100 million, and the YCPC has $13 million set aside, but it still leaves a $167 million deficit. Recommended deadlines for the projects were divided into short-term (by 2027) and long-term (2047) goals, with the former being general maintenance and small-to-medium-scale projects. McMahon Transportation Engineers and Planners, the authors of the study, also suggested wider medians and shoulders for the route.
In October 2018, PennDOT announced an ambitious plan to widen the highway between Paxton Street and Second Street in Harrisburg by adding three lanes in each direction to form a Collector Distributor System which would bring the total number of lanes to 12. Also included in the work would be construction of a new interchange with Cameron Street in Harrisburg, and the elimination of the 13th Street interchange and the Paxton Street interchange at 32nd Street for a total of $53.6 million. While drivers cheered, Harrisburg city officials booed the grandiose plan but not the entire thing. They agreed that the plan would move commuters in and out of the city, they'd rather it be via mass transit and alternative methods of transportation. City engineer Wayne Martin came out and directly said that PennDOT's traffic study is "fundamentally flawed." Capital Area Transit Executive Director Richard Farr even said that he was unsure how the plan would affect routes or if it would displace bus stops. The city disliked that the cost of build and maintain the addition lanes would detract from other transportation improvements in the area, local streets could see increased traffic, land taken for the new lanes would be removed from the city's tax rolls (possibly 28 property owners and 20 business owners), the plan would divide city neighborhoods, increased air and noise pollution and increased stormwater runoff, and it would encourage more single occupancy vehicles which would lead to less investment in mass transit. The city did not dislike the entire plan as they liked the infrastructure and safety improvements and the realigning of Paxton Street, Martin said. Mayor Eric Papenfuse agreed on a new interchange with Cameron Street, and removal of the 13th Street interchange would aid in "relieving congestion." PennDOT had discussed parts of the plan with city officials when it was released, but did not bring up the 12-lane widening proposal. "The City's preferred alternative would be to reduce the total width of the proposed highway by reducing the total number of lanes and reducing the width of the shoulders," Martin said. "There is absolutely no reason for the six-lane Collector Distributor System – it is a huge waste of money." On March 20, 2019, Mayor Papenfuse announced the city planned to hire an engineering firm to analyze PennDOT's proposal and data to come up with possible alternative designs. He said he planned to ask city council for approval to hire Kittelson Engineering to take a "second look." As it stands right now, the project is in the preliminary design phase with construction scheduled to begin in 2022.
Work began in March 2019 to rebuild the Exit 4/PA 851 interchange and convert it into a diverging-diamond interchange, which would be the second in the state once completed. Preliminary work such as utility relocation and constructing portion of a box culvert over Deer Creek. Case & Keg, a beer distributor whose building with tall beer bottles painted on the side was a fixture at the interchange for over 40 years, was one of the businesses that had to move to make way for the new interchange. Owner Don Zeigler lamented about the move to their new location in a shopping center on Susquehanna Trail, and leaving the building his father helped build saying, "I think it's going to affect me more when I see the demolition." The new diverging-diamond interchange is expected to open in 2021 at a cost of $24 million.
Resurfacing work taking place around the PA 581 interchange in Cumberland County caused alarm for drivers in June 2019. A single bump in the profile of the northbound lanes has jarred drivers such as Jeanne Tate, who is a truck driver by trade and travels Interstate 83 on a daily basis. "I was on my way to work, and I hit it, and it sounded like an explosion," explained Tate. PennDOT acknowledged the issue and said it would be rectified soon. "It really is a dip, so we have a dip in the roadway," explained Mike Crochunis, a spokesman for PennDOT. "If you have a low profile vehicle, you could bottom out... so just be mindful. Take it slow."
When the Coronavirus, or COVID-19, pandemic swept into the country in March 2020, PennDOT took measures to stem the spread to their employees and staff. At 12:01 AM on March 17, all rest areas and welcome centers across the state, including the one in York County, were closed to the traveling public. Also all Driver License and Photo License centers were closed for two weeks and construction projects on roads under the Department of Transportation's jurisdiction were stopped. Hearing that construction work was halted could come as welcome news, the idea of closing down the rest areas did not sit well with truckers, trucking firms, nor some elected officials. It was then announced that on Thursday, March 19, barricades would come down at 13 rest areas across the state and they would be reopened with portable restroom facilities while the permanent facilities would remain closed. "Every decision made has been in the interest of mitigating the spread of COVID-19 and we are constantly reevaluating our response," said PennDOT spokeswoman Alexis Campbell. "That said, we also recognize that drivers need and deserve access to rest areas." PennDOT announced on March 24 that an additional 10 would reopen, and including the original 13, all would provide normal service with additional cleaning and maintenance. An additional five were reopened on Friday, March 27 which included the rest area/welcome center in York County.
With the amount of revenue from the gasoline tax falling due to more fuel-efficient vehicles as well as a drop in driving due to the COVID-19 pandemic, the Department of Transportation's budget has been taking a hit. Nine bridges across the state are targeted to be a part of the PennDOT Pathways Major Bridge Public-Private Partnership (P3) Initiative, and were selected from various regions so as to not impact one part of the state more severely than another. Toll gantries would be installed at the crossings and, because PennDOT is forbidden from collecting tolls, would be operated by the Pennsylvania Turnpike Commission with E-ZPass and PA Turnpike TOLL BY PLATE equipment to read tags or captures license plates with tolls ranging from $1 to $2 for cars. The cost for trucks has yet to be determined but would be based on a combination of height and number of axles. The PTC would then forward the money to the Department of Transportation for replacement or rehabilitation and continued maintenance of the bridges. One that is being looked at is the John Harris Bridge between Cumberland and Dauphin counties. Needless to say, the public, legislators, and trucking companies were not pleased to hear this news. During an Appropriations Committee hearing on February 23, 2021, where more than a half dozen committee members questioned Transportation Secretary Yassmin Gramian about the potential tolls, state Representative Mike Carroll of Luzerne County reminded his colleagues they had no one to blame but themselves. He mentioned that the Public-Private Transportation Partnership Board was created by a 2012 law passed that delegated approval for just this situation to appointees of the governor and top lawmakers. While Representative Carroll did not vote for the bill, others who are now criticizing the prospect of bridge tolls did.
Brandon Moree, director of members communications for the Pennsylvania Motor Truck Association, which represents about 1,400 trucking firms, has been encouraging members to contact legislators and fill out online surveys by PennDOT about the proposal. The group supported the Act 89 legislation passed in 2013 that increased funding through a rise in the fuel tax. "Here we are seven years later and we're being asked to pay the bill again," Moree said. "We feel we already pay our fair share. We feel like where fuel taxes already are, we pay enough." Rick Daley, president of PMTA's Western Pennsylvania district and a vice president at Tri-State Trailer Sales Inc. on Neville Island in Allegheny County, suggested an alternative would be for the state to help train more truck drivers, because he's aware of many companies that could ship more loads if they had more drivers, and therefore would pay more taxes and fees. Others are also questioning whether the cost of installing the tolling gantries and associated equipment outweighs the benefit from the small tolls proposed for cars. The Federal Highway Administration still has to review the plan and decide if tolls are allowed to be charged. The Associated Pennsylvania Constructors, a prominent highway construction trade association in the state, came out on March 24, 2021 to oppose the idea. While the group generally supports tolling to fund projects, Executive Vice President Robert Latham explained to the House Transportation Committee that the cost of private financing would drive up project costs and relying on tolling to cover construction costs is risky.
The State Senate passed a bill on April 28, 2021 to force PennDOT to start the planning process over by providing more transparency about its proposals, publicly advertising them, opening the plan up to public comments, and seeking approval from both the governor and the Legislature. The bill passed 28-19 with support from all of the Republican senators and one Democrat senator. During the floor debate, Senate Appropriations Committee Chairman Pat Browne, citing successful transportation funding efforts have usually required cooperation between lawmakers, said "This initiative and the way it is being advanced is totally counter to that legacy." Senator John Sabatina from Philadelphia said, "As much as I loathe to tax my constituents to fix a bridge, I'd rather tax them than have them suffer through a catastrophe when the Girard Point Bridge falls down." He added, sooner or later "a bridge is going to collapse and we're all going to look at each other and say, 'how did that happen? How could we have prevented that?'" The bill now goes to the House of Representatives, but it will probably not go further as Governor Wolf opposes it and the Senate lacks a veto-proof majority.
Links:
Exit Guide
Interstate 83 Business Routes
Interstate 83 Ends
Interstate 83 Pictures
Capital Beltway Map
US 111 (Decommissioned)
I-83 Master Plan - PennDOT
I-83 Interchange Browser - Tim Reichard
Interstate 83 - Andy Field/Alex Nitzman
Interstate 83 - David Steinberg
Interstate 83 Pictures - Steve Alpert
Interstate 83 Pictures - Andy Field/Alex Nitzman
---

INFORMATION
Southern Entrance:
Maryland state line four miles south of Shrewsbury
Northern Terminus:
I-81 at Exit 70 in Harrisburg
Length:
50.40 miles
National Highway System:
Entire length
Names:
Veterans of Foreign Wars of the United States Memorial Highway
Harrisburg-York-Baltimore Expressway
Capital Beltway: Exit 41A to Exit 51
Susquehanna Expressway
SR Designation:
0083
Counties:
York, Cumberland, and Dauphin
Multiplexed Route:
US 322: Exit 48 to I-81
Former Designations:
US 111 (1952 - 1963): Exit 33 to Exit 39A
US 111 (1954 - 1963): Exit 39A to Exit 41B
Bypass US 230 (1954 - 1961): Exit 46A to Exit 50
US 111 (1955 - 1963): Exit 28 to Exit 33
US 111 (1958 - 1963): Exit 22 to Exit 28
US 111 (1959 - 1963): Maryland state line to Exit 15
US 111 (1960 - 1963): Exit 16 to 22 and Exit 41B to Exit 42
US 111 (1961 - 1963): Exit 42 to Exit 50
Former LR Designations:
127 Parallel: Maryland state line to Exit 15
789: Exit 15 to Exit 22
333: Exit 22 to the Dauphin County line
767: Cumberland County line to Exit 46
768: Exit 46 to Interstate 81
Emergency:
911

Traffic Cameras:
US 30
PA 238
Mile Marker 31
PA 114
PA 581
John Harris Bridge
13th Street
19th Street
Paxtang
US 322
Derry Street
Union Deposit Road
US 22
---
Back to Pennsylvania Highways
Back to Pennsylvania Interstate Highways
Page updated April 28, 2021.
Content and graphics, unless otherwise noted, copyright © Jeffrey J. Kitsko. All rights reserved.
Information sign courtesy of Richard C. Moeur.
Information courtesy of the Pennsylvania Department of Transportation, Harrisburg Patriot-News, the Easton Express-Times, United Alert, WGAL-TV Lancaster, WPMT-TV York, the York Dispatch, the York Daily Record, the Pittsburgh Post-Gazette, KDKA-TV Pittsburgh, and KYW-TV Philadelphia.