Expressway
---
| | |
| --- | --- |
| | |
| I-180/PA 147 gantry on I-80 eastbound | End I-180/South PA 147 signage |
| | |
| Not to far south of the interchange of I-80/180/PA 147, the freeway becomes a super 2. | Reassurance signage southbound |
| | |
| Text only PA 254 exit sign. | Exit for PA 254, space is already allocated for a eventual widening for northbound only lanes. |
| | |
| Another overpass on PA 147 with space allocated for future expansion. | Here's the PA 642 exit. |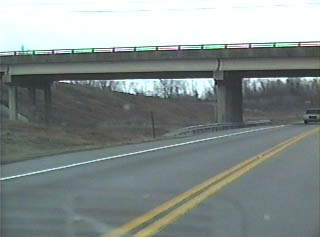 Close-up view of the PA 642 overpass
PA 147 was a super two connecting I-80/I-180 and Williamsport with Sunbury and US 11. Originally PA 147 ended in Williamsport at US 15/US 220, but was truncated at I-80 when I-180 was designated. Each overpass on PA 147 had spaced allocated for an eventual four-lane widening, which concluded in Fall 2004. For more see my US 11/US 15 Selinsgrove Bypass page.
Links:
PA 147
Exit Guide
The PA 147 Corridor - Tim Reichard
---
Back to Pennsylvania Highways
Back to Pennsylvania State Highways
Page updated January 17, 2010.
Content and graphics, unless otherwise noted, copyright © Alex Nitzman. All rights reserved.
Page courtesy of Alex Nitzman who originally produced the page and took the pictures of the expressway.