---
Traversing many of the towns located within the Laurel Highlands area of Pennsylvania, US 119 passes through the "Weather Capital of the World," Punxsutawney, where perhaps the most famous weatherman in the world lives: Punxsutawney Phil. Of course, we all know that every February second, Phil comes out of his home and usually sees his shadow more often than not.
From the time it was signed in 1926 after the US Highway System was created until 1927, the crossed Pennsylvania from West Virginia to New York. For the most part, the designation followed the current path with some exceptions. In Pennsville, the route changed to Brown Street to enter Scottdale. North of that borough it followed Water Street to Alverton and then Old Bethany Road to Ruffs Dale. From there it followed Buttermore Avenue to Hunker and New Stanton where it picked up the current alignment. In Black Lick, it turned onto Main Street and Old Indiana Road. In northern Pennsylvania, it followed the current US 219 alignment to Wilcox then PA 321 to US 6. It was multiplexed with US 6 to Smethport then the current PA 46 alignment to Bradford where it picked up the current US 219 alignment again to enter New York. In 1927, the northern terminus was moved to its current location. In 1928, the route was under construction from Indiana to Chevy Chase Heights which was finished the following year.
In 1940, the route was widened in Connellsville and from South Urania Avenue to Greensburg and a year later in Youngwood. The designation changed course in Uniontown in 1946 when it was changed from Morgantown Street, Fayette Street, Gallatin Avenue, and Bailey Avenue to follow Morgantown Street, Fayette Street, Stewart Avenue, and Connellsville Street. In 1948, widened took place from Connellsville to North Connellsville and from US 22 West to Rushwood Road. In 1949, the highway was widened at the Bailey Avenue Extension intersection.
In 1951, the route was widened from New Stanton to Youngwood and from there to South Urania Avenue in Greensburg. The following year the highway was widened from Rushwood Road to the current PA 217 interchange and a new alignment was under construction from there to the US 22/US 119 split. In 1953, the route was widened from Bailey Avenue Extension to Mount Braddock Road and Indiana to Chevy Chase Heights. In 1954, two new alignments opened. The first was in Connellsville where the current alignment opened removing the designation from West Crawford Avenue and North Pittsburgh Street. The remainder of the new alignment to bypass Blairsville opened and with it, the designation was removed from West Market Street and East Market Street through the borough. In 1955, the highway was widened from Creek Road to Behm Road. A change in the designation was made in Uniontown with southbound US 119 moved to East Main Street, Main Street, and Morgantown Road with the northbound direction maintained on the original alignment. In 1956, the new alignment from Main Street in Black Lick to Old Indiana Road opened. Also widening took place in Uniontown and Mount Braddock Road to Pechin Road. In 1958, a median was installed on the highway from Bailey Avenue Extension to North Connellsville, PA Turnpike to Arona Road, and Youngwood to South Greensburg. In 1959, the designation was moved off West Pennsylvania Avenue and East Pennsylvania Avenue in New Stanton between there and the PA Turnpike onto the expressway due to the completion of then I-70S/Alternate PA 71.
The 1960s saw even more ambitious projects taking place on the highway. Construction began on a new alignment from Tearing Run Junction to Indian Springs Road in 1960 and opened the following year. Prior to 1961, the designation was signed on South Main Street and North Main Street through Homer City then on current SR 3035 from there to Indian Springs Road. In 1962, a median was installed from North Connellsville to Pennsville and in 1964 one was installed at the current PA 403 intersection in Marion Center. Also in 1964, construction began on the first section of expressway from PA 819 to PA 31 which opened the following year. In 1965, construction began from Pennsville to PA 819 and finished in 1966. In 1967, the designation was moved onto the new expressway to PA 31 then it was signed onto Old Stanton Road and Center Avenue to the I-70 interchange. In 1969, construction began on the Indiana Bypass from the US 422 interchange to the Rayne Township line.
The 1970s started where the 1960s left off with construction beginning on the Uniontown Bypass from Walnut Hill Road to Bethelboro. Also in 1970, construction on the Indiana Bypass began from Two Lick to the US 422 interchange but the original route saw improvements as well with a median installed from Indian Springs Road to Carter Avenue. In 1971, construction began from Chadville to Walnut Hill Road on the Uniontown Bypass.
Uniontown and Indiana Bypasses shown under construction on the 1971-72 official state
highway map. (PennDOT)
Both the Uniontown and Indiana Bypasses opened to traffic in 1972. In Indiana, the route had been signed on Wayne Avenue, Seventh Street, Philadelphia Street, and Fourth Street. In 1975, construction began on the section of expressway from PA 31 to the cloverleaf at PA Turnpike 66. The section of the expressway from PA 31 to Volkswagen Drive, now Technology Drive, opened in 1977 and the remainder of it opened in 1978. The new expressway would not only remove traffic from New Stanton's streets but also provide a better highway connection for the VW plant that would be opening a year later.
The 1980s were a quiet time in the history of the highway, but activity began to pick up again in the 1990s. Planning to widen the route between US 22 and PA 56 in Homer City began on October 10, 1990; however, the public knew long before. Driving along this section, one could see many weather-beaten signs addressed to PennDOT not to proceed with the project sitting in the front lawns of people's homes.
Another project that got underway in the 1990s, but saw little opposition, was the first new section of expressway on the alignment to begin in 16 years from Big Six Road to the southern end of the Uniontown Bypass in 1991. This free segment of Mon-Fayette Expressway, built by PennDOT and referred to as the Chadville Demonstration Project, opened to traffic in 1993.
Another widening project along the corridor began in 2000 when the section between the US 22 interchange and PA 981 began to be rebuilt. It was the fourth of nine projects to widen US 22 across Westmoreland County. The $20.5 million project included widening the highway from two to four lanes and replacing the asphalt surface with a concrete one concluded in 2003.
No amount of signs could stop the bulldozers from the US 119 alignment between Blairsville and Homer City. The 1990s were filled with numerous public, Community Advisory Committee (CAC), and Agency Coordination meetings. The first part of the project which was the rebuilding of the interchange with US 22 began on August 1, 2001 with groundbreaking ceremonies kicking off construction. Construction involved reconfiguring the ramp layout of the interchange as well as replacing the bridge carrying US 22 and realigning Old Route 22. The final cost was $28.8 million and the new interchange opened in Fall 2003.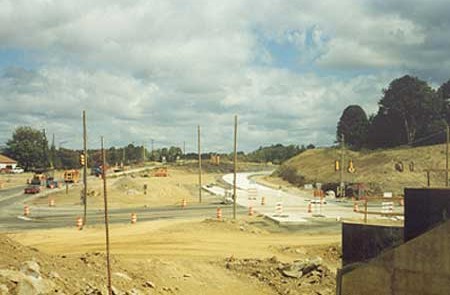 View of the interchange from the bridge in Fall 2002. (PennDOT)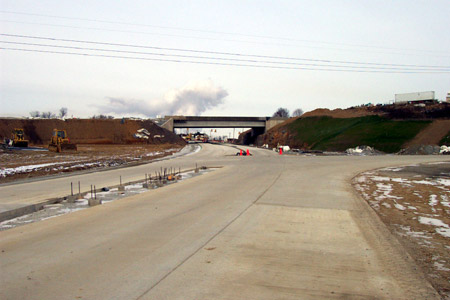 View of the bridge from Old William Penn Highway in Fall 2002.
(PennDOT)
A construction project that had seen no controversy was the rebuilding of US 119 near the Sony Technology Center east of New Stanton. Each side of the highway was rebuilt from the base up because the concrete was at least 30 years old and there were numerous drainage problems. The project was to be finished by October 2000; however, the Pennsylvania weather did not agree to that timetable. Angelo Iafrate Construction of Warren, Michigan ended up paying $1,500 per day as required by PennDOT as a penalty for not having the work completed on-time. The company had been penalized 30 days in July 2000 for missing a deadline to complete the work on the northbound lanes. "There's not much else we can do; that's our recourse," said Bill Lowry, a construction engineer for PennDOT District 12. The construction concluded in January 2001.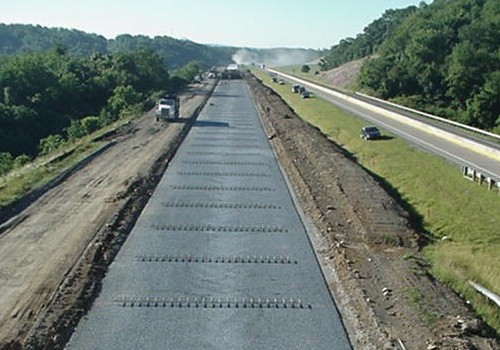 Reconstruction of US 119 near the Sony Technology Center. (PennDOT)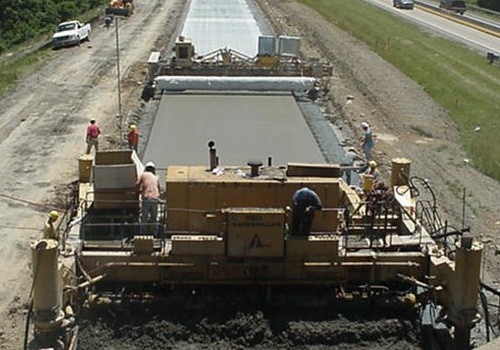 New surface being poured at the location above. (PennDOT)
The second portion of the Route 119 South Improvement Project, the widening of the highway between Blaire Road and PA 56, began in Fall 2002. The official groundbreaking ceremony with public officials, Community Avisory Committee members, and the project team took place on November 6, 2002. According to PennDOT District 10 spokesman Jim Struzzi, the widened alignment will make the route safer and "improve the economic viability of the area." This part of the project will include widening 7.1 miles of US 119 from two to four lanes, nine jughandles built at various intersections, four sound walls built in Coral/Graceton, Black Lick, Homer City, and Red Barn, a new bridge over Blacklick Creek, and a new traffic signal at Luciousboro Road and improvements to the existing signal at Main Street in Black Lick and PA 56 in Homer City. Another feature of the project is construction of a bike trail from Hoodlebug Trail to Cornell Road. The project is expected to end in Summer 2005. Project website: http://www.119south.com/.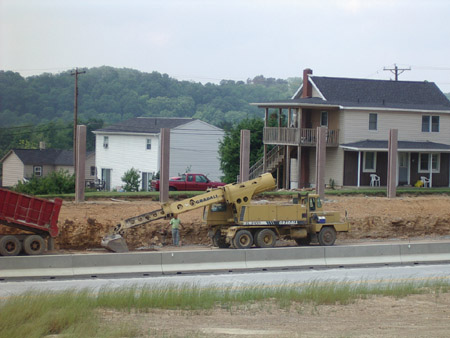 Sound walls being installed along the right-of-way in Summer
2004. (PennDOT)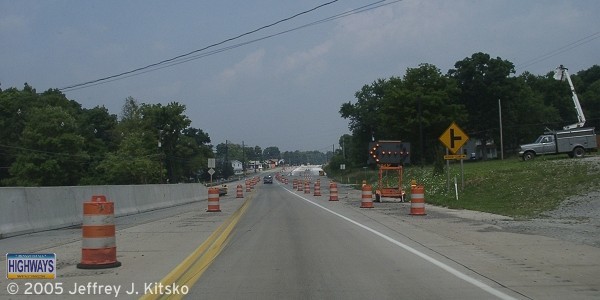 End of the four-lane section on August 11, 2005 at Snyder Lane.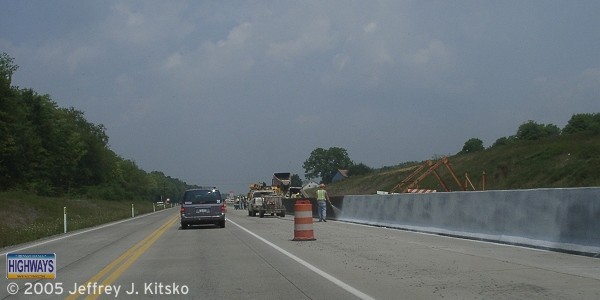 Installing the Jersey barrier north of Black Lick. Unlike in typical installations, the barrier
is being poured in place instead of using prefabricated barriers.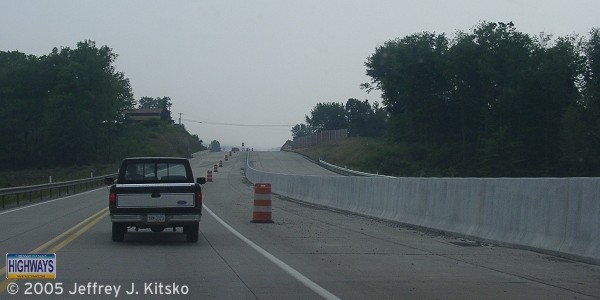 View of the completed highway just south of the Ridge Avenue intersection.
As mentioned above, many along the highway did not want this improvement. When the highway is finished, it will be only nine feet from one man's house. Valarie Mancuso, an Indiana University of Pennsylvania administrator, received a letter in 1999 from PennDOT telling her she had two months to move out of her house. It said that her property was right in the middle of the plan to widen the highway. "We had this huge weight hanging over us. We didn't know how much time we had. I didn't even put up a Christmas tree. I am glad that it's finally done," Mancuso said. However, some who will remain after the project is completed feel otherwise. "People like Valarie find another place and go on with their lives. We're left here, through the construction period and afterward, with decreased property values and a decreased quality of life," said Sharon Ewing, a retired nurse who will lose part of her front yard.
More construction along the corridor will take place in the continuing US 22 widening project. In Spring 2006, work will begin on the section from PA 981 to just west of the PA 982 intersection. A year later, work will move to the section from just west of the PA 982 intersection to Derry TR 968, and from there to the Indiana County line is to be determined. Project website: http://www.renew22.com/.
Links:
Exit Guide
US 119 Auxiliary Routes
US 119 Pictures
PA Turnpike 43
Groundhog Day
Terminus of US 119 - Dale Sanderson
US 119 Pictures - Steve Alpert
---

INFORMATION
Southern
Entrance:
West Virginia state line 1/2 mile south of Point Marion.
Northern
Terminus:
US 219 two miles south of DuBois.
Length:
129 miles
National
Highway
System:
West Virginia state line to PA Turnpike 66
US 22 West to DuBois
Names:
Morgantown Street, Morgantown Road, Main Street, George C. Marshall Parkway, University Drive, Blackstone Lane, Morrell Avenue, Eighth Street, Ninth Street, Memorial Boulevard, Connellsville-New Stanton Road, Youngwood-Greensburg Road, Third Street, Fourth Street, Pittsburgh Street, Otterman Street, Arch Avenue, Arch Street, Roosevelt Way, Crabtree Road, Crabtree-Shieldsburg Road, William Penn Highway, Indiana Bypass, Buffalo-Pittsburgh Highway, Indiana Street, Gilpin Street, Mahoning Street, Hampton Avenue, Ridge Avenue, and Sykes Street
SR
Designations:
0119
0040: Hopwood interchange to Main Street
0022: New Alexandria to Blairsville
Counties:
Fayette, Westmoreland, Indiana, Jefferson, and Clearfield
Expressway:
Chadville to Bethelboro
PA 819 to PA Turnpike 66
Wayne Avenue to PA 110
Multiplexed
Routes:
PA 43: Chadville to US 40
US 40: Hopwood interchange to Main Street
Truck PA 711: Connellsville to North Connellsville
PA 819: South Greensburg to Greensburg
Business PA 66: US 30 to Greensburg
PA 130: Greensburg
US 22: New Alexandria to Blairsville
PA 56: Homer City to US 422
Business US 422: Wayne Avenue to US 422
Truck PA 286: US 422 to PA 286
PA 36: Punxsutawney
Former
Designations:
PA 3 (1925 - 1930): New Alexandria to Blairsville
PA 66 (1927 - 1928): West Virginia state line to PA 43; Connellsville Street to Pennsville; New Stanton to Greensburg
PA 76 (1927 - 1928): Greensburg to New Alexandria
PA 10 (1927 - 1928): Blairsville to DuBois

Path of Progress:
PA 166 to US 40
PA 51 to Gallatin Avenue
PA 201 to PA 819
PA 56 East to US 422

Washington's
Trail:
US 40 to PA Turnpike 66
---
Back to Pennsylvania Highways
Back to Pennsylvania US Highways
Page updated May 18, 2022.
Content and graphics, unless otherwise noted, copyright © Jeffrey J. Kitsko. All rights reserved.
Information sign courtesy of Richard C. Moeur.
Path of Progress and Washington's Trail shields courtesy of Bruce Cridlebaugh.
Information courtesy of the Pennsylvania Department of Transportation, Rand McNally, and the Greensburg Tribune-Review.