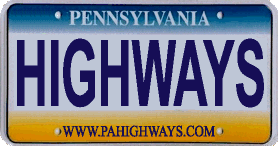 Yellow Book Interstate Proposals
---
Many people know or have heard of the Interstate legislation that was proposed and passed in 1956. This congressional bill ushered in the era of Interstate highway construction. However, earlier in 1947, a plan was devised by then Bureau of Public Roads the forerunner to today's Federal Highway Administration. The plans that were drawn up for the Interstate system at that point were published in a book called "The Yellow Book." Here are the proposal maps for the Interstate system in six cities in Pennsylvania: Allentown, Erie, Harrisburg, Philadelphia, Pittsburgh, and Reading.
Allentown
The east-west corridor shown is the Lehigh Valley Thruway, which
was to be initially signed as I-78. The spurs off of it into Allentown
and Bethlehem were to be I-178 and I-378.
Erie
The north-south Interstate proposed would have taken a more
direct route into downtown Erie, as opposed to the current I-79
alignment skirting the central business district to the west. The
east-west proposed Interstate is very similar to the I-90 alignment.
Harrisburg
Very similar to the layout of the Interstate system in and around
Harrisburg today. There are two differences between this map and
the actual Interstate system. The first is that the north-south
Interstate from York is proposed to connect to the Interstate coming
through Camp Hill from the southwest at a point closer to the
Susquehanna River. The second is that there is no northern
bypass of Harrisburg as I-81 provides today.
Philadelphia
There are some major differences between this map and the
current Interstate system in the City of Brotherly Love. First, the
western bypass is only proposed to the Schuylkill Expressway, and
not to the Turnpike as I-476 does. Second, the Delaware River
Bridge is not indicated on this map. Third, the north-south
Interstate is proposed to come through the central business district,
unlike how I-95 follows the Delaware River through the city. Fourth,
the northern Interstate through the city is located farther to the north
than I-676. Lastly, the alignment of the Schuylkill Expressway
through the southern section of the city is also located farther north.
Pittsburgh
The biggest difference between this map and the current system in
and around Pittsburgh is that the Interstate from the central
business district to the northern suburbs heads straight to the
Turnpike, unlike how I-279 connects back to I-79 near Wexford.
Reading
Out of the six maps, this one matches almost exactly what the
Interstate system looks like in its respective city today. The
north-south Interstate is close to the I-176 alignment.
---
Back to Pennsylvania Highways
Back to Pennsylvania Interstate Highways
Page updated January 04, 2010.
Content and graphics, unless otherwise noted, copyright © Jeffrey J. Kitsko. All rights reserved.
Map scans courtesy of Gene Janczynskyi.