Lincoln Highway
---
Perhaps the most famous of all the US highways in Pennsylvania, US 30 is a part of the Lincoln Highway from Philadelphia to the Ohio border which was the first paved transcontinental highway in the United States. Carl G. Fisher, the creator of the Lincoln Highway, also had a hand in starting the Indianapolis 500 and developing Miami Beach, Florida.
In 1926, the route was under construction from PA 168 to Clinton-Frankford Road and still unpaved from Imperial to Steubenville Pike. On July 1, 1926, the Benjamin Franklin Bridge opened in Philadelphia, which replaced a ferry that crossed the Delaware River. In 1928, the section from PA 168 to Clinton-Frankford Road was completed and the section from Imperial to Steubenville Pike was under construction. In 1929, that section finished while construction began from Clinton to Imperial, Moon Run to Crafton, Irwin to Blackberry Road, and Lincoln Heights to Greengate Road.
The 1930s saw a lot of work taking place on the highway. In 1930, the sections from Clinton to Imperial, Moon Run to Crafton, Irwin to Blackberry Road, and Lincoln Heights to Greengate Road was completed. The first major change was the construction of the George Westinghouse Bridge over the Turtle Creek valley east of Pittsburgh and the approaches which began that year as well. The bridge opened on September 10, 1932 and provided a bypass of the congested industrial area below saving motorists 30 minutes. Also, the new alignment for US 30 from Greensburg to Latrobe was finished which had begun two years earlier. The new route was constructed to straighten out the highway and, near Latrobe, to avoid the new Latrobe Airport now the Arnold Palmer Regional Airport. In 1931, the designation was split in Lancaster, with eastbound remaining on King Street, and westbound traffic moved to Franklin Street and Orange Street. Work to enhance the highway continued in 1938 when it was widened from McKee Road to Pittsburgh, Pittsburgh to Irwin because of the soon-to-open Pennsylvania Turnpike, Adamsburg to Greensburg, PA 416 to Chambersburg, Gettysburg to Guldens, New Oxford to York, York to Wrightsville, Columbia to Lancaster, Lancaster to Gap, and the Chester County line to Philadelphia. Stoystown was bypassed in 1939 when a new alignment was completed south of the borough after two years of construction, removing the designation from Main Street.
The 1940s began with widening taking place from Irwin to Adamsburg and Gap to the Chester County line. Construction began on July 26, 1946 on the Penn-Lincoln Parkway from the Boulevard of the Allies to Business US 22. Construction began that year on another new alignment, this one in Adams County to bypass McKnightstown and Cashtown, which was completed in 1948. Also in 1948, the highway was widened at the Tulls Hill Road and Junk Yard Road intersections. A year later it was widened from Chambersburg to McKnightstown.
Construction began on July 25, 1950 on the Penn-Lincoln Parkway from Steubenville Pike to Saw Mill Run Boulevard while construction began on the new alignment from Greensburg to Saint Xavier. In 1951, construction began on the expressway from the current PA 283 interchange to Oregon Pike, which opened the following year. Also in 1951, westbound traffic was moved onto Harrison Avenue, Philadelphia Street, Carlisle Avenue, and Richland Avenue while eastbound remained on Market Street in York.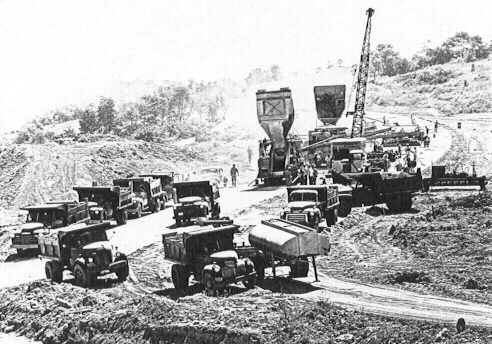 Penn-Lincoln Parkway under construction at the Campbells Run
Road interchange in 1951. (Clyde Hare)
In 1952, the new alignment from Greensburg to Saint Xavier opened. On June 5, 1953, the first section of the Penn-Lincoln Parkway from the Boulevard of the Allies to Business US 22 opened and on October 15, 1953, the section from Steubenville Pike to Saw Mill Run Boulevard opened. With the opening, the designation was removed from the current PA 60 alignment from Robinson to the West End Circle, and from Forbes Avenue, Beeler Street, Wilkins Avenue, Dallas Avenue, Penn Avenue, and Ardmore Boulevard on the eastern side of the city. Traffic still had to use the original route between the Saw Mill Run Boulevard interchange and the current PA 885 interchange. Also in 1953, construction began from Oregon Pike to the US 30 alignment east of Lancaster which opened a year later. In 1954, the designation was moved from Kelly Drive between Girard Avenue and Spring Garden Street to follow Girard Street, 26th Street, and Pennsylvania Avenue to Spring Garden Street for eastbound traffic, and Pennsylvania Avenue, 25th Street, Poplar Street, West College Avenue, and Girard Street for westbound. In 1955, construction began from Girard Avenue to the Vine Street Expressway on the Schuylkill Expressway in Philadelphia. Widening continued in 1956 from Kingston Street to McCance and Junk Yard Road to Everett. On September 10, 1956, the section of the Penn-Lincoln Parkway opened from the Boulevard of the Allies to the current PA 885 interchange. In 1957, construction on the Vine Street Expressway from the Schuylkill Expressway to Broad Street began. In 1958, medians were installed from the Penn-Lincoln Parkway to the Westinghouse Bridge, Westinghouse Bridge to East McKeesport, Irwin to Adamsburg, Greensburg to Saint Xavier, Kingston Street to Ligonier, Junk Yard Road to Everett, Breezewood to the Pennsylvania Turnpike, in Caldonia, at the Boggs Road intersection, and PA 401 to Paoli. Construction also began that year on the Greensburg Bypass, which opened on October 30, 1959. Once complete, the US 30 designation was removed from Pittsburgh and Otterman streets through the city. In 1959, the Penn-Lincoln Parkway opened from the Point to the Boulevard of the Allies and on June 19, the Fort Pitt Bridge opened, which removed the designation from the Point Bridge, Water Street, Liberty Avenue, Boulevard of the Allies, and Bates Street. On June 30, the Schuylkill Expressway opened from Girard Avenue to the Vine Street Expressway and to Broad Street. Construction began to widen with a median from Everett to Juniata Crossing.

A drive on the Greensburg Bypass from just after its opening
The 1960s saw the highway begin to be upgraded to accommodate more and more traffic. The $16 million Fort Pitt Tunnels opened at 2 PM on September 1, 1960, completing the Penn-Lincoln Parkway from Churchill to the Airport. The designation was removed from the West End Bypass and East Carson Street. On the eastern side of the Commonwealth, a median was installed from McKnightstown to Fairview Fruit Road while construction began on the expressway from east of PA 10 to the current Business US 30 interchange. In 1962, the designation was signed on the Schuylkill Expressway, Vine Street Expressway, Vine Street, Ridge Avenue, and Race Street eastbound traffic from Girard Avenue to the Benjamin Franklin Bridge, while westbound was signed on Vine Street, Vine Street Expressway, Ben Franklin Parkway, 22nd Avenue, Pennsylvania Avenue, 25th Street, Poplar Street, West College Avenue, and Girard Avenue. Also the newly widened section from Saint Xavier to Kingston Street as well as the Coatesville-Downingtown Bypass from east of PA 10 to PA 340 opened and a median was installed from PA 10 to the bypass. In 1963, the rest of the bypass from PA 340 to the current Business US 30 interchange opened while construction began from the US 30/PA 978 interchange to PA 60 and the current PA 741 interchange to the current PA 283 interchange. In 1964, the section of the Penn-Lincoln Parkway from the PA 978 interchange to PA 60 and from current PA 741 to current PA 283 opened while a median was installed from Juniata Crossing to the Raystown Branch of the Juniata River. Construction began from the Mountville interchange to the current PA 741 interchange. In 1965, construction began from the Prospect Road interchange to the Mountville interchange while in Philadelphia the designation was moved completely onto the Schuylkill Expressway and Vine Street Expressway. A median was installed from the Raystown Branch of the Juniata River to Breezewood. In 1966, construction began on the McConnellsburg Bypass while it finished on the Prospect Road to PA 741 interchanges. The latter removed the designation from Columbia Avenue, King Street, Franklin Street, and Orange Street in Lancaster. The McConnellsburg Bypass was completed in 1967, and a year later the expressway from PA 462 to Loucks Road got underway while the route was widened and a median installed from there to North George Street. In 1969, construction began on the Bedford Bypass and the new Susquehanna River bridge from the Wrightsville interchange to the PA 441 interchange.
In 1966, the Philadelphia City Planning Commission proposed an idea to relieve congestion on the Schuylkill Expressway by building a new expressway. The Main Line Expressway, as it was to be called, would have started at the Schuylkill, continued along Girard Avenue then turn northwest at Lancaster Avenue to City Line Avenue. Construction was scheduled to be started in 1971 and finish in 1976. In the late 1970s, the city officials dropped their plans when they could not get funding from PennDOT.
The 1970s started off with the opening of the Bedford Bypass and the expressway from PA 462 to Loucks Road while construction began from the Hallam interchange to the Wrightsville interchange, and PA 441 to the Prospect Road interchange. A median was installed from North George Street to North Hills Road. In 1971, construction began from North Hills Road to PA 24 to bring it up to expressway standards and construction began from there to the Hallam interchange. In 1972, the expressway opened from PA 441 to the Prospect Road interchange and the section from North Hills Road to PA 24 was completed. In 1973, the expressway opened from PA 24 to the Hallam interchange and with it, the designation moved onto it and out of York. In 1978, construction began on a bypass around Everett
The 1980s were a slow year for the highway, as many of the new alignment projects had wrapped up. On August 2, 1980, the Everett Bypass or Bud Shuster Byway, was dedicated. That's right, "Mr. I-99" was able to secure the funds to build that section of expressway and, as he did with that Interstate, he put his name on the highway. However, the most important expressway construction project on US 30 began in 1986, when PennDOT revived the Vine Street Expressway project. In 1987, a median was installed from PA 462 to Millstream Road. In 1988, the Greensburg Bypass and the eastern end to Georges Station Road was rebuilt. These sections were repaved ten years later.
The 1990s saw the completion of the Vine Street Expressway, when it opened on January 10, 1991 at a cost of $225 million. For the complete story on the Vine Street Expressway, see the Interstate 676 page. In 1994, work began to close the gap in the expressway from Downingtown to the US 202 expressway known as the Exton Bypass, which opened in December 1995.
Out of all of the highways in Westmoreland County, US 30 was the scene of the most fatalities between 1989 and 1998 according to the Fatality Analysis Reporting System maintained by the Federal Highway Administration. Fifty people died on Westmoreland County's 41-mile long section of US 30 in those ten years, and 40 between 1995 and 2000. Charles Henaghan, police chief for North Huntingdon said, "Route 30 was never designed to handle the volume of traffic it handles today. Particularly with the topography of our area, you're going up the hill, down the hill and around the bend."
PennDOT focused a lot of attention to the highway in the late 1990s and continuing into the early 2000s, with projects aimed at improving the safety of the highway in Westmoreland, Bedford, York, and Lancaster Counties. In Westmoreland County, the project consisted of replacing worn sections of concrete, signs, guard rail, placing Jersey barriers in the medians, widening the highway by a two feet, and repaving. The first section was from White School Road to Beatty County Road in 1997, Georges Station Road to White School Road in 1999, and Beatty County Road to PA 981 in 2000.
The York County project began on February 17, 1999 involved widening US 30 to three lanes in each direction between I-83 and PA 74. Also involved in the work was the installation of new traffic signals to improve the flow of traffic through this congested area. The work concluded in 2001.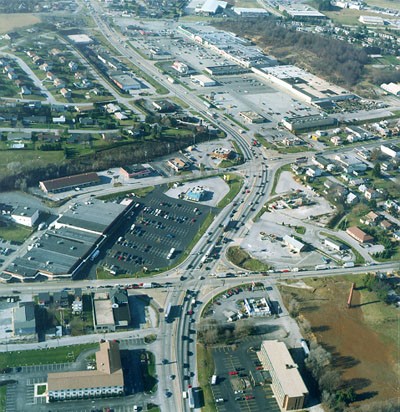 US 30 near North George Street in York. (PennDOT)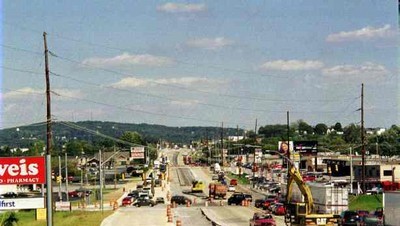 Work continuing between Pennsylvania and Roosevelt
Avenues in York. (PennDOT)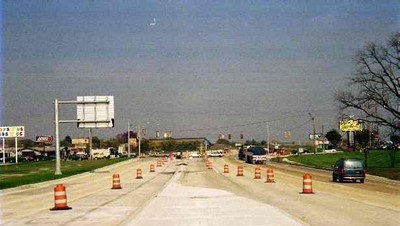 Median being completed near Kenneth Road. (PennDOT)
The Lancaster County reconstruction consisted of three sections. The "Center Section" project began in January 1997 consisted of widening the highway to three lanes in each direction between PA 283 and US 222. Frontage roads were built along each side of the main lanes to serve local traffic on the Fruitville, Lititz, and Oregon Pikes. New bridges over those highways, sound barriers, retaining walls, and drainage structures were built. Construction concluded in 2000.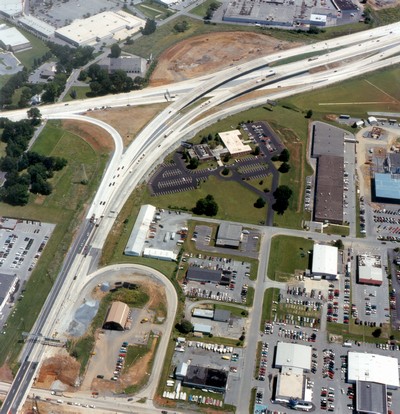 US 30's interchange with PA 283. US 30 runs from bottom
to right. (PennDOT)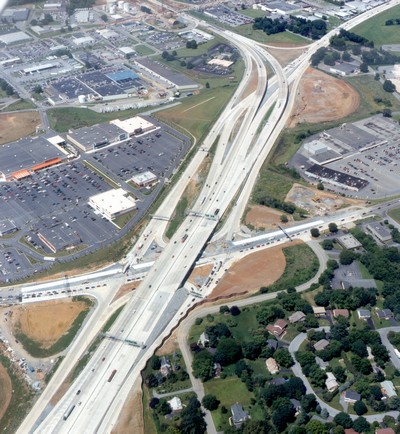 Another shot looking westbound on US 30, which clearly
shows the collector/distributor design. (PennDOT)
The Lancaster County "Western Section" project began on March 1, 2000. The highway was rebuilt from Rohrerstown Road to Manheim Pike. The project consisted of resurfacing the highway, new interchanges, new traffic signals, new signing, new pavement markings, and new guide rail. Construction was completed in 2002.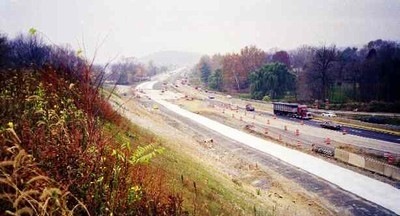 Construction occurring near Conestoga Creek.
(PennDOT)
The Lancaster County "Eastern Section" project began in September 2000. The highway was rebuilt from US 222 to PA 462 and cost $87.5 million. The project consisted of resurfacing the highway, new interchanges, new traffic signals, new signing, new pavement markings, and new guide rail. Construction was completed in Fall 2002.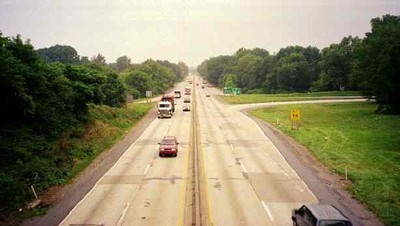 This was the section of US 30 west of New Holland Pike
looks like it just came from the 1970s. (PennDOT)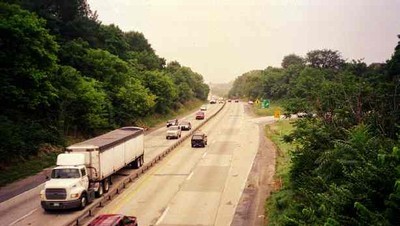 Here is a better shot of this "disco-era" highway east of
the New Holland Pike interchange. The reason being the
box-girder guide rail down the middle and the beaten,
bleached concrete. (PennDOT)
The Delaware County construction involves widening the highway to accommodate a center turning lane, resurfacing the highway, and installing new traffic signals. Work began in late 2000 and was completed in 2002. The next phase of work began on July 8, 2003 from PA 340 to the Business US 30 interchange near Downingtown. Construction on this section was completed in late 2004.
The Bedford County project began in the summer of 2001. The project involved widening and reconstructing five miles of the highway from east of Bedford to Mount Dallas, rehabilitation of the existing Narrows Bridge, construction of a new bridge next to the original Narrows Bridge, replacing the Turnpike overpass to provide a wider crossing for US 30, and replacing a bridge over Snake Spring Valley Run. The project also included rebuilding four miles of the Bedford Bypass, which involved rehabilitating nine bridges. The bulk of the project concluded in 2004, but rehabilitation of the Narrows Bridge did not finish until 2006. Cost for the entire project came to around $100 million with ceremonies to commemorating the completion occurring on August 4, 2006.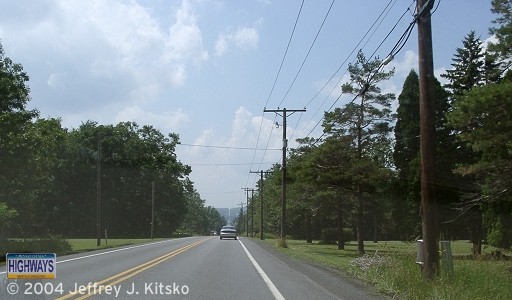 Seven Mile Stretch in Somerset County.
Tragedy hit the highway on the morning of October 26, 2001, when the S.S. Grandview Ship Hotel burned to the ground. The famous Lincoln Highway landmark, located west of Schellsburg in Bedford County, was known not just for being a ship located at the top of a mountain, but also because you were able to see seven counties and three states from its vantage point.
A sinkhole developed on the section of expressway known as the Penn-Lincoln Parkway West in North Fayette near the Tonidale Exit on March 7, 2002. The two-foot-deep, 60-foot long dip occurred in the left lane of the highway, but affected the right lane as well. PennDOT blamed mine subsidence for the creation of the sinkhole. Crews worked around the clock to fill the hole with grout, as was done in construction projects in eastern Pennsylvania. All lanes were reopened on March 13.
On December 9, 2002, the Southwestern Pennsylvania Commission approved shifting $6.7 million in state and Federal funds to complete the interchange at I-79 so construction could get under way in 2005. Pennsylvania Department of Transportation Engineer Ray Hack said the project will take two years and cost at least $50 million. Currently to head west on US 22 and US 30, one must exit and travel PA 60, which has become congested with development. "Everybody knows the ramps are long overdue," Hack said. "People who have to use Route 60 to and from the airport face nothing but traffic lights between I-79 and the parkway." In addition, PennDOT will widen more than one mile of the Parkway West to three lanes in each direction between the I-79/I-279 interchange and Parkway View Industrial Park. Hack went on to say, "Someday, the Parkway West will be three lanes in each direction between Pittsburgh and the airport." Construction began in Summer 2006 and finished in 2008 marking the completion of the interchange after 30 years. The ramp to US 30 westbound opened on November 24 and the ramp from US 30 eastbound opened on December 9.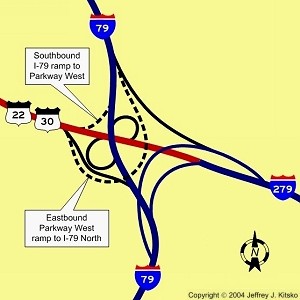 Location of proposed new ramps.
With the explosion of development in Robinson Township, improvements to interchanges began. In December 2003, construction started on a $28.8 million project to rebuild the Settler's Cabin Park ramps into a full interchange. The project included: full interchange between Campells Run Road and the Parkway West, widening and relocating parts of Campbell's Run Road, upgrading Ridge and Bayer Roads, and building a six-lane bridge across the Parkway. The main reason for the interchange upgrade was that traffic waiting to exit the Parkway onto Campbells Run Road would back up onto the Parkway itself. This interchange, at least the fifth new or improved one in the corridor in a decade, opened on October 28, 2005.
On June 16, 2005, PennDOT announced work would begin on a $13.6 million project to install ITS equipment on US 30 in Chester County. Over the next 15 months, crews will install 33 closed circuit TV cameras, 22 dynamic, and 61 incident detectors along the route as well as PA 100 in Chester County and US 202 in Delaware and Chester Counties. They will be connected to the Philadelphia Traffic Control Center in King of Prussia.
If people talking on cell phones while driving wasn't a distraction, how about people performing stunts outside the car or "car surfing?" Off-duty State Trooper Jolando Hinton witnessed just that on July 13, 2005 while traveling southbound. Brian Crawford of Irwin, a student at the Art Institute of Pittsburgh and aspiring stuntman, was seen climbing around the vehicle he was a passenger in, performing stunts that will make you cringe all while traveling 60 MPH. One of his friends was videotaping the stunts, which included hanging on the side of the car and "Superman" where he hung vertically only a foot off the ground, with an Art Institute camera. The stunts continued for two miles until on-duty troopers pulled the car over near Robinson Town Centre and found four men in the car ranging in age from 19 to 21. They faced reckless endangerment and disorderly conduct charges, and punishment by the school for using equipment in a criminal activity.
With traffic and time taking its toll on the Exton Bypass, work to rehabilitate the route between Business US 30 and US 202 began in September 2009. The project included resurfacing five miles of US 30 and its ramps, which took place in 2009, and moved onto installing new guide rail and median barriers, installation of rumble strips on the shoulders, updating signage, and pavement marker installation in 2010. The $4.2 million project, which was financed by federal stimulus funds from the American Recovery and Reinvestment Act (ARRA), came to an end on June 15, 2010.
Usually it is humans that cause a construction project to stop, but it was creatures of the avian variety that stopped a bridge project in York County. A planned bridge resurfacing project had to be postponed in July 2011 due to a bald eagle's nest only 500 feet away. Due to state and federal law forbidding disturbing a nest, the paving was pushed to September for when the nest would be abandoned.
The last weekend of September 2015 was another important time in the history of the City of Philadelphia. Pope Francis became the second pontiff since John Paul II in 1979 to visit "The City of Brotherly Love," and with his visit came travel restrictions. On Friday, September 25, the Benjamin Franklin Bridge was closed and did not reopen until early on Monday, September 28.
The year 2018 was an especially wet one for southwestern Pennsylvania, which created numerous landslides in the Pittsburgh area. One of those landslides just happened to occur along a section of US 30 through East Pittsburgh, just to the west of the Westinghouse Bridge. PennDOT had been monitoring this section since March when buckling and shifting were observed, closed the westbound lanes on April 4, and decided to close the eastbound lanes on April 6 affecting 21,000 vehicles a day. The initial cause of the sinking for years was thought to be a broken pipe, but when the roadway began to buckle on April 6, did PennDOT notice the sliding taking place and issued evacuation notices for those who lived below US 30. Fortunately the 31 residents of the Electric Avenue Apartments listened and went to live with family members or nearby hotels paid for by PennDOT, because at 6 AM the following day, a 300-foot-long section of three of the four lanes fell 30 to 40 feet into the apartment building. Due to the early evacuation, there were no deaths nor injuries when the hillside gave way. Four remaining apartment buildings and a private home were unaffected but the residents were evacuated for precautionary sake. Cheryl Moon-Sirianni, executive for the Department of Transportation's District 11 said that it would be unlikely for any of the displaced residents' belongings to be recovered, and that they should make a list of everything they lost and PennDOT would see about reimbursing them. She also said that affected properties would be demolished, and then drilling tests conducted to best see how to repair the roadway. One of those whose property would be demolished was Chris Morgan, who had mentioned problems with shifting ground and subsidence for more than a decade. "I've been telling them for years there's a problem up there, right above me," he said. "And this could've been prevented."
North Braddock, East Pittsburgh, PennDOT, and the state issued emergency declarations which allowed them to hire contractors at a faster pace than the normal bidding process. Work to rebuild the roadway began in earnest with geotechnical drilling taking place in the days following the collapse so a fix could be formulated, with the heavy work beginning at the end of April with Golden Triangle Construction working seven days a week. The first step was removing 40,000 cubic yards of unusable ground and began building a new retaining wall that is 20 feet high and 400 feet long. After 61 days, US 30 reopened to traffic on June 27, 2018. Crews still have to install water lines, concrete drainage gutters, anti-graffiti painting and landscaping, and replacing a parking lot at the apartment complex below which will be finished in mid-September. "A typical project of this magnitude would take approximately two to three years to design and acquire Right of Way and additional seven to eight months to construct," Transportation Secretary Leslie S. Richards said. "In less than three months, this project has been designed, built and the roadway reopened." Democratic state Senator Jim Brewster said, "PennDOT has done a wonderful job in moving quickly on the repairs. All those who worked to repair the road, strengthen the foundation and promote safety should be congratulated for their hard work and diligence." PennDOT was expecting to receive $9.27 million from the US Federal Highway Administration's Emergency Relief Program to cover construction costs, with the state agency picking up the remainder of the nearly $12 million price tag. However, on February 5, 2019, it was announced that the federal government would reimburse PennDOT $9,727,856 of which the agency had spent $8.62 million on the rebuilding efforts which did not include construction costs, rights of way, and utilities that had to be reinstalled at the Electric Avenue Apartments before the last of the displaced residents returned in October 2018.
A rehabilitation project began in February 2020 on the Ben Franklin Bridge. The work focuses mainly on installing a dehumidification system for the main suspension cables as well as rehabilitation of the anchorages. However, the project will also encompass miscellaneous steel repairs, painting, and replacement of decorative lighting. The $216.9 million project is expected to finish in December 2024.
When the Coronavirus, or COVID-19, pandemic swept into the country in March 2020, the Delaware River Port Authority took measures to stem the spread to their employees and staff. At 6:00 AM on March 26, all bridges, including the Ben Franklin Bridge, went to a cashless toll collection system. E-ZPass users would pass through the plazas as normal, and drivers who normally paid by cash would have their license plate captured. A bill for the toll only (no additional administrative or violation fees) would then be sent to their address.
Lincoln Highway Heritage Corridor
---
The LHHC is one of nine special heritage areas in the Commonwealth of Pennsylvania. Each is a nonprofit organization designated by Governor Tom Ridge. The Lincoln Highway Heritage Corridor consists currently of Westmoreland, Somerset, Bedford, Fulton, Franklin, and Adams Counties, using the historic Lincoln Highway as a uniting element for preserving scenic, cultural, and historic resources, as well as restoring and developing existing and new programs and facilities. The LHHC is the longest of all of nine heritage parks, extending 150 miles across western and central Pennsylvania.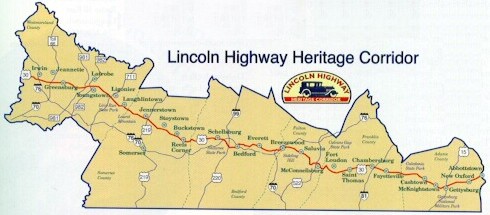 Extent of the Lincoln Highway Heritage Corridor. (LHHC)
Website: http://www.lhhc.org
The corridor has also started resigning stretches of the Lincoln Highway with the old red, white, and blue striped shields with the large blue "L" on them. For a nominal fee of $30, an individual can "adopt" one of these signs to be placed somewhere along the original Lincoln Highway within the corridor. Pennsylvania Highways has adopted six, one for each county comprised within the LHHC. Below are pictures of the signs.
Westmoreland County
PA 981 southbound in Latrobe at the Arnold Palmer Regional Airport.
Somerset County
On a former alignment, Sliding Rock Road, at its intersection with US 30 west of Jennerstown.
Bedford County
US 30 eastbound at Harrison Road in Schellsburg at Shawnee State Park.
Fulton County
US 30 eastbound at the end of the PA 915 multiplex on Sidling Hill in Buchanan State Forest.
Franklin County
US 30 westbound at the intersection with Mower Road in Guilford Hills.
Adams County
US 30 westbound at Carlisle Street (Business US 15/PA 34) in Gettysburg.
Links:
Exit Guide
US 30 Auxiliary Routes
US 30 Pictures
Breezewood Services
East-West Expressway (Cancelled)
Interstate 76
Interstate 376
Interstate 676
Penn-Lincoln Parkway Extension (Cancelled)
Route 30 Relocation (Cancelled)
Exton Bypass - Pennsylvania Byways
Lincoln Highway Association
The Lincoln Highway National Museum and Archives
Lincoln Highway State Heritage Corridor
The Lincoln Highway - Federal Highway Administration
Mutlimodal Airport Corridor Project - Port Authority of Allegheny County
Route 30 Master Plan - Smart Growth Partnership of Westmoreland County
Breezewood and Abandoned Turnpike - Doug Kerr
Lincoln Highway - Brian Butko
Lincoln Highway - James Lin
The Lincoln Highway in Pennsylvania Blog - Mindy Higgins
Lincoln Highway Remnants - Adam Prince
Main Line Expressway (Unbuilt) - Steve Anderson
Terminus of US 30 - Dale Sanderson
Terminus of US 30 in Pennsylvania - Tim Reichard
US 22/US 30 Pictures - Andy Field/Alex Nitzman
US 30 Expressway (Chester County Section) - Steve Anderson
US 30 Junction List - Tim Reichard
US 30 Pictures - Steve Alpert
US 30 Pictures - Andy Field/Alex Nitzman
Westinghouse Bridge - Bruce Cridlebaugh
---
INFORMATION
Western Entrance:
West Virginia state line four miles west of Hookstown
Eastern Entrance:
New Jersey state line at the Benjamin Franklin Bridge in Philadelphia
Length:
324 miles
National Highway System:
Imperial to Bedford
Breezewood to the New Jersey state line
Names:
Lincoln Highway
Penn-Lincoln Parkway, Pitt Street, Lincoln Way, Loudon Street, Queen Street, Chambersburg Road, Buford Avenue, York Street, York Road, Lincoln Way West, King Street, Loucks Road, Coatesville-Downingtown Bypass, Exton Bypass, Lancaster Pike, Lancaster Avenue, Girard Avenue, Schuylkill Expressway, and Vine Street Expressway
SR Designations:
0030
0022: Imperial to PA 60
0376: Exit 60 to Exit 78A
0076: Exit 343 to I-676
0676: I-76 to the Ben Franklin Bridge
Counties:
Beaver, Allegheny, Westmoreland, Somerset, Bedford, Fulton, Franklin, Adams, York, Lancaster, Chester, Delaware, Montgomery, and Philadelphia
Multiplexed Routes:
US 22: Imperial to Exit 78A
I-376: Exit 60 to Exit 78A
Truck US 19: Exit 69B to Exit 70C
I-70: Breezewood
PA 915: east of Breezewood on Sideling Hill
PA 116: Gettysburg
US 222: Lancaster
PA 23: Walnut Street to Holland Pike in Lancaster
I-76: Exit 343 to I-676
I-676: I-76 to the Ben Franklin Bridge
Former Designations:
PA 1 (1925 - 1930): West Virginia state line to Imperial, Wilkinsburg to Greensburg, Greensburg to Bedford, Bedford to McConnellsburg, McConnellsburg to PA 462, PA 462 to Business US 30, and Business US 30 to I-76
US 230 (1952 - 1966): PA 283 to PA 501
US 230 (1953 - 1966): PA 501 to US 222/PA 272
US 230 (1954 - 1966): US 222/PA 272 to PA 462
PA 250 (1961 - 1973): Loucks Road to PA 24

BicyclePA Route:
PA 31 to Business US 30

BicyclePA Route:
PA 31 to Business US 30
Business US 30 to PA 326
South Breezewood Road to PA 915
Fort Loudon to PA 234

Pennsylvania Byway:
Business US 30 to US 202

Belt System:
Oakdale interchange to PA 60

Washington's Trail:
PA 8 to PA 148
PA 48 to PA Turnpike 66

Traffic Cameras:
PA 60
Settlers Cabin Easbound Off-Ramp
Settlers Cabin
Settlers Cabin Eastbound On-Ramp
Bishops Corner
Campbells Run
I-79 Interchange West
I-79 Interchange East
Rosslyn Farms
Carnegie
Green Tree
Green Tree Hill (Top)
Green Tree Hill (Middle)
Banksville Road
Fort Pitt Tunnel Garage
Fort Pitt Tunnel Upper Portal
Fort Pitt Tunnel Lower Portal
Commonwealth Place
Fort Pitt Boulevard
Grant Street
County Jail
Second Avenue
Brady Street
Bates Street
Swinburne Street
Saline Street
Beechwood Boulevard
Commercial Street
Swissvale
Edgewood
Brinton Road
Forest Hills
East Mattie Road
I-70
I-76/PA Turnpike
West Street
Natural Springs Road
PA 283
PA 501
East of PA 340 (Eastbound)
US 322 (Westbound)
East of PA 282 (Westbound)
East of PA 113 (Westbound)
Business US 30 (Westbound)
West of PA 100 (Eastbound)
PA 100 (Eastbound)
---
Back to Pennsylvania Highways
Back to Pennsylvania US Highways
Page updated February 05, 2021.
Content and graphics, unless otherwise noted, copyright © Jeffrey J. Kitsko. All rights reserved.
Information sign courtesy of Richard C. Moeur.
Path of Progress, Pittsburgh Belt System, and Washington's Trail shields courtesy of Bruce Cridlebaugh.
Information courtesy of the Pennsylvania Department of Transportation, Delaware River Port Authority, Rand McNally, Lincoln Highway Heritage Corridor, Greensburg Tribune-Review, Pittsburgh Post-Gazette, Pittsburgh Tribune-Review, "The Lincoln Highway: Pennsylvania Traveler's Guide" by Brian Butko, Greg Penny of PennDOT District 8-0, KYW-TV Philadelphia, WJAC-TV Johnstown, WGAL-TV Lancaster, Steve Anderson, and "PennDOT to Install ITS Equipment on Route 202." Corridor News 13.2 (2005): 23.