Today was the Turnpike Commission's Community Day on the Findlay Connector. The official name is the Southern Beltway and the designation is PA Turnpike 576. It was not my first visit, but my second visit to the completed roadway.  However, unlike during the National meet back in August, the State Police did not chase me off the expressway this time.
This Community Day event reminded me of the first one I attended in 1993. That was the first one the Turnpike Commission did prior to PA Turnpike 66 opening.
There were things there for everyone to enjoy during what the PTC called a "once-in-a-lifetime" event. For me, it was a twice-in-a-lifetime opportunity. I cite the aforementioned trip down the unopened expressway that came to an abrupt end.
This time around, everyone was allowed onto the expressway and not just attendees to a road enthusiast meet. Booths of all kind lined what are the northbound lanes at the US 30 interchange, or Exit 2. Food booths provided quick meals for those who attended. The West Allegheny and Moon Area high school bands and West Hills Symphony Orchestra performed for the crowd. The PTC had a booth with information on the entire Southern Beltway project, Turnpike maps, and E-ZPass applications.  Port Authority buses made continual loops of the six-mile-long section so people to see the expressway. At the same time, others hiked, jogged, and biked the alignment.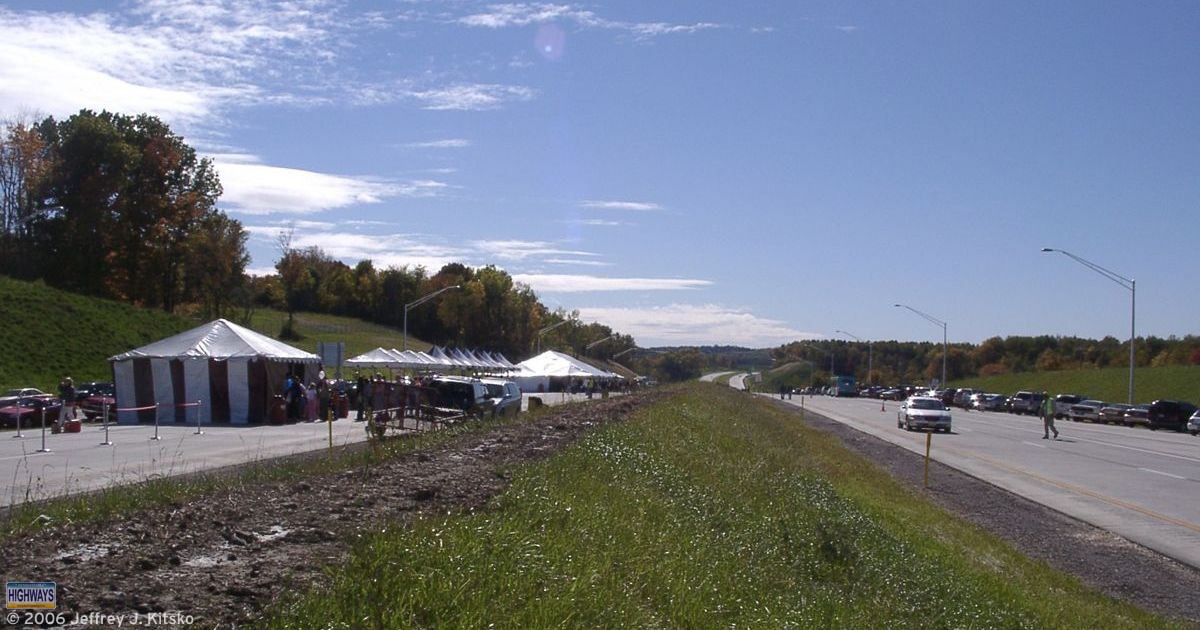 I finished my Community Day on the Findlay Connector, taking a ride down the expressway. I have always enjoyed these open houses that the PTC hold, and not just for the free stuff. Hopefully they continue to be a part of the PTC's public relations "tool box."
Getting Around: Did You Too Miss the Turnpike's Party on Route 576? – Pittsburgh Post-Gazette