One of the things that we're not that good about in Pennsylvania is planning for the future.  Tonight, myself and others in my area decided to do something about that.  Smart Growth Partnership of Westmoreland County has been holding a public Charrette this week at the University of Pittsburgh at Greensburg.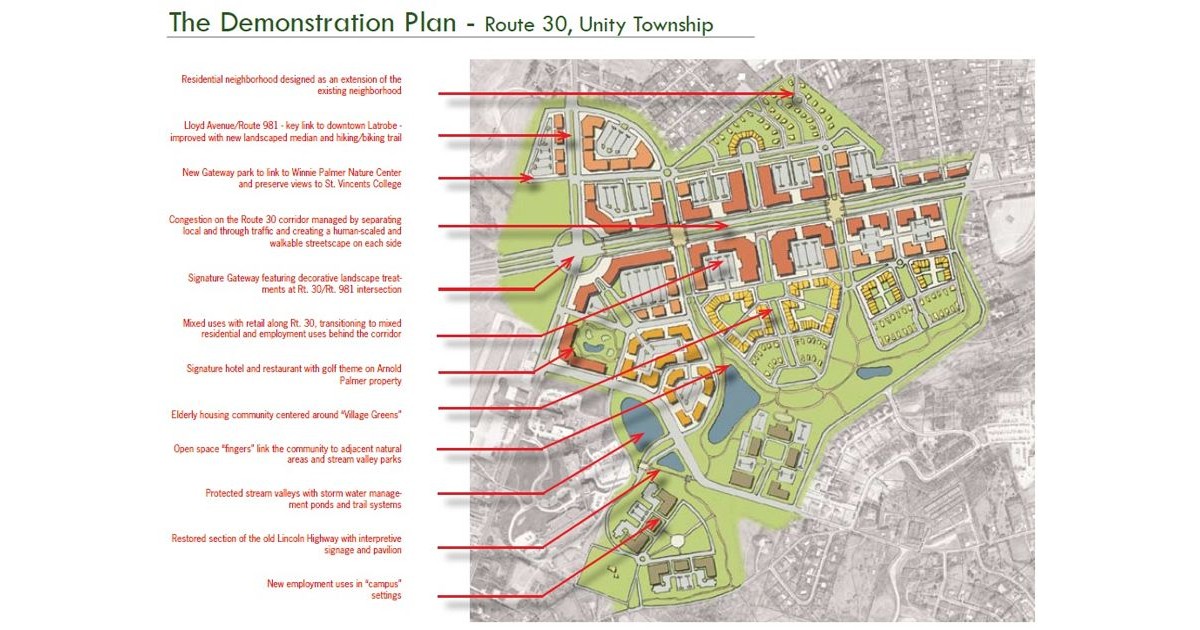 We were placed in groups and asked to evaluate different plans for the area of US 30 in Unity Township outside Latrobe.  The first plan would create almost another town along 30 from PA 981 to PA 982. No one liked this one because the minimum building height would be six stories.  Obviously this would destroy the views of the Laurel Ridge and trying to keep the area rural.  The second plan would be to keep more of the area in a rural setting, but enhance the existing developments along the corridor.  The third plan would be a "Greenway" solution, where most of the businesses would be removed and more of the area returned to a natural state.
While most seemed to prefer the latter, I was in favor of the second plan.  The first plan and last plan would eliminate the shopping areas of Latrobe 30 Plaza, Mountain Laurel Plaza, Wildcat Commons, and Unity Plaza. Stores such as Giant Eagle and Wal*Mart would go away.  I highly doubt Wal*Mart will have gone the way of Montgomery Ward by the year 2020.  Although people probably said the same about Wards in 1980 so who knows.
Planning for the future traffic growth, I proposed the idea of completely bypassing current US 30 with an expressway. This would remove the through traffic from the highway and create a Business US 30 on the current alignment.  Actually, not my idea, but the "Route 30 Relocation" proposal from the Pittsburgh Area Transportation Plan devised in the 1960s.  The same thing happened between Sadsburyville and Exton. The current alignment of 30 is an expressway and the original alignment is a business route.  Then a redesign could take place of any area along the corridor without having to contend with as much traffic.  However, my idea did not garner any approval.  Oh well, so much for trying to undo past mistakes.
Route 30 Masterplan – Smart Growth