Today, the ribbon-cutting event for the latest section of Mon-Fayette Expressway occurred. Not only did I pick up several free bottles of water compliments of the Turnpike Commission, I picked up something I haven't seen in years:  a new 2011 official Turnpike map.
The PTC's "belt-tightening" in recent years led to them not printing a map. It is evident by looking at this one, as it is much smaller than its 2004 ancestor. The reason for this change is in a note below the legend:
In addition, the map is not a PennDOT official. The Turnpike System is not highlighted in green, with a white-on-green Keystone shield denoting the route number. That was the standard since the 1980s.  It appears with these two changes that the Turnpike map is returning to its ones from the 1960s and 1970s, which were printed by Rand McNally and General Drafting.
The main map of Pennsylvania features images of postcards of the Turnpike at the top of the map. A mention of the 70 years of the Turnpike is in the corner, the milestone celebrated the year before.  One change I like is that the background of the border states are not pink or purple as they were on the 2004 map.
The back side of the map still includes information on E-ZPass and commercial trucking regulations.  There is toll information but just like the first run of tickets this year, there is no fare schedule. There are strip maps for the system. However, the insets of cities which the Turnpike passes through are no longer.  The following are changes since the 2004 edition:
Allegheny County/Washington County
PA Turnpike 576 completed between Interstate 376 and US 22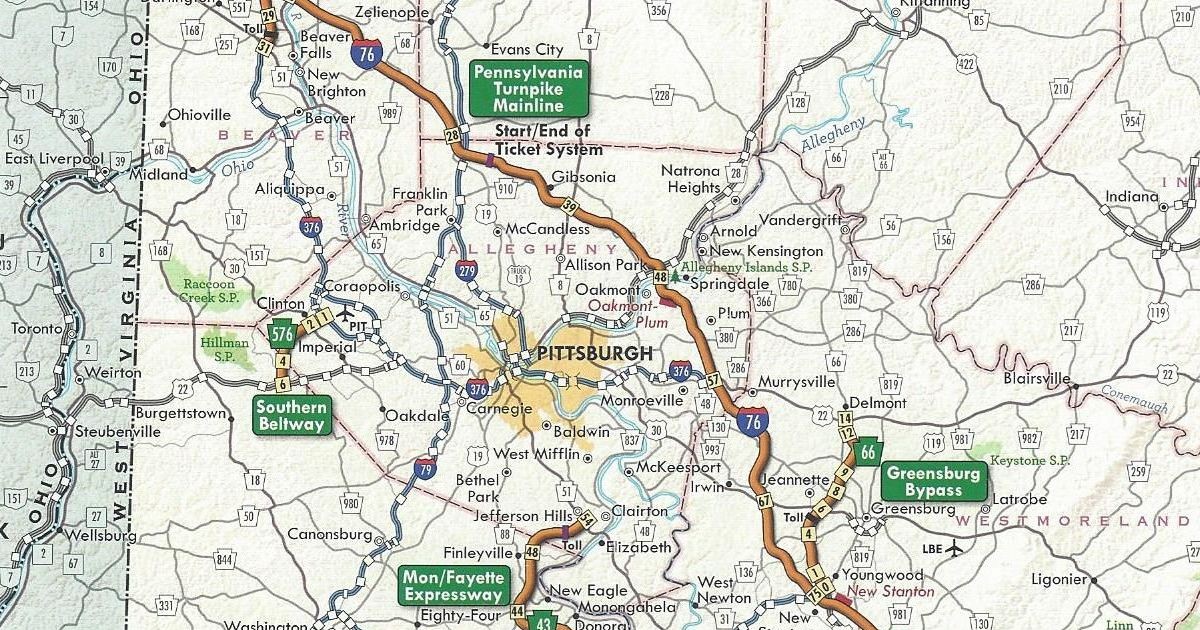 Beaver County/Lawrence County
Interstate 376 replaced PA Turnpike 60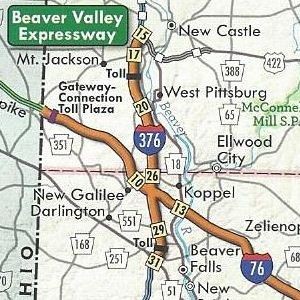 Fayette County
PA Turnpike 43 completed from Exit 15 to Exit 22

Fayette County/Washington County
PA Turnpike 43 under construction from US 40 to PA 88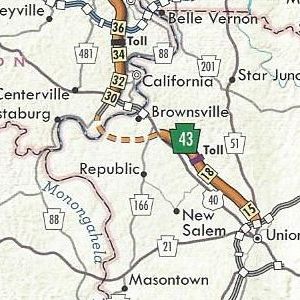 The Turnpike Commission has PDF versions of the strip maps for the mainline, PA Turnpike 376, and PA Turnpike 66; PA Turnpike 43; and PA Turnpike 576 available at their website.
The cover of the 2011 official Turnpike map features three postcards of various sections from the original Turnpike, with the logo of the 70th anniversary in the middle.