Today was the latest of the Pennsylvania Turnpike Commission's "Community Day on the Expressway" events, and this is the third one which I have attended. However, this is the first one I went to for a section of roadway which I was also at its groundbreaking ceremony.
The festivities took place just outside of Uniontown on the newest section of the Mon-Fayette Expressway. It will open to traffic on October 23.  These are nice events that the PTC holds prior to opening a new section of roadway, plus they give the public the chance to preview the new roadway.
Today's "Community Day" took place at Exit 18. It was held in partnership with the Fayette Chamber of Commerce, Steps to a Healthier PA – Fayette County, the National Road Heritage Corridor, and construction manager TCMS-Maguire.
Steps to a Healthier PA – Fayette County sponsored a Family Fun Walk.  Although it began at 9 AM, it lasted the rest of the day. The public was welcome to walk, jog, as well as bike on eight miles of the road. However, school buses provided a quicker tour if you did not want to use those options to view Turnpike 43. After that, the next part of the event was the "Modes of Transportation" parade at 10 AM.
Fifteen vendors selling food and crafts lined the road. A children's area had balloon art from Airheads Balloon Art to keep the kids busy. The Rainbow Express trackless train was available for them to ride around on the roadway nearby.  In addition, there were informational booths from the Turnpike Commission and the National Road Heritage Corridor.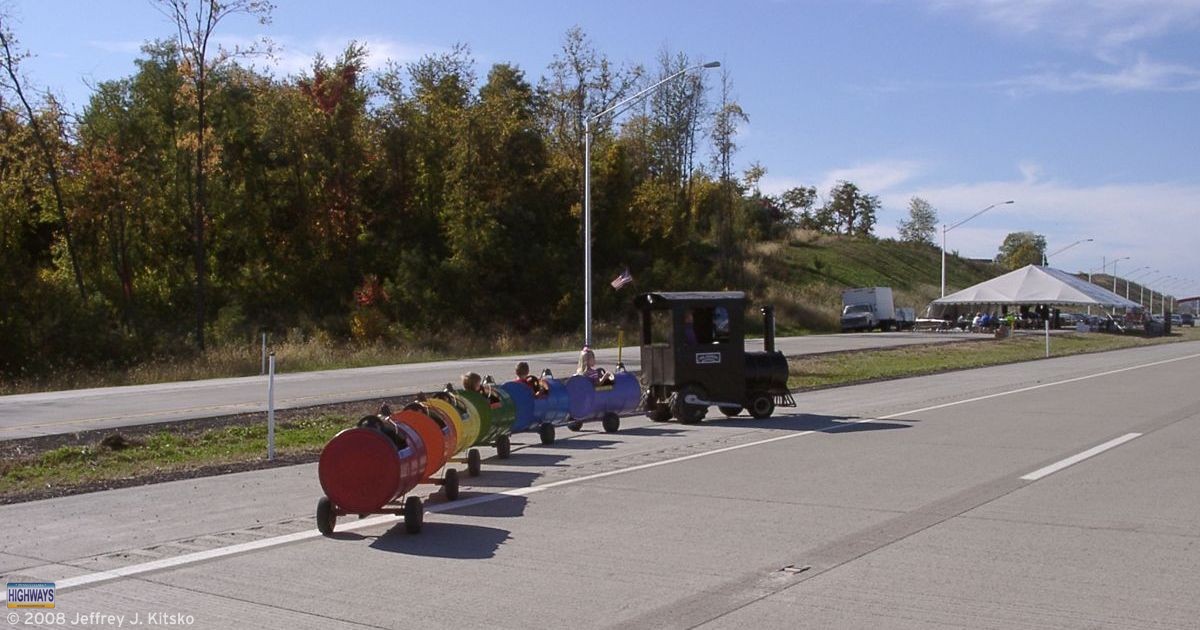 Residents Get Close-Up View of Expressway – Uniontown Herald Standard