After a hiatus in 2021, the Department of Transportation has produced a new official state road map.  The reason 2021 was skipped, the first time since 2008, is because of the state's strained financial resources due to the COVID-19 pandemic.  I knew there was a new map because I saw it on PennDOT's website.
A few months back, I called the PennDOT Sales Office to specifically request a 2022 edition.  The customer service representative informed me those maps would not go out because they still had a lot of 2020s in stock.  Fine.  Before I left for York to attend the 2022 South Central Pennsylvania Road Meet, I had placed a mail order for new official road maps.  Upon returning home, I discovered they arrived when I was away.  A few days after I returned and was at AAA, I asked for a Pennsylvania map.  I figured I would get their Pennsylvania/New Jersey map.  Nope, another official state map!  When it rains, it pours.
Since I had not heard anything from PennDOT before leaving, I decided to make a side trip to the Welcome Center on Interstate 70 in Warfordsburg on my way to York.  The following is the only change in the 2022 official Pennsylvania map since the 2020 edition:
Allegheny County/Washington County
PA Turnpike 576 shown as completed from US 22 to Interstate 79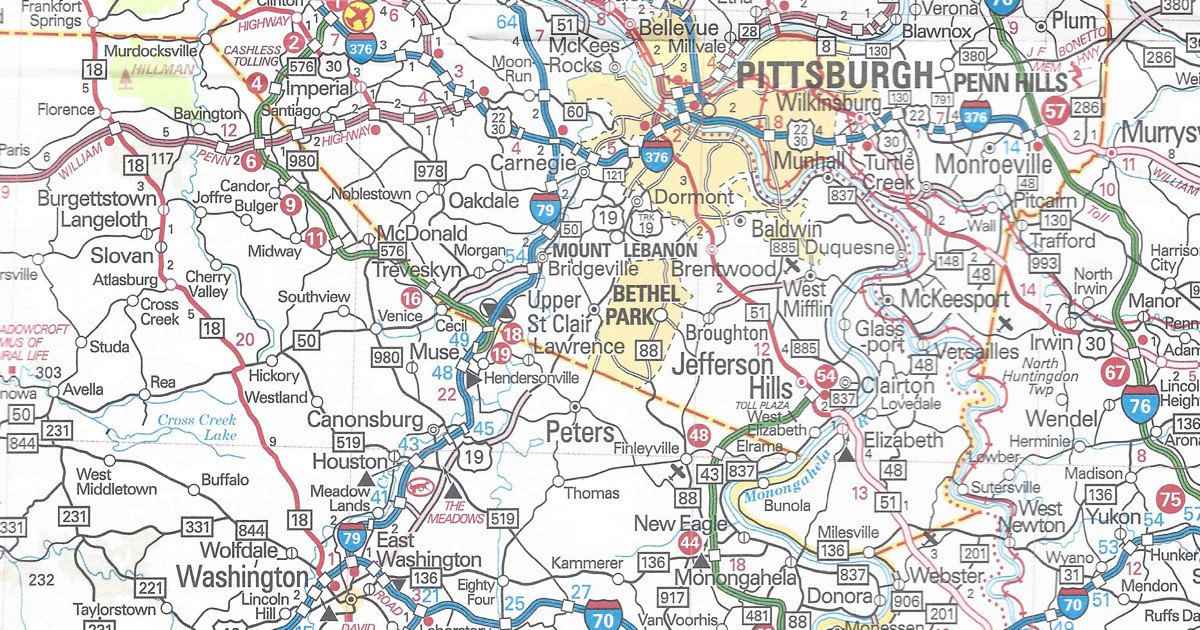 What is strange is that this section is not printed in the Pittsburgh inset on the back.
The only other change in this edition is how interchanges appear on the Turnpike System.  For years, a purple circle with white numbers indicated E-ZPass-only interchanges.  A standard red circle with white numbers, like the rest of the interchanges, now mark these particular junctions.  The change is probably due to the Turnpike roadways doing away with cash transactions and all interchanges being E-ZPass-only.
The map has the same dimensions as the previous year's, and features the same amenities, such as the tourism slogan.  One change is that instead of the year in a keystone as it has been since the 2017, it now separates "20" and "22" at the bottom of the cover.  However, this year's cover picture features a family in their station wagon parked on a beach.  You can view the 2022 official road map on PennDOT's site
.