Today was the second day of the first National Road Enthusiast Meet.  We began the day at Primanti Brothers on PA 60/Steubenville Pike in Robinson Township.  Everyone seemed to enjoy this slice of Pittsburgh. I highly recommend stopping to have a Primanti's sandwich…or a Roethlis-burger at Peppi's. That is, unless of course you're a Cleveland Browns fan.
After that, we jumped in our vehicles and traveled down PA 60 to Crafton to see the Industrial Highway.  It is the remnant of one of the many cancelled highways in the Pittsburgh area.  It now serves as an access road for businesses along Chartiers Creek.
Following that stop, we headed back north on PA 60 to Interstate 79 south. The first official stop was to visit the Pittsburgh Regional Traffic Management Center. It is located at the PennDOT District 11-0 office in Bridgeville.  On the way, we saw some of the Interstate 79 reconstruction taking place south of the Parkway West interchange.
Dominic Munizza of PennDOT gave us a tour of the center, and showed us features of the Intelligent Transportation System, or ITS, network.  He gave demonstrations of the Variable Message Sign (VMS) boards, as well as the Highway Advisory Radio (HAR) system. We also got a demonstration of the cameras that line the expressways.  In fact, we happened to arrive at the TMC just after legendary Pittsburgh Steelers broadcaster Myron Cope was involved in an accident at the Banksville Road interchange.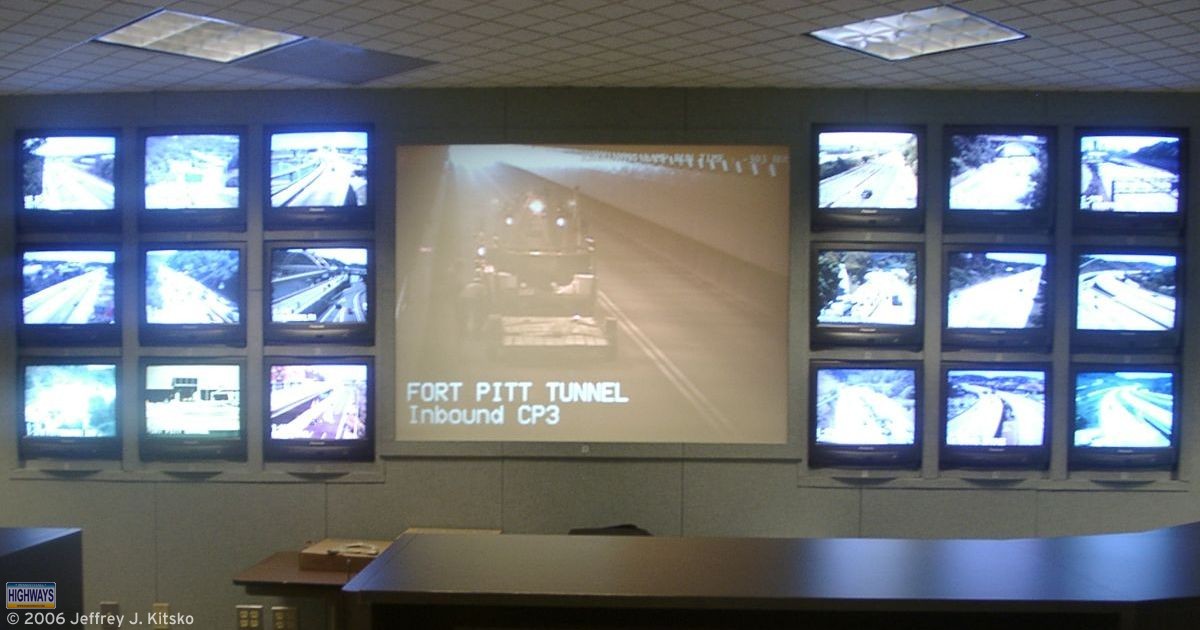 The group met for dinner at a restaurant with a road theme:  Quaker Steak & Lube. We ate at the Point at North Fayette location. Afterwards, we took to our vehicles and headed into the city to check out the view from Mount Washington. It is the hill that overlooks the "Golden Triangle."
That marked day two of the first National Road Enthusiast Meet.