When the weather turns warm in Pennsylvania, it is a time to get out and enjoy the great outdoors.  We have an abundance of state parks and historic sites. Therefore, there is plenty to see and do in the Keystone State. One such activity that can shake off "cabin fever" is a good, old-fashioned car show.  Since this year marks the Pennsylvania Turnpike 75th birthday of the original section of Turnpike from Irwin to Carlisle opening, the Pennsylvania Turnpike Commission held a car show at the Sideling Hill Service Plaza today.
Others had been held for other birthday milestone years, so this is not the first time.  However, this was the first one with myself and my family in attendance.  We had a vehicle worthy of displaying this time.
Attendees who were displaying their vehicles could either come via the Turnpike itself for free thanks to Sunoco picking up the tab, or other routes.  We decided on the latter.  I will say it was a little strange to enter a service plaza through a gate instead of a ramp.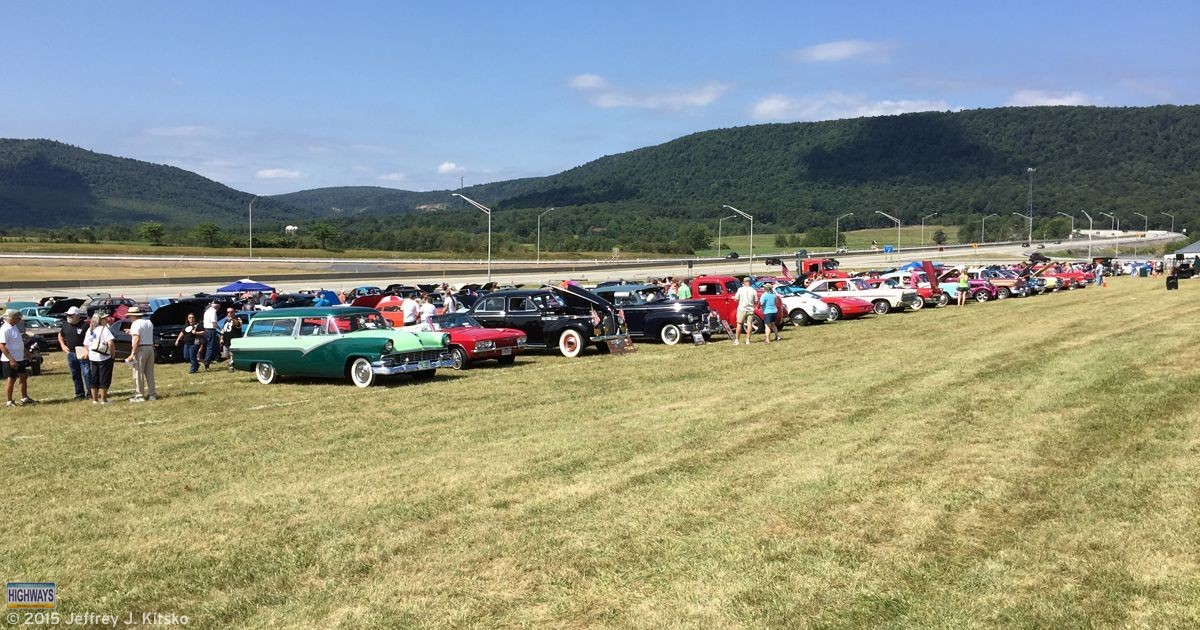 While the show took place, HMS Host, managers of the service plazas, sold hot dogs and Coca-Cola products for the price of what they cost in 1940.  The Turnpike Commission sold 75th Anniversary memorabilia, including a hard-cover picture book detailing the history of the highway. I even had a chance to meet a fan of the site since its America Online days, Ron Breisch.
Participants had chances to win items from the Turnpike Commission answering trivia questions, as well as in a raffle. I didn't think it would be too sporting if the Webmaster of Pennsylvania Highways answered each question. Therefore, I just answered one of the trivia questions and won a PTC t-shirt.  In addition, I won a model of an old-fashioned Coca-Cola delivery truck in the raffle. Above all, participants received a swag bag of goodies, which are pictured below.
It was a beautiful day and a beautiful drive to and from the plaza for the Pennsylvania Turnpike 75th Birthday Car Show. The car show was a nice event to celebrate the Turnpike's diamond anniversary; however, it was also a communal event that brought out people from across the state and even the country.
PA Turnpike Celebrating 75 Years! – Pennsylvania Turnpike Commission