I am trying to understand the reasons of extending Interstate 376.  Besides it creating needless work for me by having to change pages and delete some, I am against this change.
Don't get me wrong, I am for the upgrades of the Parkway West that are included in the extension plan, such as the 60 cloverleaf in Robinson. What I do not understand is the "logic" behind this renumbering.
Pittsburgh International Airport is not on an Interstate
US Representative Melissa Hart said in a WTAE-TV report in October:
Obviously, she forgot Dulles International, right outside the nation's capital. George Bush/Houston Intercontinental and LaGuardia International in New York City also do not connect to Interstates.
USAirways did not "de-hub" Pittsburgh International because it wasn't connected directly to an Interstate.  Who knows?  The PTC might just get I-576 for the Southern Beltway, which will end right at the PIA interchange on 60.
An exaggeration, but no matter what map you look at, it shows expressway-grade highways around the airport.
If you sign it, they will come
Some also think that placing a red-white-blue marker on an expressway automatically brings economic growth faster than a plain, boring old black and white marker.  As if the "Interstate Fairy" comes by and brings jobs overnight, ignoring the business climate of the region. Pittsburgh Airport Area Chamber of Commerce President Sally Haas said in the March 21, 2006, edition of the Pittsburgh Tribune-Review:
We are already on the map, any of which can be purchased in the Pennsylvania Highways Map Store.  I guess the development at the 60 cloverleaf just happened by coincidence with an Interstate designation.
Easier to get to Downtown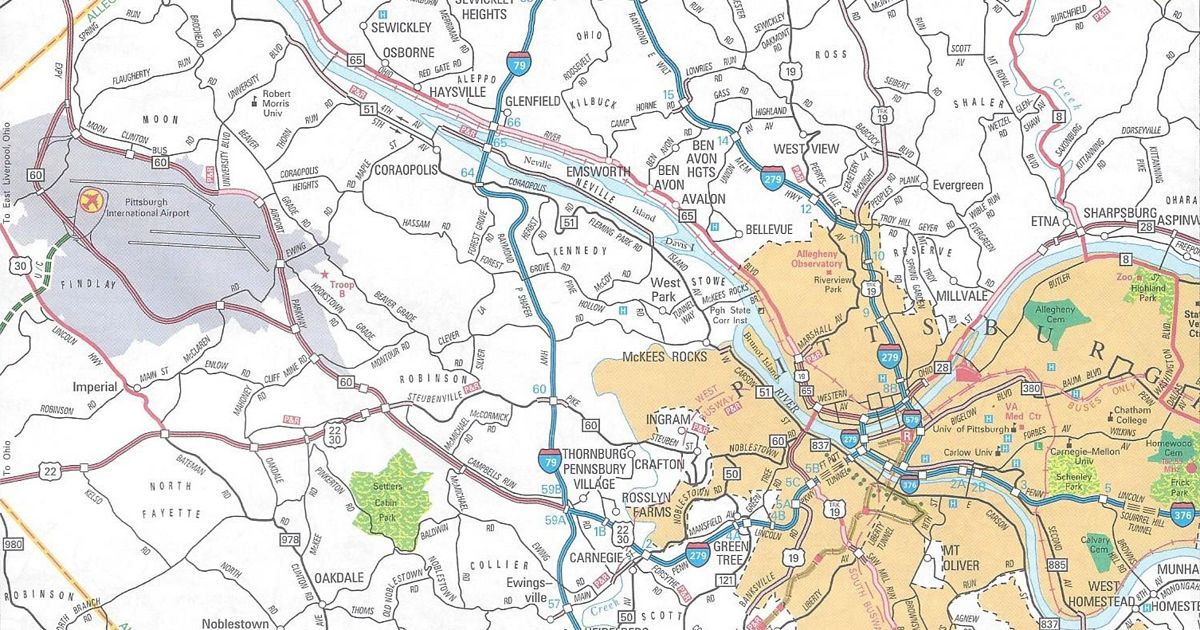 Another reason I have heard is that it will be easier for travelers leaving the airport to get to downtown.  To leave the airport, you have two options: Beaver/Moon and Pittsburgh.  Following the signs for "Pittsburgh," and not taking any exits, you wind up in downtown no matter the route number(s).
Instead of money replacing all the signage for extending Interstate 376, I'd rather it goes other places. Fixing some of the 47% of structurally deficient bridges across the state is a start.  Or else we'll see more failures such as the Lake View Drive overpass on Interstate 70, and next time, the outcome might be worse.
Renaming of Interstate 376 Corridor a Step Closer – Pittsburgh Post-Gazette