The brisk morning of December 13 marked the beginning of the end for the long-awaited Uniontown-to-Brownsville section of the long-awaited Mon-Fayette Expressway.  It was then that the flyover interchange opens between PA Turnpike 43, US 119, and PA 51/Pittsburgh Street in Uniontown.
With the SWPA XMAS Meet a week away, I decided to make a trip to scout locations for the tour.  Unfortunately, I didn't get there until dusk, so none of the pictures came out clearly enough to post.  The few that I did take, I was able to update the US 119 and PA Turnpike 43 Exit Guides.  The interchange itself is quite an impressive Semi-Directional "T," with the diamond interchange with PA 51 underneath.  What is strange is that the ramp from US 119 northbound is only one lane.  It should be two since it is carrying the PA Turnpike 43 designation.
While both directions of US 119 have a diagrammatical sign for this complex junction, the guide sign for Turnpike 43 heading southbound on US 119 has the control cities of Brownsville and Pittsburgh, while northbound it is just Pittsburgh.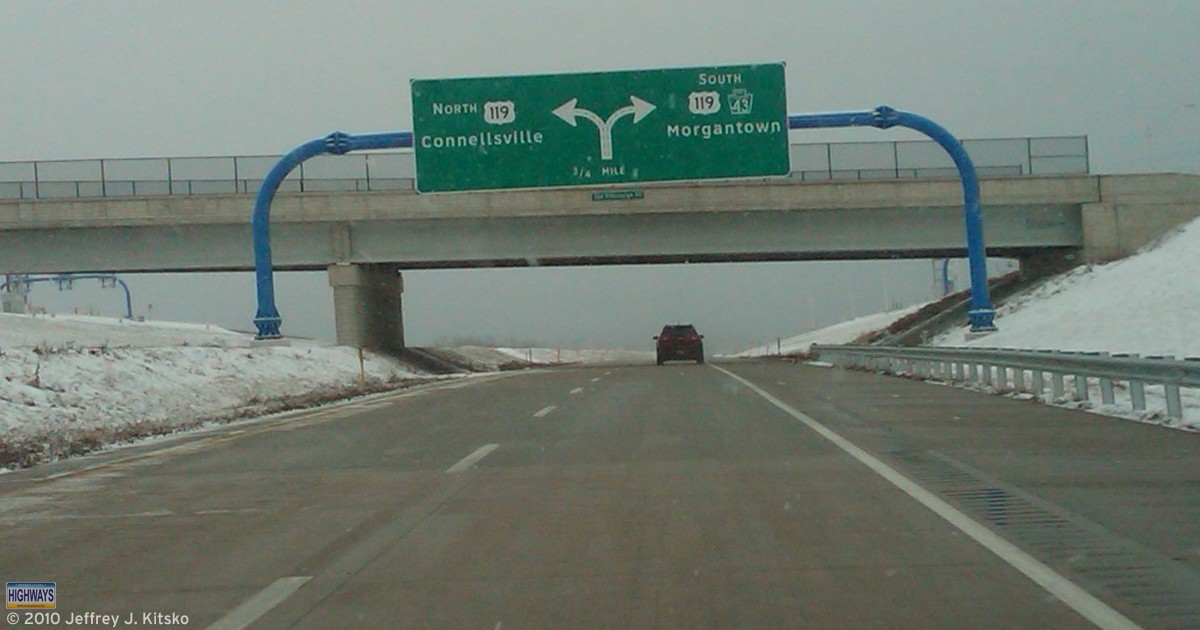 As of now, there are no exit numbers for any of the interchanges between the Chadville Demonstration Project in South Uniontown and the new interchange at Pittsburgh Street.  Not surprising considering that there is only one PA Turnpike 43 marker on US 40 westbound/US 119 northbound.  It is located just before the Main Street interchange. While the US 40 and US 119 markers are posted together, the poor PA Turnpike 43 is by itself about 30 feet before the other two.  Poor PA Turnpike 43, ostracized by the black and white markers!  Heading southbound, there is only one mention of PA Turnpike 43 on a pull-through sign at the Main Street interchange.  Then there is nothing until the 40/119 split.  Only then is it denoted as PA 43 which it has since that section was completed almost two decades ago.
While the flyover interchange opens, the segment from it to Exit 15 at Northgate Highway also opened to traffic Monday.  Northbound traffic exiting and southbound traffic entering at that interchange will have to pay a toll.